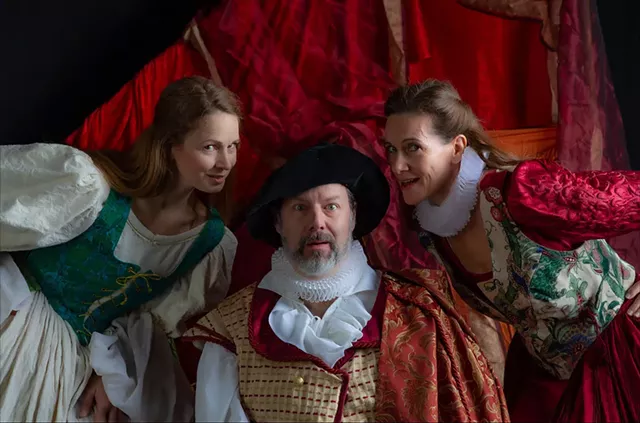 Courtesy Of Dok Wright
From left: Sorsha Anderson, John Nagle and Chloe Fidler in The Merry Wives of Windsor
New Yorkers were stunned when Broadway went dark on March 12 to help prevent the spread of the coronavirus. It was just one indicator of dire things to come for the city of more than 8 million. In Vermont, the last shows in the 2019-20 theater season quickly followed suit. For Vermont Stage in Burlington, for example, it meant bagging the final week of Marie and Rosetta, the entire run of The Pitmen Painters, and two Youth Company productions. Meantime, Lyric Theatre rescheduled its spring show, Matilda the Musical, for later in the year.
Even a mere month ago, it didn't seem unreasonable to hold out hope that, by June, life as we knew it would resume, stores and restaurants would reopen, and thespians would take to stages around the state. Alas, no. The summer of 2020 will be historic for its abruptly curtailed live entertainment — at least the in-person, non-social-distancing kind. Among the plays Vermonters will not get to see this year: Ring of Fire, Kinky Boots, The Merry Wives of Windsor, Returning to Haifa, Annie Get Your Gun, Little Shop of Horrors, Waiting for Godot, Animal Crackers and many more.
Summer theater stalwarts Dorset Theatre Festival, Weston Playhouse Theatre Company and Saint Michael's Playhouse were among the first to announce the suspension of their entire seasons. Other companies posted anguished regrets on their websites. Not mincing words, Unadilla Theatre founder Bill Blachly simply wrote: "Due to the coronavirus pandemic, the 2020 season has been cancelled."
When possible, some theater groups are fast-forwarding. The Shelburne Players wrote that their spring production of Laughter on the 23rd Floor is moving to spring 2021. According to the Saint Michael's Playhouse website, "our goal is to move the 2020 season in its entirety to 2021: same shows, same casts, same directors, same sets, same everything." The Vermont Shakespeare Festival, too, is bypassing 2020 and moving its summer production of The Merry Wives of Windsor to next year.
Some companies continue to ponder late summer productions: maybe? Others still hope to at least mount their previously scheduled spring shows. In White River Junction, Northern Stage is asking ticket holders to "hold tight while we determine if and when we'll be able to bring Frozen JR. and Million Dollar Quartet to our stage."
Vermonters who do not normally attend theater might not be aware of the complex algorithms of producing plays, how skipping a season jeopardizes their nonprofit presenters, and what it means to a small town to lose its accustomed summer audiences.
"It's a daunting time," said Dina Janis, artistic director of Dorset Theatre Festival, who noted that the organization typically hires for its summer productions in December and January.
There are two layers, she explained: One is that each show has its own cast and crew, often from New York City. The other is a set of about 40 summer employees — "brought in from all over the country," Janis said — for the theater itself. They handle administration, front of house, carpenters, sets, lights, and so on. "They will come at the end of May and stay for the entire summer," she noted.
"We were pretty loaded in," Janis continued. "We'd already gone through all that hiring. That was one of our biggest concerns — we wanted to be responsible to people [health-wise]."
Pulling the plug on the season in early spring at least gave crews and casts ample notice not to come to Vermont to begin rehearsing. But Janis lamented the repercussions for the theater communities at large. "It's a huge financial blow," she said. "These people are just out of work."
It's a blow to tiny Dorset, too — full-time population 1,948. In addition to the influx of temporary summer residents, the theater productions "bring in 15,000 people," Janis said. "The local economy is so dependent on that."
It's a similar story in Weston, about a half hour away, where the Playhouse and its Walker Farm facility serve much the same community. "Summer residents go to both," Janis said. "We've always worked together."
Weston's executive artistic director Susanna Gellert said that three of the Playhouse shows — Ring of Fire, Kinky Boots and Steel Magnolias — have been moved to 2021. "Emotionally, it's been heartbreaking," she said. "We'd put together a really great season."
Financially, the company has dodged a bigger loss because of the timing of the pandemic. "Ticket sales are more than 40 percent of our income," she said. "It [would have been] a bigger risk to put together more than 100 theater makers ... We stopped before we put it all together." And with a full-time staff of eight, Gellert added, "We're cutting our expenses to the bone and trying not to lay off people."
In Montpelier, Lost Nation Theater also made the painful decision to cancel summer 2020 — except for the possibility of impromptu, simpler productions in, say, September. For now, the plan is to open the 2020-21 season in October with the production that would have been its last: Ragtime. After that, noted producing artistic director Kathleen Keenan, the season will proceed with works that "salute" women — intended to recognize the centenary of the 19th Amendment, which gave women the right to vote.
Keenan said that the city has given LNT permission to reserve the chamber theater — aka Montpelier City Hall Auditorium — in case the company is able to schedule any late summer/early fall events. After all, no one else is likely to book anything, at least until voting — arguably the most important production of the year — takes place in November. Meantime, Keenan said, they'll plan on streaming some archival productions, particularly those things "unique to Lost Nation," such as works by Vermont author Katherine Paterson and the late playwright/poet David Budbill.
"We want to do things to keep up people's spirits and oblige our ticket holders," she said. And, like other nonprofit theater companies, LNT will also be launching a fundraising campaign. "Eighty percent of our revenue is gone," Keenan said. "It's one thing to be closed for a month, but four or five?"
Surviving the pandemic is undeniably easier for theater groups with basically no overhead. "We are fortunate in that we don't have full-time employees or a space," acknowledged Melissa Lourie, artistic director of the Middlebury Acting Company. The group, which primarily performs at local Town Hall Theater, decided early on to move its April production of Outside Mullingar to September.
But Lourie echoed Janis' worry for those in her profession. "The theater community is really hard hit — no theater artist is getting paid right now," she said. "And it's a tough time for the [local] community."
The Vermont Shakespeare Festival is also unencumbered by overhead — the company is essentially founders Jena Necrason and John Nagle. But the cancellation of this year's season was particularly disappointing because they had taken last year off to regroup, plan for the future and build a strong board. They were energized to jump into this summer's production of The Merry Wives of Windsor, said Necrason. As it happens, the cast is composed entirely of Vermont actors, she said, and all were able to reschedule for next summer. She and Nagle are now "reimagining" smaller-scale events for the fall and winter.
On its website, Waitsfield's Skinner Barn indicates that its major production of the summer, Annie Get Your Gun, in late July is still on. But in a phone conversation, owner and actor Peter Boynton was skeptical. "I decided to say, 'Let's see where we are by May 1,'" he said. "Now it's a real crapshoot whether we're going to do our season."
Boynton, who is also losing summer weddings previously scheduled for his picturesque venue, said his musicals feature Equity actors and a full band. A typical budget, he said, is $30,000. And never mind potentially aborted ticket sales; there's another problem with the "funding chain": local sponsors — most of which are small businesses that will also be hurting economically. "I don't think I'll get my sponsorship budget this year," Boynton said flatly, noting that it typically covered 40 percent of production costs.
More than anything, though, he feels responsible for the health of his cast — some 20 people — and his audience, which is an older and more vulnerable demographic. "There's just so much risk beyond the normal risk of putting on a show," Boynton said. "I think we're out until a vaccine [for COVID-19] happens. Who's gonna come?"
Post-pandemic, though, we might all gladly trade Zoom for theater seats. As Janis predicted, "There will be a longing for people to come together in a live space."