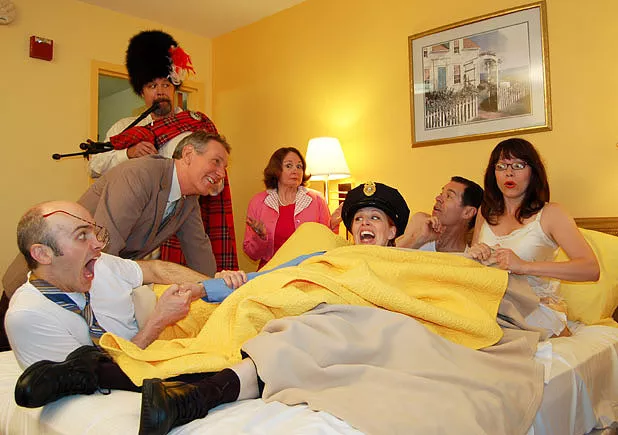 From "Law and Disorder," St. Mike's Playhouse, 2012
We're conditioned to think of the performing-arts "season" as fall through spring, but summer is when many of the state's stages come alive. (Indeed, some of them are unheated and don't thaw out until June.) Professional thespians from urban areas flock to Vermont for summer-stock theater, while plenty of locals forgo hot-weather indolence for a chance to act out under bright lights.
The rest of us, meanwhile, just like to watch. Frothy musicals, Shakespearean drama, edgy contemporary fare — bring it all on. On a warm summer night, there's nothing quite like a cool, darkened theater and the thrill of live performance. Or a picnic before the show in a rennovated barn.
What follows is a synopsis of Vermont theater productions scheduled for the next few months of which we're currently aware. (Apologies to anyone we've missed.) Other shows will surely crop up, so keep an eye on the Seven Days events calendar.
Dorset Theatre Festival
WHERE: Dorset Playhouse
WHEN: June 19 to August 31
WORKS: The Scene; The Whipping Man; Barefoot in the Park; Clybourne Park (2011 Pulitzer Prize winner)
OF INTEREST: Television star ("Private Practice") Tim Daly headlines The Scene; New Play Development Program presents three readings; family and children's programming
INFO/TICKETS: 867-2223, dorsettheatrefestival.org
Lamoille County Players
WHERE: Hyde Park Opera House
WHEN: July 18-21, 25-28 (more shows in fall and winter)
WORK: Guys & Dolls
OF INTEREST: 61-year-old community theater; based in a historic opera house
INFO/TICKETS: 888-4507, lcplayers.com
Lost Nation Theater
WHERE: Montpelier City Hall Auditorium Arts Center
WHEN: June 6 to September 22 (and year-round)
WORKS: The Mystery of Irma Vep; The Cemetery Club; My Buddy Bill; Robert Frost: This Verse Business
OF INTEREST: In 25th year; named one of the best regional theater companies by NYC Drama League; theater camps for kids; production of Annie Jr. August 16 and 17
INFO/TICKETS: 229-0492, lostnationtheater.org
Middlebury Actors Workshop
WHERE: Town Hall Theater
WHEN: June 27 to 30 (one more in fall)
WORK: God of Carnage
OF INTEREST: Resident company; Carnage by Yasmina Reza was a 2009 Tony winner
INFO/TICKETS: 382-9222, middleburyactors.org
Middsummer Nights Theater Festival
WHERE: Town Hall Theater, Middlebury
WHEN: June 27 to July 28
WORKS: God of Carnage (Middlebury Actors Workshop); D-Generation: An Exaltation of Larks (Sandglass Theater, Putney); Dirty Blonde (Pendragon Theatre, Saranac, N.Y.); The Fantasticks (the Skinner Barn)
OF INTEREST: Four area theater companies were invited to THT for three to five shows.
INFO/TICKETS: 382-9222, townhalltheater.org
Off Center/No Walls
WHERE: Off Center for the Dramatic Arts, Burlington
WHEN: June 6 to 8, 12 to 15
WORK: Waiting for Angels
OF INTEREST: An original work conceived by Stephen Goldberg, staged by Allan Nicholls; billed as "not a play, more like a happening"
INFO/TICKETS: brownpapertickets.com/event/385985, offcentervt.org
Phantom Theater
WHERE: Edgcomb Barn, Warren
WHEN: NA
WORKS: NA (website promises info coming soon)
OF INTEREST: 30-year-old company hosts theater, music and dance in historic barn-cum-theater; theater camps for kids
INFO/TICKETS: 496-5997, phantomtheater.info
Saint Michael's Playhouse
WHERE: McCarthy Arts Center, Saint Michael's College, Colchester
WHEN: June 18 to August 10
WORKS: Fiddler on the Roof; Tuesdays With Morrie; Rumors; Shout: the mod musical
OF INTEREST: Actors' Equity theater; named one of the best regional theater companies in America by NYC Drama League; features Junior Theater Season: How I Became a Pirate (July 19 to 21) and Freckleface Strawberry (August 2 to 4)
INFO/TICKETS: 654-2281, academics.smcvt.edu/playhouse
The Skinner Barn/The Commons Group Theater
WHERE: Waitsfield
WHEN: August 1 to 18 (also July 25 to 28 in Middlebury; see Midsummer Nights Theater Festival)
WORK: The Fantasticks
OF INTEREST: Operated by former Broadway and TV performer Peter Boynton; historic-barn-turned-theater in pristine Mad River Valley setting; also cabaret series, musical camp for kids
INFO/TICKETS: 496-4422, theskinnerbarn.com
Stowe Theatre Guild
WHERE: Stowe
WHEN: June 19 to October 12
WORKS: Nine; Hair; The Drowsy Chaperone; The Pirates of Penzance
OF INTEREST: Volunteer community theater organization offering mostly musicals for nearly 60 years; adult tickets only for Hair
INFO/TICKETS: 253-3961 or tickets@stowetheatre.com; stowetheatre.com
Vermont Shakespeare Company
WHERE: Burlington and North Hero
WHEN: August 8 to 11, 16 to 18 (Oakledge Park); August 15 (Knight Point State Park)
WORK: The Winter's Tale
OF INTEREST: Outdoor performances; workshop with founders John Nagle and Jena Necrason at Flynn Center for the Performing Arts: "Underneath the Mask" (August 13)
INFO/TICKETS: flynntix.org, vermontshakespeare.org
Vermont Stage Company
WHERE: FlynnSpace, Burlington
WHEN: June 11-16
WORK: The Bake Off: The 39 Steps
OF INTEREST: One play, three directors and three casts add up to VSC's second annual dissection of directors' methods. (In residence at the Flynn, VSC's season is fall through spring; the Bake Off is its only summer production.)
INFO/TICKETS: flynntix.org, vtstage.org
Vermont Theatre Festival/Unadilla Theatre
WHERE: Marshfield
WHEN: June 27 to August 31
WORKS: Princess Ida; The Abduction From the Seraglio; The Merchant of Venice; Heartbreak House; Present Laughter; Juno and the Paycock; The Birthday Party; Don Juan in Hell
OF INTEREST: Two adjacent theater buildings run simultaneous series in rotation; charming rural setting — bring a picnic!
INFO/TICKETS: 456-8968 or unadilla@pshift.com, unadilla.org
Very Merry Theatre
WHERE: 333 Stage, Burlington
WHEN: May 22 to June 8 (and more year-round)
WORKS: The Hobbit; Seussical; 13
OF INTEREST: 16-year-old children's theater company; 13 summer camps, with performances, for kids ages 7 to 19 at three venues; six are already full
INFO/TICKETS: 355-1461, verymerrytheatre.org
Weston Playhouse Theatre Company
WHERE: Weston Playhouse; Weston Rod and Gun Club (Otherstages series)
WHEN: June 20 to September 27
WORKS: Educating Rita; Next to Normal; 42nd Street; To Kill a Mockingbird; Otherstages: Loving Leo; This Blessed Plot; Alexander and the Terrible, Horrible, No Good, Very Bad Day
OF INTEREST: Vermont's oldest professional theater company; damages from Tropical Storm Irene now repaired; student ambassador program; theater for young audiences
INFO/TICKETS: 824-5288, westonplayhouse.org