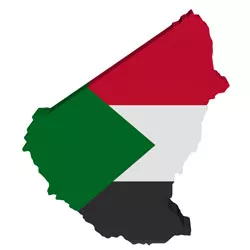 The Sudanese "Lost Boys" endured countless hardships — famine, neglect and physical abuse, to name a few — in their epic journey from Africa to the Burlington area. Now the group is facing another one: They are finding it difficult to participate in an upcoming referendum that will determine the future of their homeland.
Prior to this week, only three voter-registration centers — in Arizona, Nebraska and Virginia — had been authorized to process Sudanese votes in the weeklong referendum scheduled to begin January 9. It's a two-step process: He or she must "register" to vote at one of the centers in December, then return to the same place to actually vote in January. Sudanese who signed up in Alexandria, Va., must therefore go back there next month to vote.
Only a small number of the estimated 150 Sudanese in Vermont have been able to make the 535-mile trip to the Washington, D.C., suburb.
Peter Deng, for example, has no car and does not want to miss classes at Champlain College, where he is a senior business major. "I care a lot about what will happen" with the referendum, Deng says, adding he wishes there was a way he could register and vote.
It may soon become a bit easier for Deng and other local Sudanese to express their views on whether south Sudan, their place of origin, should become independent from the rest of Africa's largest country. A Boston registration center is supposed to open this week.
Atem Deng, who is no relation to Peter, predicts the local Sudanese — many with dual citizenship — will find a way to make the trip.
Bol Solomon expresses a common view when she says, "I consider both Sudan and Vermont to be my home." Solomon is scheduled to take the oath of U.S. citizenship next week.
Virtually all the Lost Boys — only a few females managed to immigrate to the United States — favor independence for the south. That sentiment is believed to be predominant among the southern Sudanese who stayed behind during a 20-year civil war that took an estimated two million lives. The U.S.-brokered treaty that put an end to the war in 2005 stipulated that an independence referendum should take place in 2011.
Peter Deng says he hopes for peace and freedom so that his sister's family in south Sudan will no longer be "living in terror." She and her husband, both of whom are unemployed and illiterate, keep their five children alive through subsistence farming, Deng says.
Peter Deng arrived in Vermont in 2007 after spending eight years at a refugee camp in Kenya, where he had fled in order to escape the violence ravaging his native village. The Islamist central government in Khartoum had fought to impose its will on the mainly Christian and animist south, which happens to contain most of Sudan's vast oil deposits.
Some analysts fear that war will resume prior to the referendum, or soon after it, because Khartoum will refuse to give up the south. Others, however, suggest that international political pressures on Khartoum will be strong enough to prevent a return to war.
Robert Lair, director of the New Sudan Education Initiative based at St. Michael's College, is among the optimists. "Against all odds, I do think it will ultimately happen peacefully," Lair says of the looming separation. But independence will mark the beginning, not the end, of the challenges facing south Sudan, Lair warns. Tribal antagonisms will test the new government's ability to hold a desperately poor country together, he says.