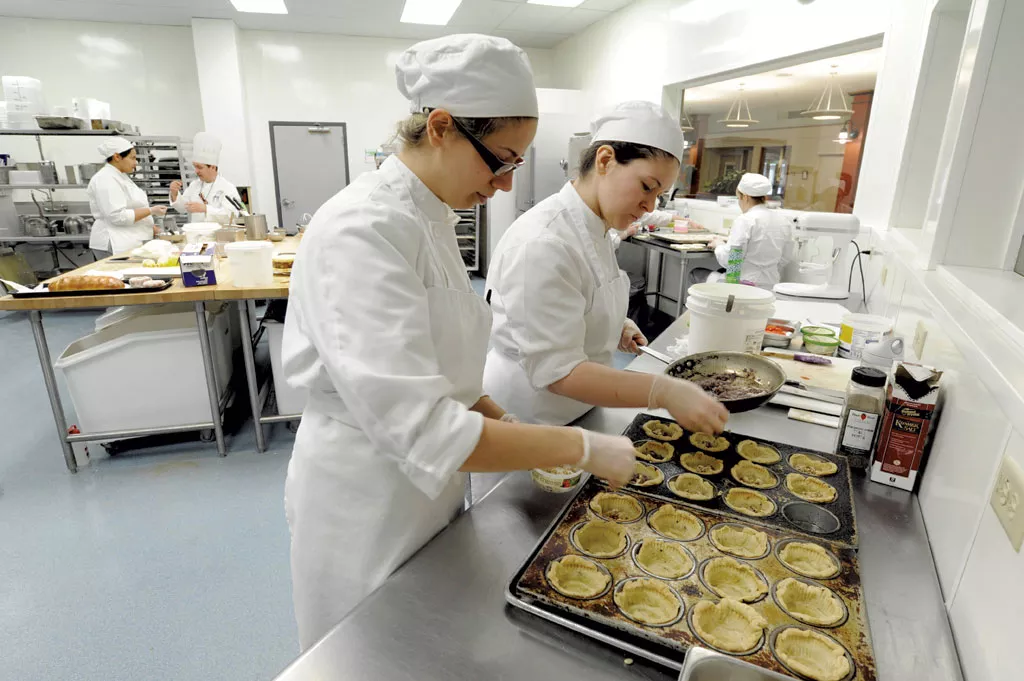 Jeb Wallace-Brodeur
Rachel Kalinowski, left, and Lauren Layman fill savory mini quiches at NECI in Montpelier
"Order fire! Rachel, chef salad, carrot soup. All to-go!" Chef Ryan O'Malley shouts from his command post in the kitchens of NECI on Main, a kitchen-turned-classroom for students at the New England Culinary Institute in Montpelier.
O'Malley, in a tall white chef's hat, watches closely as his charges — eight or so students in white coats and baggy, black-and-white-checked pants — hustle on the line. One starts in on the "Rachel," the restaurant's take on a turkey Reuben, by buttering thick slices of bread; another cook fires up an enormous gas range and pulls out a saucepan to warm up the carrot-ginger soup.
This, in a nutshell, is what a NECI education has been about for 34 years: not just the theory of cooking but the practice of it. The accredited, for-profit college, which awards associate's and bachelor's degrees as well as professional certificates, puts students to work in the kitchens of actual restaurants with paying customers. Learning to navigate the chaos of a working kitchen is arguably the most important part of a budding chef's education.
At NECI, that high-stakes, high-pressure atmosphere extends to the boardroom: Vermont's only culinary institute is struggling to regain its financial footing after many years of roller-coaster returns.
"They like to live in the chaos that they create," says Jason Gingold, a former NECI instructor who now heads Burlington Technical Center's culinary program. "For some companies, that works. For some places, that doesn't."
It's been a hard few years for the storied institution, which supporters credit with jumpstarting Vermont's now-thriving culinary scene. Not surprisingly, rumors are flying.
"NECI's going under, and they're closing": That's one doomsday scenario that Jessica Raia-Long, a NECI alumna who now sits on the board, knows is percolating among foodies. Variations on that theme were echoed by numerous former faculty members, administrators and students, but not for attribution.
Such gossip does "nothing but drive us," says Richard Flies, the board chair and acting president while NECI's 73-year-old president and cofounder Francis Voigt, a two-time cancer survivor, recovers from radiation treatment at a Vermont rehabilitation facility.
NECI isn't in "panic mode," Flies insists. But the news isn't all good, either, he acknowledges. Vermont's sole culinary school is an institution looking at big changes in its immediate future — changes necessitated in large part by a shrinking enrollment, aging leadership and precarious finances.
Among foodies, NECI has a top-notch reputation. Alumni range from high-profile celebrity chefs such as Alton Brown to highly regarded local restaurateurs including the chef-owners of Mirabelles Café and the Perfect Wife, the head chef at Barre's up-and-coming Cornerstone Pub & Kitchen, and the executive chef at the Basin Harbor Club. Eight NECI alumni were among this year's James Beard finalists, and the school boasts four French master chefs on faculty — more than any other culinary school in the country.
Charismatic executive chef Jean-Louis Gerin came on board a year ago; Gerin's accolades range from a silver toque from the Maîtres Cuisiniers de France to a win on the Food Network competition "Chopped."
But the school is up against some tough trends. Enrollment is down from the high-water mark of nearly 800 students 15 years ago to fewer than 300 this year. To be "comfortable," Flies says, NECI needs to enroll between 350 and 370.
Cash flow is a concern, too, particularly during periods of the year — now until next fall — when fewer students join the ranks. As students have dwindled, the staff has shrunk, from more than 400 a decade ago to 140 today. The latest round of layoffs happened just last month, when NECI fired more employees — "under eight," says Flies.
On the bright side: NECI's payroll still runs between $6 million and $8 million, Flies says, and the school generates $2 to $3 million each year in rooms and meals taxes. New satellite programs will potentially drive up more revenue and, year-to-date, the school is in the black.
But the numbers aren't what they used to be. Today NECI grosses between $12 million and $14 million annually, which is about half what it once was.
Flies and his colleagues aren't giving up. He predicts, "We're going to get this back."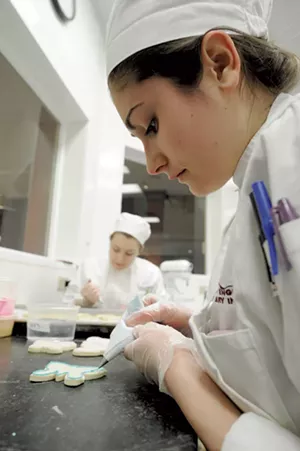 Jeb Wallace-Brodeur
Jennie Creech
Four Profit
The entrepreneurs who cooked up the vision of a culinary school in Vermont weren't cooks themselves: Voigt and John Dranow met in the 1970s at Goddard College, where Voigt was then dean of summer programs and Dranow started the school's summer writing program. Their wives, Ellen Bryant Voigt and Louise Glück, respectively, were both poets teaching in the graduate writing program at Goddard, a school known for its alternative approach.
Dranow and Voigt decided they wanted to go into business together, so they searched for a promising idea and landed on the plan to open a culinary school in 1978. Both took out second mortgages and chipped in $10,000; their wives later invested $5,000 each.
"The opportunity that we saw in 1980" — the year NECI took on its first students — "was that there was going to be a food boom in America," says Dranow today. They reasoned that an American food boom would require American chefs. At the time, Dranow says, programs at the Culinary Institute of America and Johnson & Wales University had large classes that learned in test kitchens.
Dranow, Voigt and NECI's first executive chef, Michel LeBorgne, concocted a different model: one that relied on hands-on learning, small classes and working restaurants. It was based in part on the tradition of apprenticeships among European chefs, but Dranow says Voigt also borrowed from the medical-school model of rotations and residencies. NECI's motto — "Where You Learn By Living It" — reflects that vision.
When NECI's first seven students enrolled, they staffed the kitchen at Montpelier's Tavern Motor Inn. It was a leap of faith for everyone involved.
But the leap paid off, and NECI grew quickly. The school opened a Chittenden County campus in 1986, where the Essex Resort & Spa is now. It added a bachelor of arts program, purchased a restaurant on Church Street in Burlington and expanded in Montpelier. For many years, NECI's "Chef's Table" was the go-to spot for special occasions in the capital city. Today it only opens for catered functions and special events.
The late '90s brought personal drama to NECI, as reporter James Bandler chronicled in a Wall Street Journal story that Seven Days reprinted in 2000. Dranow and Glück were in the middle of a bitter divorce, and their conflict migrated from the bedroom to the boardroom. Glück routinely sided with the Voigts, and board meetings became divisive and formal. In the end, Dranow negotiated a plan that obligated NECI to pay Glück $1,300 a month in place of alimony payments directly from him. The deal fell apart, but other board members expressed dismay at the "messy" entanglement of the business in Dranow and Glück's divorce.
It was around this time that Voigt and Dranow's differing visions for the school finally came to a head. Former employees told Bandler that Voigt was all about protecting the school's mission. "Education was the most important thing to him," former public relations director Pam Knights told the WSJ reporter.
Dranow, on the other hand, was pushing for faster growth; he wanted the company to go public. He told Bandler, "We were the most expensive culinary school in the country and undercapitalized."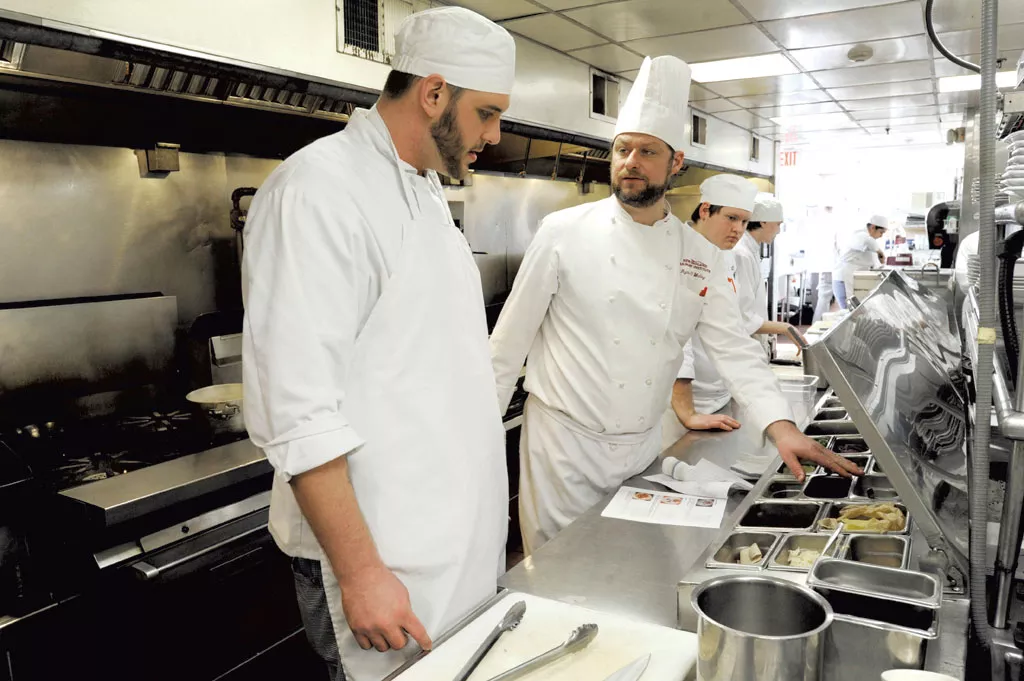 Jeb Wallace-Brodeur
Chef-instructor Ryan O'Malley and student Sean Brasley
'Too Many Irons in the Fire'
In 1998, Glück and the two Voigts ousted Dranow as chief operating officer; the trio bought out his shares in the company. Now living in Connecticut, Dranow says he hasn't followed NECI's highs and lows in the decade and a half that followed.
But his concerns back then — about NECI's price tag and undercapitalized portfolio — are some of the same ones former employees and alumni are voicing today. NECI is still privately held. The primary shareholders are still the Voigts and Glück. All three are ready to divest, says Flies.
Why did Vermont's famed culinary institute start to flounder at the same time that Vermont's food culture began to flourish? It's a complicated question to answer. Part of it boils down to competition. When Tom Bivins was deciding which culinary school to attend in 1988, the former NECI executive chef recalls that he was influenced by Julia Child, who had said in an interview she wished she could have attended NECI. What NECI offered, at that time, was unique in the world of culinary education.
But soon other colleges were imitating its business model, providing the same hands-on-style classes. And the nascent food movement — which NECI undoubtedly fostered and continues to support — took root in Vermont and elsewhere. When Flies moved to Vermont in 1965, he recalls, "the only thing Vermont had to offer was a hamburger." As early additions to the food landscape, NECI's restaurants offered a new and exciting glimpse of an evolving culinary world. Then, all of a sudden, high-end restaurants were popping up all over, including in some rural parts of the state. Flies notes the irony that so many of those eateries, run by NECI grads, are doing so well, "and here we are struggling!"
The school began selling property. It got rid of NECI Commons, the Church Street restaurant, in 2005. In 2009, the school shut down its Essex campus, completing its retreat to Montpelier. Today NECI operates out of a remodeled 19th-century home on the campus of the Vermont College of Fine Arts. Students live on campus and work in kitchen-classrooms in Dewey Café, at the National Life complex, and downtown at La Brioche and NECI on Main.
"NECI had too many irons in the fire," says board member Jeff Miller, an alum who teaches at Colorado State University. "There was a conscious decision to pull back and refocus on what we could do well rather than being extended out beyond what we could reasonably accomplish."
Other problems stemmed from the very model that makes NECI special. Students in the main culinary arts programs spend six months of each year in Vermont and six months at on-the-job internships. The logistics of that schedule make it harder for older, nontraditional students to participate, and their enrollment numbers have dropped off significantly.
The paid internships, too, have been double-edged. Seven or eight years ago, as many as 30 percent of students didn't come back to school afterward, realizing it was easier to learn on the job than pay back student loans. NECI has occasionally had to stop sending students to some chefs who were blatantly using its internship program as a recruitment tool.
Board members also say that NECI has been lumped — unfairly — into that group of for-profit colleges "out to squeeze the last nickel out of everybody," as board member Miller puts it. In recent years, culinary schools have been singled out for allegedly "ripping off" students. Eric Greenspan, a rising Food Network star and chef, told Time magazine in 2011 that culinary students "are paying law-school prices, and they are training them for minimum-wage jobs ... How do rock stars become famous? They work hard. They don't go to guitar schools."
NECI counters that, while students don't earn much in the first years out of school, their degrees qualify them for leadership positions in the culinary world that make for big salary jumps five or 10 years out from graduation. Even so, students — and their parents — are scrutinizing the price tags of expensive colleges, NECI included. Tuition for a 24-month associate's degree currently runs $73,520 at NECI, and a 39-month bachelor's degree program in culinary arts costs $113,560. The school froze tuition at this year's levels for the upcoming school year, hoping to lure students from competing schools.
"Students are leaving these schools with a lot of debt," says Bivins, who is now executive director of the Vermont Cheese Council. "Unless you are really super committed to moving up the food chain, so to speak, it's hard to justify an education like that if you're only going to make $12 an hour."
Jeb Wallace-Brodeur
Chef-instructor David Parson and students Jackson Person, right, and Aidan Murch in a Sensory Analysis class
Cooler Heads ... Rolled
Bivins says NECI's goal, during the last of the eight years he was there, was to be a "much leaner and more efficient machine." He left in 2011. Yet the college has struggled to make meaningful changes, particularly in its leadership. Hailed by supporters as visionary and dedicated, Voigt is also 73 and ailing. He has struggled to extricate and replace himself in what is arguably his life's project.
Twice in the past four years, NECI has triumphantly announced new presidents, only to see those positions vacated again within months. First came Robert "Skip" Myers, who'd served previously as president of Daniel Webster College in Nashua, N.H.; he took on the top position at NECI in early 2010.
"The more I looked, the more I became convinced that this is a very special place," Myers said in a NECI press release. "I was extremely impressed not only with what NECI is, but with how the college is evolving and what it can become.
"I'm definitely in this for the long haul," he vowed.
He was gone three months later, halfway through a six-month mentoring relationship with Voigt. Myers did not return phone calls for this story.
Next up was Bill Meckert, who had joined NECI as the chief financial officer and general counsel in early 2009. In December 2010, NECI announced that Meckert would be taking on the president's role, while Voigt remained CEO.
"I am pleased to pass the reins into his very capable hands," Voigt said in a press release from the school. Meckert expressed enthusiasm for the years ahead. "The opportunities seem endless right now," the new president said. He told his local newspaper, the Waterbury Record, that he planned to remain in the position until he retired.
In his résumé, posted on Indeed.com, Meckert takes credit for the "complete reorganization" of NECI's finance department — which for several years, he says in the résumé listing, was unable to produce accurate monthly financials. Meckert says he developed a new strategic plan in his first year at NECI, which included closing the Essex operations.
To what end? "A dramatic turn-around of financial results," his résumé continues, from net losses in fiscal years 2008 and 2009 of $475,000 and $2.7 million, respectively, to a fiscal year 2010 net operating profit of $1.1 million.
By early 2012, Meckert, too, was gone; his profile on the professional networking site LinkedIn refers to his time at the top as a "nine-month role as interim president."
Despite all the detailed information available online about his NECI tenure, Meckert declined to speak with Seven Days for this story. "I've moved on," he said, "and I'd like to keep it that way."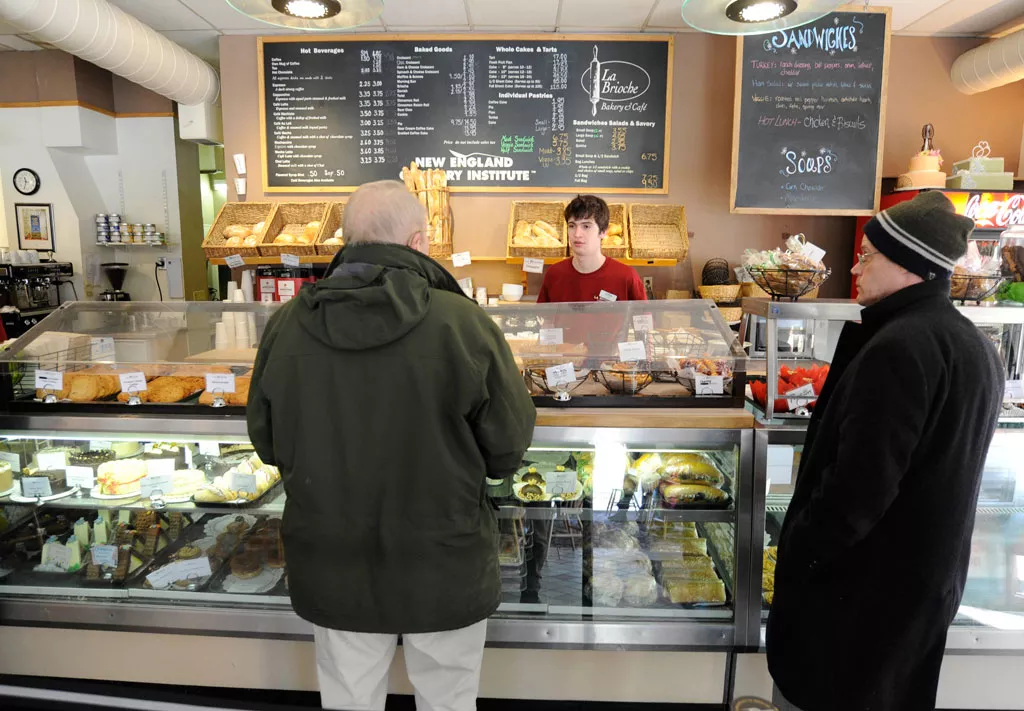 Jeb Wallace-Brodeur
NECI's La Brioche in Montpelier
Hot Prospecting
"It's no secret that NECI is trying to make a transition," says Flies. The school has a three-year business plan to boost revenues so it can buy out the three primary shareholders — the Voigts and Glück — and make the switch from its for-profit structure to a nonprofit one.
Making that switch isn't complicated, Flies says. It's just "financially hard for an institution that's running right on the edge."
The hope is that by going nonprofit, NECI can tap into other sources of funding, including charitable ones.
NECI and the Vermont State Colleges entered into preliminary talks about an affiliation in 2011, but, after eight months of negotiation, walked away without a deal.
"To successfully integrate unique institutions requires a high level of confidence that the integrity of both brands will be enhanced," concludes Dan Smith, director of community relations and public policy for Vermont State Colleges. "After an extensive discussion over eight months, neither NECI nor the Vermont State Colleges had that confidence. From a VSC perspective, our first obligation is to see to the success of the students we serve and fulfill the public mission of the five colleges in the system."
How does NECI plan to drum up funds now? It's taking a hard look at the bottom lines in the restaurants the school operates. Traditionally these haven't made money, nor have the school's leaders expected them to. But now at La Brioche, the bakery and casual café at 89 Main Street in Montpelier, a cooler is stocked with take-out lunches and dinners, as well as smoked meats and fish from NECI's charcuterie class. A small display advertises wines for sale by the bottle. Foot traffic through the bakery is up about 25 percent, according to Gerin and Flies.
In contrast, NECI on Main is almost empty at lunchtime on a recent afternoon. Gerin orders, appropriately enough, the chef's salad; Flies goes for the burger, which he slices down the center as soon as it arrives. It isn't the perfect "medium" he ordered, so he sends it back to the kitchen for the chefs-in-training to fix. "We're their worst customers," he remarks.
Talking about NECI's road map for the years ahead over lunch, Gerin and Flies are upbeat; the servers — NECI staff, not students — hover nearby. Gerin, who is in his mid-fifties, is boyish and charismatic; by all accounts, he's being groomed to be the next face of NECI. The decorated chef is an equally successful restaurateur, and his entrepreneurial sensibility shows in some of NECI's nascent ventures. After attending the five-day General Assembly of the French Master Chefs in Las Vegas earlier this month, he jetted off to Virginia to talk shop with military food-service officials; NECI is pitching the Navy on specialized training courses for chefs working on submarines.
That's exactly the kind of program that NECI's leaders are hoping will stock the coffers. Ultimately, Flies says, it's about selling the school's intellectual capital, and profiting on satellite programs with low overhead and high returns: boot camps, weekend courses and the like. The school also plans to double down on its existing online degree programs.
When the Stafford Technical Center in Rutland came calling, asking if NECI might be interested in providing culinary training in the region, Flies leapt at the opportunity. He and others from NECI sat down with Stafford's team, along with employers such as Killington and Okemo ski resorts and Rutland Regional Medical Center.
The goal is to provide more advanced culinary and front-of-the-house training for employees already working in the hospitality industry. The first session — most of which will run for four to six weeks — is tentatively scheduled to start next month. Both employers and employees will pay for it, possibly with assistance from the state.
"Does this need to get done?" Miller asks rhetorically. "Of course. And should it have been done earlier? Probably. But NECI is not going to fold tomorrow."
In the meantime, the school has adopted a sort of hunker-down, batten-the-hatches mentality: Get lean. Focus on what works.
"The others have put their stakes in things like an emphasis on international cuisines, and sending students to Singapore or Italy or France," Miller says of NECI's main competitors. "Part of the come-on is, 'You get to go to a 30-day or two-week stage in Paris, and isn't that exciting?' NECI is focusing on more long-term things" — Miller mentions sustainability and farm-to-table cooking — "things that are important to Vermont and the region.
"Do other places have shinier things? Sure. There's no question about that," says Miller. "But they're going to get the birds that peck at shiny things."
As NECI's leaders scramble to reimagine its future, students are still signing up.
Among them: Frank Willis, an 18-year-old senior at Burlington High School. He's always been interested in cooking, and enrolled in Burlington Technical Center's two-year culinary program last year to test his commitment to the field. He ended up with offers to attend both NECI and Johnson & Wales, and he's decided to head to Montpelier for a bachelor's degree in culinary arts.
On a Friday morning in the BHS kitchen, Willis is perfecting a crab rangoon recipe. As he generously dollops cream cheese into a stainless steel bowl, he ticks through his reasons for choosing NECI: class sizes, hands-on learning, internships — all the selling points NECI officials make when they talk about the value they bring to culinary education.
"If I want to be the best that I can be, I need to go get a degree," Willis says.
And it will cost him — though NECI is trying to sweeten the deal. The school has already offered him a $6,000 academic scholarship, and have mentioned the possibility of another $3,000 in aid. It's part of what Flies says is a newly aggressive approach to attract students, especially ones that might be considering NECI's competitors.
Even with that help, Willis expects to take on between $26,000 and $30,000 a year in state, federal and private loans.
"It's going to be a lot," he says. "Right now I'm just trying to figure out how to pay for it."
The original print version of this article was headlined "NECI Confidential"