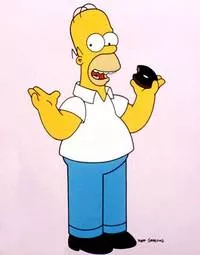 As befits an American icon, FOX's show "The Simpsons" is set on a generic street in a generic American town with a generic name — Springfield. So generic, in fact, that when Twentieth Century Fox concocted a contest to promote the upcoming The Simpsons Movie, asking towns called Springfield to compete for the honor of hosting the July 27 premiere, it identified some 16 candidates.
The studio didn't include Springfield, Vermont — one of the smaller Springfields with a population of approximately 9000, but not one that would let its exclusion go quietly. Patty Chaffee, executive director of the town's chamber of commerce, fired off a letter to the production company, which agreed to give the Vermont burg a shot.
Now Springfield has to come up with a 3- to 5-minute video that proves its fitness to be the Springfield. It also has to incorporate life-sized figures of the Simpsons family made of solid plastic, which weigh in at 1500 pounds and currently reside in the Springfield Theater, says Brock Rutter, associate director of the Vermont Film Commission.
The Film Commission is partnering with Barre's Video Visions to produce the clip, to be scripted and directed by 16-year-old Alex Campos, the son of the company's owner. Tim Kavanagh, the host of WCAX's "Late Night Saturday," will play Homer — there's a physical resemblance, Rutter notes.
In the filming, to take place on June 19, Kavanagh-as-Homer will chase a giant doughnut through Springfield, drawing the pursuit of an angry mob as he disrupts a baseball game and town meeting. Rutter says the filmmakers are still seeking local extras to play the rabble.
The finished video will be posted with its rivals on USA Today's website, where they'll be ranked by the public, "American Idol"-style. How much of a chance does Springfield, VT, have to host a Hollywood premiere? Rutter says Twentieth Century Fox needs a theater with 300 seats; Springfield's theater has around 278. "But," he points out, "Springfield, Florida, is competing, and they don't even have a theater."
Even if some other Springfield wins the honor, the Vermont town will get to keep the plastic Simpsons figures — they're "property of the chamber of commerce now," says Rutter, who suggests the massive memorabilia may eventually go to auction. Mmm, best lawn ornaments on the block.