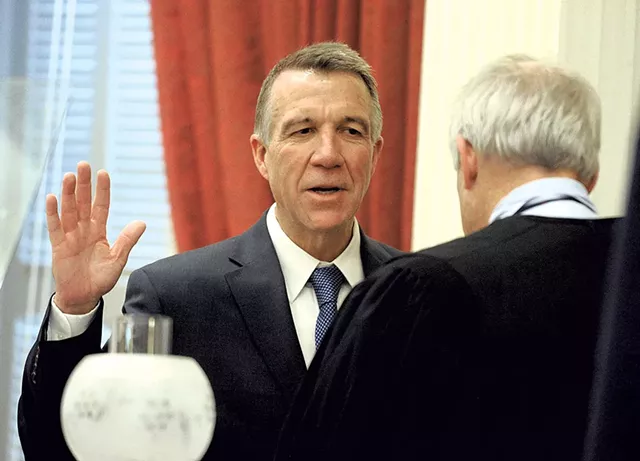 File: Jeb Wallace-brodeur
Phil Scott taking the oath of office in January
So much for a honeymoon.
Gov. Phil Scott had been in office just a month when his conservative supporters unleashed a tirade. On Facebook and over coffee counters, they excoriated their man for seeking to limit Vermont's cooperation with President Donald Trump's immigration crackdown.
"Traitor!!!!!!!!!!!!!!!" one Facebook commenter wrote. (That was 15 exclamation points.)
"Enjoy your only term," wrote another.
These were not all just marginal Scott supporters. "I put out over 100 signs for Phil Scott in 2016 and held his signs at roadside rallies half a dozen times. Not gonna happen in 2018," another commenter said.
This online dressing-down came within hours of a press conference two weeks ago during which Scott stood with Democratic and Progressive lawmakers and the Democratic attorney general to unveil legislation countering Trump's executive orders on immigration.
The Vermont bill would limit the federal government's ability to use local Vermont police to enforce immigration law and bar the state from providing Vermonters' personal information to the feds to create a registry of, for example, Muslims. The state Senate is scheduled to vote on the legislation this week.
Scott's support for the bill won immediate praise from Democrats, Progressives, independents and some moderate Republicans — who, collectively, almost certainly outnumber his Vermont critics. The governor's office received about 1,500 calls, letters and emails about the issue, spokeswoman Rebecca Kelley said last week. About two-thirds of those were positive, she said.
But Scott infuriated the state's Trump voters, who add up to no small number: 95,000 Vermonters cast ballots for the president in the November election. Though Scott never embraced Trump, many of the president's Vermont supporters come from the Republican governor's own political base.
The speed and vitriol with which those voters have turned on Scott is a vivid illustration of the difficulties that loom ahead for this middle-of-the-road Republican. Scott built his political reputation on working across the aisle, but can he keep straddling a divide that appears to grow wider by the day?
The rush to judgment is happening not just on social media but in the streets of Vermont, said Bruce Burnor, owner of the Eden Mini-Mart, whose mostly conservative regular customers are fuming over Scott's support of the immigration legislation.
"They're very upset about it," Burnor said. "These are people who voted for the governor, and if the election were held today, I don't think they would."
Burnor said the crowd he hears from doesn't want Scott spending time on immigration and feels betrayed that he is. "They want to see lower taxes, better roads, better-paying jobs," he said.
Even some elected Republican leaders — ecstatic though they are to have one of their own in the governor's office — stand unwilling to support the governor on his immigration bill.
House Minority Leader Don Turner (R-Milton) said about half of his caucus' 52 members will likely vote against the bill. A personal pitch from the governor to House Republicans failed to win them over.
"A lot of our members feel we shouldn't be doing this," Turner said, arguing that there's no proof Trump will create a Muslim registry. "Are we creating a bill in search of a problem?"
If Scott is worried about losing his base of support, the governor wasn't letting on last week.
"I hadn't really thought of it as going out on a limb," he said in an interview. "I'm just doing what I think is right."
Scott said he believes that one of Trump's executive orders, which seeks to give the president the authority to deputize local police to enforce immigration laws, constitutes federal overreach. Scott said he is bound by his oath of office to protect the state against such intrusion of authority.
To conservative critics, Scott offers this analogy: What if a future commander-in-chief wanted the state's help building a registry of gun owners or turned to local police for help rounding up guns?
"We can't pick and choose what pieces of the Constitution we defend," Scott said as he announced the legislation.
Despite Scott's defense of the bill, opposition among conservatives persists almost unabated. A central part of the problem, Scott said, is that people misunderstand what the bill would and would not do.
He's not creating a "sanctuary state," he said. But a February 8 headline from the conservative online media outlet VermontWatchdog.org declared, "Scott making Vermont a sanctuary for illegals as GOP elsewhere sides with Trump."
In fact, there is no established definition of a "sanctuary" jurisdiction. But many communities that have declared sanctuary status go further than the proposed Vermont legislation to protect immigrants and refugees, including refusing to hold immigration detainees for the federal government.
Debate over the immigration bill is rife with similar parsing over every word.
"It's hard to tell exactly what the language is saying," said Jason Benoit, a 41-year-old trucking firm manager who lives in St. Albans City. He is among those struggling to understand and come to terms with what Scott and other state leaders are proposing to do.
Benoit said he's concerned that the proposed legislation would preclude police from arresting immigrants for illegal activity. "I'm just worried that they're not going to hold these people accountable," he said.
Benoit turned to Facebook to ask Sen. Dustin Degree (R-Franklin) and Rep. Corey Parent (R-St. Albans) for their views on the bill.
Jason Gibbs, the governor's chief of staff, joined the Facebook exchange. The bill would not bar police from arresting anyone for criminal activity, he clarified.
Gibbs went on to blame the media for creating the confusion. "Few journalists take the time to understand the details of issues these days — they typically follow the most controversial narrative or the national narrative because it fires up readers/viewers," he wrote in the Facebook exchange.
Scott's chief posted a list of "key facts" about the bill. "KEY FACT: The state's response: DOES NOT limit or interfere with the federal government's ability to enforce immigration laws," it says in part.
All the explanations cannot erase the fact that immigration is a complicated issue that easily lends itself to misunderstanding. Different people have different ideas of what the words "illegal" or "criminal" mean in this context.
To Benoit, immigrants who crossed the border without proper documentation are in the United States illegally. "If you're illegal, you're illegal," he said.
Not really, said Rebecca Turner, an immigration law specialist who works in the state Defender General's Office. Crossing the border without valid documents is a crime, she told the Senate Judiciary Committee last week. But, she added, "It's not a crime to be here without federal immigration status."
Sen. Dick Sears (D-Bennington), who chairs the committee, zeroed in on the distinction. His panel, which voted 5-0 for the bill last week, modified the legislation to clarify that state law enforcement will not be deputized to help the federal government carry out enforcement of civil immigration laws without the governor's consent. He hoped that would ease worries about letting criminals go free.
The main goal, Sears said, is to protect immigrants who are in Vermont legally. "We're not looking to protect somebody who's sex trafficking," he said.
Such explanations are unlikely to ease all critics' complaints.
Benoit said he was somewhat more comfortable with the legislation after reading Gibbs' explanation about its narrow focus, but he still has concerns.
Those include a growing sense that government is trying to protect others, while working people's taxes go up, and their wages stay stagnant.
"The bigger issue right now is, looking at the state, we don't have business," said Benoit, who voted for the governor and attended his inaugural ball. "It comes basically down to taxes and having to pay for more and more ... Everybody I talk to is concerned it's just not sustainable."
He continued: "I just see it as Phil Scott trying to pander to Vermonters, to Democrats. The taxpayers of Vermont need to come first."
Scott's state budget proposal, which called for a freeze of local school budgets, went over well with Burnor's regular customers in Eden, he said. But the governor lost their love quickly by embracing a bill that defies a president many of them backed.
Just a month into Scott's governorship, Burnor's regulars are already talking about the possibility that he might become the first one-term Vermont governor since Republican F. Ray Keyser Jr. lost to Democrat Phil Hoff in 1962.
"If he keeps pandering to the left, they're not going to vote for him," Burnor said. "If the conservatives that backed Trump stay home, he's a one-term governor."
Sen. Joe Benning (R-Caledonia), a lawyer and vice chair of the Senate Judiciary Committee who supports the bill, said social media has changed the pace and tenor of political debate, but he cautioned against assuming such quick conclusions will stick.
"I suspect two years hence this bill will not be high on the priority of things," Benning said.
Turner, the House minority leader, agreed. "He's been governor for five weeks. These are very trying times," the Milton representative said. "I hope he will show us in the end he is who he says he is."
Scott said he's confident conservatives will come back around.
"Obviously, we don't agree on everything," he said. "I think we all share the common goal that we need to address the affordability of Vermont and growing the economy."
Of course, his approach to doing so is likely to tick off the left. Just goes to show: It ain't easy governing from the center.