Sarah Priestap
Mike McCabe cutting caramels
Elaine McCabe hangs my coat on a chair behind the marble countertop in her new Bradford store. "This is what happens when you finish construction one day, then open the next," she says, nodding to an area below the counter cluttered with tools and office supplies.
From the front, the counter looks clean and professional. It holds a few white boxes, each tied with a ribbon and filled with the caramels, toffees and chocolates that McCabe and her husband, Mike, produce in the confectionary kitchen behind their retail store.
"We like to do as many of these little things as we can," Elaine says, as she ties another ribbon around a candy heart. She founded Red Kite Candy in 2009, just after her youngest son entered kindergarten. Since then, the couple's attention to detail has served them well, landing their Vermont candies in Whole Foods Markets and on upscale wedding spreads.
Elaine started making buckeyes — the peanut-butter-chocolate treats common in her native Ohio — in high school. As an adult, she kept up the hobby, giving caramels as holiday gifts. "I never wanted to turn it into a business," she recalls, standing in the kitchen, decked in a red gingham apron.
Then, while undergoing treatment for breast cancer in 2007, Elaine had an epiphany. "I was laying there on the table at the hospital, and it was just like I knew what I was going to do," she says.
By late 2009, Elaine was producing caramels and toffees from a makeshift (but certified) commercial kitchen in the basement of her Thetford Center home. She sold her sweets at farmers markets and gift shops in the Upper Valley. "Sales were pretty paltry," she says of her first couple of years in business.
Paltry, yet growing. In 2010, King Arthur Flour began carrying the handmade confections in its Norwich bakery shop. Other accounts followed, including the three co-op food stores in nearby White River Junction and Hanover and Lebanon, N.H., and at Healthy Living Market & Café in South Burlington. Sales kept creeping up. In 2012, McCabe met a buyer for New England Whole Foods stores at a Vermont Fresh Network mixer.
In 2013, the operation was outgrowing its basement location, so the McCabes began looking for space elsewhere. When plans to move into the historic East Thetford train station fell through, after a year and a half of work on the space, Red Kite leased 2,000 feet in a warehouse in nearby Bradford.
By 2015, Red Kite was selling 10 times as much product as it had in its early days. In August of that year, workers from Pierson Brothers Construction began renovating their new space into a state-of-the-art candy kitchen. The McCabes purchased additional equipment including a second $20,000 Savage Bros. FireMixer and a $60,000 German machine that cuts and wraps caramels. In late October, the McCabes were cooking caramel in the new space with help from two employees.
Between Halloween and Christmas, the company created and shipped more than 200,000 caramels — and hundreds of orders for toffee, chocolates and nougat.
"We got in here too late to get [the wrapping machine] running before the holiday rush," Elaine says, pointing to the machine's serpentine system of pulleys and belts. Calibration takes time — the caramel's temperature must be controlled, or it will gum up the system — so the McCabes hand-wrapped all their holiday caramels. "You have to be careful, and we didn't have time to mess around with it," Elaine explains.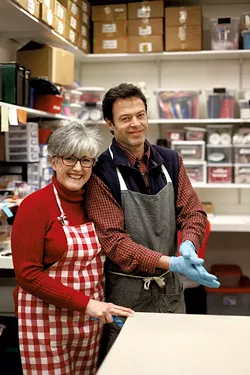 Sarah Priestap
Elaine and Mike McCabe
She leads me to a warehouse space at the back of the building and points to the loading and receiving area with a huge grin. Family businesses that move into industrial spaces love to show off their loading docks. "We're still so excited," Elaine gushes. "You have no idea. The truck comes, and you can wheel the pallet out! It's amazing.
"I still can't believe we did this in the footprint of our old basement," she adds. Prior to the move, tractor-trailers would drop hundreds of pounds of materials — ingredients, packaging, equipment — at the bottom of the McCabes' steep driveway for them to then haul up to their workspace. "We were constantly scrambling to get the stuff inside before it rained or snowed or whatever," Elaine says. An order of chocolate left outside in summer would be liquid in no time flat.
Back in the wrapping room, Mike walks down the stairs holding a printed sheet of sticker labels.
"Is that the prototype?" Elaine asks, referring to a new collection of Valentine's Day candy samplers.
Mike nods and hands her the labels.
"Can you do a little border around the edge?"
Mike nods again and joins his wife at the table, where she's started wrapping solid chocolate hearts in cellophane.
The McCabes have been married since 1988. They spent years in Texas, where Mike worked in surveying and mapping, mostly of underground mineral assets. "I worked for Enron," Mike says, noting that his department had nothing to do with the company's infamous scandal. "I like to tell people that."
It was time for a move, anyway. The McCabes visited Vermont in 2010 and decided that the Green Mountains felt like home. Mike worked in mapping until joining the candy business full time in 2012.
As any couple who works together can attest, bridging the spousal-professional relationship can be challenging. "You're thrust into an arena where you're asked to do very different things," Mike says. "It is really different [than a normal work relationship]. No one is the subordinate."
"We recognized early on what my strengths were and what his were and to go with that," Elaine adds.
"I wonder if that's not the difference between mom-and-pop businesses that stay mom-and-pops, and the ones that become [bigger] businesses," Mike wonders aloud.
Before having children, Elaine worked in merchandising and packaging. At Red Kite, she oversees branding, marketing and creative, her eye guiding the company's hip-but-sweet look. Mike handles business planning and finances.
Both spend a lot of time producing and packing candy — and adding special touches such as the notes included in each order. The cards are made on an old letterpress printer.
That level of care goes into every element of the McCabes' process, starting with the local dairy that enriches the caramel: cultured butter from Vermont Creamery, milk and cream from Kimball Brook Farm and Strafford Organic Creamery. It's equally apparent in the smooth bean-to-bar Belgian chocolate and the hand-toasted nuts in the toffee and nougat.
Every ingredient is handpicked for quality, proximity and responsible production. Since the McCabes swapped corn syrup for brown rice syrup (as an emulsifying agent to ensure the caramels' smooth and silky texture) earlier this year, all Red Kite products have been GMO free.*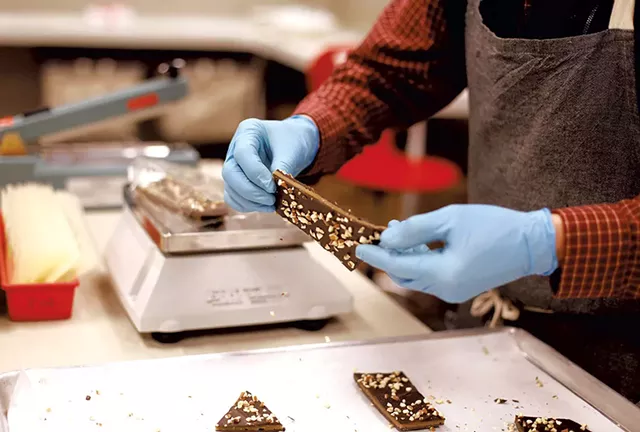 Sarah Priestap
Packaging toffee
"Everything we buy is so freakin' expensive," says Mike. "But we weren't really interested in making average chocolate."
Even as they strive to meet their own goals of excellence, the McCabes say consumers and retailers have an expectation of quality from Vermont businesses. "I can't tell you how many times I'll be demo-ing at stores in Boston, and people will be like, 'Oh, it's from Vermont? I'll take it.'" Elaine says.
But jumping on Vermont's artisanal-food bandwagon doesn't guarantee success, Mike adds. "You have to be exceptional. If you're just a 'me, too,' you're not going to make it here."
The two have different ideas of what "making it" means. "Elaine never really wanted to take it as far as I have," Mike says, alluding to an internal quandary over company size. "We don't need to retail outside of New England or New York. We could be OK staying this big forever. But for me, that's not that interesting."
Both assure that Red Kite isn't bent on growing just for growth's sake, however. "We like the intimacy of keeping it small," Elaine says.
"We're kind of old," Mike adds. "Honestly, if we were 28..." He puts down the caramel he's just wrapped. "You know, we didn't do this to make a living. I could have found many other ways to make money that would have been a lot easier than this."
"But it is fun to see how far we can take it," Elaine says, and her husband looks on in agreement. Success is something they have clearly have in common.
*Correction, February 11, 2016: An earlier version of this article incorrectly stated that all Red Kite products are all certified organic.