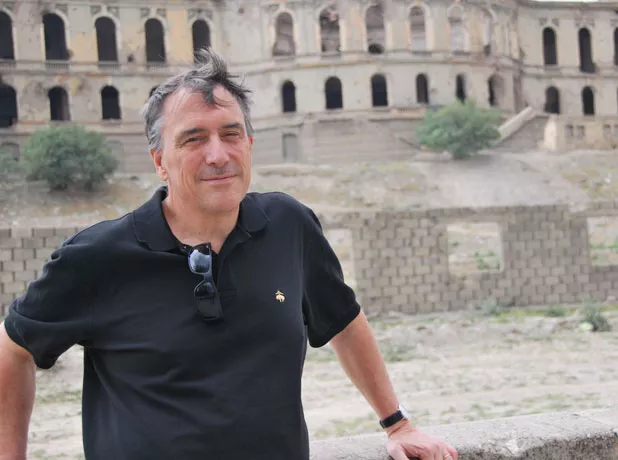 "Quagmire:" That's the word Peter Galbraith is using to describe the U.S. military mission in Afghanistan, just as 1500 Vermont National Guard troops are heading there in the state's largest overseas deployment of service personnel since World War II.
Galbraith, a former U.S. ambassador and lifelong resident of Townsend, has been very vocal about the prospects for military success in Afghanistan since he was dismissed from his post as the number-two United Nations official overseeing the country's presidential contest last summer. The Vermont native blames Afghan President Hamid Karzai for widespread election fraud, and his former boss at the UN for costing the U.S. military a "credible local partner" in the eight-year war.
Galbraith had a blunt message for Vermont men and women being deployed to Afghanistan as part of the 30,000-troop buildup ordered last month by President Obama: "The task our National Guard is going to face in Afghanistan is going to be much more difficult because the UN didn't do its job to ensure an honest count in the election," Galbraith said during an overseas phone interview in advance of his public talk this week at St. Michael's College. "I don't think they can accomplish their mission."
Between June 2 and September 15, 2009, Galbraith oversaw a staff of 4000 employees as part of the UN's diplomatic mission in Afghanistan. Among his primary jobs was to help the Afghan people facilitate the August 20 presidential election, the country's second one since the U.S invasion in 2001.
But in mid-September Galbraith, 59, left Afghanistan and was later dismissed from his job for what he calls a "private disagreement" with his boss, Norwegian diplomat Kai Aide. According to Galbraith, he and the top UN official in Afghanistan didn't see eye to eye on how the UN should deal with questionable results reported by the independent election commission. Every one of its members was handpicked by Karzai.
"We're not talking about small-scale fraud," Galbraith said. "We're talking about a situation where at least one-third of the votes Karzai received were fraudulent." The United States and other UN member nations contributed $300 million toward the Afghan election process.
According to Galbraith, he advised his boss to go public with the fraud but was overruled because, he claims, Aide didn't want to compromise his close relationship with the Karzai administration. But in December, Aide himself resigned from his post for what he described as "family obligations"; Galbraith asserted he was forced out for botching the Afghan election.
Galbraith, a former U.S. ambassador to Croatia, said the now-discredited Afghan election will have direct and powerful repercussions for Vermont's military personnel arriving in Afghanistan.
Why? As Galbraith explained, a large percentage of Afghans do not see Karzai as the legitimate leader of their country. In more concrete terms, as Vermonters engage in counterinsurgency missions, clearing areas of Taliban forces and training locals to serve in the Afghan army and police force, they will need a government that has the loyalty and trust of the local population. Karzai, he said, has squandered that loyalty and trust.
Since Galbraith's feud with his boss and former friend of 15 years was made public — Aide introduced Galbraith to his wife — it's resulted in a round of denunciations and countercharges from both men. Just one week after Galbraith filed a formal grievance with the UN over his dismissal, Aide was quoted in a December 17 New York Times article in which he accused Galbraith of trying to convince Vice President Joe Biden that Karzai should be ousted.
Galbraith, who characterized Aide as "a terrible manager" who "couldn't manage a two-car motorcade," vehemently denied that allegation and described the Times story as a "smokescreen" designed by the UN to obscure its failure to carry out a fair and honest election.
But even if Karzai were gone, Galbraith emphasized, he remains deeply skeptical of a military solution to the region's woes. An outspoken critic of Obama's plan to send 30,000 additional troops to the country, he expressed doubt that American forces will make much headway in one of the world's most ethnically and geographically diverse countries.
Instead, Galbraith suggested that the United States and the rest of the international community should focus their efforts on more realistic and achievable goals — namely, securing Kabul and the non-Pashtun areas in the north, and establishing diplomatic relations with a credible governmental partner.
But that won't be easy, Galbraith noted, since "significant damage has already been done, and it's going to be very difficult to reverse."