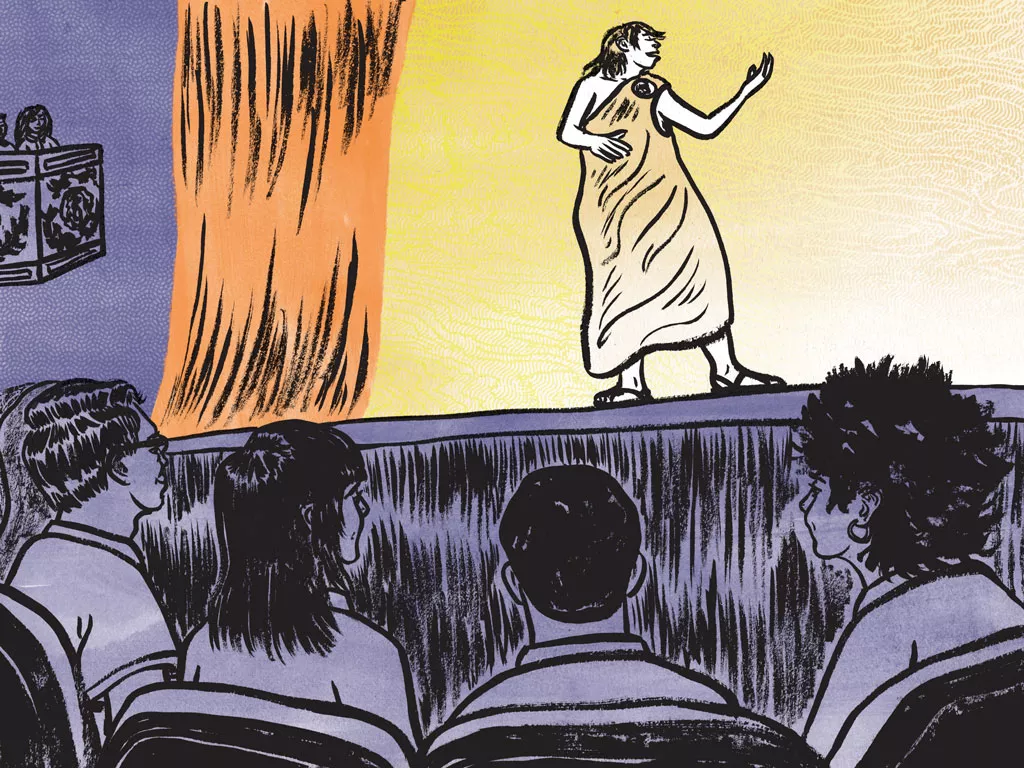 Good news for those rare souls pinging around the Green Mountains who like opera: You can now find one another. Vermont hosts two opera fan groups, and joining both is as easy as sending an email to their organizers. Chittenden County Opera Lovers was founded last summer by Dorothea Penar of Shelburne and five other women from the area — Toni Hill, Gretchen Farrar, Linnea Taylor, Betty Merrick and Lara Keenan. Their inspiration was Stowe Area Opera Lovers, founded in 2009 by the part-time Stowe couple Judyth Pendell and Warren Azano.
The groups host events ranging from free recitals by local singers to meet-ups at a local restaurant before Metropolitan Opera high-definition broadcasts at movie houses. The next event, a talk by Hill hosted by CCOL, happens at Pierson Library in Shelburne next Wednesday, April 15. She'll speak about the two often-paired one-act operas that make up the Met's final broadcast this season, Cavalleria Rusticana, by Pietro Mascagni, and Pagliacci, by Ruggero Leoncavallo.
CCOL and SAOL prove that Vermont opera lovers are not as rare as one might think. The older group started with about 30 members and has grown to 150, according to Pendell. CCOL has about 50 so far, says Penar. Hill, who grew up in Hinesburg in the 1950s, says the growth of local interest in opera has been enormous, thanks in large part to the Met HD broadcasts.
"One reason to go see an opera now is that the technology delivers," declares Hill, who has been giving talks on opera at local libraries for the last six years. She grew up listening to the Met's radio broadcasts, whose listeners had to rely on plot summaries when they didn't know the language in which an opera was composed. The HD broadcasts are subtitled and provide extras, such as live interviews with the singers during intermission.
"The myth of opera inaccessibility is a thing of the past," Hill says.
As for Vermont-produced live opera, these knowledgeable fan-group founders admit to being deeply impressed. Pendell and Azano are regular Met goers and have seen 23 operas in Europe, they say, yet the 2009 Green Mountain Opera Festival's The Marriage of Figaro "smacked us between the eyes," recalls Azano. "We thought, Is this what opera can be?" (SAOL organized significant support for the festival over its last five seasons. But GMOF closed its doors last year, citing financial deficiencies.)
Hill, meanwhile, admits to being an "opera snob"; she lived for 30 years in New York City, where she had a subscription to the Met. But on a field trip with 15 CCOL members to see the Opera Company of Middlebury's semi-staged La Traviata last fall, she recalls, "I had to pinch myself at the level of excellence. It was one of the best Traviatas I've ever seen."
Penar, who is the mother of up-and-coming opera singer Geoffrey Penar, says she started CCOL mainly to support local efforts. "It's wonderful to have the simulcasts, but it's really something to hear people sing live," she says. Without such opportunities in the area, she adds, "it's tough to get your start [as a singer]. It's a tough business; it needs a lot of public support."
CCOL has already lent support to one local project. At its recent group dinner at Zen Gardens before the Met encore broadcast of The Merry Widow at Palace 9 Cinemas, Penar invited Brookfield composer Erik Nielsen to talk about the revival of his 2000 opera A Fleeting Animal. The Vermont-set work, with libretto by Wolcott poet and playwright David Budbill, will be performed in September at six venues around the state — a significant effort that will rely heavily on funding from local donors.
Penar will reserve a block of seats for CCOL members at the Elley-Long Music Center performance of Fleeting. The group is also planning a trip to Middlebury to see OCM's fully staged Turandot, which begins its weeklong run on May 29.
With Green Mountain Opera Festival gone, SAOL plans to focus more on Middlebury productions, too, Pendell says. Meanwhile, the Stowe group has hosted three concerts with local singers, including "Opera in the Snow" in January, featuring bass vocalist Erik Kroncke. Pendell and Azano also host viewings of select operas in their home, where they subscribe to Met Opera on Demand. For a recent showing of Tosca, the couple viewed five different versions before deciding on one to share.
"You really have to manage the experience [of opera]," Pendell says. "It's easy to have a bad one" — which could ruin the art form for potential fans, she suggests.
SAOL emails a newsletter to members (which Penar forwards to CCOL members) periodically listing events throughout the region, including ones at Opera North in New Hampshire, Glimmerglass Festival in New York and the Opéra de Montréal. The newsletter also includes links to recent news articles about national and global developments in the opera world, selected by the well-read Azano. The latest included a link to last week's New Yorker investigation of controversial Met director Peter Gelb.
Both groups invite "the whole spectrum of opera lovers," as Penar puts it: "newbies like myself" — Penar developed an interest in opera when her son did — "and people who live and breathe it."
Burlington resident Farrar, who helped draw up CCOL's mission statement, trained as an opera singer and worked as a teaching artist at the Met, among other New York City jobs, before moving to Vermont, where she now works as Burlington City Arts' development director.
"What's great about CCOL is the community it will build," Farrar notes. "You can show up and meet others who care about opera and may know more about it. It's an opportunity to connect around what is sort of a complex art form."