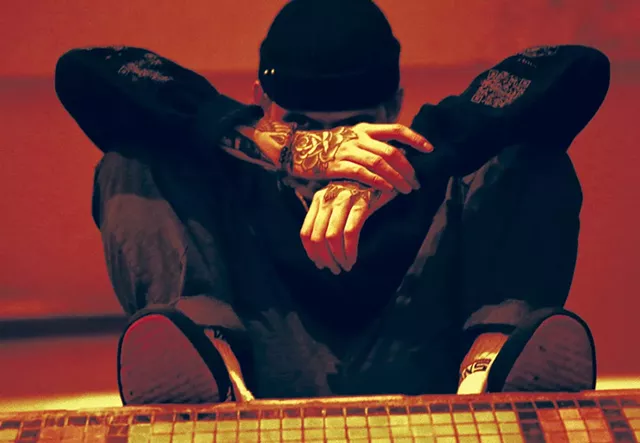 Courtesy Of Fox Beach
Vermont emo and hip-hop artist nothing,nowhere. was scheduled to perform at ArtsRiot in Burlington on April 15.
Earlier this year, Vermont-based musician Joe Mulherin, who performs as nothing,nowhere., was gearing up for a six-week cross-country tour to perform his emotionally driven blend of rock and melodic hip-hop. But, as COVID-19 invaded the globe, he canceled his upcoming shows, including an April 14 kickoff at Burlington's ArtsRiot.
Mulherin, 27, grew up in Massachusetts and moved to Vermont to attend Burlington College. SoundCloud drops starting in 2015 led to a record deal with DCD2 — a sub-imprint of Fueled by Ramen founded by Pete Wentz. Gigs around the world soon followed. In 2019, Mulherin achieved a pop-punk fan's fantasy by collaborating with Blink-182 drummer Travis Barker on the joint EP BLOODLUST.
Followers know that the Green Mountain State holds a special place in the musician's heart. The vocalist, guitarist and producer references Vermont in bops such as "Hammer," in which he claims to be "reppin' VT like my name Bernie Sanders." He also hyped the state in a 2017 New York Times profile that declared his big-time debut Reaper "one of the most promising albums of the year." Oddly, he had yet to actually perform in his adopted home state.
When he spoke with Seven Days by phone in February, Mulherin, who lives in Williston, was stoked on the idea of finally playing his first show in his favorite state. "For so long I feel like I've been living almost a double life," he said. "I come back to my sanctuary of Vermont as Joe, and I'm touring elsewhere in the world as nothing,nowhere."
Despite the North American cancellations, European dates starting in September are still listed on Mulherin's website, and he has asked fans via social media to stay tuned for updates on a livestream concert.
SEVEN DAYS: I want to start by talking about the "Nightmare" video that came out in January. Your Johnny Malibu character, who reminds me of "Cobra Kai"-era Johnny Lawrence, brings a degree of levity that's not typical of your videos. What prompted you to make a video that could be read as relatively lighthearted compared to your other work?
JOE MULHERIN: That's a good question. I feel like I'm a musician who just so happens to make really raw music about what I'm feeling, and I've sort of made a career off of screaming my emotions into the void. I've met so many people from around the world who have told me that my music helps them — people who are really struggling with anxiety and depression. I think it's important to show that mental illness and anxiety and depression — it's just part of me; it's not all of me. I still laugh, I still have fun with my friends, and I still have great days.
SD: In 2013 Seven Days reported that a short film you made as a student at Burlington College won some prizes at the Cannes Film Festival. Is filmmaking still a part of your creative life?
JM: Yeah, totally. I was a student of Burlington College, rest in peace, and I studied film there — film is another one of my first loves. Now I'm in a position where I get to combine music with film when I do music videos. I still get to write up treatments, I still get to daydream and think up these worlds and make them come to life in the music videos, so I'm really happy I can still do that.
SD: I recently watched Everybody's Everything, the documentary about Lil Peep, who was so talented and, sadly, passed away at age 21. How have the fatalities among artists in the SoundCloud-first genre affected your approach to being in the music industry?
JM: It definitely affects me. With a lot of these artists — who have passed away who came from the same scene that I did when we all started some years back — you see the quick rise to fame and you see kids who gain everything in such a short amount of time. And they don't have the tools to deal with that stress and that anxiety and the burden of just being a young musician.
When I started to notice the trend of my peers passing away, it was a wake-up call to me in a way that was sort of unprecedented. I decided that I needed to put my well-being over everything, I needed to put meditation over everything, I needed to put self-care, therapy over everything, because you can get so caught up in the music industry, and it will swallow you up if you let it.
SD: You've talked a lot about practicing mindfulness as a way of managing your depression and anxiety. Now you're offering VIP meditation clinics as part of your North American tour. Are you personally guiding those meditations?
JM: Yes. Full disclaimer: I am certainly not a professional teacher by any means. I'm just someone who has experienced the benefits of meditation and mindfulness for some years. And we're starting to play bigger venues, and I've always made a point to meet everyone after the show, and the venues are getting to a size where that's not always possible.
I didn't want to do the classic "Hey, pay me money, and I'll take a picture with you" kind of thing, 'cause I just don't really support that. So I think this was a really cool opportunity to share meditation with those who aren't familiar with it.
SD: You're a vegan, and you've talked about being straightedge and committed to eco-friendly touring, so it seems like you take certain issues to heart. I wonder if you see a role for yourself in fostering gender equality in your industry.
JM: That's a really important thing to bring up. Traditionally, the music industry has been undeniably biased toward male artists, specifically white male artists. It's kind of disheartening, and I think, moving forward, there are steps that I can take; there are steps that everyone can take to make sure that we're not forgetting about all the amazing talent in the other genders that make music. It would be really awesome to do a tour with all women artists or something of that vein, because some of my favorite artists ever happen to be female. It makes you wonder what the future is going to look like, and I'm optimistic.
SD: Imagine you're on tour hundreds or thousands of miles away from Williston. What's the one thing you can't wait to see, do or eat when you're back in Vermont? What makes you feel like you're at home?
JM: Oh, man! I guess a trip to Dobrá Tea is first on the list. Depending on the season, hit up the A_Dog Skatepark in Burlington. If I come back in the winter, maybe it's go to Stowe and get some runs in on my snowboard, or hit the [Vermont Association of Snow Travelers] trail system on my snowmobile.
It's just overwhelming how many different things there are to do in Vermont in every single season, but I think the main thing I look forward to when I come back to Vermont is just the quiet.
This interview has been edited and condensed for clarity and length.