Mark Davis
Scott Wheeler and Joe Queenin
Scott Wheeler and his buddy Joe Queenin tucked into a corner booth at a pizza joint an hour before the lunch rush on a recent Tuesday in downtown Derby. Queenin, a 91-year-old World War II veteran, ordered his usual Guinness. Wheeler, 50, asked the waitress, whom he knows by name, for an IPA. Then he pulled out a bulky laptop and the men set to work. Every few months, they get together and revise Queenin's obituary. Wheeler showed off his latest draft and began asking Queenin questions to fill in some missing details.
"Where was your basic training?"
"Parris Island, South Carolina," Queenin answered.
Wheeler decided to add references to Queenin's work with the nonprofit Toys for Tots and his hobbies. "Golf — you played golf for years, right?"
The veteran pronounced himself pleased with the latest version, especially with the temporary language Wheeler inserted at the beginning of the obituary. The working draft has Queenin dying at the age of 105 while bungee jumping in the Grand Canyon.
The get-together was, technically, a meeting of longtime friends, but when it comes to history and the Northeast Kingdom, it's impossible to know where Wheeler's work ends and his social life begins. He is the founder, publisher and lead writer for what might be the most improbably successful publication in the state: Vermont's Northland Journal, which offers "Memories and Stories from Vermont's Northeast Kingdom and Beyond."
Every month for the past 13 years, Wheeler has churned out a new collection of stories from the region's past or from the pasts of the people who live there now.
"I call myself a chronicler of history. I'm not a historian," said Wheeler, a Newport native who operates out of a first-floor office in his Derby home. "Too many stories told in obituaries aren't known before a person passes. There are too many people who don't have a voice, or don't think they do. I've known people for years and been shocked at reading their obituaries, all they've done with their lives. It's important to know when they're here."
Like most editions of the Journal, the May issue is chock-full of old black-and-white photos. In 40 non-glossy pages, it features a story about an Air Force jet that crashed in Kirby in 1989, a remembrance by a Lyndonville woman of one of Vermont's first motor-vehicle inspectors, a tribute to a World War II veteran from Morgan who recently died and an update on a family-run sugaring operation in Derby.
Among the Journal's devotees is the Kingdom's most famous writer, Howard Frank Mosher, whose novels are set in, and inspired by, a thinly veiled version of the area.
"Scott has kind of an inside track to some of the most interesting people in the Northeast Kingdom, especially the people he's interviewed from the generation now slowly disappearing, from Prohibition and the Depression," Mosher, an Irasburg resident, said. "He's a native. He knows the people. He writes from the inside out as a Northeast Kingdomer. He's writing in some ways for his friends and family. I would say he gets it right."
Mosher added, "I don't know how he possibly keeps it going."
Even Wheeler concedes that's a fair point.
When he prepared the first issue in 2002, people questioned the wisdom of launching a print product, focused on the past, in a sparsely populated, economically challenged region. Wheeler now admits that he never had a business plan and was initially hesitant to run ads.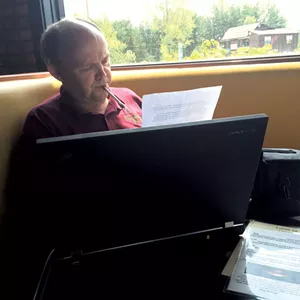 Mark Davis
Scott Wheeler
"Totally insane" is how he now characterizes his decision to become a part-time publisher.
But from its roots as a quirky hobby, Vermont's Northland Journal has become a sustainable operation. Between newsstand sales and $25 annual subscriptions, 5,000 copies move every month. The pub claims subscribers in all 50 states and runs a few dozen ads in every issue. The Journal began turning a profit around 2012, Wheeler said. It provides enough income so that he has not needed another job since he left work in public relations in 2013.
"Even if it wasn't profitable, I'd do it," he said. "It's my mission."
Wheeler grew up the middle of three sons in a poor family in Newport. His dad, Wayne, was a factory worker, and mom, Pauline, stayed at home. Wayne was an avid junk collector. On Saturdays, he would take Scott on a ritual trip to the town dump. Invariably, they returned with more than they departed with. His dad sold the newfound goods to make a few extra bucks.
"People throw out a lot of things they don't realize have value, either monetarily or historically," Wheeler said.
Wheeler graduated from North Country Union High School in 1984. At 20, he married Penny. Twin sons, Curtis and Nicholas, quickly followed. Five years later, the couple had a daughter, Emily.
Wheeler was working a factory job at Newport-based Columbia Forest Products when the boys began experiencing health problems. Nicholas went into cardiac arrest as Scott and Penny drove him to the hospital one day. He was diagnosed with a kidney disease that turned out to be treatable.
Wheeler was shaken by the near tragedy.
"You take a look at life again," he said. "You see it can go by like that."
At age 23, Wheeler enrolled in college classes, first at Lyndon State and then at Johnson State. He studied psychology during the day and, to help support his family, pulled night shifts at a group home for the developmentally disabled. His wife was working at the North Country Hospital, where she remains a full-time employee.
In his free time, Wheeler put together a family reunion to honor his mother. He was aware that his family had relatives somewhere in Canada, but wasn't sure where. He took out ads in newspapers in three provinces, before eventually tracking down long-lost kin in Nova Scotia. The reunion was a success and, on a lark, Wheeler wrote a story about the experience and sent it to the Barton Chronicle.
The editor there was impressed enough that she published the article and soon brought him on as a freelancer. Before long, Wheeler became a full-time reporter.
His relentless curiosity about people and his deep network of contacts on his native turf made him a natural, Chronicle editors recall. "We thought maybe he'd be good at doing some town reporting," said former Chronicle editor Bethany Dunbar. "He turned out to have a nose for news. And he knew everyone. He was a phenomenon as a reporter."
Though he was happy at the Chronicle, Wheeler struggled to support a family on his salary there. Eventually, he left the paper for a public-relations gig at the North County Hospital, where the pay was great and his coworkers were kind, Wheeler said, but the work was soulless. He needed a creative outlet.
Since Northland Journal's 2002 launch, Wheeler hasn't missed an issue. Working with just a few loyal freelancers, he's published deep dives on the history of Jay Peak and the Clyde River. It would be hard to find a veteran of World War II in northern Vermont who hasn't been profiled. In September 2002, Wheeler posted reader remembrances of September 11, 2001.
"Stories abound out there," Wheeler said.
It's clear how he gets them. Even when he's off-duty, Wheeler is on. Almost everyone gets a hello. He concedes that a trip to the grocery store can take hours, and it's hard to miss the 5-foot-5 dynamo in blue jeans and a scarlet windbreaker emblazoned with the Northland Journal logo. He chats up waitresses and passersby, often leaning forward as if he were a politician campaigning for votes, which he once was: Wheeler, a moderate Republican, spent two unremarkable terms in the Vermont legislature before stepping down in 2010.
He also gives book talks — Wheeler has written three books about local history — hosts weekly radio and television shows on local public-access stations, and often drops by nursing homes. "As you get closer to the end, most people want to tell who they are and how they have lived," Wheeler said. "In our hurry-up society, we don't always listen."
He said he's thought about broadening the Journal's focus beyond northern Vermont but can't bring himself to do it.
Besides, he said, there are still so many stories to tell in the Kingdom. People warn him that the World War II generation won't be around for much longer. That's OK, Wheeler said. Lately, he has grown interested in local Vietnam veterans. In another couple of decades, he said, old-timers will have fanciful stories about the days when telephones were mounted to the walls, with cords dangling from them.
"People say, 'You're going to run out of old people,'" Wheeler said. "No, I'm not. We create them every day."