If Vermont could be distilled into a building, it might look something like Burlington's first boutique hotel, Hotel Vermont. From the quilt-like found-wood sculpture by artist Duncan Johnson that hangs over the check-in desk to the Lake Champlain shells ground into the lobby floor, each element of the hotel's design weaves natural beauty with Yankee hospitality. Think local woods, stone, fabric, art and food.
Though the hotel has 120 rooms and suites on six floors, guests might be tempted to hang out in the airy, rustic-modern lobby, where cushioned benches, a fireplace and sunny terrace encourage serious lingering. The two restaurants here, Juniper and Hen of the Wood, are destinations not only for guests but locals, too.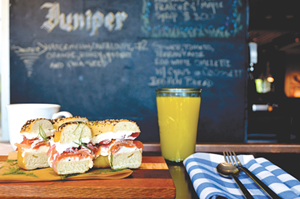 Behind the bar at Juniper, the staff infuses local spirits with herbs and fruits to create truly crafted cocktails. Hen of the Wood is the hotel's slightly more formal dining option but still takes its cue from Vermont-style warmth: A wood-fired oven transforms locally sourced morsels into masterpieces. (See sidebar.) Elsewhere in the lobby, a sliding barn door conceals a sleek, compact meeting space.
The vibe continues upstairs, where dim lighting and inset doorways give the hallways visual drama. Almost every detail inside the open-plan rooms is a nod to local craftsmanship. Wool blankets at the foot of each king-size platform bed were made at Johnson Woolen Mills; the window benches were built with local wood and encourage guests to sit and take in the views — perhaps wrapped in a robe from the Vermont Flannel Company.
The bathrooms, enclosed with discreet sliding glass doors, are stocked with cleansers from Vermont Soap and fragrant cedar- and evergreen-based creams from Burlington's Lunaroma Aromatic Apothecary. Don't look for the usual trash can; use the maple-sap bucket under the desk instead.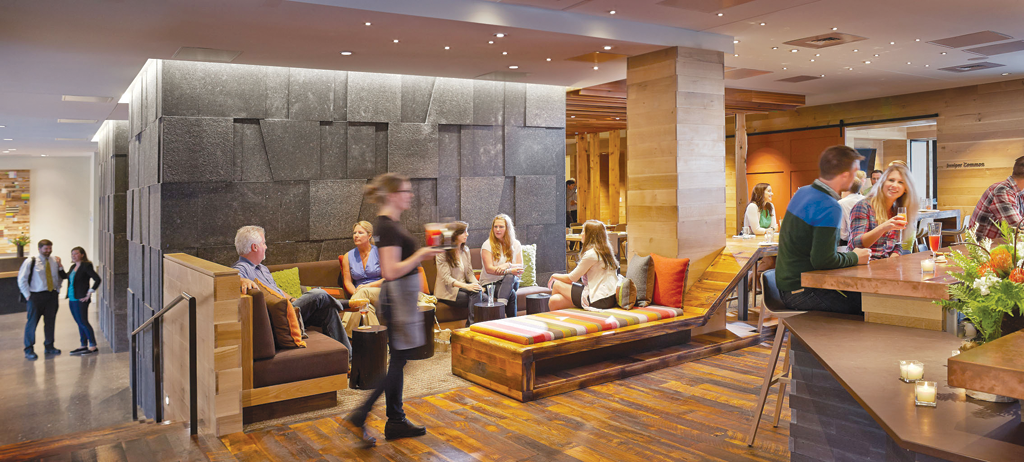 The hotel even puts its own modern spin on in-room coffee service, placing local, hand-thrown ceramic mugs in every room but encouraging guests to help themselves to sparkling water or hot drinks provided by Vermont Artisan Coffee & Tea Co. at hallway stations.
Hotel Vermont is an urban oasis, for sure, but when it's time to sightsee, guests can grab a recycled bike and head out to the nearby bike path for a pedal along Lake Champlain — or stroll a few blocks to the shops, restaurants, bars and buskers of the Church Street Marketplace.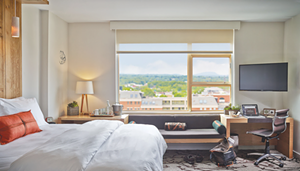 A century ago, visitors arrived by horse and carriage to the first Hotel Vermont, which loomed over the corner of St. Paul and Main streets. This 21st-century incarnation is a testament to a city that has come into its own.
Juniper
Juniper, the first restaurant to open in Hotel Vermont, is far more than a lobby bar. The slate-walled eatery and cocktail lounge is the focal point as one enters the rustic-chic hotel. Chef Douglas Paine serves locally sourced fare beginning at breakfast, with dishes such as creamy flint-corn polenta with pea shoots and a fried egg that breaks to create its own lush sauce.
At dinnertime, a mix of sandwiches, small plates and entrées offers something for everyone. Be sure to save room for the handmade gnocchi with mushrooms in Traminette beurre blanc, or juniper-roasted rabbit with sour cherries and garlic scapes. One of bartender Eben Hill's creative martinis, using Vermont spirits, dairy and even produce, is sure to keep guests in a joyful mood.
Hen of the Wood
The announcement of Hotel Vermont generated lots of #btv buzz all on its own, but locals also swooned over the news that it would become home to a second Hen of the Wood this fall.
Fans of the Waterbury HOTW, a 30-minute drive to the south, know it as one of the state's most exquisite restaurants. That local-foods utopia inside an old mill is where chef Eric Warnstedt has been turning out dishes that have earned him numerous James Beard Award nominations.
At Hotel Vermont, Warnstedt's dining room is much larger and a touch louder, but his farm-to-fork ethos is still firmly in place. Warnstedt relies on local farmers, foragers, bakers and cheese makers for almost all of the food he cooks. A wood fire lets the chef smoke, grill and singe to his heart's delight, while the bar is an innovative meeting place where staffers mix up imaginative drinks, pour hard-to-find wines by the glass, and set out oysters-on-the-half-shell or hand-sliced locally raised meats for guests.
With a robust menu of small plates, it's a little more casual than the Waterbury HOTW, but just as delicious. Hotel guests will compete for seats with locals here, so call ahead for reservations.
Les ressources naturelles du Vermont sont à l'honneur au plus récent hôtel de Burlington
Si le Vermont était un bâtiment, il ressemblerait à l'Hotel Vermont, premier hôtel-boutique de Burlington. Le design de l'établissement reflète en effet la beauté naturelle et l'hospitalité du Vermont – de la sculpture en morceaux de bois assemblés à la manière d'une courtepointe par l'artiste Duncan Johnson, suspendue au-dessus de la réception, aux coquillages du lac Champlain intégrés au sol du hall. Attendez-vous à trouver du bois, de la pierre et des tissus, mais aussi des œuvres d'art et de la gastronomie!
Les clients de l'hôtel, qui compte 120 chambres et suites sur six étages, se laisseront séduire par le hall clair et spacieux, à la fois rustique et moderne, dont les bancs coussinés, le foyer et la terrasse ensoleillée invitent au farniente. Les deux restaurants, Juniper et Hen of the Wood, sont fréquentés par les clients et les habitants de la région.
Derrière le bar du Juniper, on vous sert des cocktails originaux, conçus à partir de spiritueux de production locale, d'herbes fraîches et de fruits. L'ambiance du Hen of the Wood est plus formelle, mais la chaleur du Vermont y est tout de même bien présente, notamment grâce au four à bois dans lequel des aliments locaux sont transformés en chefs-d'œuvre gastronomiques. (Voir l'encadré.) Dans le lobby, un petit espace de réunion très élégant se trouve derrière une porte de grange coulissante.
Aux étages supérieurs, l'éclairage tamisé et les portes encastrées confèrent une intensité visuelle théâtrale aux corridors. Pratiquement tous les détails des chambres à aire ouverte sont un clin d'œil à l'artisanat local. Les couvertures de laine au pied des grands lits plateformes sont fabriquées par Johnson Woolen Mills et les bancs de fenêtre en bois de provenance locale invitent les clients à s'asseoir pour mieux admirer la vue, vêtus – pourquoi pas? – d'une robe de chambre de la Vermont Flannel Company.
Les salles de bain, aux portes coulissantes en verre sobre, sont approvisionnées en savons Vermont Soap et en crèmes parfumées au cèdre et aux feuillus de Lunaroma Aromatic Apothecary, entreprise de Burlington. Et ne cherchez pas de poubelle proprement dite : vous devrez plutôt utiliser le seau de sève d'érable.
L'hôtel donne même une touche de modernité au service de café, en plaçant dans les chambres des tasses en céramique tournées à la main que les clients peuvent remplir d'eau gazeuse ou de boisson chaude du Vermont Artisan Coffee & Tea Co. aux stations prévues à cet effet, dans les corridors.
L'Hotel Vermont est sans contredit une oasis urbaine, ce qui n'empêche pas les clients de sauter sur un vélo usagé et d'emprunter la piste cyclable qui longe le lac Champlain, tout près, ou de marcher un peu pour découvrir les boutiques, les restaurants, les bars et les amuseurs publics du marché de Church Street.
Les visiteurs arrivaient jadis en calèche au premier Hotel Vermont, au coin des rues St. Paul et Main. Un siècle plus tard, sa réincarnation reflète le parcours d'une ville qui a su s'imposer.
Juniper
Juniper, premier restaurant de l'Hotel Vermont à ouvrir ses portes, est bien plus qu'un bar d'hôtel. L'espace restaurant-cocktail aux murs d'ardoise attire l'œil du visiteur dès son arrivée à l'hôtel, où chic rime avec rustique. Le chef Douglas Paine vous propose des plats confectionnés à partir d'aliments locaux dès le petit-déjeuner, notamment une polenta de maïs corné crémeuse accompagnée de pois mange-tout et d'un œuf poêlé qui coule en une sauce onctueuse.
À l'heure du souper, choisissez parmi divers sandwiches, entrées et plats principaux, mais nous vous suggérons de vous garder de la place pour les gnocchis maison aux champignons revenus dans un beurre blanc Traminette, ou pour le lapin rôti aux baies de genièvre avec cerises aigres et fleur d'ail. Le barman Eben Hill utilise des alcools, des produits laitiers et des fruits et légumes du Vermont pour concocter des martinis originaux qui ne manqueront pas de susciter la bonne humeur.
Hen of the Wood
En soi, l'annonce de l'ouverture de l'Hotel Vermont a suscité beaucoup d'intérêt sur les réseaux sociaux, mais les gens de la région ont aussi été enchantés d'apprendre qu'il abriterait un deuxième restaurant Hen of the Wood cet automne.
Les fidèles du HOTW de Waterbury, à 30 minutes de voiture au sud, considèrent qu'il s'agit d'une des meilleures tables du Vermont. Eric Warnstedt, le chef de ce restaurant construit dans un vieux moulin, crée des plats qui lui ont valu de nombreuses nominations aux prix James Beard.
À l'Hotel Vermont, la salle à manger est beaucoup plus spacieuse et un peu plus bruyante, mais la philosophie du chef, « de la ferme à la table », demeure solidement ancrée. Warnstedt s'approvisionne presque entièrement auprès d'agriculteurs, de cueilleurs, de boulangers et de fabricants de fromage de la région. Sur un feu de bois, les aliments sont fumés, grillés et flambés selon ses inspirations. Le bar est un lieu de rencontre novateur, où l'on sert des cocktails imaginatifs, des vins au verre difficiles à trouver et des huîtres crues ou des viandes froides tranchées sur place.
Le menu exhaustif de hors-d'œuvre favorise une ambiance un peu plus décontractée que celle du HOTW de Waterbury, mais les plats sont tout aussi délicieux. Comme le restaurant est très populaire, tant auprès des clients de l'hôtel que des gens du coin, nous vous conseillons de réserver.
The original print version of this article was headlined "A Warm and Wooly Welcome"