Terri Hallenbeck
Southeast State Correctional Facility
A garden sprouted rows of cabbage and carrots on a sunny day last month. Two silos stood tall next to a softball field. Red barns nearby shared the grounds with dormitory-style housing. In the distance, expansive woods were home to deer and turkey.
Only the shiny silver razor-wire fence identified the Southeast State Correctional Facility in Windsor as a place to confine 100 criminals.
"This is the most beautiful prison in the state," Southeast State Correctional Facility superintendent Kat Tkaczyk said as she walked the grounds. "The tranquility of the place is very therapeutic."
This has also been the most expensive prison in the state to run. At $77,769 a year per bed, Southeast State costs nearly $15,000 more than the average for Vermont prisons. In fiscal year 2016, its expenses ran a full $48,000 more per inmate than at an out-of-state prison where Vermont sent some offenders.
That's why the minimum-security facility is set to shut down by October 31, a move that state legislators insist is temporary, though there is no firm plan for its future. What the prison will become — and when — no one knows.
In January, Gov. Phil Scott proposed closing Southeast State to save $3.5 million a year. His plan was to mothball the prison while determining what to do with the 100-acre property. Legislators balked and instead directed Scott's administration to study transforming the prison into a corrections reentry facility focused on better preparing all Vermont inmates for release as their sentences near completion.
Now state leaders have to decide: Is the 101-year-old farm prison too unwieldy to operate as a modern correctional facility? Or is this setting so special that the state would be remiss to let it go?
Lawmakers gave Department of Corrections Commissioner Lisa Menard until November to report on the costs and benefits of creating a reentry facility in Windsor. In the meantime, they allowed her to temporarily close the prison. The inmate census stood at just 35 last week, reduced through attrition as offenders completed their sentences, she said. Three of its four cellblocks have been emptied. Employees are transferring to other facilities or changing careers. Menard said she is trying to minimize layoffs.
The move has employees, townspeople and those who represent offenders worried about what will become of Southeast State.
"It's not a happy time," Tkaczyk said, summing up her staff's sentiment.
State workers fear that the Scott administration is laying the groundwork for construction of a new 800-bed public-private prison, as the DOC proposed in January. Such a partnership could eliminate state jobs, said Steve Howard, executive director of the Vermont State Employees' Association.
"That's going to be a fight that we're going to come all guns a-blazing on," Howard said.
Tom Dalton, executive director of Vermonters for Criminal Justice Reform, said he's worried Windsor's closure will force the state to send more prisoners out of state, which inmate advocates argue leaves them far from families and rehabilitation programs. "It's concerning that they're reducing beds further in Vermont," Dalton said.
The prison, tucked away on a rural road outside the village, has helped the community, Windsor town manager Tom Marsh said — giving the town a reduced rate for inmate work crews that maintain lawns at the cemetery, town athletic fields and local nonprofit organizations.
Windsor town officials fear that state leaders will let the facility deteriorate while they deliberate. "What we care about is: Don't leave the building vacant," Marsh said.
Legislators insist they won't delay. In an August 15 letter to the governor, Senate Judiciary Committee chair Dick Sears (D-Bennington) and House Corrections and Institutions Committee chair Alice Emmons (D-Springfield) emphasized their interest in converting the prison into a reentry center.
"We believe that this desperately needed piece of Vermont's corrections strategy should be up and running as soon as possible," they wrote.
Southeast State hasn't been a traditional prison since it opened in 1916 as a place where low-risk offenders could raise food for the nearby Windsor state penitentiary and other institutions.
There was no fence until the early 1980s, according to Mike Coxon, Southeast's superintendent from 1977 to 2002. "Inmates had to report to the superintendent's office every two hours," he said. "It worked fairly well."
Over the years, inmates ran a dairy and slaughtering operation, grew vegetables, manufactured license plates, rehabilitated old bicycles, and did light construction and groundskeeping work in neighboring communities, he said.
Tighter food regulations forced closure of the meat and dairy operation. The license plate work was transferred elsewhere a few years ago.
But Southeast prisoners were still growing vegetables and going out on work crews to mow lawns and shovel snow. They recently built the Hartford Police Department's new offices and holding cells. Every Christmas, they made hundreds of wooden toys and donated them to Toys for Tots. All those activities are coming to an end as the prison prepares to close.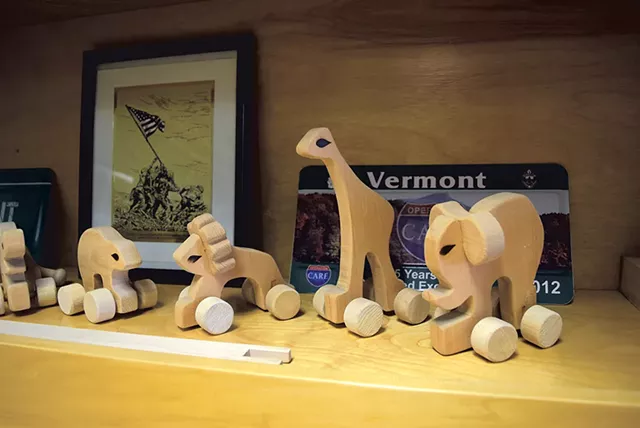 Terri Hallenbeck
Wooden toys made by inmates
Tkaczyk, who has run Southeast for three years, made clear her fondness for the prison. "It's a gorgeous place," she said. "I hope they do something with it."
The very attributes that make the campus a serene setting also make it an inefficient place to lock up criminals. Inmates might be tempted to climb its silos or hide in its barns. Tkaczyk pointed to a row of pine trees on a hill hundreds of yards beyond the razor-wire fence.
"They're gorgeous, but they kind of give me fits," said Tkaczyk, who had crews trim the bottom eight inches of branches from the trees to deprive would-be escapees of cover.
No inmates have escaped during her time as superintendent, Tkaczyk said. But, in 2014, one did cut through the wire fence and get away for a few hours before being caught, according to media reports.
The three largest housing units, located in a two-story, L-shaped building, have staircases and corners that interrupt sight lines and require more staff to monitor inmates, Tkaczyk said. To continue using the site as a secure prison, Menard said, the building layout "will really need to be changed dramatically."
Such challenges drive Windsor's high staff-to-inmate ratio. The prison has one staffer for every 1.8 inmates, compared to one for every three inmates at the maximum-security Southern State Correctional Facility in Springfield, Menard said.
And, she added, tranquility doesn't pay the bills. "The recidivism rate is not affected by whether it looks like a farm or looks like an institution," Menard said.
Tkaczyk, who exudes the kind of pride in her prison that a principal shows in a school, said some of the facility's disadvantages could be overcome if the prison were to become a reentry facility. For example, state officials recently learned that the silos and barns, which they thought had to be retained for historic preservation purposes, could be torn down.
But Menard makes clear that she considers establishing a reentry facility at Windsor impractical — with or without the silos. The state is already offering reentry services, she said, and there's no assurance that a designated facility would do a better job.
Menard said her report will lay out the costs and benefits of a reentry program. Her staff visited a prison in Concord, N.H., that has two units devoted to prisoners preparing for release. Some of those inmates catch a bus each day to work at jobs in the community, she said, allowing the facility to operate with fewer daytime employees. Unlike rural Windsor, Concord is a populous community with convenient bus service, she noted.
Howard, at the Vermont State Employees' Association, said those constraints are surmountable. "The corrections department could buy a bus," he said.
Stefan LoBuglio, director of corrections and reentry for the Council of State Governments' Justice Center, said reentry programs have proven effective and can be offered in a variety of settings, with or without access to community jobs. The key is to provide intensive, highly tailored assistance to each inmate, he said. That means helping some offenders learn how to hold a job and educating others on strategies to stay sober.
It remains to be seen whether that's the prison's future. Aided by the report Menard is scheduled to produce by November, legislators expect to make a decision next year.
There is no shortage of ideas about other potential uses for the old prison farm.
Marsh, the town manager, said the property holds a lot of potential because it includes prime agricultural land, municipal sewer hookups, a new water storage system and solar panels. The Southeast State buildings are assessed at $5.1 million, he said.
"Could somebody be creative there?" he asked.
Coxon, the retired Southeast State superintendent, thinks the state should move the women's prison population there. Dalton, of Vermonters for Criminal Justice Reform, would like to see drug treatment offered.
Emmons noted that the state is under pressure to replace its temporary Middlesex psychiatric hospital and Essex's Woodside Juvenile Rehabilitation Center. She would like to consider moving those programs to the campus, along with the reentry facility.
"We're seeing Windsor as a real asset," she said. "We're not willing to let go of that asset."