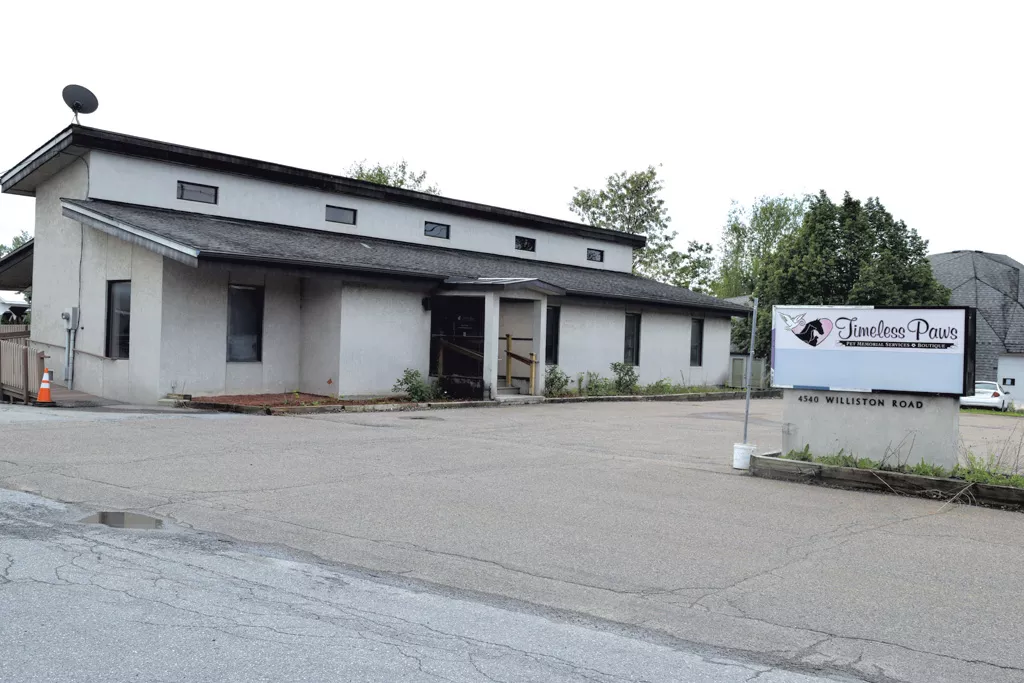 Terri Hallenbeck
Proposed dispensary site in Williston
Two years ago, Shayne Lynn launched one of the state's first medical marijuana dispensaries with two employees and about a dozen patients. Today, he has 25 employees and 1,200 patients at two dispensaries in Burlington and Brattleboro. A growing and testing facility at an undisclosed location in South Burlington supplies the "retail" outlets, both of which also operate under the radar.
Business is so brisk, in fact, that Lynn is running out of space. The executive director of the nonprofit Champlain Valley Dispensary is planning to expand to a new marijuana growing and testing facility in Milton that is three times the size of his current one in South Burlington. The workforce is also expected to triple. In just two years, Lynn has already met the goals in his five-year business plan.
"Demand here has grown every month since we opened," said Lynn.
That growth, particularly in Chittenden County, has caught the attention of a rival dispensary operator who is looking to move from smaller-market Brandon to Williston, just a few miles down the road from Lynn's Burlington store. The proposal comes in anticipation of the day — coming soon — when dispensary operators can begin delivering their products directly to customers.
Vermont's medical marijuana industry is beginning to emerge from the shadows. Does that suggest legalization of marijuana is just around the corner? Not necessarily. Even pro-legalization Gov. Peter Shumlin has said that Vermont's success with a cautious, tightly regulated approach to medical marijuana illustrates that it should go slow on recreational use, too. Early this week, he said it's too soon to predict whether he'll push for legalization in 2016.
Vermont legalized medical marijuana in 2004 for patients suffering from a limited number of illnesses, including cancer, AIDS, HIV and multiple sclerosis. In 2007, the state added severe pain, wasting syndrome, nausea and seizures as qualifying conditions. But there was no way to get a hold of the stuff; patients or their registered caretakers had to grow their own or buy it illegally. A 2011 law fixed that by permitting up to four licensed dispensaries in the state to legally grow weed and sell it to patients on the medical marijuana registry.
Around the time the first dispensaries opened in 2013, the registry listed about 800 Vermonters. Two years later, the number is up to 1,754, and it's growing every week, according to Lynn. More doctors today are recommending the drug, and their patients are looking for a greater variety of marijuana products, Lynn said.
For the last two years, Lynn's company has been developing those at a secure facility in South Burlington: tinctures, extracts, skin cream. Edible products range from brownies to lozenges. The facility also tests products for potency.
Trying to meet the demand for smoke-free pot products, "We've run out of space," Lynn said.
Now Rutland County Organics, which holds a license to operate a dispensary in Brandon, wants a piece of that Chittenden County market. Executive director Alexandra Ford described her current turf as "one of the smallest patient pockets" in the state.
"We're looking to do something different," she said — namely, move the dispensary to Williston, where it would operate as Grassroots Vermont. "The patient numbers are growing most quickly in Chittenden County," she said.
According to state records, Rutland County has 92 people on the medical marijuana registry while Chittenden County has 385. Washington and Windham counties are tied for second with 281 patients each.
All four dispensary licenses authorized under state law have been filled, so there's no opportunity to add a new one. The fourth dispensary, operated by Vermont Patients Alliance, is located in Montpelier.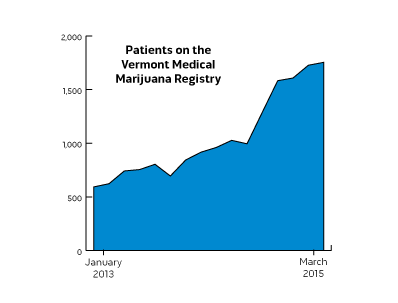 Ford is proposing to move the Brandon dispensary to a building on Williston Road, near the South Burlington city line, that used to be a pet mortuary. Before that, it was the headquarters for Republican Brian Dubie's 2010 campaign for governor. Dubie would likely not approve; the pro-legalization Marijuana Policy Project dubbed him "ultra-hostile to decriminalization efforts" while backing the eventual winner, Democrat Shumlin.
Ford needs approval from both the town of Williston and the state, neither of which is guaranteed. The Williston Development Review Board is holding a public hearing on the proposal June 23, said town planning director and zoning administrator Ken Belliveau.
Belliveau said he alerted the weekly newspaper, the Williston Observer, to the proposal because he wanted to make sure the public knew about it. "We don't like it when somebody comes up to us afterward and says, 'Why didn't you tell us?'" he said. The paper wrote a story, but Belliveau couldn't predict whether the public hearing would generate much public interest. There was virtually none when Williston enacted its zoning requirements for dispensaries in February 2014.
Lynn said he didn't know about Ford's proposal until Seven Days told him about it last week. Asked if he would oppose the plan, he said he didn't know yet. "That's what we're trying to figure out — is this viable businesswise?" he said of the marijuana market in Chittenden County.
If Williston approves the dispensary, Ford would apply to the state to amend her dispensary license. She said she hopes to persuade the pot powers that she can accommodate her Rutland County patients without maintaining a storefront there.
Department of Public Safety Commissioner Keith Flynn said the state recognizes that each dispensary needs a healthy customer base but ideally wants the four to be geographically diverse.
But county lines could blur as the state is expected to allow dispensaries to offer home delivery starting this August or September, said Lindsey Wells, marijuana program administrator with the state Public Service Department. A 2014 law allows them to supply medical marijuana to patients directly, but dispensary operators are still waiting for the Department of Public Safety to develop rules governing its delivery.
Lynn said home delivery will be a good way to reach patients who are disabled or don't have access to transportation, but he said the service also poses safety challenges. He said his company will likely require that two people be in the delivery vehicle and will enact other policies to protect drivers and patients from potential thieves.
The home delivery option is one reason the Champlain Valley Dispensary is looking to expand its capacity for producing and testing marijuana products, Lynn said. But in looking for a larger site, Lynn has had to persuade a whole new set of decision makers that his business is legitimate.
One of those was Frank Cioffi, a buttoned-down business guy whose job involves trying to lure job-creating stewards of industry to the region. A company that sells medical marijuana did not fit his image of the ideal enterprise.
"When they brought the CVD idea to us, I said, 'No, no, no,'" said Cioffi, president of the Greater Burlington Industrial Corporation and Cynosure, GBIC's sister corporation that operates the Catamount Industrial Park in Milton.
But after meeting with dispensary officials, Cioffi came away impressed with the operation. Now he is poised to lease a 20,500-square-foot industrial building in Milton to the Champlain Valley Dispensary.
"We had to go through the process ourselves to make sure we were comfortable," Cioffi told the Milton Selectboard last month at a meeting he attended with Lynn and company to ease the concerns of town officials.
Only employees with proper identification would be allowed in the locked facility, Lynn told the board, and the site will not be used for dispensing marijuana to patients.
Selectboard member Ken Nolan told the board about his tour of the South Burlington growing facility. "I was very surprised how secure it was," he said. "Every door was locked. Every room has cameras."
But Milton Police Chief Brett Van Noordt wasn't sold. He told the board, "Just for the record, I'm against this because it's against federal law."
Like most Vermont lawmakers, his counterpart in South Burlington is of two minds about the drug. Police Chief Trevor Whipple, the top cop in the city that has hosted Lynn's marijuana growing and testing facility for the past two years, said he's found it to be surprisingly problem-free.
But legalization? "That's a whole separate discussion," he said. "It's a much bigger challenge."