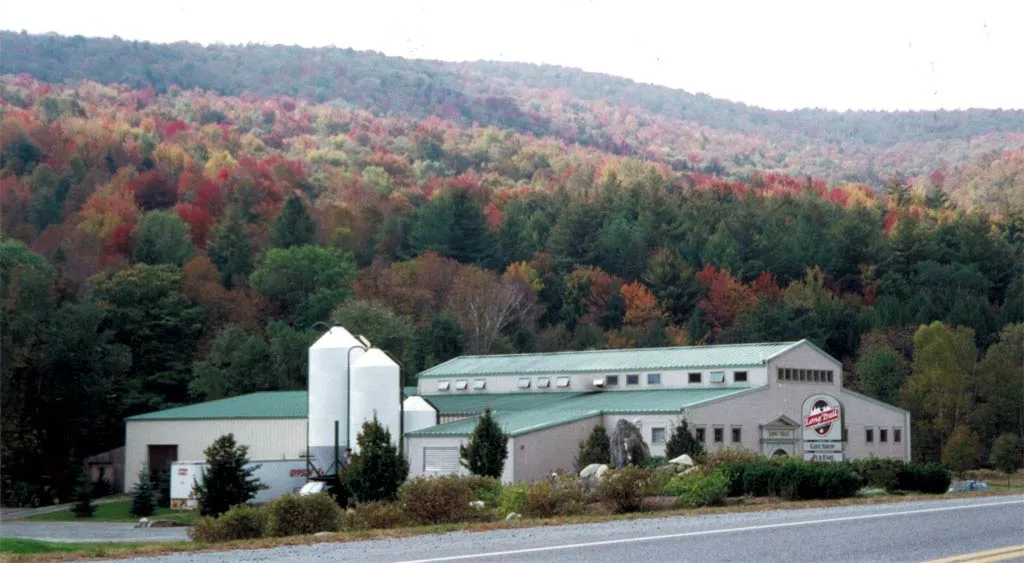 Long Trail Brewery circa 2000 photos courtesy of long trail brewing co.
On a dismal afternoon at the height of last week's rains, Billy Gault stands in the basement of an 1825 woolen mill on Route 4 in Bridgewater. "Cellar dwellers," he says, remembering long days and nights working underground.
The room is dark. Water leaks in, pooling in inches-deep puddles in the low spots. Gault has been the facility manager — and all-around renaissance man, say his coworkers — at Long Trail Brewing Company since Andy Pherson and Jim Negomir founded the brewery in 1989. The dingy old mill cellar was the company's home until it outgrew the space in 1995.
Pherson and Negomir retired in the early aughts, but Gault and several other brewery employees remember the "cellar dweller" days. Back then, the twentysomething men were brewing beers most Vermonters had never heard of. Their 15-barrel system was cobbled together from dairy equipment scavenged from abandoned barns.
At the time, the brewery — then called Mountain Brewers — produced fewer than 10,000 barrels of beer a year. It wasn't easy selling people on "microbrews," as they were then called — not even fairly straightforward ones, such as the brewery's flagship amber altbier, Long Trail Ale. But, as Long Trail expanded, Vermont's craft beer scene grew up around it, from just a handful of breweries in 1989 to more than 40 — and counting — today.
Long Trail currently produces about 100,000 barrels per year. While gearing up for its silver anniversary celebration this Saturday, August 23, a few longtime company men take Seven Days for a walk down memory lane.
A quarter century ago, Gault entered that mill basement as a contractor. It was a mess. "This was completely packed with junk," he recalls. "We wired in some lights so we could see enough to clean the place out."
Photos Courtesy Of Long Trail Brewing Co.
Dave Hartmann and Billy Gault in October, 1992
About six months later, Gault went to work for Mountain Brewers. He was Pherson and Negomir's first enduring employee. The three began building out a brew house and making fresh, European-style beers that Pherson hoped would compete with imports. Within a few years, Mountain Brewers' staff grew to include Matt Quinlan (now the operations manager) and Dave Hartmann (brewmaster).
Gault recalls blasting through a wall when a new piece of equipment — one of their first made specifically for brewing beer — wouldn't fit through the door.
"I remember that day vividly," Quinlan says, laughing. "There was this tank — we were in awe."
Gault rented a jackhammer and carved out a half-moon-shaped hole in the mill's basement wall. The hole is still there today, though the brewing equipment is long gone.
"You think about these stories, back in the mill — we were a bunch of crazy kids," Hartmann says. "These are fond memories, but things were a lot harder back then. I remember a lot of duct tape, and stuff that didn't fit together right, and lots of things breaking and not really working that well ... Those things have really gone away."
In the mid-'90s, the brewers began making an intensely dark, malty, double-alt-style beer. They dubbed it Double Bag and quietly served it in their tasting room. "It was a secret thing we did in the brewery," Quinlan recalls.
Pherson had tried to nix the beer, so they sold it on the sly. "I brought it to Andy, and he was like, 'I have no interest in marketing a beer that strong,'" Hartmann says. "It was 7.2 percent ABV [alcohol by volume]. By modern terms, it's not a strong beer at all ... But at that time, he was vehement about it."
They brewed another batch anyway, and then another, and another. "Once people got wind of it, there was no holding it back," Quinlan says.
Photos Courtesy Of Long Trail Brewing Co.
Brewmaster Dave Hartmann among the cans
Double Bag was an early gem in the company portfolio, which also included the amber ale and several seasonal brews — quaffs that excited young beer nerds, if not the general public.
Still, "I think Andy recognized that he needed some beer geeks on staff," Quinlan says. "So here come Dave and I, completely geeky, and we're like —"
"— Let's brew some hoppy IPAs!" Hartmann says, finishing the sentence. On the East Coast, beers like that wouldn't enter the mainstream for at least another decade.
Still, demand soared for the flagship ale. The brewers outgrew their basement, built an expansive new facility just down the road, and rechristened the company "Long Trail," after the popular brew. It was late 1995, and microbrews were starting to catch on.
At that time, Quinlan says, he was enamored with Belgian beers and created a pilot batch of lambic, which Pherson declined. The beer, he says, was fairly sour and, if rebrewed with berries as Quinlan planned, would likely have turned a rosy hue. "Andy was like, 'I don't think people are ready for pink beer,'" Quinlan remembers.
a
They toned it down but kept the wheat base and added blackberries. The result was an crystal-clear, gold-toned ale with fruity overtones — not a lambic at all, but an easy-drinking summer beer tailored to the curious but still timid 1990s palate. They named it Blackbeary Wheat.
According to Kurt Staudter, executive director of the Vermont Brewers Association and co-author of Vermont Beer: History of a Brewing Revolution (History Press, 2014), it was a perfect gateway brew — pleasant, approachable, not far from the pilsner path. "Blackbeary Wheat was a great starter beer," he tells Seven Days via phone. "If you were someone who was drinking Coors Light or something, it was a great beer to get you started."
Blackbeary Wheat was a runaway hit. At one point, Quinlan says, it made up 25 percent of Long Trail's sales — monumental for a summer beer. They began brewing it year-round and installed new equipment to facilitate its production.
Photos Courtesy Of Long Trail Brewing Co.
Matt Quinlan (left), and Billy Gualt with former Mountain Brewers employees, mid-1990s
In 2013, after a 17-year run, Long Trail put the sweet old bear to bed and replaced it with two new summer beers for 2014: Mostly Cloudy, a Belgian-style witbier; and the light, bright, sessionable Summer Ale.
"It's kind of hard to brew some of these other beers on [the Blackbeary Wheat] system," Quinlan says.
"Now we fill [those same tanks] with Limbo [double IPA]," Hartmann adds.
Limbo is different from any other wide release in Long Trail's history. A big, round, hoppy beer, it's very much in line with today's palate. Even the label bears no resemblance to the company's standard packaging, or to the recent rebrand. "The label doesn't scream, 'Long Trail,'" Staudter says. "It screams, 'Limbo.'"
The beer debuted last fall. The brewers knew they had a winner, they say, but waited months to release it until they'd secured enough hops for a big run.
"As soon as we rolled it out," Quinlan says, "the response was amazing." They ran through a year's supply of hops in three months and had to stop production until more were available.
"We've gone through periods when we couldn't make [Limbo] for a few weeks, and it's a big deal," Quinlan says. "When that disappears, people let us know."
When regional demand outpaced supply, the company redirected the beer's distribution to Vermont. "We pulled it back from all our other markets," Quinlan notes. "Vermont's the home market" — and the top priority.
For Long Trail's brewers, Limbo was a long time coming. "We've always liked big, hoppy, bitter beers," Hartmann says. "But we've never had an opportunity to make and sell them."
The beer is as much a reflection of its drinkers as it is of the brewers who made it. "With the market changing so much, we could do something bigger and bolder," Quinlan says.
Earlier IPAs, by contrast, went nowhere. Hartmann recalls one that "was extremely hoppy for that time."
"It was like 56 IBUs [international bitterness units]," Gault says. (For reference, Limbo and Fiddlehead Brewing's Second Fiddle double IPA are both 80 IBUs, and the Alchemist's Heady Topper is 120 IBUs.)
That early IPA "was completely out of hand back then," Quinlan says, "and customers let us know that."
In the early 1990s, drinkers were still puzzled by small-batch beers, which looked and tasted very different from the fizzy, yellow American lagers they were accustomed to. "The consumer wasn't ready to go that far yet," Quinlan says. "If you went into a bar back then, maybe you could get Guinness in an Irish bar. But it was mostly American mainstream products."
In those early days, Pherson personally delivered the beer — mostly to Windsor County bars and pubs on Mountain Road near Killington.
"We were one of the early accounts," says Murray McGrath, who owns the Inn at Long Trail (where the brewery's namesake footpath crosses Route 4 near Sherburne Pass). "We still have the original tap handle, though they keep threatening to take it away."
That tap handle is 25 years old, McGrath adds, but as long as it pours beer, he'll keep it.
McGrath says selling Long Trail was a natural fit at his Irish pub. "We didn't have Bass Ale, so it was a great complement to the [darker] beers that we did have. And the name was perfect." But, he adds, "You really had to pitch [Long Trail] to people. But once they tried it, people were like, 'This is really good!'"
In those days, Long Trail Ale was considered quite bitter; now, Hartmann says, it's seen as a malty beer. Over the years, drinkers' palates have evolved; demand for new styles is approaching a fever pitch. "Now," Hartmann says, "people expect us to be constantly pushing the envelope, which is great. It's a fun environment to be brewing in."
Read more of this interview on the Seven Days Bite Club blog.
INFO
The original print version of this article was headlined "Trail Blazers"