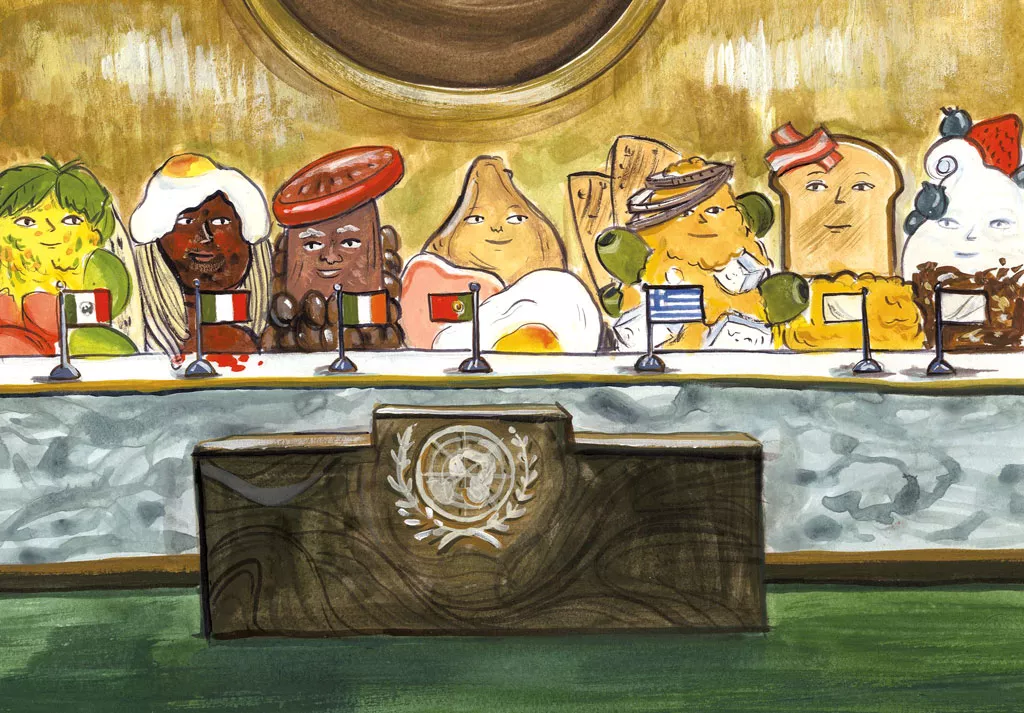 Kim Scafuro
Kismet's Green Eggs
Few symbols of fertility are more obvious than the egg: Life can emerge from it, and it feeds us. Early Christians adopted the egg as a symbol of Jesus' emergence from his tomb, and the first Easter eggs were colored red to represent the blood he shed for our sins.
Perhaps that's why the start of spring and the arrival of Easter are inextricably linked with brunch in American culture. As the weather warms and the grass turns green, many brunch lovers can't help but crave Benedicts and Bloody Marys. After a tough winter, warmth is beginning to seep in.
With spring slowly replenishing our stores of energy, Seven Days' food team was ready for serious brunching — and not just any old breakfast-for-lunch. We decided to travel the world, one brunch at a time. We chose our haunts with a specific set of criteria. First, we selected restaurants that don't serve breakfast — many don't even do lunch. Brunch had to be the only time the establishment offered eggy ecstasy.
From there, we searched for restaurants doing something truly different. Each had to offer a distinctive nod to international cuisine. Some, including Kismet, Phantom and ¡Duino! (Duende), don't focus on one specific country so much as on big flavor from around the world. Others, such as Rí Rá Irish Pub and Julio's Cantina, serve their eggs with a particular ethnic flair.
How do you like your eggs? That's up to you. Whatever you choose, you're sure to find unexpected brunch options below.
International Eclectic
Kismet, 52 State Street, Montpelier, 223-8646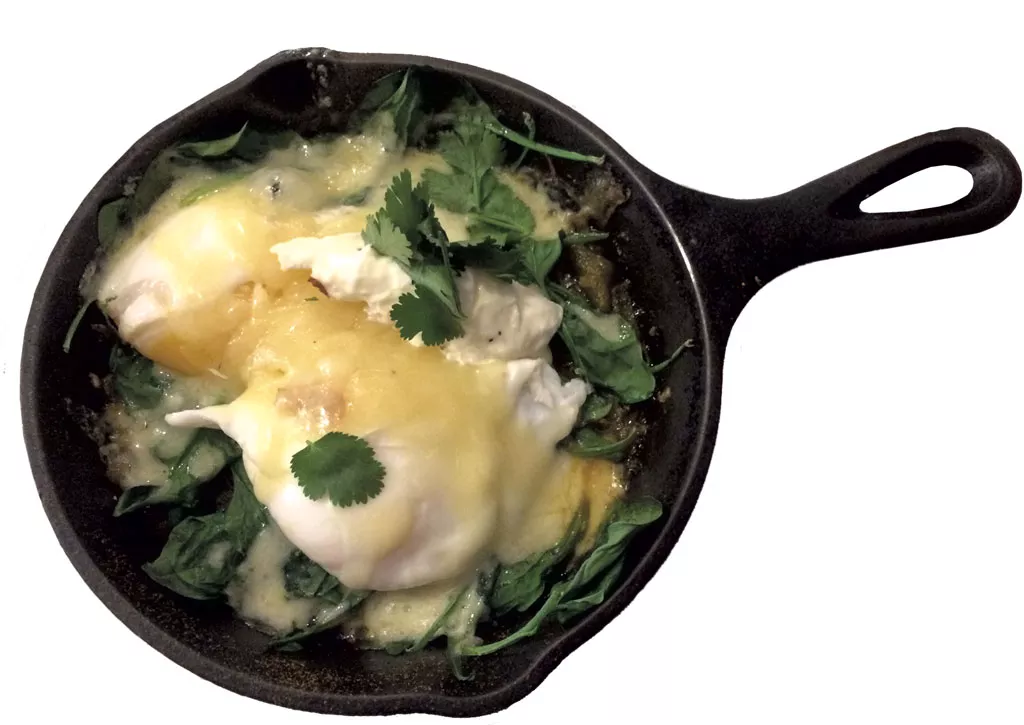 Alice Levitt
Kismet's Green Eggs
Brunch served Saturday and Sunday, 9 a.m. to 2 p.m.
Chef-owner Crystal Maderia's Portuguese eggs achieved immortality in 2013 with a near-pornographic spread in Bon Appétit. Her take on Israeli shakshuka features baked eggs swimming in a hot bath of spicy tomato-and-pepper sofrito. Bobbing along are creamy blobs of fresh ricotta topped with basil leaves.
Maderia's ultra-local ingredients don't just fill Mediterranean dishes. Eggs are the stars of Kismet's brunch, and they appear in varied roles, from indulgently European oeufs en cocotte with smoked fish and lobster butter to a resolutely Vermont-influenced hash of cider-and-rum-braised pork served over roasted roots.
For liquid nourishment, Kismet presses juices with as much of an eye toward flavor as health. The Grasshopper is puckery with lemon yet mellowed by sweet apple, along with a refreshing wash of parsley. Mimosas can be made not just with orange or grapefruit juice but with elderflower or ginger. Hot chocolate is steamed from a house blend that results in a foamy, slightly fruity sip finished with a syrup heart.
At first glance, a couple of mini skillets look worryingly small. Will I need brunch dessert? I wondered on my visit. But the little black pans are dense with flavor — and calories.
Two poached eggs make up the centerpiece of a skillet simply known as Green Eggs. Beneath lies a viscous layer of stewed green chiles. Some bites are mild, while others reveal a peppery snap. Unable to guess which cracks and crevices hold a mellower layer of melted cheddar cheese, the diner experiences each bite as a sharp, chewy surprise. On the opposite end of the dairy flavor spectrum, the dish's topping of tangy strained yogurt pairs with cilantro for a bright spotlight that brings out the flavors beneath.
Looking at the menu later, I realized that I never received the toast that's usually included with Green Eggs, but I didn't miss it. Anyway, the savory bread pudding more than covered my daily bread requirement. Like a primordial beast first waddling out of the ocean, the rectangle of bread rises from a warm pool of collagen-heavy bone-marrow broth. Blue cheese baked into the soft, eggy concoction matches the beefy broth in its musky aroma, while caramelized onions below add a hint of sweetness. The herb-crowned dish is also available as a casual dinner, without the pair of poached eggs included at brunch.
After all that, it's tempting to spring for a piece of blood-orange almond cake or the warm potted truffle drizzled with salted caramel, but most brunchers will find dessert physically impossible. All the more reason to return for dinner.
— A.L.
French Foraging
Tourterelle, 3629 Ethan Allen Highway, New Haven, 453-6309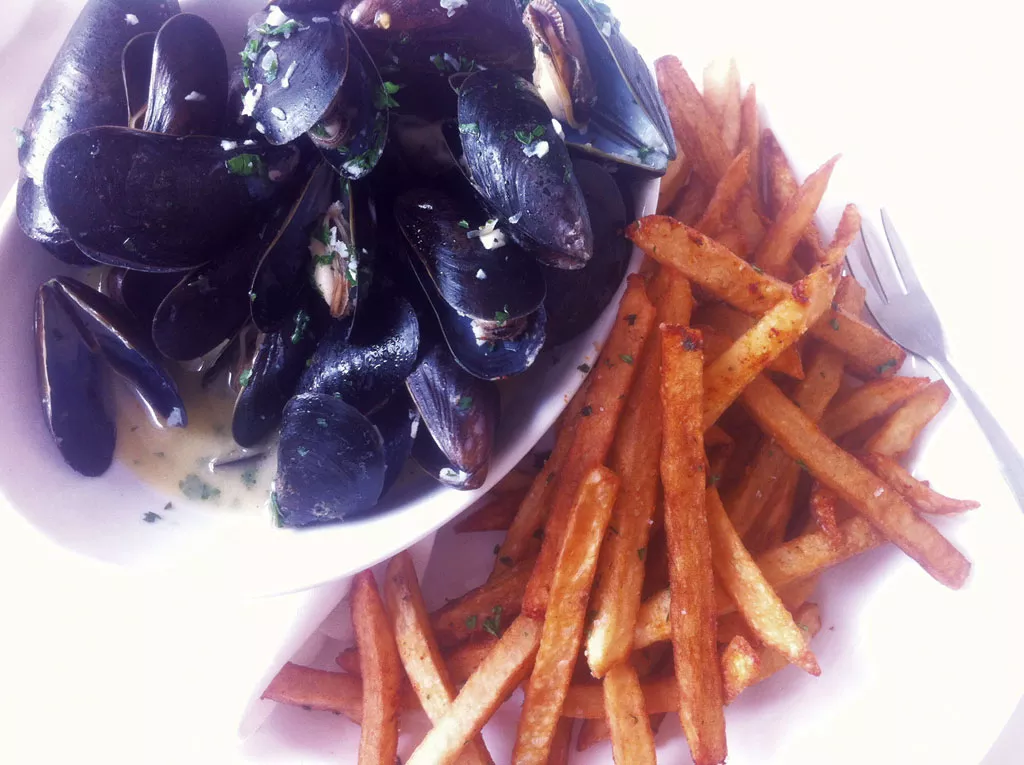 Hannah Palmer Egan
Moules frites at Tourterelle
Brunch served Sunday, 10 a.m. to 2 p.m.
From the windowed antechamber adjacent to Tourterelle's main dining room, the view unfolds in a vast expanse. Beyond the wide, unplanted fields dotted with fences and farm buildings, the Green Mountains loom pale blue in the distance.
From this perch, the world appears to fade away, and brunch in Bill and Christine Snell's antique abode feels remote and transportive, like dining at an ancient hillside inn in Provence long, long ago.
Except Tourterelle is actually in Vermont, and the Snells are a savvy, modern couple who see to every detail. Christine — who serves and buses tables with effortless grace — is an exquisite host, a master of the craft. "There's nothing worse than a wobbly table," she said on my visit, bending over to right the errant corner.
Then there's the food. Brunch at Tourterelle expresses a refined sensibility that only the French — or dedicated students of French cooking — seem truly to understand.
The meal started with pillowy muffins, studded with strawberries the day I had them. Smooth as chiffon, they don't require butter to melt in one's mouth.
Next came a galette, a soft crêpe folded around ham and Swiss and topped with a single, perfectly over-easy egg. Cut through both at once and the yolk floods the fold with farm-fresh, golden-yellow richness.
Other crêpes can be had with Armagnac sausage, cheddar, egg and basil; or with local, seasonal fruit and sweet sauces. I won't hesitate to try them on a return trip.
On the lunchy side, the bistro classic moules frites came heaped in a bowl with delicate white-wine broth featuring garlic, lemon, blistered cherry tomatoes and parsley. Golden fries seasoned with a touch of paprika made for dippable bliss.
The burger's juicy patty came seasoned with savory, mouth-filling French herbs that gave it a robust continental flavor. Smothered in rind-on Swiss cheese on a soft ciabatta roll and accompanied by fries and a salad, the burger was easily two meals served as one. The giant portion size was the most American feature of the meal.
— H.P.E.
Mexican Munchies
Julio's Cantina, 54 State Street, Montpelier, 229-9348
Ethan De Seife
Julio's Cantina
Brunch served Sunday, 11 a.m. to 4 p.m.
When my wife and I visited Julio's in Montpelier on a viciously windy, unseasonably cold day, our server won our favor by custom mixing an impromptu Mexican hot chocolate. Though she said she'd dialed back its spiciness, she was anything but stingy with the cayenne and cinnamon — exactly the heat we needed to recover from the weather. I encouraged her to add the drink to the permanent menu.
Our 2 p.m. meal at Julio's wasn't so much brunch as dunch, or perhaps linner — almuerzena is the "Spanish" term I coined for this quasi-meal. The high-ceilinged room was sparsely populated at that hour but was welcoming, with an impressive array of tequilas that fairly hollered, "¡Hola!"
Man, did we eat a lot of corn at this meal. At Julio's, the first basket of chips and salsa is free, and all subsequent baskets are $1.50. (Skip the bland "mild" salsa.) More chips (as well as warm flour tortillas) arrived with the queso flameado, a jalapeño cheese dip that supplied gooey warmth. My dish, the brunch special chilaquiles con chorizo, was basically a tortilla casserole. Beneath its bowl was another tortilla that served, I guess, as a sort of trivet; I didn't eat it, but the thought crossed my mind.
At brunch and every meal, Julio's traffics in Mexican-style comfort food. Sometimes this is a good thing: A chorizo-and-egg burrito was garlicky and satisfying. Sometimes it's a bad thing: The chilaquiles was tasty enough, but the chorizo was underseasoned, and the guajillo chile sauce tasted oddly like mass-market tomato sauce. On both dishes, the guacamole was bland, lacking sufficient salt, lime, garlic and cilantro.
For all its imperfections, we enjoyed our almuerzena. The food was familiar and warming, the portions were enormous (a nearby table's nacho platter was almost as big as the server who carried it) and the prices were fair. And, though the chocolate-peanut-butter pie tasted "store-bought," the flan was sweet yumminess. If you judge a brunch by its heartiness, Julio's ranks right up there.
— E.D.S.
Vermont Tuscan
Toscano Café & Bistro, 27 Bridge Street, Richmond, 434-3148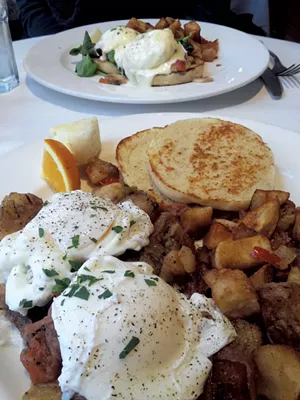 Ethan De Seife
Toscano
Brunch served Sunday, 9:30 a.m. to 3:30 p.m.
For me, the true test of a breakfast restaurant is its corned-beef hash. Born of wartime rationing, the hearty dish has lately superseded those humble origins, popping up in gourmet versions on menus around the country. Simple, flavorful and filling, a good corned-beef hash with eggs is one of the most satisfying meals I know.
A small Vermont Italian bistro, of all places, recently rocked my hash universe.
Toscano, which has occupied its homey Richmond digs since 2003, serves up a "hash of the day" special every Sunday, and I was fortunate enough to visit on corned-beef day. The salty, hand-pulled beef was lovely but portioned small. No matter: The simple yet brilliant addition of parsnips sent this hash over the top. Their sweet nuttiness couldn't have offered a tastier contrast to the meat. Two poached eggs were the culinary equivalent of the Dude's rug in The Big Lebowski: They tied the dish together.
The Florentine Benedict sported similarly perfect poachers; slices of mushroom and tomato complemented its rich hollandaise. The homemade English muffin — with fewer nooks and crannies than its supermarket counterpart — was a nice touch.
We didn't imbibe on that Sunday, but Toscano has local beers on tap and a bar that tends toward digestifs — including grappa, which rarely shows up on local menus.
A creamy broccoli-Asiago soup appetizer tasted exactly like one would want such a soup to taste. An even better app was the sweet and savory crostini, in which balsamic vinegar served as a tangy bridge between thickly spread local chèvre and stewed figs.
The vibe at Toscano is friendly. Staffers chat amiably with locals, but never to the detriment of table service. Our attentive server replaced my clumsily dropped fork before I could even ask for another.
Jon Fath, who co-owns Toscano with his wife, Lucie Bolduc-Fath, said his brunch mixes classic breakfast foods with the Italian bistro fare for which Toscano is best known. Incongruous as brunch at an Italian bistro may seem, it's this restaurant's most lucrative meal, Fath added. It's easy to see why.
— E.D.S.
Worldly Spirits
¡Duino! (Duende), 10 North Winooski Avenue, Burlington, 660-9346
John James
Korean tacos at¡Dueno! (Duende)
Brunch served Saturday and Sunday, 10 a.m. to 4 p.m.
Occasionally, I brave the weekend lines at Burlington's Penny Cluse Café. When I do, only to find that both it and sister restaurant Lucky Next Door are packed, I usually wander up Winooski Avenue to ¡Duino! (Duende). There is always a table waiting.
Here, brunch is served with a side of live music, which wafts in — at a tolerable volume — from Radio Bean next door. On weekend mornings, the serenade tends toward mellow: low-picking bluegrass, singer-songwriters strumming ballads — you know, morning music.
Service is generally slow and disaffected, but the waiters are kind, and they'll get you what you need eventually. A musical brunch is best enjoyed at a leisurely pace anyway.
With winter still holding its icy grip on the region, I started with a Cider Snap: warm mulled apple cider spiked with rum. Coffees with whiskey, Kahlua or Bailey's Irish Cream are also fine ways to awaken and calm.
Duino's mission is to serve spirited, soulful street eats from around the globe, and its brunch covers a lot of ground.
On one visit, tostones — Latin American fried plantains — were crisp and served with spicy chipotle aioli for a winning starter. Continuing with the south-of-the-border theme, a huge Mission-style burrito, loaded with rice, beans, avocado, cheese and salsas, pleased my vegetarian guest. Korean tacos — my regular order — were doubled-up corn tortillas filled to the brim with tender, sweet-and-sour pulled pork, pickled red cabbage, coconut rice and crisp kimchi.
In the end, Duino's meals are all just American; every dish offers a Vermont-y take on its base cuisine. But inside Lee Anderson's cozy, homespun restaurant, the international array feels spirited and soulful.
— H.P.E.
Irish Eats Rí Rá Irish Pub, 123 Church Street, Burlington, 860-9401

Alice Levitt
Irish breakfast at Rí Rá
Brunch served Saturday and Sunday, 10 a.m. to 3 p.m.
In the British Isles, a plate filled with crispy bacon, eggs and pancakes is known as "American breakfast." The assemblage known as "full breakfast" is the standard in England and Ireland. Sound more satisfying than our morning meal? It is.
Rí Rá Irish Pub pays homage to this storied fry-up every weekend. Granted, the slaughterhouse's worth of pork stuffed onto an Irish breakfast plate takes commitment to consume — or a sturdy to-go container. Diners unwilling to undertake the challenge can try non-Irish brunch specialties such as Bailey's-soaked French toast with a brûléed sugar crust — and, for the real lightweights, there's even an American breakfast. But the Irish breakfast is the raison d'être of the traditional pub's morning meal.
A pair of eggs is cooked to order — mine were an overdone sunny-side up — with the traditional pairing of mushrooms and a grilled tomato. Two triangles of toast divide the vegetarian elements from four kinds of pork.
Black pudding may be colored by blood, but its oat base yields an experience that's more grain than flesh. Formed of oats and fat, the white pudding offers more porky moisture. Irish back bacon consists more of loin than belly, bearing a greater resemblance to salty ham than to fatty American bacon. Diners in search of a morning rush of lard will be satisfied with the spiced pair of sausages seared crisp in their casings.
The Irish Benedict combines Old World history with good old American innovation. In place of an English muffin, a crispy cake filled with creamy mashed potatoes serves as the Bennie's base. A slice of bacon obscures both cakes, covered in its turn with a poached egg and a not-quite-sufficient layer of hollandaise.
The side of undercooked home fries and under-grilled tomato was an obvious afterthought. But after just one of those stacks of carbs and fat, all you'll be craving is a nap.
— A.L.
International Restaurant of Mystery
Phantom, 112 Mad River Green, Waitsfield, 496-6068
Hannah Palmer Egan
Scotch egg at Phantom
Brunch served Saturday and Sunday, 9 a.m. to 2 p.m.
This past winter, when Matt Sargent and Steve Askew gave Sargent's popular Phantom dinner series and food truck a brick-and-mortar home, Sargent was hell-bent on keeping things fresh. "My food is very much fusion," Sargent told Seven Days in September, citing inspiration from Latin America, Asia and the American South.
The self-trained cook's merry mashup of a menu changes weekly. But at brunch, he offers thoughtful, worldly dishes that break the mold of standard American expectations for the meal.
The sunny, casual dining room ably welcomes hipsters and families alike. The beer list is brief but expertly curated, with several local IPAs and a smattering of light and dark stuff. On a recent Sunday, a rare pint of Zero Gravity Craft Brewery's Bretthead — a mellow, savory IPA brewed with citrusy Citra hops and Brettanomyces yeast — was an unexpected surprise.
For those in need of something stronger, a Greyhound cocktail — vodka and grapefruit juice — is an excellent, refreshing choice.
During our visit, my table started with a Scotch egg coated in sausage-y crackle.
The egg was split in half, its gleaming yellow yolk barely jelled. Served with home fries and house-pickled red cabbage over a smear of light curried cream, it was an uncommon, fun beginning.
We were equally beguiled by a breakfast banh mi. On a crusty homemade roll, crisp pork belly played nice with a mid-runny egg, snappy sliced cucumber and mixed-vegetable pickles. Phantom's other internationally inspired options include huevos rancheros and fried polenta, but we'll have to return to sample those.
For diners seeking the classics, Sargent offers a basic two-egg breakfast (sided with local bacon or housemade sausage), omelettes, and biscuits topped with expertly poached eggs and shrouded in hearty home-style gravy.
As we enjoyed our eggs, a blend of locals and tourists visiting the Mad River Valley filed in, filling the tables around us. In a subsequent email, Sargent said the day of our visit was his busiest, craziest brunch to date. But we were too engrossed in our morning meal to notice.
— H.P.E.