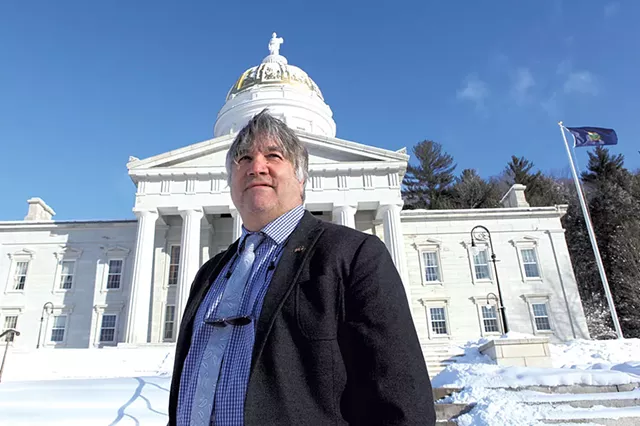 Kevin Mccallum
Rep. Chris Bates
The Vermont House of Representatives Ethics Panel had to wrestle with some unusual questions last year as it considered a wide-ranging complaint against Rep. Chris Bates (D-Bennington).
Is it unethical for a Vermont lawmaker to have an outstanding felony arrest warrant from another state, or to misstate one's criminal background during a radio call-in show?
And how should lawmakers deal with a colleague who calls a constituent a "Pussy" on Facebook?
Critics of the first-term lawmaker and outdoor enthusiast, aka "The Fishin' Politician," paint Bates as a felon who won election in 2018 only after eluding justice and concealing his criminal past from voters.
Bates admits he's made mistakes but says he started a new life in Vermont only to find himself the victim of a smear campaign by some of the same online trolls who harassed former Bennington representative Kiah Morris out of office.
The ethics panel could have opened a full investigation and — had it found unethical conduct — recommended penalties ranging from public censure to removal from office. But six months after it received the complaint, the panel last month closed the case with a warning. In a confidential December 30 letter, the panel admonished Bates for behavior that "appears inconsistent with the public trust committed to a member of the Vermont House of Representatives."
That conclusion has satisfied exactly no one and raises questions about the effectiveness of the secretive system state legislators use to police themselves.
The House formed its ethics panel in 2014 after questions were raised in the media about conflict-of-interest rules. The Senate set up its Committee on Ethics two years later.
Bates, 60, says he's been treated unfairly and saddled with huge legal bills. He's now requesting taxpayers reimburse him for the $9,540 he spent on lawyers.
"This has been like a nightmare for me," Bates said last week. "And I don't want other legislators ... to have to endure this."
His critics are equally disappointed. Colleen Harrington, the girlfriend of Bates' failed Republican political rival in the 2018 election, gun rights activist Kevin Hoyt, filed the formal complaint labeling Bates a "fugitive felon on the run."
"I think they should have asked him to step down," Harrington said last week. "I provided them with droves and droves of information, but they just brushed everything under the rug."
Caught in the middle of the whole mess was Rep. John Gannon (D-Wilmington), chair of the ethics panel.
The attorney and former investigator for the federal Securities and Exchange Commission says he "can neither confirm nor deny" a case against Bates exists. Cases remain secret unless the panel informs the full House that ethical violations have occurred. Confidentiality is crucial to protecting representatives' reputations from unfounded allegations, he said.
The panel's documents are exempt from disclosure under the Vermont Public Records Law. It's only required to report annually how many complaints it addressed and how they were resolved. Complaints are few: Bates' was the only one last year, and Gannon, the chair for two years, said he's only encountered five. No details of the complaints were disclosed.
"I'm confident that our process is fair, especially as it pertains to complaints against members," Gannon said.
While the members of the panel — two Democrats, one Republican, one Progressive and one independent — are sworn to keep complaints confidential, the people who file or face them are not.
Last year, claims surfaced that Bates had an outstanding warrant in Illinois. Earlier this month, Bates approached Seven Days with a claim of his own: The same people who had publicly disclosed his warrant had filed an ethics complaint to, in his view, further harass him. He wanted to go public to expose what he views as a flawed process.
The ethics panel is charged with looking into House members' behavior during the biennium. So the complaint, Bates said, "should have been dismissed, by their own rules." Bates noted that his 2012 criminal case, which stemmed from a third DUI two years earlier, occurred well before he took office.
The outstanding warrant, which an Illinois judge issued in 2013 after Bates failed to pay fines and complete the terms of a "conditional discharge," was not enforceable in Vermont, he contended.
"I didn't do anything during the biennium," Bates said. "I did nothing wrong."
'Man-Child'
Since moving to Vermont from Illinois in 2012, Bates has worked mainly as a fishing guide, regularly gushing about the state's natural beauty and well-stocked trout streams. He has also cultivated a persona — on "Outdoor Secrets Unwrapped," his show on community radio station WBTN, on social media and in person — as kind of an amiable goofball.
"Did you ever realize how hard it is to eat pistachios. Argh!" reads one of his recent Facebook posts.
His online presence is a mix of sophomoric, political and self-promotional posts. In one video he shared recently, a drunk Buffalo Bills tailgater face-plants in a parking lot. In another, Curly from "The Three Stooges" stuffs a Thanksgiving turkey with absurd ingredients.
"I am such a man-child," Bates admits in a video of himself marveling at a toy fan that displays characters from the movie Frozen.
He's also fascinated with bigfoot. His Facebook page is adorned with photos of bigfoot holiday ornaments, mugs and playing cards given to him by friends. In a video he took during a walk through the woods with his dog, Toro, Bates refers to himself with a chuckle as a "renowned bigfoot hunter."
"This has got to be the start of a bigfoot home here," Bates observes of some "stick things" he found in woods near Bennington. "It's gotta be!"
The conservative Democrat also injects occasional commentary on pending state legislation, including skepticism of proposed climate regulation and whether he should start a segment called "Stupid Vermont Bills."
"Do we really need a law for this?" Bates asks of a proposal to require dog trainers to disclose their training methods.
At the Statehouse last year, Bates made plain his bewilderment over some of the legislation he'd been asked to help draft, including the House Natural Resources, Fish and Wildlife Committee's complex work to modernize Act 250.
In a recent interview, he said he decided to seek office because he felt candidates didn't represent the views of Bennington residents.
"I am not a politician. I know nothing!" Bates declared.
While he now claims to have a better handle on the legislation facing lawmakers, professing ignorance appears to be a pattern for Bates.
He said he didn't know about the 2013 warrant for his arrest until it was brought to his attention toward the end of last year's legislative session.
"Are you a felon from another state?" a caller asked Bates during a radio show last September, according to a transcript.
"Uh. Absolutely not," Bates replied.
He went on to say that the arrest warrant stemmed from his failure to pay a $400 fine that he didn't know about.
When the caller asked about previous convictions on his "rap sheet," Bates replied, "I don't know anything about those, to be honest with you."
But Bates had acknowledged to Seven Days last May that he had struggled with alcohol and was convicted of misdemeanor assaults in his late teens and early twenties.
That radio interview, which Harrington brought to the panel's attention in the fall, piqued members' interest. "The Panel is considering these statements Rep. Bates made in relation to the original complaint against him" in June, Gannon wrote in an October letter, asking Bates to address the "misstatements."
Bates told Seven Days last week that he thought resolving the matter would reduce the felony to a misdemeanor. He now acknowledges that the case, which was closed December 13 after he paid the outstanding fine and completed counseling, remains a felony conviction.
'Bawahaaaaa'
Bates' freewheeling use of social media also dogged him after one particular post came to the committee's attention.
"LOL your not so tuff when I see you in public you Pussy!!!!" Bates wrote last June 22. "Bawahaaaaa just remember people, at some point you will run into me here in Bennington! And you can't hide behind your keyboard. LOL LOL. I Owned You !!!!. # THE FISHINPOLITICIAN2020."
The post caught the eye of Aaron Sawyer, the former Democratic chair of Bennington County. "Anyone feel like there should be a different representative in 2-1?" Sawyer wrote, referring to Bates' district.
Bates declined to name his target, but said he meant the post more as a taunt than a threat.
"I just lost my cool," Bates said. "I was typing what I was thinking. I was totally out of line."
The post was a "lapse in judgment, born out of his frustration with a very public personal harassment campaign against him" by Hoyt and Harrington, who were "acting in concert" against Bates, his lawyer, Lisa Shelkrot, wrote in a letter to Gannon. Bates took his post down at the request of House Majority Leader Jill Krowinski (D-Burlington), Shelkrot wrote.
Shelkrot also noted that Harrington had claimed that if Bates were removed from office, the seat should fall to the next highest vote getter — Hoyt. She asked the panel to take note of the long list of public figures against whom Hoyt and Harrington have made "spurious complaints," including Attorney General T.J. Donovan, Bennington Police Detective Sgt. Larry Cole, and former state representative Morris, who stepped down in 2018 citing racial harassment.
"The Complainants' credibility is diminished substantially by their evident bias, their motive for political gain, and their pattern of false and frankly paranoid complaints against a large variety of state and local officials," Shelkrot wrote.
Harrington denied all of Shelkrot's claims, including that she was trying to get Bates the boot to help Hoyt.
End Game
By last fall, after Gannon asked Bates to explain his radio comments, Bates and his attorney had had enough. Shelkrot argued that the panel was effectively on a fishing expedition of its own against her client. She questioned the fairness of the panel gathering information months after the original June ethics complaint and lamented that Bates was "being investigated for alleged violations of unspoken, unstated and unknowable rules."
No code, statute or rules prohibit "immoderate or careless speech" by a member or service in the legislature while "being subject to the jurisdiction of a criminal court," she wrote.
A month later, in late December, she forwarded proof that the Illinois case had been closed. A week after that, the panel did the same to the ethics case.
The panel warned Bates, however, to demonstrate the respect that both "the House and the public trust committed to you as an elected Representative." The panel could reopen the matter, the letter said, if his future conduct "does not conform to these expectations."