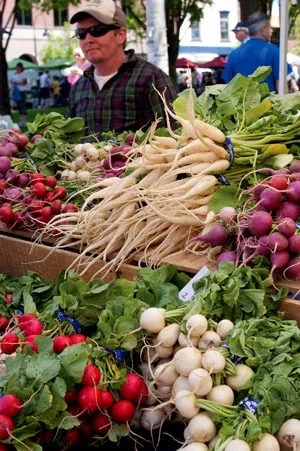 Matthew Thorsen
Oven, vegetables from Arethusa Farm
Do you want a taste of Vermont? Few places in the state offer a wider range of foods than the Burlington Farmers Market. From May to October, the Queen City's centrally located City Hall Park fills up each Saturday from 8:30 a.m. to 2 p.m. This year, the market has 90 regular vendors — up from last year's 68 — and the city has agreed to close down part of St. Paul Street, between Main and College, to allow extra room for the selling of foods ranging from foraged wild goods to locally raised crickets served in lollipops flavored with maple to roasted trail mix.
Veggies, herbs and humanely raised beef and pork abound at many booths. It's a boon to locals who buy their dinner provisions for the week, but travelers can find plenty of to-go snacks, as well. Vegetarians can dine on raw, vegan cuisine at Glow Mom's Kitchen or try a veggie patty slathered in FolkFoods' spicy Master Sauce. The meat-minded will be attracted to the smoky local pork and mac 'n' cheese served at Orsini's BBQ. And there are charcoal-grilled burgers from Stony Pond Farm, with a healthy fermented tea called kombucha to wash them down.
As shoppers fill their bags with flowers, bread and specialty foods, they'll wend their way past numerous delicious treats. Latin American cuisine is represented by A Little Peruvian, and MPT, which sells Panamanian-style tamales and roasted pork. Jing Ji's Foods serves up Chinese-style dumplings and egg rolls, while Tibetan Cuisine and Serchan's Ethnic Cuisine offer momos and noodle dishes from the Himalayas. The globe-trotting continues with organic hummus and tabbouleh from Chick Peace; and curried goat, jerk chicken and meat-filled patties from Jamaican Island D'Lites.
As visitors leave the market for the Church Street Marketplace, Burlington's lively pedestrian mall, they can take in some nonedible arts, too. Talented local musicians perform every week, and Burlington City Arts' Artists Market offers arts and crafts, from candles to jewelry to leather goods to paintings. Kids — or kids at heart — can even get their faces painted.
Summer is short in Burlington, so come and get it now.
In the 'Hood
Les marchés agricoles du Vermont méritent un voyage
Voulez-vous un petit goût du Vermont? Peu d'endroits offrent une plus grande sélection de produits agricoles que les Marchés Agricoles de Burlington. De mai à octobre, le City Hall Park, situé au centre-ville se remplit chaque samedi de 8h30 à 14h00. Cette année, pour mieux accommoder les 90 marchands réguliers (une hausse des 68 de l'année passée), la ville accorde la fermeture d'une partie de la rue St-Paul, entre les rues Main et College, pour permettre d'avantage d'espace à la variété de produits vendus--des aliments sauvages récoltés aux grillons recueillis localement et servis à l'intérieur de suçettes aux saveurs d'érable au mélange du randonneur grillé.
Vous retrouverez aussi, aux nombreux kiosques, des légumes, des fines herbes ainsi que du bœuf et du porc élevé sans cruauté. C'est une aubaine pour les residents qui achètent leurs provisions pour la semaine, mais les touristes peuvent aussi y trouver une variété de collations à emporter. Les végétariens vont se régaler avec la cuisine crue et végétarienne de Glow Mom's Kitchen ou goûter à une boulette végé arrosée de Master Sauce épicée de FolkFoods. Les carnivores se précipiteront chez Orsini's BBQ pour le porc fumé local et le macaroni au fromage. Il y aussi les hamburgers grillés au charbon de Stony Pond Farm, servis avec un thé santé nommé kombucha pour vous rinçer la bouche.
Pendant que les friands remplissent leurs sacs avec fleurs, pains et aliments de spécialité, ils se faufileront devant de nombreuses autres gâteries d'un peu partout. L'Amérique latine est représentée par A Little Peruvian, et les tamales et du porc rôti panamanien de MPT. Jing Ji's Foods vous offrent des dumplings et des rouleaux aux œufs de style chinois, alors que Tibetan Cuisine et Serchan's Ethnic Cuisine servent des momos et des plats de nouilles des Himalayas. Le voyage à l'international continue avec l'hummus biologique et le taboulé de Chick Peace et le cari de chèvre, le poulet mariné à la Jamaïcaine et les pâtés de viande de Jamaican Island D'Lites.
Lorsque les visiteurs quittent le mail animé sur la rue pîétonnière Church Street Marketplace, le centre d'achat vivace de Burlington, ils pourront apprécier des formes d'art non-comestibles. Des musiciens talentueux y jouent à chaque semaine, et le Burlington City Arts' Artist Market offrent des créations artisanales, incluant des chandelles, des bijoux, des produits de cuir et des peintures. Les enfants, et les enfants éternels, peuvent même se faire peindre le visage!
L'été est court à Burlington, profitez-en!
Dans le Coin
The original print version of this article was headlined "Market Share"