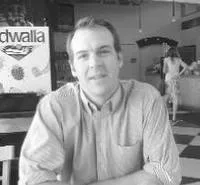 Vermont Republican Governor Jim Douglas is tripping the light fantastic this week with a Vermont Chamber of Commerce-sponsored delegation in China promoting renewable energy. But he's also in the middle of a renewable energy war here at home.
As everyone knows, Gov. Scissorhands vetoed H.520, the climate-change bill that would establish a new utility to reduce heating costs from all fuels in Vermont. Douglas calls it a Tax on Vermont Yankee. Indeed, it would raise the bite on Entergy Vermont Yankee's reactor up to the same level as wind-power projects. Douglas says that sends the wrong message to business.
Democrats say he's nuts.
Vermont Democratic Party Chairman Ian Carleton, a Burlington attorney, told "Inside Track" Gov. Douglas "is making a terrible point, and he waited until after the legislature adjourned to do it." This way, the Douglas plan also escapes legislative review.
Nice.
"His proposal is to essentially create a complex set of loan opportunities for the middle class that doesn't have to be incorporated and deliberated into any ongoing legislative effort. It's totally irresponsible," charged Carleton.
Mr. Carleton, a graduate of Yale Law School and the former president of the Burlington City Council, is considered by many to be a future something-or-other in Vermont Democratic Party politics beyond state chairman. We'll see. Right now he's 37 with a wife, a 2-year-old and a busy law practice. And, like Jim Douglas, he's good with the soundbites.
For example, Carleton had just two words to describe Gov. Douglas' counter-proposal to H.520: "completely ridiculous."
"How is taking on more personal debt, throwing the middle class deeper into debt across Vermont, how is that consistent with the Douglas 'Agenda of Affordability'?" asked the Democratic Party chairman. "It doesn't make any sense."
Carleton didn't mince words. Vermont's Republican CEO, he told "Inside Track," "is truly a man of appearance and not substance." Douglas, he said, "spends so much time being visible and likable — very effectively, I'll admit — that I genuinely believe he's lost sight of the difference between a political victory and a policy accomplishment."
At the moment, Douglas also faces no serious impediment to his re-election in November 2008.
Interesting.
***************
Bernie Gets Religion? — Yours truly has been covering Independent U.S. Sen. Bernie Sanders since his 1981 race for mayor of Burlington. It used to be all about "poor people, working people and the elderly." Then he added "kids" to the mix. But nowadays our favorite socialist is the most exuberant green-energy, solar-powered tree hugger in the entire Green Mountain State.
Last week Ol' Bernardo teamed up with New York Democrat and presidential front- runner Hillary Clinton to attach an amendment to the Energy Bill (on the Senate floor this week), which will pump $100 million into the states for "green-collar" jobs.
"California, right now, is doing an extraordinarily good job," said Sanders of the land of Republican Gov. Arnold Schwarzenegger. "In California right now, if you were to install photovoltaic solar units, the state will provide you with a $10,000 rebate in order to do that. Their goal is to have a million rooftops with photovoltaics in the next 10 years. I think the federal government should be moving in a similar direction."
In fact, Sen. Sanders is so gung-ho on green power these days (he's got a seat on the Senate Energy & Natural Resources Committee), it's beginning to look like his new religion. We're not kidding.
Sanders will hold a Sunday Morning Town Meeting on Global Warming on July 8 at Montpelier High School. A free brunch starts at 10 a.m., followed by the meeting at 10:30. And acclaimed Vermont environmental writer/activist Bill McKibben of Ripton will deliver the sermon.
Tackling climate change just may be the new religion, eh?
Oh, and Sen. Sanders did say he supports the July 11 effort by Democrats in the Vermont Legislature to override Gov. Douglas' veto of H.520, the climate-change bill.
Normally, members of the state's congressional delegation decline to take a public position on Montpeculiar voting matters.
Not the new green-power Bernie.
***************
Dean Hits VT — Former Vermont Governor Howard Dean was former State Rep. Peter Mallary's guest on WDEV Tuesday morning. Mallary is filling in for Mark Johnson, who's in China this week with Gov. Jim Douglas & crew.
Dr. Dean, now a national political star and the chairman of the Democratic National Committee, was visiting an old pal from his days in Montpeculiar. People forget Howard Dean was the darling of the Republicans and conservative Democrats!
When there was an open seat for House Speaker in January 1995 in the wake of Democratic Speaker Ralph Wright's defeat at the polls in Bennington, Rep. Mallary challenged Ralphie's heir apparent, Rep. Michael Obuchowski. The Republicans and, needless to say, Gov. Dean, fancied Mallary over the liberal Obuchowski, but Obie won 78-70.
Ah, yes, way back in the days before Ho-Ho had the "political sex-change operation" and became a screaming liberal antiwar presidential star!
Dean was on for about 20 minutes before heading for the airport and a Boston flight. He was quite frank in his assessment of how things have gone with the Democrats in charge on Capitol Hill this year.
Ho-Ho said the first five months of Democratic Party rule in the House and Senate were "fantastic." Said Dean, "We did everything right!" The Democrats on Capitol Hill, he noted, delivered on "passing the stuff that we said we were going to pass."
"I think we were doing great until the Iraq vote," said the DNC chairman, "and that really upset an awful lot of people who wanted to be out of Iraq."
Certainly Ho-Ho knows that opposition to President George "WMD" Bush's Iraq war is very, very strong in WDEV Land.
Dean said the Democrats in Washington didn't come off looking too good, in part because of what he termed "this complex press coverage, headlines like 'Democrats Cave in to Bush,' which really wasn't true."
But the problem the Dems have with the Iraq war, said Dean, is one of mathematics.
"We really had trouble with Iraq because, frankly, [Senate Democratic Leader] Harry Reid only has 49 votes," noted Chairman Ho-Ho. [Connecticut Independent Sen.] Joe Lieberman votes with the Republicans on this issue. [South Dakota Democratic Sen.] Tim Johnson is out sick. He'll be back in September, and we were outmaneuvered a little bit."
How unusual to witness a political party leader admit to being "outmaneuvered" by the other side, eh?
"I think the next time that we try to shut down the war — perhaps in September," said Dean, "we'll be a little bit better prepared for the machinations of the Republican minority in the Senate."
Live and learn, eh?
As for the rest of the new world that's home to Howard Dean these days, Vermont's former CEO through the 1990s said, "The rules inside the Beltway are different than the rules outside the Beltway. I generally do not cover for people who I think have really done bad things," said Dean.
Awfully nice of him, eh?
"For example," he continued, "if the environmental bill comes out with taking away the states' power to go over and above the federal laws, I'm not going to support the environmental bill, and I'm going to make it very clear that I don't support the environmental bill!"
Maybe you should run for president, Ho-Ho?
In fact, the former Vermont doctor-governor said, "There is a disconnect between what the public sees in the press and what actually goes on in Washington." Ho-Ho said he's "very happy to defend the Democrats on the Iraq war vote. They didn't give up trying to get us out of Iraq. They simply got outmaneuvered by a minority in the Senate and by President Bush, and next time that won't happen," he assured his Vermont listening audience.
The current boss of America's Democratic Party conceded, "There's a learning curve that goes on when you're not in the majority for 14 years, and I think you're seeing some of that."
But it was clear to all listening that DNC Chairman Dean is feeling real good about his party's chances of taking back the Lincoln Bedroom in November 2008.
"Every single candidate on the Democratic side," said Dr. Dean, "has said they'll get us out of Iraq as soon as they can.
"Every single Republican candidate for president thinks that the president is doing the right thing. So the message is pretty clear. If you want to get out of Iraq, you better elect a Democratic president, otherwise you're going to end up staying in Iraq. That's pretty straightforward, and the public gets that."
He hopes.
Current polls show former First Lady and New York Sen. Hillary Clinton leading Illinois Sen. Barack Obama and former North Carolina Sen. John Edwards. But what about former Vice President Al Gore? You know, the guy who got the most votes in 2000? "An interesting wild card?" suggested Mallary.
"I have not talked to Al about whether he is going to run for president or not," answered Dean. "My guess is he won't. I take him at his word, because he's involved in a lot of things and, for a guy who was denied the presidency by one vote on the Supreme Court, he's certainly had a huge effect on the world. He's made global warming a household word around the world," said Ho-Ho.
Dean noted, for some reason, that the Oscar-winning author of An Inconvenient Truth "is making money. He's not having to live under the microscope as you do when you're in the public sector, so, um, I don't know if he's going to run or not. I don't have any inside information, but I have no reason to doubt that he will continue to do what he's doing."
Dean emphasized his role as DNC chairman demands he remain neutral.
"I have not discussed whether somebody's going to run for president with any of the eight candidates," said Dean. "I do talk with them from time to time, but not about their campaigns, not about their strategy. We have to really be neutral at the DNC — unaccustomed as I am to being neutral about anything — because I am the referee and so I can't have anybody suspecting that I'm in favor of this person or in favor of that person."
Asked if the new frontloaded primary schedule will produce a Democratic presidential nominee earlier than ever — say, February 5 — Chairman Dean said it's impossible to predict.
"Anything can happen," he said.
He's right about that.
***************
Media Notes — Incidentally, Dr. Dean was on "The Mark Johnson Show" with Mr. Mallary because Mr. Johnson was in Shanghai with the Vermont delegation. Timewise, they're 12 hours ahead of us over there. Mark's been calling in for the first half-hour of his morning show.
"It's been an eye-opening experience," said the Vermont radio talk-show host. "It's a completely different culture and taste." On first impression, Johnson likened what he saw before his eyes to "the Wild West."
"It's all new ground here," he said, "a risky investment. There's a huge upside, but a potentially huge downside, too."
And also in Media Land, WCAX-TV Reporter/Producer Jessica Abo has departed. Jessica was a regular on the early-morning crew. The graduate of Northwestern University's Medill School of Journalism is currently traveling in Israel and could not be reached for comment. Best wishes.
***************
Free Sickos! — Dr. Deb Richter of Vermont Health Care For All — http://www.vthca.org — our state's strongest crusader for a single-payer system, reminds "Inside Track" that Michael Moore's new health-care flick Sicko opens on June 29 and will run for three weeks at the Savoy in Montpelier. Anyone in need of free tickets to daytime matinees can go to Richter's organization's website and check the upper-left corner of the homepage. "Some doctors are giving them away to their patients," she told us.
The film is also opening the same day at Merrill's Roxy in Burlington. Richter is hosting a Seven Days sponsored Q&A after the 7 p.m. showing.
Nice.