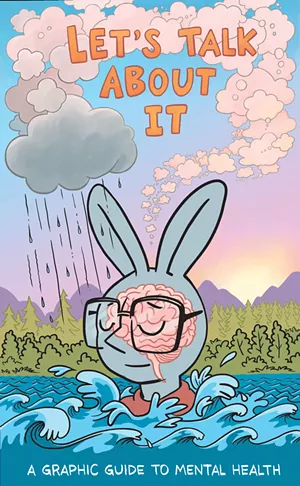 Courtesy Of The Center For Cartoon Studies
Let's Talk About It: A Graphic Guide to Mental Health cover
My 12-year-old niece told me recently that she and her classmates received their school photos last year with a suicide prevention hotline number on the back. This came up when I asked her and my four nephews, ages 12 to 18, for feedback on a new comic book titled Let's Talk About It: A Graphic Guide to Mental Health.
Cara Bean, a cartoonist and former high school art teacher from Wareham, Mass., created the book in partnership with the Center for Cartoon Studies in White River Junction and Stark County Mental Health & Addiction Recovery in Canton, Ohio.
The latter organization approached the cartoon school after seeing its publication This Is What Democracy Looks Like: A Graphic Guide to Governance. Both books are examples of what CCS cofounder James Sturm calls applied cartooning, or "using cartooning as a tool for the greater good."
Let's Talk About It will be distributed to every Stark County middle school student and is available for anyone to download for free from the CCS website. Since its release last week, Sturm said that many organizations have reached out, and he is in conversation with the Vermont Department of Mental Health.
Like my niece's school photo, the book provides suicide prevention phone numbers. But its 24 pages dig far deeper, bringing clarity to the questions that young people — really, any of us — might have about the often-taboo topic of mental health.
The cast of anthropomorphic, rabbit-eared creatures represents diverse youth navigating the challenges of talking about emotions, recognizing they need help, and asking for it despite the horned and fanged stigma monster.
An oppressive pile of blocks with labels including "body image," "world problems" and "school" trap a character under the weight of everyday stress. The black goo of depression drips over slumped shoulders, and jittery lines of pain radiate from someone considering suicide.
A brain wearing sunglasses and surfing over a shark illustrates the risk-taking that can result in addiction, while a reassuring tree branches out with support options.
Bean's approach is accessible and compelling; the book neither patronizes nor lectures. My niece and nephews gave Let's Talk About It a big thumbs-up.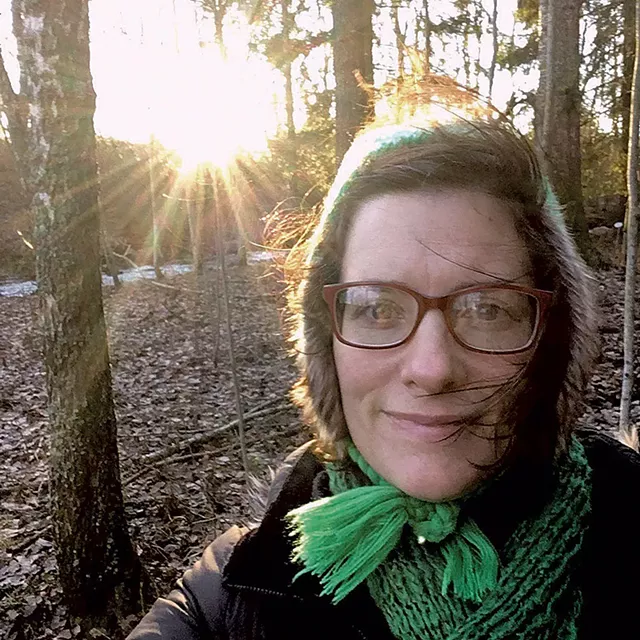 Courtesy Of Cara Bean
Cara Bean
"It takes on a lot of real topics," said my 12-year-old nephew. "I like how it gives you many ways to solve the problems it's explaining."
"Very helpful for anyone in need," added his brother, 16. "Nice job showing what both sides can do," he added, referring to a page illustrating how to ask for help and how to offer support.
"A lot of my friends really like graphic novels and comics," my niece said. "I see in this that people need to be brave to ask for help."
Bean's 13 years as a teacher brought home the need for more ways to converse about mental health. "In art class, students talk, they open themselves up," she said.
She took her first CCS workshop in 2011 and, in 2019, landed a month-long CCS fellowship in Cornish, N.H. — at the studio of cartoonist Harry Bliss — to work on a graphic novel about mental health.
A comic's panel structure helps break down complex issues. "You can parcel out, compartmentalize one idea at a time," Bean explained.
Sturm recruited Bean for the project and served as her editor. "Cara's very warm, generous cartooning style literally creates a space on the page for this conversation," he said.
The Stark County team provided background research and reviewed drafts. At times when she felt out of her depth, Bean reminded herself, "I [am] a vessel for the people who are experts. That gave me the courage to keep going," she said.
She chose to make the characters nonhuman, Bean noted, because they allow more readers to see themselves on the page.
Why choose rabbits? For their ears, she said, because "the answer to a lot of this is listening."