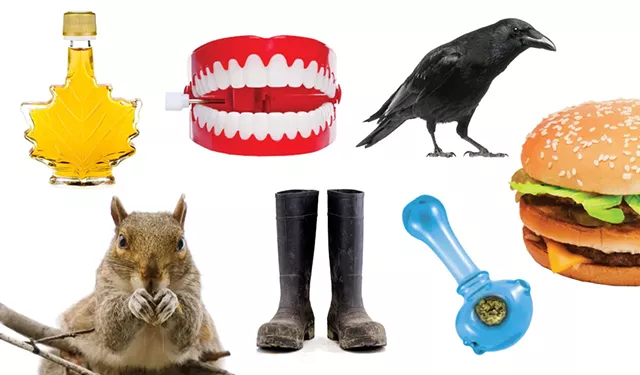 Being a Vermonter isn't all Ben & Jerry's and weed. OK, it kind of is. But there's a bunch of other important stuff you need to know, too, lest you forever be seen as a flatlander — Vermonters' term for an outsider. Before venturing into the wilds of the Green Mountain State, take this very official (unofficial) Vermont quiz to test your knowledge of your new home. Score a passing grade, and you should probably check your veins for maple syrup. Fail it, and ... well, we hear New Hampshire is nice.
1. When your new friend from Vermont's Northeast Kingdom says "Jeezum Crow!" she's most likely:
Warning you to watch out for a large black bird indigenous to the northern Green Mountains
Exclaiming in surprise at how much you pay to rent your apartment in Burlington
Referring to Vermont's senior septuagenarian senator, Patrick Leahy
Talking about a steel bar used for unscrewing the lug nuts on tractor tires
2. "Town Meeting" refers to:
An annual dance where single Vermonters mingle in the dead of winter
A statewide census that measures the boundary lines between municipalities
A quaint form of direct, participatory democracy, held in nearly every Vermont city and town on the first Tuesday of March
A time in late winter when Vermont senior citizens emerge from hibernation
3. "Mud season" is what Vermonters call:
The official kickoff of statewide political campaigns
A cinnamon-like condiment used to darken maple syrup
The start of spring training for the Vermont Lake Monsters minor-league baseball team
A period in late winter/early spring when dirt roads are mucky and treacherous
4. It's safe to take off your snow tires in:
March
April
May
What are snow tires?
5. Suffering a Big Mac attack? You won't find a McDonald's franchise in:
Burlington
Winooski
Montpelier
All of the above
6. "The Notch" is Vermont slang for:
The way the Agency of Transportation shakes down out-of-state truckers
Sen. Bernie Sanders' perpetually furrowed brow
An all-female punk-rock band from Barre
A seasonal mountain road running between Jeffersonville and Stowe
7. While hiking in the woods, you encounter lines of blue plastic tubing. They indicate that you've stumbled upon:
A clandestine meth lab
Tap lines in a maple sugar bush
The boundary of an elite ski resort for 1 percenters
Canada
8. A mention of the "Eye on the Sky" on Vermont Public Radio refers to:
The daily weather forecast from the Fairbanks Museum & Planetarium in St. Johnsbury
A U.S. Border Patrol drone program for detecting marijuana smugglers
A deep-space observatory owned and operated by Middlebury College
A passed-out drunk on Church Street
9. Vermonters know to beware of "leaf peepers," a common seasonal hazard. The term references:
An endangered species of poisonous frogs that live in Lake Champlain
What Vermont state troopers call the Peeping Toms they arrest at highway rest stops
Stylish but poorly made winter coats that won't keep you warm
Tourists who spend $1 billion annually gaping at Vermont's fall foliage and occasionally drive like they're not watching the road
10. In Vermont, "Gore" refers to:
An unincorporated region of the state with little or no self-government
The guy who won the popular vote but still lost the 2000 presidential election
What inebriated college students get if they try to cow-tip a steer
Another word for Vermont property taxes
11. Vermonters put their bird feeders out on December 1 and bring them in no later than April 1 to avoid attracting:
Squirrels
Woodchucks
Leaf peepers
Bears
12. "Front Porch Forum" is:
A Brattleboro gentlemen's club
What Green Mountain weed smokers call a toking session
A free, hyper-local social media service that lets neighbors talk to neighbors
An archaic New England term for full-frontal nudity
13. Which of the following is illegal in Vermont?
Carrying a concealed firearm without a permit
Bicycling in the nude past an elementary school
Making moonshine in your bathtub
Adding artificial color to a product labeled "Vermont maple syrup"
14. Green Up Day, held annually on the first Saturday in May, is when:
Vermonters perform their civic duty and pick up trash along roads
Vermont's black-market cannabis growers harvest their winter crop
State lawmakers vote themselves a hefty raise
Vermonters celebrate St. Patrick's Day, a reaction to the infamous Irish Travel Ban of 1917
15. "Sugar on snow" refers to:
Cocaine-fueled snowmobilers
A delightful snack that combines maple syrup, a pickle and recent precipitation
An eco-friendly method for deicing roads that's less effective than road salt
1970s ski-bum slang for ideal powder conditions
Pronunciation Lighting Round:
16. The town of Charlotte rhymes with:
scarlet
allot
17. The town of Calais rhymes with:
palace
ballet
18. The town of Montpelier rhymes with:
steelier
attaché
Answers: 1. B, 2. C, 3. D, 4. C, 5. D, 6. D, 7. B, 8. A, 9. D, 10. A, 11. D, 12. C, 13. D, 14. A, 15. B, 16. B, 17. A, 18. A
Score
16-18 Correct
Congratulations, you're one of us! Your biggest challenge is that you can't visit the co-op or the town dump without running into a dozen people you know.
7-15 Correct
You're skiing in jeans. Keep studying your What's Good survival guide to improve your score.
0-6 Correct
These woods aren't safe! Shouldn't you be heading back to New Jersey soon?