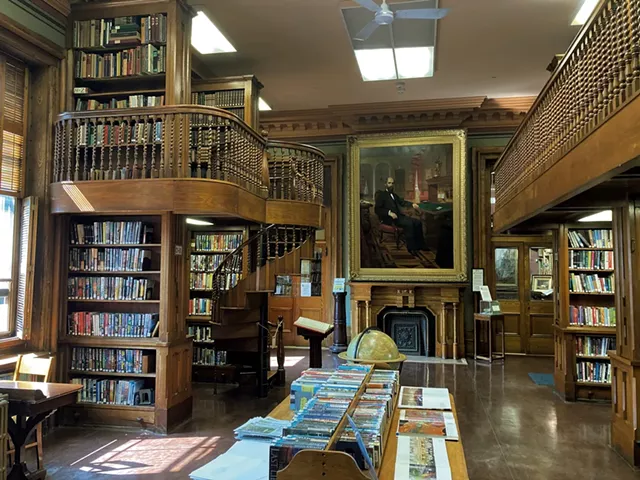 Margaret Grayson ©️ Seven Days
The St. Johnsbury Athenaeum library
As I rolled down Route 5 last week, hints of fall color were beginning to show on the trees. It was shoulder season, those few weeks caught between summer and fall, and the day was warm with a hazy sky. I wondered if I could spin the in-between timing of the trip into an extended metaphor for the place I was on my way to visit: St. Johnsbury, a remote and historically rich town working to shake a run-down reputation and emerge into a new season.
Hello, Vermonting
Even as Vermont gradually opens up from the pandemic shutdown, Gov. Phil Scott still encourages residents to stay home as much as possible. And so this summer is a good time to explore our home state. Its diminutive size makes a multitude of short trips accessible, whether for a few hours, an overnight or a longer getaway.
This series, running weekly through mid-October, presents curated excursions in every corner of Vermont, based on the experiences of Seven Days reporters. The idea is to patronize the state's restaurants, retailers, attractions and outdoor adventures — after all, we want them to still be there when the pandemic is finally over. Happy traveling, and stay safe.
There were two problems with that idea. First, it was so clichéd that I questioned its accuracy; second, a variation on my tale of St. Johnsbury as a land of contrasts had already been written. In 2014, Vermont Life magazine ran a story called "Remote Possibility: Art connections drive hope in gritty St. Johnsbury." The story opens with a moody black-and-white street shot and the line "By most any measure, St. Johnsbury is an unlikely cultural hub." The writer goes on to note the town's relatively low household income, the decline of local industry and the reputation for drug problems.
But then, the article continues — surprise! St. Johnsbury is also home to respected cultural institutions, some more than a century old. Switching to color photos, the article shows the St. Johnsbury Athenaeum, the Fairbanks Museum & Planetarium and Catamount Arts, along with an obligatory portrait of the town's most famous current resident, musician Neko Case.
I learned about the Vermont Life story from Bob Joly, director of the athenaeum, which was the first stop on my town tour. Like anyone loyal to a particular place, Joly was happy to point out how St. Johnsbury is actually on the rise, while also getting a chuckle out of others' attempts to characterize that change.
Joly serves a unique role, because the 1871 St. Johnsbury Athenaeum is three institutions rolled into one building. It's a public library where locals can pick up the latest mystery novel, and it's home to an art gallery with a sizable collection of primarily 19th-century paintings and sculptures. The building has also served as a lecture hall that has hosted speeches by two U.S. presidents.
The athenaeum is one of many reminders of St. Johnsbury's main benefactors: the Fairbanks family, who made their fortune selling scales in the 19th century. Erastus Fairbanks (who was, as Joly pointed out, a dead ringer for "Schitt's Creek" actor Eugene Levy) founded the St. Johnsbury Academy, the town's private high school, with his brothers. Erastus' sons, Horace and Franklin, founded the athenaeum and the Fairbanks Museum, respectively.
Margaret Grayson ©️ Seven Days
Sue Haynie with Ella and Lollipop at Sweet Seasons Farm
Horace and Franklin, Joly said, "got to spend a lot of money, because the previous generation made a lot of money."
The whole building is stunning. I was particularly enchanted by the ornate spiral staircases that lead to narrow balconies throughout the main rooms, so library staff can access shelves that reach all the way to the ceiling. The space has that hallowed library feel, almost like a church.
But the St. Johnsbury Athenaeum's indisputable focal point is a massive painting that takes up the entire back wall of the gallery. Albert Bierstadt's "The Domes of the Yosemite" (1867) offers a somewhat condensed view of California's Yosemite Valley, with subtle, misty lighting and a waterfall that practically glows. This effect, called luminism, was a hallmark of painters who studied with New York's Hudson River School. In 2017, the athenaeum spent $84,000 to restore the painting.
The athenaeum is home to about 120 paintings in total, including other Hudson River School landscapes, depictions of farm animals and pastoral motifs, and copies of Renaissance and Baroque paintings. Joly's tour of the space included several murals in the children's room, country scenes funded through Franklin D. Roosevelt's Works Progress Administration federal art project during the Great Depression.
Margaret Grayson ©️ Seven Days
Chicken adobo from Pica-pica Filipino Cuisine
While such cultural institutions make St. Johnsbury a destination, until recently, Joly said, the town didn't have many food and beverage choices to serve hungry travelers.
The past three or four years have altered that situation, he noted. "It does seem like there is sustaining change here — which, 10 years ago, I would have said, 'I don't know,'" Joly said. "Right here in downtown St. Johnsbury, there is a craft brewery, a craft distillery, a bunch of good restaurants."
Among the town's current food offerings are St. Johnsbury Distillery, the locavore Kingdom Taproom and Table, Central Café, and Salt Bistro and Vermont Catering Company.
I headed for one of those new food ventures for lunch to go. George Sales opened Pica-Pica Filipino Cuisine, possibly the only Filipino restaurant in Vermont, in 2017. I had no experience with Filipino food beyond having seen it described as an amalgamation of influences from India, China, Spain and other cultures. I ordered what I knew to be a classic dish, chicken adobo, and took it for an impromptu picnic on the lawn of the Fairbanks Museum & Planetarium.
The food was excellent: A salty, vinegary broth poured over rice and crunchy bites of carrot and cabbage, peppered with bay leaves and star anise, accompanied two marinated pieces of chicken that practically leapt from the bone. I went in with my fingers, pandemic and table manners be damned. Such are the perks of outdoor dining.
Margaret Grayson ©️ Seven Days
The Dog Chapel at Dog Mountain
Afterward, despite my love for the Fairbanks Museum and its wild array of taxidermied species, I wanted to stay outdoors. So I headed to Dog Mountain, a classic Vermont destination just outside town. It's home to a gallery of work by the late Vermont artist Stephen Huneck, a pristine white chapel dedicated to dearly departed dogs, and 150 acres of hillside where walkers and their canine companions are free to roam.
The gallery shop is packed to the brim with irreverent prints and carvings — a rottweiler with antlers, for instance, hangs on the wall like a deer mount. Much of Huneck's work features a black Lab modeled on his dog Sally, but plenty of other breeds are represented.
I bought a greeting card from the gallery's creative director, Amanda McDermott, while she played guess-the-breed on a low-slung hound that had wandered into the shop. (His owner declared him pure beagle, but McDermott was convinced he had a little basset hound in him.) What Huneck and his wife, Gwen, aimed to do in creating Dog Mountain, McDermott said, was to increase the quality of life for dogs.
"A place like this, they really get to test their lead," she said of the canine visitors. "They know from all the smells that it's a place for them."
The Hunecks' story ended in tragedy; both Stephen and Gwen died by suicide, three years apart. Now under the management of the nonprofit Friends of Dog Mountain, the chapel and grounds remain free to the public and open daily from dawn to dusk. Signs encourage supporting the place by donating or shopping at the gallery.
I wandered around the grassy mountain and then into the cool shade of the chapel, which is adorned with hand-carved pews and stained-glass windows depicting dogs. But those accoutrements are overshadowed by the visitor contributions: layers of notes and photos, several inches thick, pinned to a wall dedicated to the memories of beloved dogs.
Huneck thought people would need closure after the deaths of their pets, McDermott said: "There was a need for it, and it's so obvious now."
After spending a few minutes perusing the messages of grief and love, I headed out, thinking fondly of the little brown dog waiting for me at home in Burlington. But there was one more stop I'd been anticipating, just up the dirt road from Dog Mountain.
Margaret Grayson ©️ Seven Days
Apples and apple cider bars at Sweet Seasons Farm & Artisan Confections
At Sweet Seasons Farm & Artisan Confections, I parked at the top of a long driveway, where I was greeted by yet another dog, an excitable scrap of white fur named Lollipop. She and a nearly identical but much shyer pup, Ella, patrol the hillside.
I learned this from Sue Haynie, the farmer and chocolatier, who emerged from the farmstand eager to tell the story of her farm. She and her husband have been working the property since 2006. In the past few years, they've transformed it into a business, offering pick-your-own blueberries, raspberries and apples and selling fruity, chocolaty treats.
After sampling a chocolate-covered blueberry bar with a hint of lime, I bought a homemade peppermint patty and some apples for the road. Haynie gave me a primer on the apple varieties she had for sale. Mantets have a tougher skin but a subtle vanilla flavor, Burgundys taste of cherry like a Jolly Rancher, and Norlands are tasty but oxidize quickly.
Haynie also offers Gravensteins, a 17th-century Danish cooking apple; they're ready to harvest every single year on August 16 or 17, she noted, as if the tree had a calendar.
Margaret Grayson ©️ Seven Days
Salted-maple peanut patties from Sweet Seasons Farm
All this newfound apple knowledge made it that much harder to choose, but I eventually settled on a few Burgundys and waved goodbye to Haynie, heading back to Burlington.
There's more to see around St. Johnsbury if you're looking to extend your trip. The town is home to one end of the Lamoille Valley Rail Trail, a 93-mile bike path across northern Vermont. In nearby Danville, visitors to the Great Vermont Corn Maze find their way through 24 acres of rustling green stalks; this year, tickets must be reserved in advance.
I didn't taste one of the apples I'd bought until later, at home. The bright red pigment of the skin had tie-dyed the edges of the flesh, and when I bit into a slice, it tasted exactly like a crisp September day. I'll be doing everything I can to grab and hold that shoulder-season feeling while it lasts.
In the area: