Sally Pollak ©️ Seven Days
Lighthouse at Shelburne Museum
The carousel isn't running at Shelburne Museum. The tool barn is locked up, and the Ticonderoga, bedecked with flags, is off-limits. The Mary Cassatt pastel of museum founder Electra Havemeyer Webb, which depicts her as a young girl sitting in her mother's lap, is not on view.
Hello, Vermonting
Even as Vermont gradually opens up from the pandemic shutdown, Gov. Phil Scott still encourages residents to stay home as much as possible. And so this summer is a good time to explore our home state. Its diminutive size makes a multitude of short trips accessible, whether for a few hours, an overnight or a longer getaway.
This series, running weekly through mid-October, presents curated excursions in every corner of Vermont, based on the experiences of Seven Days reporters. The idea is to patronize the state's restaurants, retailers, attractions and outdoor adventures — after all, we want them to still be there when the pandemic is finally over. Happy traveling, and stay safe.
But, and it's a big but, the roses are in bloom, water falls from a bronze figure in a flower garden, and the apple trees bear fruit. Beside a willow tree that weeps into a pond, visitors will find posted the Langston Hughes poem "In Time of Silver Rain."
In time of silver rain
The earth puts forth new life again,
Green grasses grow
And flowers lift their heads,
And over all the plain
The wonder spreads ...
About six miles south of our house, I found wonder at Shelburne Museum. More precisely, I refound it. I used to go to the museum with my daughter when she was young to ride the carousel and see the wooden toys. We brought a dog or two on the occasions when they were welcome. I made periodic pilgrimages to the Electra Havemeyer Webb Memorial Building to get my fix of Edouard Manet's "The Grand Canal, Venice (Blue Venice)."
In recent years, by contrast, I've driven past the museum too many times, noticing the repaintings of the entrance sign without making the turn to see more. That changed last week when I made a trip there the central feature of a well-plotted jaunt to Shelburne and Charlotte.
A daughter-in-law of William Seward Webb and Lila Vanderbilt Webb, the founders of Shelburne Farms, Electra Havemeyer Webb started Shelburne Museum in 1947. Cassatt's 1895 pastel of Webb and her mother, Louisine Elder Havemeyer, is "the work around which the whole museum revolves," executive director Thomas Denenberg told me in a phone conversation.
Sally Pollak ©️ Seven Days
"Luxus Camera" by Peter Kirkiles in Shelburne Museum's "At Scale" exhibition
Havemeyer was an early collector of European art; her 1929 bequest to the Metropolitan Museum of Art, named for the family, is an important component of that museum's collection.
Her daughter would become a collector in her own right, with a distinct focus and interests. Webb amassed a collection vast in scope and number; it includes quilts, duck decoys, ceramics, carriages, tools, carousel figures, folk art and fine art. The objects and art are on exhibit in 39 buildings on the museum's 45-acre campus. More than 20 gardens enhance and enliven the grounds.
Museum admission costs $10 and currently requires an advance reservation for a three-hour time slot. When I arrived one morning last week, I shrugged off the offer of a downloadable map. "I've been here before."
The map, I was told by a masked woman at the check-in tent, would indicate which five of the 39 buildings were open.
"But the outside's open, right?" I asked. Yes, the full outdoors was open.
I was almost relieved to learn that the museum had imposed a five-building limit when it reopened on July 30. The day was too beautiful to spend much time indoors, and five buildings is doable: In the past, I've left the museum thinking about how much I'd missed.
Stepping onto the green expanse, lit by the late September sun, I felt like I had the whole place to myself.
Denenberg mentioned that about 150 people a day visit the museum these days; in typical autumns, it's around 800. "It's wonderful for the people who can come," he said.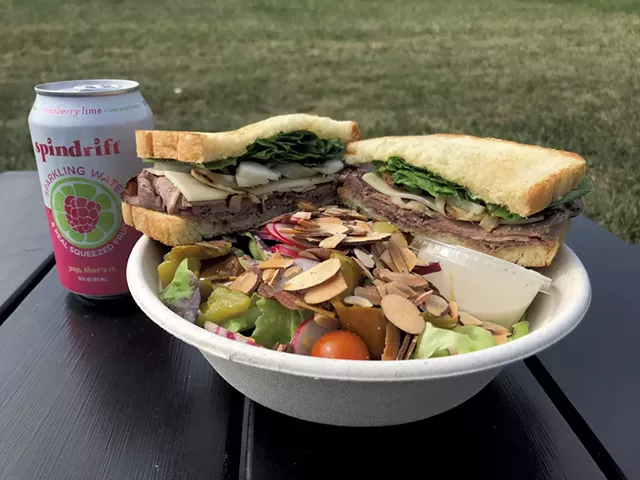 Sally Pollak ©️ Seven Days
Lunch at Philo Ridge Farm
I walked to a grove of evergreens on a knoll and checked out a stone bench decorated with a makeshift sculpture of gourds. I wandered the grounds to see the neat sculptures of Peter Kirkiles.
The buildings themselves became subjects worthy of extended view, independent of any consideration of the contents within: the handsome Dorset House, the crazy horseshoe-shaped Circus Building with its midpoint tunnel, the land-bound lighthouse and the cottage with fading zinnias in the walkway.
From a blue Adirondack chair, I gazed at the Ticonderoga and thought about its history as a steam-powered vessel that traveled Lake Champlain and its contemporary use as a setting for weddings and naturalization ceremonies.
Enough lazing around outside, I told myself. This is a museum — go look at some paintings.
In the Webb Gallery, an Albert Bierstadt canvas, "The Burning Ship," set the red-walled room aglow. Grandma Moses' wintry scenes and Vermont landscapes by Charles Louis Heyde and James Hope warmed my heart — and sent me outside again.
Still, I thought I should see at least two buildings of the allotted five. So I stopped in the gift shop and purchased a scarf.
A foghorn sounded, indicating the end of the visit. Before I left, I looked too long at the empty carousel.
Then I drove to Charlotte for lunch at Philo Ridge Farm, a farm-to-table gem where you can dine on the patio or on Adirondack chairs on the hillside below.
I found a chair, set my lunch in my lap — a superb roast beef sandwich and the best salad I've eaten in a long time — and listened to kids playing at Charlotte Central School recess across the way. The ingredients of my meal, from purple peppers to grass-fed beef, were raised on the farm.
Sally Pollak ©️ Seven Days
Peaches and apples from Shelburne Orchards
More food was on the agenda for the afternoon: apple picking at Shelburne Orchards. The 6,000-tree orchard has lake views, peach trees that straddle the Shelburne-Charlotte border, and a little distillery that produces house brandy and pommeau.
This season, of course, things are different at the family-owned orchard. The open-air store is now a drive-through with service at your car door. Apple pickers prepay by the size of the bag and head to the trees.
I bought a flat of peaches (so good!), sweet apple cider and doughnuts, and an empty bag to fill with $20 worth of McIntosh and Fuji apples.
In the row of trees, I met a family of six from South Burlington who were also picking.
"It's a nice atmosphere," said Sheena Barcomb, the mother. "It's so soothing and quiet." Except for a couple of swimming trips in the summer, this was her family's first outing since the outbreak of the pandemic, Barcomb said.
Her 8-month-old baby, Luka McKenzie, ate his first bite of apple at the orchard. His 6-year-old brother, Ethan Gooding, said he likes Spider-Man and, hence, climbing the apple trees.
Sally Pollak ©️ Seven Days
Nick Cowles
At the front of the store, I found Nick Cowles, owner of the orchard, hanging out and talking with customers. He told me that the new system is working, though it took some adjustment.
"As soon as people are out in the orchard, it's the same," Cowles said. "Same apples, same trees, same orchard. It feels good."
And the same Cowles, who grew up at the orchard and lives there still. Long-haired and mask-clad, he rides around the orchard in his Gator and stops to talk with pickers.
Sally Pollak ©️ Seven Days
Luka McKenzie eating his first apple at Shelburne Orchards, with parents Junior McKenzie and Sheena Barcomb
On my way home, I stopped at Shelburne Farms for a walk — timing it at 30 minutes, the interval it would take the pizza I ordered at Cucina Antica Bistro to be ready.
I'm a regular at Shelburne Farms, where walking and buying cheese at the nonprofit have long been two of my favorite things to do. It seemed fitting that a day that started at Shelburne Museum should end on the onetime estate of Electra Havemeyer Webb's in-laws.
After all, Webb might never have started the museum if she hadn't needed a place to house a large collection of carriages that had been her father-in-law's.
In the area: