Sally Pollak ©️ Seven Days
Lake Dunmore
Every week through mid-October, Seven Days presents "Vermonting," a column of curated excursions in all corners of our great (but not so large) state. Indeed, Vermont's diminutive size makes a multitude of short trips accessible, whether for a few hours, an overnight or a longer getaway.
Find three sample itineraries below, and read more detailed travelogues at sevendaysvt.com. Before you hit the road for any of these destinations, read up on their current COVID-19 policies. And visit sevendaysvt.com/vermonting-maps to download a map of these locations straight to your mobile device!
Wander Through Landscape Art in Woodstock
Sally Pollak ©️ Seven Days
Sculpture in the "Hudson on the Garden" exhibit
Woodstock's 500-acre Marsh-Billings-Rockefeller National Historical Park encompasses one of the oldest planned and scientifically managed forests in the nation — possibly the oldest, according to the National Park Service. The site is a living laboratory of land stewardship and environmental conservation characterized by forest plantations that date back to 1880. With 20 miles of forested trails and a sculpture garden, the national historic park and its surrounds offer more than might fit into a single day trip.
Stop for sandwiches at the historic Barnard General Store, established in 1832. Call-in orders are encouraged for deli fare such as the Barnardino: two fried eggs, crispy prosciutto, provolone, Sriracha mayo and avocado on a toasted English muffin.
Picnic at Silver Lake State Park, directly across from the general store. Silver Lake is a perfect place to stop for a swim on a warm-weather road trip: Just pull over and jump in. In the off-season, the park is a popular site for ice skating and ice fishing.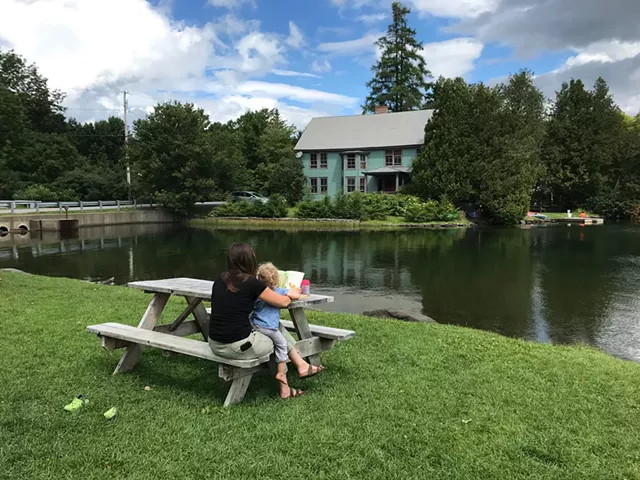 Sally Pollak ©️ Seven Days
Silver Lake State Park
Walk through Marsh-Billings-Rockefeller National Historic Park in Woodstock. The trails are free and open year-round, with paths winding through forests established in the late 19th and early 20th centuries. Don't miss the "Hudson on the Garden" sculpture exhibit in a grassy alleyway behind the garden.
Say hello to a heifer at Billings Farm & Museum in Woodstock. The outdoor history museum and operating Jersey dairy farm welcomes guests to explore some of its barns, pastures, gardens and walking trails.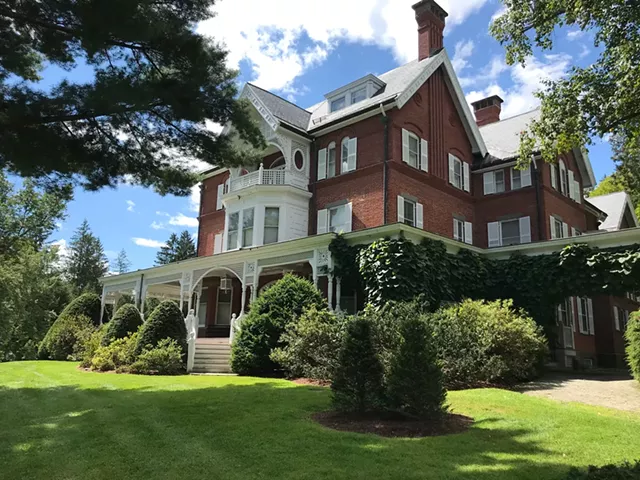 Sally Pollak ©️ Seven Days
Mansion at Marsh-Billings-Rockefeller National Historical Park
Treat yourself at the Woodstock Farmers Market. The Bakehouse here cooks up an ever-changing array of old-fashioned desserts, such as apple pie with streusel topping. If you need a pumpkin or local beer, the market has that, too.
Rest up at the Woodstock Inn & Resort. Claiming to be "Vermont's most beautiful address," the elegant hotel was established by Laurance and Mary Rockefeller. Kick back and relax, whether it's at the activity center or the spa.
Hike and Eat Your Way Around Middlebury
Sally Pollak ©️ Seven Days
A bridge on the Trail Around Middlebury
Need a place for reflection and recreation? You'll find both on the Trail Around Middlebury, a roughly 19-mile path that traverses public and private lands as it runs through woods, along and over Otter Creek, at the edge of meadows, and even on city sidewalks. The first sections of the TAM, as the trail is nicknamed, were built in 1989; "the loop has been expanding and improving ever since," according to Jamie Montague, executive director of the Middlebury Area Land Trust, the nonprofit steward of the trail. Take a stroll, then continue exploring Middlebury for delicious sustenance.
Traverse the Trail Around Middlebury. The trail is well marked and beautifully maintained, offering expansive views of farm fields and meadows.
Hit the brakes at the A&W, the iconic roadside restaurant on Route 7 south of Middlebury. You can smell the burgers and onion rings as you approach, and the car-side service is conducive to social distancing.
Picnic at Lake Dunmore in Salisbury. The lake at Branbury State Park is ideal for a waterfront lunch. The park offers plenty of space to play on the beach and spread out.
Get a pick-me-up from Haymaker Bun, a café on Middlebury's Bakery Lane. It recently added lunch service, but a wildly creative sweet or savory bun made by Caroline Corrente is a must.
Caleb Kenna ©️ Seven Days
A bun and coffee from Haymaker Bun
Snag an adventurous spirit at Appalachian Gap Distillery. Preorder Espresso Liqueur, Mythic Gin or Papilio (an agave-maple syrup spirit) for pickup at the solar-powered distillery.
Settle in for the night at the Middlebury Inn, which has overlooked the scenic town green since 1827. Expect rooms with elegant historic details and fresh, farm-to-table fare at Morgan's Tavern.
Welcome Autumn With Art and Apples in St. Johnsbury
Margaret Grayson ©️ Seven Days
The St. Johnsbury Athenaeum library
Cultural institutions such as the St. Johnsbury Athenaeum, the Fairbanks Museum & Planetarium and Catamount Arts make this remote Northeast Kingdom town a destination. But until recently, St. Johnsbury didn't have many food and beverage choices to serve hungry travelers. The past few years have altered that situation, and now there are plenty of options — including a distillery, a taproom and a Filipino restaurant — to fuel a day spent in this part of the NEK. In the fall, the trek here alone is worth it; St. J has earned a spot on many a foliage-peeping guide.
View art at the St. Johnsbury Athenaeum, a stunning 1871 building that houses the public library, a lecture hall, and a gallery with a sizable collection of primarily 19th-century paintings and sculptures. The focal point: Albert Bierstadt's "The Domes of Yosemite" (1867), which takes up the entire back wall.
Get lunch at Pica-pica Filipino Cuisine, possibly Vermont's only Filipino restaurant, opened by George Sales in 2017. The food is excellent; try a classic dish, chicken adobo, featuring tender marinated meat and a salty, vinegary broth poured over rice.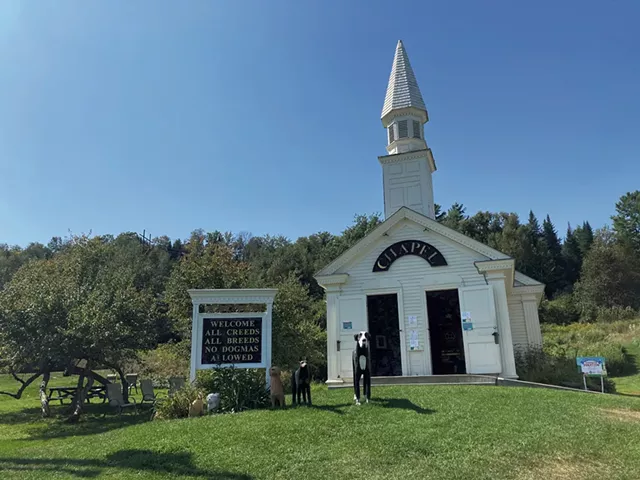 Margaret Grayson ©️ Seven Days
The Dog Chapel at Dog Mountain
Wander the grassy hills of Dog Mountain, home to a gallery of work by the late Vermont artist Stephen Huneck, a pristine white chapel dedicated to dearly departed dogs, and 150 acres where walkers and their canine companions are free to roam.
Stop for a snack at Sweet Seasons Farm & Artisan Confections, just up the dirt road from Dog Mountain. The farm offers pick-your-own apples in varieties such as Mantet, Burgundy and Norland. Grab a unique treat, such as a chocolate-covered blueberry bar, from the farmstand.
Margaret Grayson ©️ Seven Days
Apples and apple cider bars at Sweet Seasons Farm & Artisan Confections
Roll on at Lamoille Valley Rail Trail. St. Johnsbury is at one end of this 93-mile bike path through northern Vermont. The four-season trail snakes along the Lamoille River and through woods, farmland and villages.
Tuck in for the night at Kingdom Farm Lodge in East Burke. The renovated cattle barn, opened in 2014, strives to offer affordable accommodations through an array of differently sized sleeping quarters — with names such as Milkhouse, Horsestall and Hayfield.