Sally Pollak ©️ Seven Days
Lake Dunmore
The possibility of a road not taken failed to materialize last week in Middlebury, where I had intended to choose from among several walks for the centerpiece of this Vermonting excursion.
One of my favorite paths in Vermont — the Robert Frost Interpretive Trail in Ripton — was knocked out of contention by trail work. The one-mile loop, posted with poems by Vermont's first poet laureate, is temporarily closed. When the path is open, walkers can stop in the woods to read Frost, including his famous lines:
Two roads diverged in a yellow wood,
Hello, Vermonting
Even as Vermont gradually opens up from the pandemic shutdown, Gov. Phil Scott still encourages residents to stay home as much as possible. And so this summer is a good time to explore our home state. Its diminutive size makes a multitude of short trips accessible, whether for a few hours, an overnight or a longer getaway.
This series, running weekly through mid-October, presents curated excursions in every corner of Vermont, based on the experiences of Seven Days reporters. The idea is to patronize the state's restaurants, retailers, attractions and outdoor adventures — after all, we want them to still be there when the pandemic is finally over. Happy traveling, and stay safe.
And sorry I could not travel both...
You can read the rest of the poem in the fall, when the U.S. Forest Service expects construction to be complete and the trail reopened for foliage season. Whether you turn east or west at the juncture where "The Road Not Taken" is posted, you'll probably wonder, What if...
Also off-limits to the public is the Campus Art Walking Tour at Middlebury College, along which some two dozen sculptures are placed. The pieces include one of Robert Indiana's "LOVE" sculptures and a bronze panther (the college mascot) on a big rock, poised to pounce. But the campus is closed to visitors for the foreseeable future due to COVID-19.
Non-panthers are compelled to look elsewhere for reflection and recreation. I found both on the Trail Around Middlebury, a roughly 19-mile path that traverses public and private land as it runs through woods, along and over Otter Creek, at the edge of meadows, across Route 7, past high school playing fields, and on city sidewalks.
The first sections of the TAM, as the trail is called, were built in 1989, according to Jamie Montague, executive director of the Middlebury Area Land Trust. That nonprofit is steward of the trail and owner of some of its land. The original sections were constructed on town forestland at Battell Woods, Means Woods and Chipman Hill Park, she said.
"The loop has been expanding and improving ever since," Montague added, noting that trail use has significantly increased since the start of the pandemic.
Sally Pollak ©️ Seven Days
The Arnold Bridge over Otter Creek on the Trail Around Middlebury
Much of the trail work can be credited to John Derick, 73, who's been volunteering for 30 years on the TAM. He does maintenance work and mowing five days a week.
"I had to keep it going. It was a passion," Derick said. "This year, with COVID, we've had any number of people stop us when we're out working and say how much it saved their sanity."
A 3.2-mile section of the trail on the Middlebury campus is currently closed, in accordance with the school's COVID-19 regulations, according to the college's director of media relations, Sarah Ray. But there's still plenty of path to take, including a lovely segment of about four miles that I walked one sunny day last week. (Years ago I hiked the whole TAM.) The trail is well marked and beautifully maintained.
I started my walk at Wright Park and followed the trail to Dan & Peggy Arnold Bridge, a suspension bridge that crosses rushing falls and a dam over Otter Creek. Much of the path, which runs parallel to the creek, is covered in pine needles, though some is graded with gravel; both surfaces make for easy walking. The way is marked with occasional carved wooden signs noting "beaver activity" and identifying tree species, including yellow birch and sugar maple.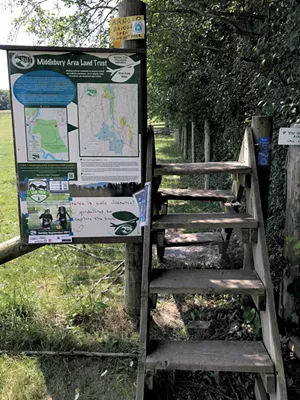 Sally Pollak ©️ Seven Days
A map and stile along the Trail Around Middlebury
The trail continues through woods on the other side of the high span before opening onto farm fields and meadows speckled wild flowers. Here, the walk offers beautiful, expansive views currently in bright summer colors. A fun feature of this section of the TAM is climbing wooden stiles to enter and exit fields and scanning the path ahead to find the next one.
The path crosses Morgan Horse Farm Road and continues for another mile or so through a similar pattern of forest and field. I stopped walking where the path meets Hamilton Road at its intersection with Sheep Farm Road in Weybridge, by Monument Farms Dairy. The spot is marked by a white bike parked in tall grass with a beat-up hockey stick protruding from its frame. (Seven Days learned after publication that the bicycle is a memorial to Kelly Boe, who died there in 2015).
During my walk I saw two people: a young man running with his dog and an elderly woman who reached Arnold Bridge, via a parallel path, when I did.
"I do a lot of thinking when I walk," she said.
Sally Pollak ©️ Seven Days
Liquid souvenirs from Middlebury
So do I. In fact, walking tends to sharpen my thinking about the usual: food. I determined on my stroll that I'd get a sandwich to-go at Haymaker Bun, a café on Bakery Lane in Middlebury that recently added lunch service.
I got a ride from a friend back to my car at Wright Park and phoned in my order for curbside pickup: a Beach hoagie and a falafel salad. The hoagie — an Italian sub on a housemade seeded sourdough — was meant to last until I got to my next stop, Lake Dunmore. But I ate it in the car on the way.
En route to Branbury State Park, I detoured for a bottle of chocolate milk at the little shop at Monument Farms. Then it was off to the lake.
It's been about four decades since I frolicked at Lake Dunmore in Salisbury, perhaps because the last time I was there I foolishly jumped off a cliff into the water and shredded my bottom upon landing. (I shudder to think of the road not taken that day.)
Sally Pollak ©️ Seven Days
A Beach hoagie and a falafel salad from Haymaker Bun
But time marches on, bringing new hazards, and last week I warily eyed the density of camps and cabins lining the shore road. Could I find my six feet of space?
The $4 admission fee gave me access to the state park, which requires wearing a mask along with a bathing suit. I scoped out a clearing between two trees — bigger than six feet and empty of people — and claimed it by dropping my towel.
The lake was ideal for a quick and refreshing swim. The park offered plenty of space for kids to play on the beach and in the water and for families to picnic.
Back in the car, I sought out more refreshments. Destination: A&W, the iconic roadside restaurant on Route 7 south of Middlebury. Though I could smell burgers and onion rings from a couple hundred yards away, I wanted only a half gallon of root beer.
The car-side server was at my window within seconds after I cut the engine. Her smile was evident behind her black mask and despite her tough gig: serving food in a pandemic in a swirl of heat, traffic, exhaust, masks, grease, noise and clueless customers like me, who tried to pay with a credit card (not accepted at A&W). I gave her a $5 tip on a $4.36 tab and turned north into traffic.
By the time I got back to Burlington, I had in tow a few more items to eat and drink, including a curbside purchase of Papilio, an agave-maple syrup spirit from Appalachian Gap Distillery in Middlebury.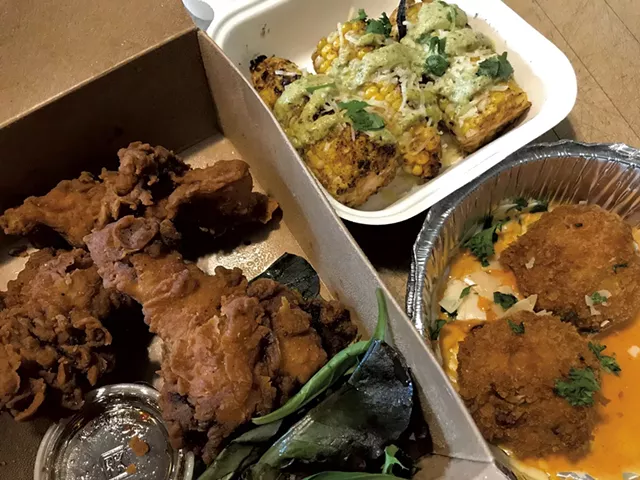 Sally Pollak ©️ Seven Days
"No Fair" food from Bar Antidote and Black Sheep Bistro
I also stopped in Vergennes for a load of "No Fair" fair food, an Addison County promotion in which area restaurants had prepared special items in homage to the food that can't be eaten at the canceled Addison County Fair & Field Days. From Bar Antidote, I bought fried chicken and grilled corn on the cob. At Black Sheep Bistro, I picked up an order of deep-fried macaroni-and-cheese balls.
Although my walk on the TAM was a quickie, I chowed down on chicken and root beer as if I'd trekked the whole thing.
Who knows what poem Frost might have written if he, like me, had no choice but to take the TAM. Given his ties to the area, it's not hard to imagine him walking around Middlebury.
In the area: