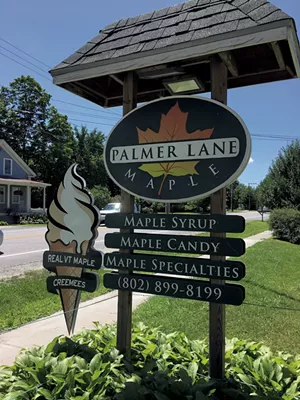 Pamela Polston ©️ Seven Days
Palmer Lane Maple
Our objective for this week's Vermonting excursion was the Museum of Everyday Life in Glover. As usual, though, the journey — along Route 15 to Johnson and northward — involved multiple stops along the way.
My traveling companion and I couldn't leave Burlington until noon, so we planned on takeout from Friend's Nepali Restaurant in Winooski. But no one answered the phone, and a sign on the door indicated the place was closed and would reopen on August 4 under new management. Undeterred, and with taste buds tuned to Himalayan cuisine, we headed to Nepali Kitchen in Essex Junction.
There we collected a brown-bag lunch of chicken curry, saag paneer and paratha — and made it as far as a table outside the restaurant. Laughing, a kind server brought us plates, utensils and water for our "picnic."
Hello, Vermonting
Even as Vermont gradually opens up from the pandemic shutdown, Gov. Phil Scott still encourages residents to stay home as much as possible. And so this summer is a good time to explore our home state. Its diminutive size makes a multitude of short trips accessible, whether for a few hours, an overnight or a longer getaway.
This series, running weekly through mid-October, presents curated excursions in every corner of Vermont, based on the experiences of Seven Days reporters. The idea is to patronize the state's restaurants, retailers, attractions and outdoor adventures — after all, we want them to still be there when the pandemic is finally over. Happy traveling, and stay safe.
Good thing we'd thought to bring a cooler, because there was enough food for several meals. We packed up the leftovers and headed to our dessert destination, Palmer Lane Maple in Jericho. Though the indoor shop is currently off-limits, the outdoor setup is a model of pandemic-era efficiency: Signs and roped-off one-way paths lead customers to a front window to place their orders and pay, then to a side porch for delivery. A server handed us our maple creemees from a touch-free cardboard container.
We stood in a shady spot across the street and slurped our treats, so luscious and creamy we wanted to climb inside the dish. Instead, we got back in the car, feeling grateful for South Asian cuisine, the miracle of maple creemees and the privilege of forgetting the hell-in-a-handbasket world for a few more hours.
This trip, after all, was not just about filling our stomachs. As we slipped from Chittenden County into Lamoille, astonished anew at Vermont's abundant green, stress seemed to slip away, too. Next stop: Jeffersonville.
Just outside town, we passed the landmark silo murals, painted eloquently four years ago by Sarah C. Rutherford, and parked in front of the Bryan Memorial Gallery. Describing itself as "Vermont's most dynamic gallery for the exhibition of the finest landscape painters in New England," it was founded in 1984 by artist Alden Bryan in memory of his wife, Mary, also a fine painter.
Currently on view is the 2020 juried watercolor exhibition, featuring landscapes, portraits, still lifes and abstractions by more than 40 member artists. The back gallery displays sumptuous landscapes in oil by 20 more painters. Strolling through these rooms was like sightseeing in a hundred places, one after the other.
My companion is a knitter, so it was of paramount importance in "Jeff" to patronize Two Sisters Mill & Mercantile, across the street from the gallery. Owners and, yes, sisters Tamra Higgins and Monica Case relocated this summer from smaller quarters to a restored 1885 building on Main Street. Besides dozens of skeins of colorful yarn, the store offers the handiwork — sweaters, caps, wraps, sweet baby items — of some 60 creative consignors, according to Higgins, who was on duty when we visited. Also on duty were the tiny toy sheep that seem to be de rigueur in yarn shops.
Pamela Polston ©️ Seven Days
Tamra Higgins of Two Sisters Mill & Mercantile
An impressive stack of sheep pelts, white to dark chocolate in color, attracted our attention; Higgins described the breed and unique qualities of each one. We couldn't help but pet them, but the July heat made us disinclined to acquire. Instead, my friend bought blue-gray bouclé yarn, and I got a felted-wool soap. The cedar-scented block of handmade soap comes wrapped in wool that acts as an exfoliant, Higgins said, and shrinks as the soap dissolves. Its clean, woodsy aroma filled my car for the rest of the trip.
We stopped at the Farm Store to get iced lattes for the road. Here, too, pandemic precautions were observed: A small table blocked patrons from roaming the store's aisles, while a sign on the glass cookie jar politely warned against the sticking of hands inside.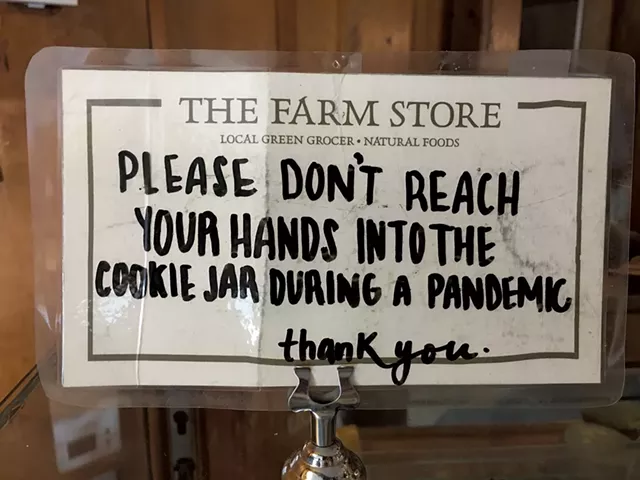 Pamela Polston ©️ Seven Days
Sign at the Farm Store
We picked up a friend in Johnson, where I stopped at the Red Mill Gallery at the Vermont Studio Center to see an exhibit of paintings by Martin Bromirski. Each vivacious abstraction lured the eye with layers of color and texture, but I didn't have time to dive in.
As we headed north and then east, the landscape became gothic and sweeping, the visible imprint of humans less frequent. Until we got to Irasburg.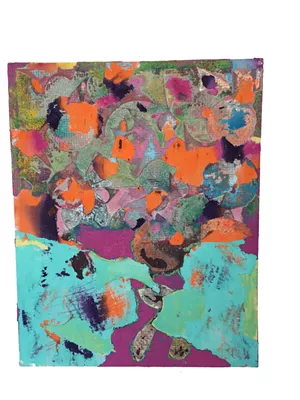 Pamela Polston ©️ Seven Days
Painting by Martin Bromirski at Red Mill Gallery
There we tooled slowly around the green, admiring stately Victorians and contemplating the source of the town's erstwhile wealth. According to my later research, Irasburg, now home to 1,096 inhabitants, was originally deeded to Ira Allen and a few others. Early production of salts and pearl ash involved a bit of smuggling, but prosperity really got going with the 19th-century mills.
An online description claims that Irasburg gets snow nine months of the year. Yikes. This day, however, was sunny and glorious. As we drove out of town, I mentally paid homage to late novelist Howard Frank Mosher, who called Irasburg home for many years.
Whenever I leave the Queen City for other parts of the state, I'm reminded of an old bumper sticker: "The best thing about Burlington is it's close to Vermont." Don't get me wrong; I love my hometown. But Orleans County is an altogether different experience, and Glover may represent the pinnacle of that difference. The whole place seems to reflect the ineffable countercultural aesthetic of nearby Bread and Puppet Theater. (The museum there is open, but we didn't have time to visit on this trip.)
Approaching Glover from the north, we stopped at Red Sky Trading. I was delighted to introduce my two companions to this magical shop. A small barn filled with funky vintage items was padlocked, presumably because it couldn't be pandemic-proofed. But the usual assortment of baked goods, jams, pickles and salsas was available on tables and in a fridge in the yard, accompanied by funny homemade signs and ample hand sanitizer.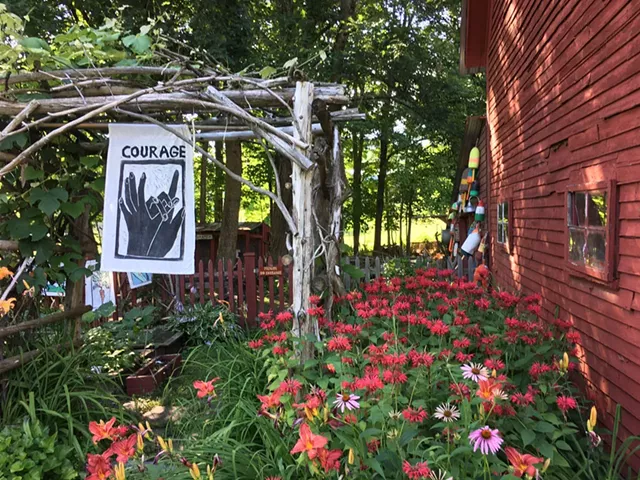 Pamela Polston ©️ Seven Days
Garden at Red Sky Trading
Across the shady yard, which abuts the Barton River, a red hen strutted with a proprietary 'tude. Human owners Doug and Cheri Safford were nowhere to be seen. Like so many establishments in the area, Red Sky operates on the honor system. A box with a slot for cash or checks bore a sign: "There will be no change jar this year! Please come prepared." I did and bought some strawberry-jalapeño jam.
This system was replicated at the Museum of Everyday Life, located in a weathered barn just south on Route 16. No docents here. Visitors are encouraged to turn on lights, turn them off when they leave, and flip a sign on the door to "occupied" to enforce social distancing while browsing. A donation jar invites contributions.
The museum's founder, owner and curator, Clare Dolan, lives next door and is also a nurse. The website describes her most unusual venture as "an ongoing revolutionary museum experiment." Each year's exhibition focuses on a single "everyday" object. Past themes have included the pencil, the safety pin, the toothbrush, scissors, the mirror and, most improbably, dust. All of the objects are donated; Dolan installs and makes signage for the displays with the help of volunteers.
Pamela Polston ©️ Seven Days
The Museum of Everyday Life and a few of its items: a tie and a granny-square crocheted dress
This year's exhibit is titled "Frayed Knot: the human art of tying and untying." Though Dolan planned it well before the coronavirus arrived, the theme perfectly suits a year in which we seem tied to calamity, a year of tangled bugbears and particularly knotty conundrums.
While knots can be problems, Dolan writes in her thoughtful online introduction, they are also solutions, holding things together. Learning to tie one's shoes is a rite of passage for young children (hopefully not stymied by the ubiquity of Velcro on today's footwear). The converse, for adults, might be unraveling the cords that connect us to our devices.
When we visited, a sign in the barn offered an apology: Dolan hadn't yet been able to create wall text with credits for the displays. The items, however, needed no explanation. We found a fishing net,wigs with knotted hair, an unsettling suture-sewing facsimile on a rather large gash, a perfectly executed Windsor knot on a red necktie. One wall was hung with colorful woven creations, another with a series of fancy knots in lengths of white rope.
Yet another corner recalled the '70s with a granny-square crocheted dress, macramé plant hangers and curtains. An elaborate shrine honored "Mary, Untier of Knots"; a wall-hung pair of hands stretched a cat's cradle between them. A small table held a sculptural tangle of thick white rope that seemed capable of holding a ship fast to shore.
Dolan concludes her essay: "The knot embodies something essential about what makes humans human: our ability to create a complex friction-filled series of crossing and loops that can grip and hold tight, and our parallel ability to untie what we have tied."
Over, under, around and through.
We contemplated this idea as we returned our friend to Johnson and crossed over the Smugglers' Notch road, noting the switchback on Route 108 where foolhardy truck drivers get stuck and tie up traffic. We passed through Stowe — a destination for another time — and sailed into the setting sun toward home.
In the area: