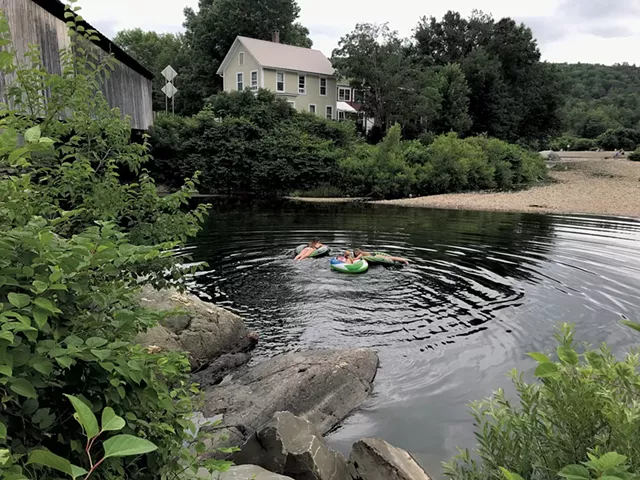 Sally Pollak
Tubing on the Mad River
Every week through mid-October, Seven Days presents "Vermonting," a column of curated excursions in all corners of our great (but not so large) state. Indeed, Vermont's diminutive size makes a multitude of short trips accessible, whether for a few hours, an overnight or a longer getaway.
Find three sample itineraries below, and read more detailed travelogues here. Before you hit the road for any of these destinations, read up on their current COVID-19 policies. And visit sevendaysvt.com/vermonting-maps to download a map of these locations straight to your mobile device!
Tube Down the Mad River
File: Jeb Wallace-brodeur
Creemee sundae at Canteen Creemee
The Mad River Valley is a recreational paradise: ski mecca in the winter, hiking wonderland in the summer. The area is also home to visual and performing arts organizations, such as Valley Arts and the Valley Players, as well as Yestermorrow Design/Build School. The outdoors is always open, of course, and it's easy to spend a few hours in the valley mixing arts with nature. This trip, built around a leisurely float down the Mad River, includes mountains, modern art and chocolate-maple creemees.
Explore art at the Bundy Modern in Waitsfield, a gallery in a private home set on 12.5 acres. On view, by appointment, is "Triad 2020: Paintings by Patrick Dunfey, Pam Glick and Richard Jacobs." More than a dozen sculptures are also sited on the grassy grounds.
Lunch by the brook at the Warren Store. The always-reliable deli is open via a takeout window on the back porch. Order a sandwich with a side of kale salad and carry it down a little path to picnic by Freeman Brook.
Float down the Mad River in a tube from Waitsfield's Clearwater Sports. Tube rentals are $20 for the day, which allows plenty of time to pause for a refreshing dip at the swimming hole under the covered bridge.
Sip a brew at Lawson's Finest Liquids. The outdoor beer garden offers seatings by reservation only. Try the Scrag Mountain Pils, a delicious golden lager, and relax in the open, breezy atmosphere.
Get your sugar fix at Canteen Creemee. This snack shack in a Waitsfield strip mall is a bona fide valley thrill. Lick a maple-chocolate twist while taking in mountain views and retro music from the record player.
Stay overnight at the historic Lareau Farm Inn. Settled in 1794, Lareau Farm is known today as the original home of American Flatbread. The farmhouse rooms are notable for their antique charm, and the restaurant offers takeout and limited picnicking on the premises.
Celebrate the 'Everyday' in Glover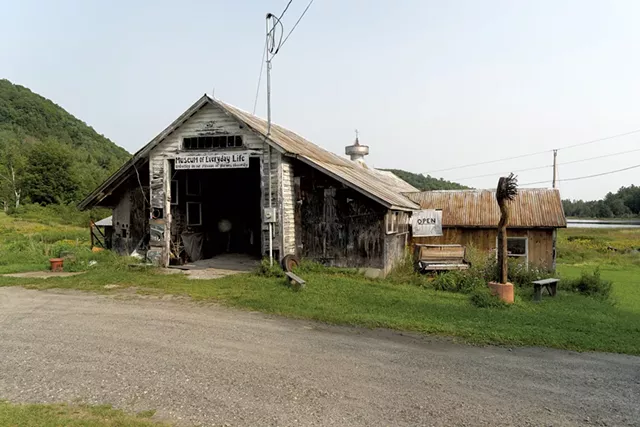 file: Don Whipple
Museum of Everyday Life
This excursion from Burlington to Glover calls to mind an old bumper sticker: "The best thing about Burlington is it's close to Vermont." Glover seems to reflect the ineffable countercultural aesthetic of its resident Bread and Puppet Theater. This trip's quirky centerpiece, however, is the Museum of Everyday Life, described by curator Clare Dolan as "an ongoing revolutionary museum experiment." Each year's exhibition focuses on a single "everyday" object. Past themes have included the pencil, the safety pin, the toothbrush, scissors, the mirror and, most improbably, dust.
Begin with a Himalayan lunch from Nepali Kitchen in Essex Junction. Order a meal of, say, chicken curry, saag paneer and paratha, then picnic at a table outside the restaurant.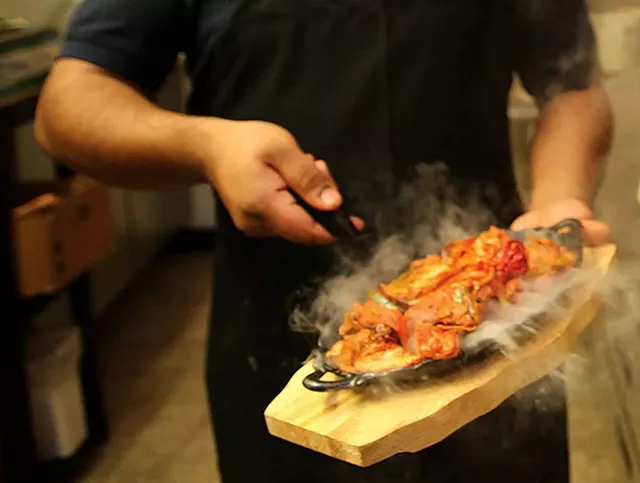 FILE: Matthew Thorsen
A dish at Nepali Kitchen
"Sightsee" at the Bryan Memorial Gallery in Jeffersonville. Founded in 1984 by artist Alden Bryan, the gallery displays sumptuous landscapes in oil by dozens of New England painters. Strolling these rooms is like sightseeing in a hundred places.
Get wild and woolly at Two Sisters Mill & Mercantile, just down the street from the gallery. Besides dozens of skeins of colorful yarn and an impressive stack of sheep pelts, the store offers the textile handiwork of some 60 creative consignors.
Stock up on strawberry-jalapeño jam at Red Sky Trading in Glover. Find an assortment of baked goods, jams, pickles and salsas — accompanied by funny homemade signs — in front of a small barn. Red Sky operates on the honor system, so come prepared with cash or check.
Honor the ordinary at the Museum of Everyday Life. The museum-in-a-barn presents the exhibition "Frayed Knot: the human art of tying and untying." Though planned well before the coronavirus arrived, the theme perfectly suits a year in which we seem tied to calamity.
Extend your stay at Smugglers' Notch Resort in Jeffersonville. Here you can spend an overnight and take advantage of outdoor amenities such as mountain biking, disc golf and the mountainside reservoir.
Shop Your Way Through the Upper Valley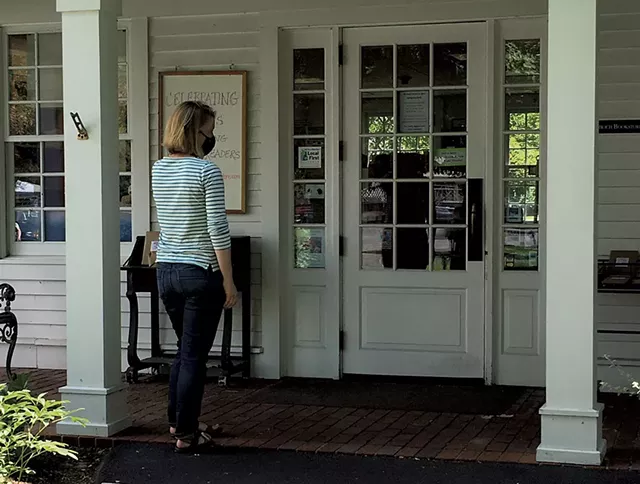 Pamela Polston
Porch pickup at Norwich Bookstore
The Upper Valley is unique for multiple reasons, and one is that it so easily straddles Vermont and New Hampshire. Perhaps nowhere else in the Green Mountain State do so many residents identify more with their geographical niche than with the insular identity of "Vermonter." An Upper Valley to-do list should include a visit to the dramatic, 165-foot-deep Quechee Gorge. Below are some retail stops along the way.
Jump on the sourdough bandwagon at King Arthur Baking in Norwich. The flour company's headquarters are akin to the Holy Grail for home bakers. Stop in for a golden croissant, a cup of coffee and the attached retail store.
Visit the pop-up shop at Norwich Bookstore. Now in its 26th year, Liza Bernard and Penny McConnel's indie shop offers book pickups in brown paper bags on the porch, where it also displays a selection of cards, puzzles and games.
Dig into Turkish-Mediterranean fare at Tuckerbox in White River Junction. The restaurant serves both outdoors and in, with enough room to socially distance the diners. Try a mezze platter, and don't forget baklava for the road.
Gawk at jewelry in Scavenger Gallery, a short stroll from Tuckerbox. Inspired by the natural world, owner and designer Stacy Hopkins makes rings, bangles, necklaces and more from various metals in the shapes of beetles, raptor talons, tiny critter skeletons and botanical elements.
Go treasure hunting at the Vermont Antique Mall in Quechee. Just a hop down Route 4 from the gorge, this capacious venue offers 17,000 square feet of vintage shopping.
Rest your head at the Norwich Inn. Located in the heart of the small town, this 1890 Victorian structure is today a "green hotel" committed to local fare and solar energy. Patio and pub dining are available at the on-site Jasper Murdock's Alehouse.