Pamela Polston
Taconic Mountains Ramble vista
This week our destination was the Taconic Mountains Ramble, a newish state park in Hubbardton that's just a hop from the oldish Hubbardton Battlefield. The journey would introduce us to intriguing characters, sandwiches, history and farm animals.
From Burlington, my road-trip gal pal and I headed down Route 7, navigating the commercial strip that is Shelburne Road and passing through the tidy village that shares its name. The rows of grapevines at Shelburne Vineyard seemed to hint at the lush farmland further south. Driving through bucolic Addison County, its rich fields sloping toward Lake Champlain, was like taking a restorative nap.
Hello, Vermonting
Even as Vermont gradually opens up from the pandemic shutdown, Gov. Phil Scott still encourages residents to stay home as much as possible. And so this summer is a good time to explore our home state. Its diminutive size makes a multitude of short trips accessible, whether for a few hours, an overnight or a longer getaway.
This series, running weekly through mid-October, presents curated excursions in every corner of Vermont, based on the experiences of Seven Days reporters. The idea is to patronize the state's restaurants, retailers, attractions and outdoor adventures — after all, we want them to still be there when the pandemic is finally over. Happy traveling, and stay safe.
We had decided to detour through Vergennes, thinking that "the smallest city in Vermont" would offer both food and shopping. As if on cue, Main Street's storefronts, their windows dotted with Black Lives Matter posters, were just opening up as we arrived. The street was lined with well-tended plants; the robust hostas in particular seemed bursting with civic pride.
We first visited Sweet Charity, a resale shop founded and managed by Women of Wisdom, a local philanthropic group. The ladies are certainly wise about conducting retail in the time of COVID-19. A small table just inside the front door holds hand sanitizer and a basket of thin disposable gloves — wearing them is de rigueur and allows customers to touch the merchandise. "So we don't have to keep sanitizing everything," explained a volunteer clerk named Peggy, gesturing around a shop filled with hundreds of donated items.
We did our part for charity by purchasing a vintage vase the color of butter and four small ramekins.
The next stop was clothing and gift shop Linda's Apparel, where my companion zeroed in on wee truck-covered socks for a beloved 3-year-old.
In the next block, we were bummed to find that lu•lu — a handcrafted ice cream shop where we'd hoped to get a "second breakfast" — didn't open until afternoon. Nearby Daily Chocolate had curbside pickup only; it hadn't occurred to us to order in advance. So we backtracked to 3 Squares Café for a couple of cold bevvies and a hefty brownie for the road.
Pamela Polston
Décor on Vergennes Main Street
We continued down Route 22A, intending to "hang a Louie," as my friend says, at some point and head east to Route 30, where we would "hang a Richard." But along the way we realized that we hadn't gotten takeout and options might be slim on our rural route. Just then Pratt's Store appeared like the answer to a riddle.
This oasis in Bridport calls itself a one-stop shop, and that's not much of an exaggeration. Packed with groceries, convenience items and prepared foods, the family-owned Pratt's has been serving passersby — and filling their gas tanks — for more than 50 years.
Inside, with face masks on, we marveled at a gargantuan box of watermelons, lingered indecisively at the salads cooler, then made our way to the deli in the back. And there the menu gave us pause, literally. There were more than a dozen specialty sandwiches, each with a colorful name, such as Aleena's Sunny Day Surprise, Jersey Turnpike, Hot Postman and Yo! Adrian.
Pamela Polston
House at Hubbardton Battlefield Historic Site
We asked the woman waiting on us — who turned out to be Aleena — the deal with the names. That lured store co-owner Corey Pratt from the kitchen. He apparently loves answering the question, because, like a cheerful museum docent, he explained each and every sandwich: All are named for past or current employees, often referencing some quirk about them.
We ordered a Betty's Bomb — turkey, bacon, avocado, Swiss and pesto on white bread — to share. We thanked Pratt for the sandwich provenance, paid at the register up front and hit the road again.
By the time we turned off Route 30 on Monument Hill Road, the terrain was hillier and more forested. En route to the eponymous monument, we stopped to take pictures of a barn adorned with painted cutouts of Revolutionary War-era figures. A sign assured us that the battlefield of yore was but three miles away.
To our surprise, the area invited picnicking — tables dotted the lawn of the Hubbardton Battlefield State Historic Site. A couple other cars in the parking lot bore Vermont license plates. One group consisted of four senior citizens, all wearing face masks; another comprised two younger women and three children with the energy of torpedoes.
Pamela Polston
Barn in Hubbardton
Before laying out our lunch, we investigated the monument and learned some American history.
The battle of Hubbardton took place on the morning of July 7, 1777, the only Revolutionary War battle fought in what would become, 14 years later, the state of Vermont. Those enthralled with such facts might know that the battle is considered "one of the most successful rear-guard actions in American history," according to a website for the state's historic sites. Although it was a "tactical victory" for the British — and casualties were high on both sides — the battle was considered a strategic victory for our guys because, basically, they showed hella resistance.
The Hubbardton Battlefield also represents one of the first efforts in this country to establish and preserve a Revolutionary War site as a historic artifact. Accordingly, its monument, a marble obelisk erected in 1859, was one of the first such commemorations of that war in the U.S.
Pamela Polston
Hubbardton Battlefield Monument
Though no scholars of combat, we did admire the economy of documentation etched into one side of the monument:
"COL. WARNER COMMANDED. COL. FRANCIS WAS KILLED. COL. HALL WAS CAPTURED. The Green Mountain Boys Fought Bravely."
While wrangling our Betty's Bomb, we eavesdropped on the party with the kids. One of the women was quizzing them about American wartime history; a small boy was very curious about swords. When the children galloped off to play, we had our own questions for her about the site, as well as the Taconic Mountains Ramble. The woman, who lived nearby, warned us about the park's "yellow trail," which would lead us up the sheer rock face of Mount Zion. Take the blue trail, she advised.
As it happened, a small shelter at the entrance of the park was out of maps, and none of the worn paths from the parking area was marked in blue or yellow. All of them descended abruptly — the park's terrain could be described as "hill and dale." We decided to wing it and headed down a steep path that appeared to lead to the so-called Japanese garden.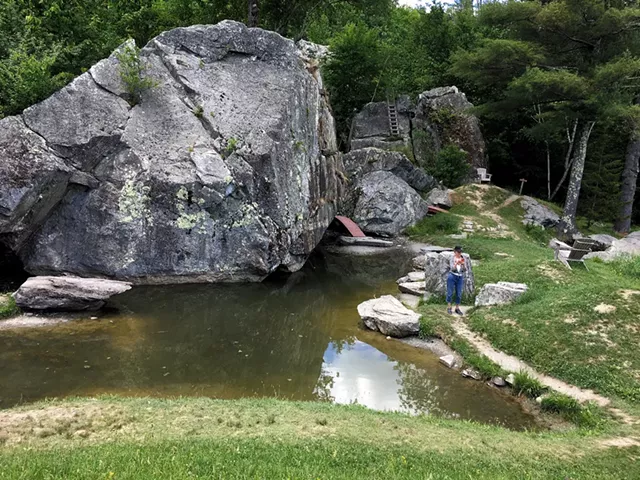 Pamela Polston
Japanese Garden, Taconic Mountains Ramble
The Ramble became a state park in 2016, a gift from the estate of landowners Carson "Kit" Davidson and his wife, Mickie. The New York City couple — a documentary filmmaker and children's book author, respectively — ultimately purchased more than 400 acres and devotedly tended the property for 46 years. Davidson blazed trails, preserved meadows and created said Japanese-inspired area at the foot of Mount Zion. Aside from a porta-potty in the parking lot, the park has no facilities and is "carry in, carry out."
As we descended the hill we could hear bullfrogs in the garden's small pond, their belches echoing off a massive boulder. Settling into a couple of Adirondack chairs, we sunned ourselves like lizards, greeting other visitors with mask-obscured smiles. A young couple braved the vertical ladder on an adjacent rock face and disappeared onto ... the yellow path? The place feels both Zen-like and agrestal.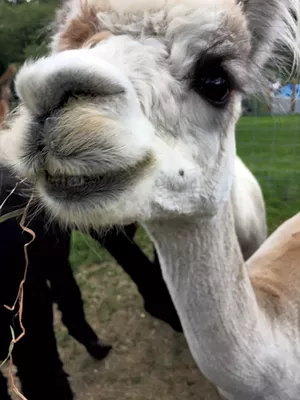 Pamela Polston
Wright Choice Alpacas farm
After reaching peak warmth in the afternoon sun, we trudged back up the hill to the car and headed to a cuteness adventure at Wright Choice Alpacas. In fact, owner Deb Bahre's business card declares, "Happiness is a cute alpaca."
And it's true: Mingling with these long-necked, curious camelids made us forget, for the moment, the troubles of our human herd. We peppered Bahre with questions, which she answered with enthusiasm. Deeply knowledgeable about animal husbandry, Bahre clearly has a soft spot for cuddly creatures — she used to breed prize-winning rabbits.
Though it's not evident from the road, Wright Choice farm also has a small gift shop that's open to properly masked and sanitized visitors. Bahre sells skeins of soft wool from her animals, along with knitted and woven items. The walls are lined with ribbons from her wins at previous competitions — none of which are happening this year. Little toy alpacas populate her display tables. My friend, an avid knitter, bought several skeins named for the animals that provided the wool.
By this point in the day, both of us were jonesing for lu•lu's, so we hightailed it back to Vergennes. She got green tea ice cream; I indulged in two scoops: coffee and maple creemee. We devoured our treats at a picnic table on the town green, then got in the car and headed north. At 5 p.m. on the dot, we reached Shelburne Road. The very existence of traffic seemed a world away from whence we'd come.
Also Recommended in This Area
Check websites for COVID-19 guidelines.