Paula Routly
Farmstand in Isle La Motte
French explorer Samuel de Champlain had the right idea when he landed on Isle La Motte more than 400 years ago this week. He wisely picked July to paddle up the Richelieu River into the lake that would eventually bear his name. The water-encircled terra firma, his first stop, beckoned with its gentle topography and lush forests.
Even in 1609, the northernmost Champlain Island was a great place for a day trip.
Hello, Vermonting
Even as Vermont gradually opens up from the pandemic shutdown, Gov. Phil Scott still encourages residents to stay home as much as possible. And so this summer is a good time to explore our home state. Its diminutive size makes a multitude of short trips accessible, whether for a few hours, an overnight or a longer getaway.
This series, running weekly through mid-October, presents curated excursions in every corner of Vermont, based on the experiences of Seven Days reporters. The idea is to patronize the state's restaurants, retailers, attractions and outdoor adventures — after all, we want them to still be there when the pandemic is finally over. Happy traveling, and stay safe.
It was also the ideal location for a fort. In 1666, the French army built one there to protect the settlements in New France — now Québec — from the Iroquois, who already inhabited the area. Capt. Pierre La Motte's island outpost was the first white community in what later became Vermont. The year-round residents apparently spent a lot of time praying. The shrine they built to the Virgin Mary's mother, Saint Anne, remains the island's main — but far from only — attraction.
My companion and I decided to "discover" Isle La Motte by bicycle. The 7-by-2-mile island is an out-of-shape cyclist's paradise — that is, mostly flat with very little traffic and short distances between intriguing points of interest.
St. Anne's Shrine is the ideal place to start, and you can leave your car there. Shortly after you cross the bridge from Alburgh, the Roman Catholic refuge reveals itself on Sandy Point. On the lake side of the tarmac, a Stations of the Cross sculpture garden invites visitors to sit a while, with dedicated benches at each spot. Christ competes with a nearby sculpture of Champlain and his Indigenous guide.
On the other side of the road is an open-air chapel where the Edmundite fathers conduct mass at least once a day, all summer. With strategically placed hand sanitizer and every other pew roped off, it's probably the safest place in the state to worship at the moment. Attendance ranges from 60 to 150 people, according to a young groundskeeper who was weeding along the road that leads to the shrine's retreat center.
Life-size sculptures of saints, each in a protective wooden niche, guide visitors along the wooded edge of the sprawling property. Towering among the trees is the gilded, resurrected Our Lady of Lourdes that topped Burlington's Cathedral of the Immaculate Conception before it burned down in 1972. This natural place of worship also has camping spots and a gift shop. The snack bar is closed, but there are plenty of picnic tables.
Paula Routly
Our Lady of Lourdes at St. Anne's Shrine
It was hard to leave, but we did, proceeding counterclockwise around the island along a charming road that passes by and through various camp communities. Riding between the houses and their docks brought us close enough to the lake to hear splashing and squeals. A number of cars with out-of-state license plates sat in driveways; the unoccupied sites, we surmised, belonged to Canadians who still can't cross the border because of the pandemic.
A few miles down the road is Fisk Farm, identified by a historic marker that notes vice president Teddy Roosevelt stayed there on September 6, 1901 — a guest of Vermont lieutenant governor Nelson Fisk. Roosevelt had been scheduled to speak at the annual meeting of the Vermont Fish and Game League, but his plans changed with the news that president William McKinley had been assassinated. Roosevelt reportedly left in a rush — a word not normally applicable to sleepy Isle La Motte.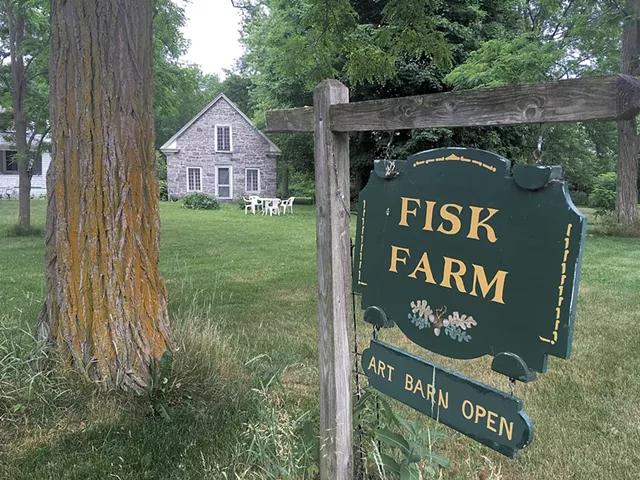 Paula Routly
Fisk Farm
Historical significance is just one reason to visit Fisk Farm, which looks like something out of a fairy tale. Linda Fitch bought the place in 1970 and has lovingly restored the main residence and the surrounding buildings and gardens. She rents the Stone Cottage guesthouse to visitors. The massive barn has become a gallery, currently showing landscapes by Susan Larkin through July 15. In another ivy-covered building, Fitch used to serve tea and cakes on weekend afternoons — but not anymore.
The only thing greener than Fitch's thumb is the algae growing in the quarry behind her house. When she bought the Fisk Farm, she didn't realize it was a stone's throw from one of the best sources of Isle La Motte's famous black limestone. That stone was used to construct both the U.S. Capitol and the National Gallery of Art; extraction at the Fisk quarry began in the late 18th century, making it the oldest in Vermont.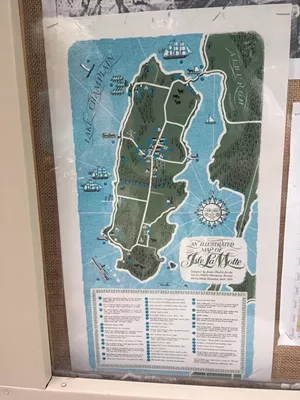 Paula Routly
Isle La Motte map
Soon after Fitch bought the place, the quarry's owner, Vermont Marble, started blasting there. Fitch got a crash course in geology, and then in environmental activism. After years of fighting, she persuaded the company to sell the quarry to the nonprofit she created in 1998: the Isle La Motte Preservation Trust. Fitch's backyard still affords the best view of the Fisk Quarry Preserve. From the top of a rock wall, you can survey the iridescent green water and wetlands below.
A little farther down West Shore Road, a sign marks a trail that offers another perspective on it.
While battling the marble company, Fitch found a greater calling: protecting and increasing awareness of Isle La Motte's unique geology. The island is part of the Chazy Fossil Reef, formed 460 million years ago from a shallow tropical sea near what is now Zimbabwe. In the prized limestone, visitors can see the swirling shapes of marine animals that once inhabited it: gastropods, a form of snail; sea sponges; and cephalopods, including the distinctive nautilus.
In 2005, the Isle La Motte Preservation Trust bought a second reef site, the 83-acre Goodsell Ridge Fossil Preserve on the east side of the island — our next stop. En route, we passed the road to Lakehurst, a community of seasonal, mostly mobile homes on the southeast corner of the island.
Paula Routly
Open-air chapel at St. Anne's Shrine
Hall's Orchard, which straddles the road, was flying an "open" sign but only offered an antique gas pump and a sparsely stocked self-serve farm stand. Pro tip: If it's a weekday, bring lunch and plenty of water. On weekends, MaMa Dogs Catering runs a food truck on West Shore Road, between the Shrine and Fisk Farm.
A right on Quarry Road led us past the stone headquarters of the Isle La Motte Historical Society and on to Goodsell Point, where Fitch had gone ahead to meet us. We followed the sound of her piano playing into another perfectly restored barn, her latest project, which comprises a visitor center, concert hall, classroom and museum. In 2009, the U.S. Department of the Interior designated both Isle La Motte quarry sites as National Natural Landmarks.
Paula Routly
Fossil at Fisk Quarry
Beautiful fossil photographs adorn the walls in the barn's cathedral-like north room. The south room holds books, including one of Fitch's, and an educational video titled "The Oldest Reef." Still stored inside for the winter are dozens of heavy panels that mark the Walk Through Time trail to some of the best rock viewing. They haven't made it out this year because two volunteers are required to install them — a no-no during the pandemic.
"Every step you take represents a million years of Earth history," Fitch said of the outdoor walk when the proper signage is up. This summer, visitors can either explore the area independently or call Fitch to set up a tour. That's not a bad idea. Despite the mowed trails, we managed to miss the most celebrated sections of the preserve.
By that point, we'd been exploring Isle La Motte for about five hours. It was time for a swim and a drink. At the very end of Quarry Road, past a bustling, mask-free RV park, we found both at Ruthcliffe Lodge & Restaurant, a charming eatery owned and operated by Mark and Kathy Infante.
Paula Routly
Hall's Orchard
The couple thought long and hard about opening at all this year — their 35th running an operation that has been in Mark's family for 63 years. "We lost May and the first part of June," Kathy lamented. Many of their customers come from nearby Canada — by boat — for cocktails and Mark's delicious seafood dishes. That business is gone, but the place was still hopping last Thursday night. We had a dinner reservation but started with drinks at a table by the water, one of four seating areas on the property. More tables on the lawn, on the porch attached to the restaurant and inside allow for adequate social distancing. Customers are required to wear masks — until they're sitting down.
Also awaiting dinner were James and Kay Hoffman from York, Pa. — retired teachers staying in Ruthcliffe's glorified motor lodge beside the restaurant. They had spent the day biking, too, but rode many more miles than we did.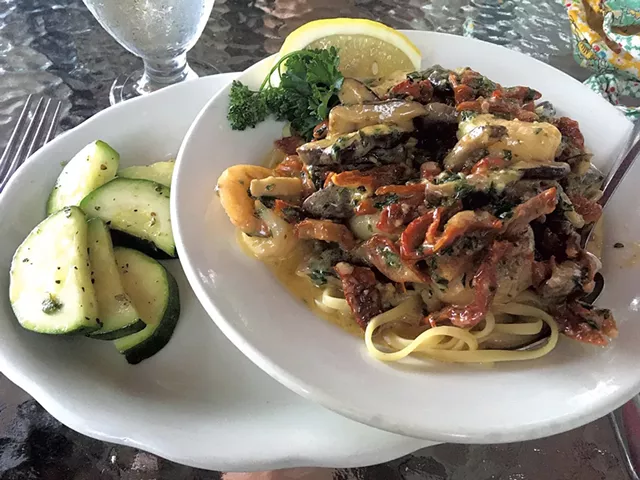 Paula Routly
Shrimp Marco at Ruthcliffe Lodge & Restaurant
We chatted them up with the awkward questions of the year: "So, how are the infection rates where you come from?" and "Where did you all quarantine?" The Hoffmans, who hadn't planned on a Vermont vacation until their scheduled one fell apart, said they rented a place in Wells River for a few days before heading north.
"It's kind of the honor system," Kathy said of vetting out-of-staters. "Some are good. Others are just trying to get out of Dodge, and who can blame them? You don't want to be the COVID police."
If we hadn't had a ride back to our car, I would have spent the hot, sultry night right there, looking east across the water to the sandy beach at Alburgh Dunes State Park. It's one of four state parks you pass on the hourlong drive from Burlington. Instead of continuing south to "make war" with the Mohawks, Champlain should have stayed a while, too.
In the Area:
Correction, August 1, 2020: This story has been updated to reflect that the reef is 20 million years younger than once thought.