Jeb Wallace-brodeur
Brian Carten and Fred
Fred has quite a head on his shoulders. It's as big and blocky as a toaster oven, with a wrinkled, velvety brow, brown and droopy Abe Vigoda eyes and a broad, jowly smile —all breed standards for an English mastiff.
Only when Fred's owner, Brian Carten, opens the rear door of his Subaru Forester to let the dog stretch his legs do I fully appreciate what a champion mastiff looks like. Apricot in color, this 2-year-old canine is 210 pounds of muscular majesty prancing around us in a wide circle with the graceful, athletic gait of a lion. When the gentle giant sidles up to me, his shoulders come up to my waist. Carten expects Fred to top out eventually at 255 pounds.
"Fred doesn't have the mass [of older mastiffs], which may be a disadvantage, but he has the elegance," Carten says proudly. "He's just a stunning dog."
Carten is one of 21 Vermonters who are bringing their dogs to the 141st Annual Westminster Kennel Club Dog Show, to be held on February 13 and 14 in New York City. This year, nearly 2,800 dogs from 49 states, Puerto Rico and the District of Columbia will compete. Representing Vermont is a diverse array of dog owners, including many whose canines do much more than just prance around looking pretty.
From the moment Carten pulls into the parking lot of the Waterbury Park & Ride, where we meet for our interview, any preconceived notions I harbor about dog-show enthusiasts fly right out the window. The 55-year-old Warren resident, who's worked as a UPS driver in Berlin for 33 years, doesn't fit any of the usual stereotypes of uptight or finicky show-dog owners. Many of those are lampooned in the 2000 mockumentary Best in Show — a film that Carten confesses, incredibly, he's never seen.
He arrives for our interview wearing Carhartts, a brown hoodie, sneakers and a black wool cap emblazoned with a cartoon mastiff and the words "Team Fred." A former U.S. Marine, Carten admits he never set out to show dogs and "got into this completely by accident."
Twenty years ago, Carten adopted his first mastiff, Siobhan, a rescue that had been terribly abused. He quickly fell in love with the breed of benevolent behemoths and got a second one, Roscoe. After Roscoe died — alas, mastiffs aren't known for their longevity — Carten purchased Judson, a 5-year-old, 225-pound fawn-colored male who is now lounging in the back of Carten's Subaru.
Carten acquired Fred last year from the same breeder who'd raised Judson: Beowulf Mastiffs of Syracuse, N.Y. He chose Fred, the "pick of the litter," not for his looks but for his temperament. Carten primarily uses his two mastiffs as certified therapy dogs. In fact, on the afternoon we meet, he's en route from his day job at UPS to the Central Vermont Medical Center. He makes the rounds there once a week helping to calm patients who are undergoing minor procedures.
"We usually start in the emergency room," Carten explains. "If the [patient] can attach themselves to the dog and it de-stresses them, and their vitals go down so the doctor and nurses can do their job, it's awesome."
Carten, who serves on the board of directors of the nonprofit Therapy Dogs of Vermont, brought Judson to Harwood Union middle and high school last October after five of its students were killed in a massive car wreck on Interstate 89 in Williston. Judson was "a rock star" in helping many of the teens cope with their grief, he says.
As for going to dog shows, Carten describes it as a pastime that he enjoys but doesn't take too seriously.
"Honestly, I had no intention of showing Fred," he insists. "But people kept telling me how beautiful he is. So I said, 'Why not?'"
Rather than getting into the show ring himself, Carten pays a professional handler to do so. Carten and Fred's first show, in March 2016, was a notable event for all three of them. Carten met Fred's handler, Amanda Shea of Hardwick, Mass., for the first time at the entrance to the Big E at the Eastern States Exposition center in Springfield, Mass. Shea, who was nine months pregnant at the time, told Carten to go inside and find himself an out-of-the-way spot to watch the show. (Carten needs to keep his distance because, he explains, Fred invariably picks up his owner's scent when he's in the arena. To mask it, Carten often waits near a food concession stand.)
At the time, Carten knew virtually nothing about how dog shows are judged. He was standing around with a group of other mastiff owners when one of them turned to him and said, "Dude, your dog just won." Almost immediately thereafter, Shea went into labor.
Since then, Fred has won "best in breed" ribbons at five of the last seven shows he's attended. Carten says he always finds it amusing to show up in his old Subaru and park beside the tony dog-show types, who arrive in tour-bus-size RVs. "There's a lot of money at these shows," he notes. But he's the one who goes home with a blue ribbon.
"It's been fun, probably because I'm winning," says Carten, whose dog will compete against 18 other mastiffs at Westminster — and 419 other working dogs, if he progresses that far. "People look at me and are like, 'You don't understand. This isn't how it works in the dog-show world,'" he goes on. "But it's kind of like the farmer who has the horse in the backyard and, all of a sudden, he's in the Kentucky Derby."
Photos: Kathleen Porter
Deanna Never and Beatrice
There's no mistaking which house belongs to Deanna and Ben Never, owners of Swiss Run Swissys dog breeders in Fairfax. As I pull into their driveway, which is sandwiched between Georgia Mountain and the Lamoille River, I'm greeted by a noisy pack of 10 Greater Swiss Mountain Dogs. Their ages and sizes vary, but all have near-identical tricolor markings of black, white and tan. When Deanna Never lets two of the dogs inside, they gallop past me like small horses.
The Nevers, who've been showing dogs since 2001, are making their fifth appearance at the Westminster Dog Show this year. Deanna, 37, plans to show their champion 2-and-a-half-year-old female, Beatrice. According to Deanna, she ended the 2016 show season as the top-ranked Greater Swiss Mountain Dog in the United States, the first female to reach that level since 1998.
What makes Beatrice such a prize-winning show dog? To start with, Deanna explains, she meets all the established American Kennel Club standards for the breed regarding height, build and markings. (Those standards date from 1995, when the AKC formally recognized the Greater Swiss Mountain Dog breed.) Even more importantly, Beatrice "thinks she's the queen bee and really loves being the center of attention.
"She's got attitude. You can see a total demeanor change in the ring," Deanna adds. "She tries to puff herself up and just soaks in the crowd."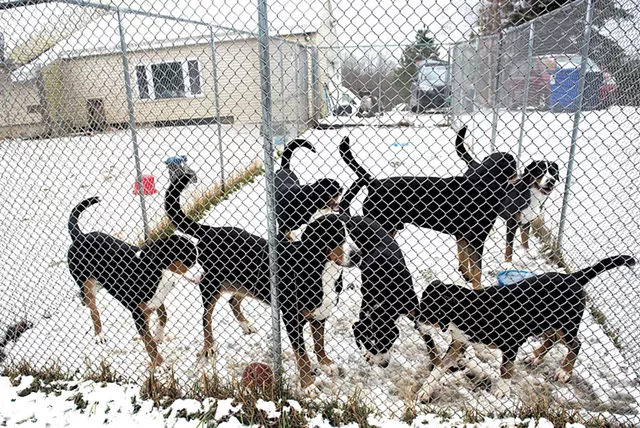 Photos: Kathleen Porter
Greater Swiss Mountain Dogs
While some may excel in the ring, Deanna points out that all of the couple's dogs are raised, first and foremost, to be working dogs. One of four AKC-recognized mountain-dog breeds within the larger working-dog group, "Swissies" have been known historically as the "poor man's horse" — bred for their immense drafting strength, guarding abilities and herding instincts.
Accordingly, Deanna says, all of the Nevers' Swissies are trained to herd sheep and pull carts. Mon, their 120-pound male who just turned 6, holds a title for hauling 3,000 pounds on a cart. Beatrice, who weighs 105 pounds, will have a different work specialty. She'll soon get tested to become a certified therapy dog at Northwestern Medical Center in St. Albans.
"When she's not at a dog show, she's a total tomboy," Deanna says. "If she were a person, she'd be wearing a cowboy hat, cowboy boots and Daisy Dukes."
The Nevers have a long waiting list for their puppies; obtaining one can take as long as a year, since they produce only two or three litters annually. Most of the puppies' new families are in New England, though some buyers have traveled from as far as Florida or Missouri.
As for Beatrice, Deanna expects this will be her last show season before she's used for breeding. A dog's show history may get attention, but Deanna notes that the price of one of the Nevers' puppies — typically about $2,400 — isn't determined by how well its parents perform at dog shows. Rather, it reflects the breeders' attention to the puppies' overall health and temperament.
"If we get a great show dog, then that's a bonus," Deanna says. "But otherwise, we really just want [to raise] good pets that people want to live with."