Caleb Kenna
Apples being fed into a grinder prior to pressing at Happy Valley Orchard
Terry Bradshaw tinkers with a stainless-steel apple press that's slightly larger than a beer keg. He's been making cider in his garage for years but has never used this new press, whose perforated sides spit juice and pulp all over the floor. Suddenly, a pink geyser erupts from the metal cylinder, spraying everyone in the pressing room at Middlebury's Happy Valley Orchard.
"Are you still pumping?" yells Bradshaw, scrambling to find a pressure-release valve. He has to shout over the roar of an industrial apple grinder behind him, which is crushing bushels of fruit into a pink sludge that flows through a vacuum hose and into the press.
"I just shut it off!" shouts John Matson, who usually works as head cider maker at Woodchuck Hard Cider's new, $34 million facility just down the road.
"This is gonna get really messy," observes Justin Heilenbach, cofounder of Citizen Cider in Burlington, who's also there to lend a hand.
"That's what making cider is all about," chirps Stan Pratt, busily raking apples into the grinder. Pratt, who owns Happy Valley Orchard, skeptically eyes the pulpy mess now decorating his ceiling. "You'll be back tomorrow to clean that up, right?" he jokes to Bradshaw, who finally relieves the pressure, returning the juice flow to a normal, bubbly gurgle.
Vermont's hard cider industry has been just as explosive in recent years as that problematic press. A decade ago, the state had just one commercial cider maker: Woodchuck. Today, the newly formed Vermont Cider Makers Association has 15 members, most of whom opened businesses within the past five years. The association is organizing the first-ever Cider Week Vermont, a statewide celebration with tastings, dinners and classes taking place from November 14 to 23.
This rapid growth reflects a national trend: Hard cider sales tripled between 2007 and 2012. Though still modest in relation to those of other alcoholic beverages, national cider sales now total 1 percent of the total beer market. (In this article, "cider" henceforth refers to the fermented alcoholic beverage, "sweet cider" to the unfiltered, nonalcoholic drink.)
This day's juice production at Happy Valley is minuscule compared with that of commercial cider makers on a normal day. But this late-October pressing isn't about maximizing output — not yet, anyway. It's an experiment to prepare for the future of Vermont's cider industry, the first of many such trials planned for the next few years. Local cider makers have a good thing going, and they need to make sure it's sustainable.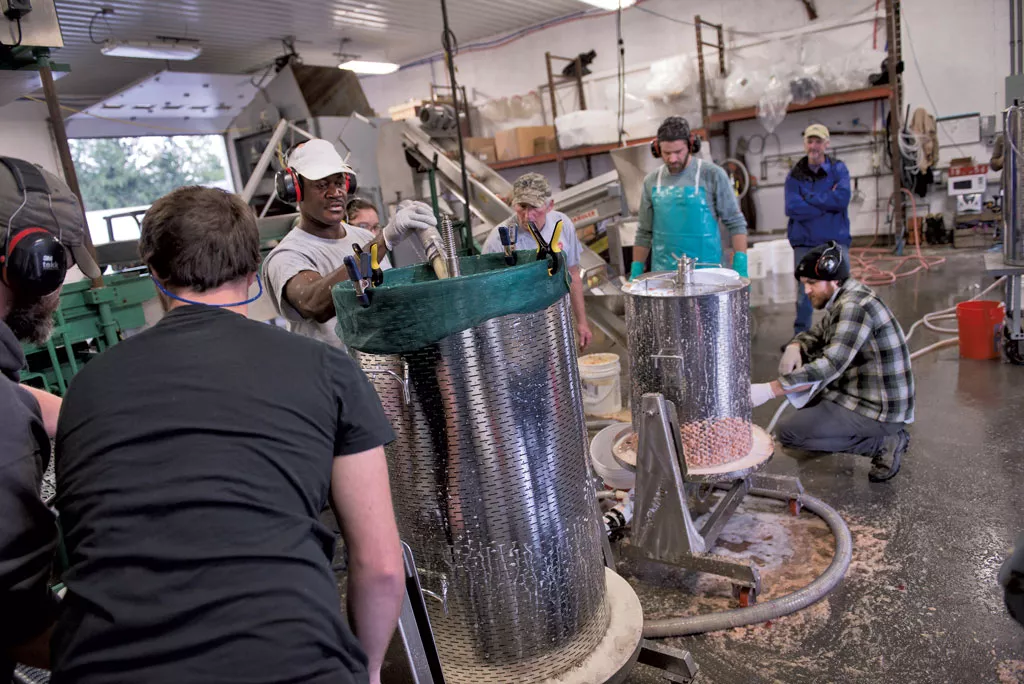 Caleb Kenna
Apple pressing at Happy Valley Orchard
That's where Bradshaw comes in. As a tree-fruit and viticulture specialist at the University of Vermont, he oversees UVM's 100-acre Horticultural Research Center, aka "the Hort Farm," in Burlington. The goal of his research is to ensure that Vermont is growing enough apples, of the right varieties, to meet the cider industry's burgeoning demand.
Over the next few hours at Happy Valley, the assembled crew of cider makers and orchardists — which also includes Jim Bove, manager of Chapin Orchard in Essex; and Ben Calvi, director of cider making at Champlain Orchards in Shoreham — presses small juice batches from 14 apple varieties. Those include five European ones that Champlain Orchards grows specifically for cider.
By day's end, three cider makers — from Woodchuck, Citizen Cider and Champlain Orchards — all leave with five-gallon buckets of juice, as well as identical yeast samples and instructions on how to ferment them. Next spring, they'll reconvene with their finished products — not to bottle but to compare tastes, physical characteristics and chemical properties such as sugar content, acidity, tannin amounts and yeast-assimilable nitrogen levels.
Why are these ostensible competitors pooling their resources to make identical cider batches that no one will sell?
As Bradshaw explains, his research will help inform growers which apple varieties do best in this region, produce the highest yields and maximize their return on investment. It will also identify the varieties most useful to cider makers. Reflecting that confluence of interests, Bradshaw's funding comes from state and federal grants, cash matches from Vermont Hard Cider Company (Woodchuck's parent) and in-kind donations from local cideries and orchards. Ultimately, Bradshaw hopes to help growers decide which new trees to plant and which old trees to save — in effect, priming the future of both the apple and the cider industries.
"Before you cut down your grandfather's old Ida Red trees," he warns, "you might want to think twice, because these guys might want them."
"Our job as cider makers and apple growers is to develop terroir, the regional identity of the fruit," Heilenbach adds. "We don't want to grow things that grow well in Washington State. We want to grow things they can't [grow], that also make good cider, and are also part of the heritage of Vermont and New England."
Calvi spent eight years making wine in California before moving to Vermont. One day, he predicts, the state could be as renowned for its cider as Napa Valley is for its wine.
"That's my goal for the Vermont cider industry," Calvi says. "When you look at the world as your market instead of just Vermont, then these guys aren't our competitors. They're our colleagues."
Vermont's cider industry is ripe for growth. Twentysomething millennials are more inclined than their elders to experiment with their recreational imbibing, and Heilenbach suggests that cider appeals to their locavore sensibilities, as well as to their desire for a good story about Yankee self-sufficiency. The beverage also suits those on paleo and gluten-free diets.
Caleb Kenna
Terry Bradshaw
Cider's rapid rise has spiked the demand for raw juice. Currently, Champlain Orchards, the smallest of the three cideries in Bradshaw's experiment, makes 25,000 gallons of cider annually. Citizen Cider, which launched in 2011, made 5,000 gallons in its first year of commercial production. This year, says Heilenbach, it produced 100,000 gallons. Next year, he expects the company will produce 250,000 gallons.
Woodchuck, the nation's second-largest manufacturer, behind Samuel Adams' Angry Orchard, now produces 6.8 million gallons annually, and sells its products in all 50 states. According to Woodchuck's communications manager, Nate Formalarie, last year the company bought 300,000 gallons of apple juice in Vermont alone, or 40 percent of the state's total processed fruit.
To put that figure another way, if every apple grown in Vermont were juiced and shipped to Middlebury, the result would barely fill a third of Woodchuck's fermentation tanks. Most of the company's juice comes from elsewhere in the United States. Formalarie acknowledges that Woodchuck must also "chase the sun" by buying juice from South America and New Zealand — "but none from China," he emphasizes.
In short, Vermont isn't growing apples fast enough to meet its swelling need. Formalarie suggests that the state would require 5,000 to 6,000 acres to meet current demand by those cider makers who don't grow all, or any, of their own fruit.
Unlike most crop production, though, that of apples can't be scaled up quickly. As Bradshaw points out, apple trees take three to five years to bear fruit, and five to seven years to reach full production capacity.
What's more, commercial apple trees don't grow from seeds but from carefully chosen rootstock. Currently, a major shortage of fruit saplings in the national nursery pipeline is delaying orchardists' tree orders by three years or more. Growers must decide today which varieties will blossom in their orchards a decade from now. It's not easy predicting what Vermont cider makers will want in 10 years, especially considering the industry didn't exist five years ago.
If anyone is up to the apple challenge, it's Terry Bradshaw. As both a researcher and an orchardist himself — for five years, until last February, he was president of the Vermont Tree Fruit Growers Association — Bradshaw has cred among growers and cider makers alike. The trees at his Calais home produce 20 to 60 bushels of apples annually. Most are European varieties called "spitters," grown exclusively for cider. One, called Chisel Jersey, is so tannic, he likens its taste to "chewing on a tea bag."
Bradshaw hopes to bridge the communication gap between growers and cider producers. Though growers reap their best returns from "dessert fruit," or food apples, cider apples can help orchardists diversify their operations and buffer them against bad weather and poor yields. This year's crops, for example, were down about 20 percent owing to a long, cold winter and delayed pollination.
Caleb Kenna
Justin Heilenbach (right) and Stan Pratt
If growers get only $3 per bushel for hail-damaged fruit, says Bradshaw, they'll go bust. But if cider makers have to pay $25 per bushel for table fruit, they can't produce an affordable product. Somewhere in the middle, he says, lies that "sweet spot" where both industries can prosper.
Somewhat ironically, Bradshaw is trying to re-create an apple industry that thrived in Vermont for centuries but soured in the late 20th century. Steve Justis, current executive director of the Vermont Tree Fruit Growers Association, explains that in the 1700s, nearly every Vermont farm had an orchard, and the fruit was used primarily for making cider or brandy. By 1810, the state had 125 distilleries producing more than 173,000 gallons of brandy. Vermont author Rowan Jacobsen, author of the recently published Apples of Uncommon Character: Heirlooms, Modern Classics and Little-Known Wonders, predicts a resurgence of brandy similar to that of cider.
Vermont's apple industry heyday was the early 1900s, Justis says; the state's apple production peaked in 1904, at 3.9 million bushels. But, he points out, production declined to about 1.2 million bushels by the 1980s, and has averaged 700,000 to 800,000 bushels annually for the past decade.
"The old model was to grow 100 acres of McIntosh, put 'em on a truck and ship them down to Florida," Bradshaw notes of Vermont's table fruit market. "Doing that, growers did very well for 30 years or more."
In the mid-1990s, Vermont lost about 800 acres of apple trees, as global competition from China, South America and New Zealand drove many local orchards out of business. Currently, just 3,200 acres are in production, Justis reports. Growers also suffered from market scares, such as consumer concerns over Alar, the now-banned fruit spray; and an E. coli outbreak linked to Odwalla apple juice, which killed one girl and sickened hundreds of others.
Those Vermont apple growers who survived, Bradshaw explains, did so by diversifying their operations: selling apples retail from their orchards or at farmers markets, launching pick-your-own operations and scaling up their sweet cider production. Once a farm is making sweet cider, Bradshaw says, it's no great leap to put in tanks and start fermenting. But first that farm needs varieties that aren't just sold as dessert fruit.
"You can make very good cider from them," he says, "but there's a whole other class of apples that are specifically grown for cider."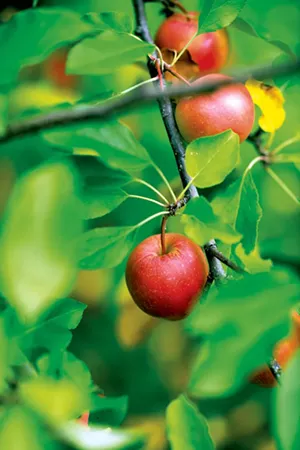 To find them, many commercial cider makers and orchardists have gone east, across the Connecticut River to Lebanon, N.H. There, the aptly named orchardist Steve Wood has spent the last 40 years cultivating a veritable Garden of Eden of apples — and the rootstock of Vermont's current cider industry.
At Poverty Lane Orchards, all the apples roll downhill toward Vermont, which is visible across the river from the 100-acre spread. Beyond the white farmhouse with the rusty roof, below the weathered gray barn, farm stand and small Farnum Hill cidery, lies an experimental orchard. It's dubbed "Two Below" because it's the second of two lower orchards.
There, more than 100 rare and unusual apple varieties grow on numbered trees. Some bear two or more varieties of fruit, all grafted, Frankenstein-like, to the same trunk. One variety, the Calville Blanc d'Hiver, originated in France in the 1600s; another, called Esopus Spitzenburg, was reportedly Thomas Jefferson's favorite apple and grew at Monticello.
"We call this the petting zoo of apples. You can pick and taste anything we grow," explains Farnum Hill's Corrie Wolosin. Wood isn't at the farm on the day Seven Days visits. He's in Manhattan attending New York's Cider Week, which he helped found four years ago.
Legend has it that Wood's father, a local country doctor, received the farm from an appreciative patient. Steve Wood, the only one of four kids who wanted that inheritance, took it over 40 years ago and began experimenting with clippings of rare English and French apple varieties he imported personally.
In 1995, Wood started producing cider commercially. Farnum Hill, which now makes seven varieties — all elegant, dry and wine- or Champagne-like in taste, appearance and complexity — produces 15,000 to 17,000 gallons annually. It's sold in 15 states.
Poverty Lane doesn't just sell cider and apples. It also sells its own juice blend to other commercial cider makers around the country, from Wandering Aengus Ciderworks in Oregon to Eden Ice Cider in Vermont. In fact, Wood has worked with nearly every commercial cider maker in the Green Mountain State, providing horticultural advice and cidermaking tips. He's also given away tens of thousands of budwood clippings from trees he spent decades cultivating.
"He's never charged anyone a penny for a bud," Wolosin says. "They come in, they cut whatever they need, and they can grow what we grow."
Why does Wood help cultivate his competition? Because he believes it's the best thing he can do to grow the cider industry, Wolosin says.
The seeds of Wood's labor, and his cooperative spirit, have taken root and borne fruit in Vermont. That's evidenced by the products on display at a recent tasting event at Burlington's ArtsRiot, sponsored by the Vermont Cider Makers Association. There, nearly a dozen local cider producers offer samples of their products. Some, such as Citizen Cider, come in cans and look like craft beers. Others, such as products from Boyden Valley Winery in Cambridge, resemble wine, Champagne and after-dinner cordials.
"Steve Wood from Farnum Hill has been super-helpful to us over the years," notes Jason MacArthur from Whetstone CiderWorks in Marlboro. He and his wife produce small batches of about 1,000 gallons a year. His cider, which went into commercial production in 2009, looks and tastes like a craft beer.
Steve Stata's Hall Home Place Ice Cider, in Isle La Motte, is also in its fifth year of commercial production. All Stata's apples come from the Hall orchard, which has been in commercial operation since 1870 and in his family since 1795. The company produces four ice ciders, a hard cider and an apple wine, some of which are quite sweet.
Bradshaw sees huge promise in this diverse industry, which is still defining its niche in the marketplace. Just as UVM helped grow two other iconic industries through the Vermont Institute for Artisan Cheese and the Proctor Maple Research Center, might a UVM apple institute be the logical next step?
That's a possibility, Bradshaw says.
"When I came in, in the mid-1990s, people were pretty depressed. It was a tough time for Vermont's apple industry," he recalls. But now, "I can build a career on this for the next 25 years."
Disclosure: Terry Bradshaw's brother, Michael, works as senior account executive at Seven Days.
Contact: ken@sevendaysvt.com
INFO
Cider Week Vermont, November 14 to 23. For statewide schedule and more info, visit vermontciderweek.com.
The original print version of this article was headlined "Full Core Press"