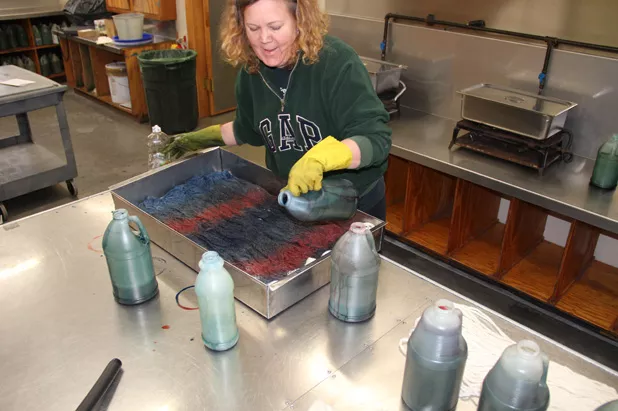 Like many Vermonters, fiber artist, teacher and writer Cheryl Potter wears a lot of hats — sometimes a tall, pointy, black one, metaphorically speaking: She's the author of The Broken Circle: Yarns of the Knitting Witches. Having written six fiber-arts instructional books, Potter delves into fantasy with this one; The Broken Circle is the first of a planned trilogy featuring 12 women who activate their magical powers to save their fragile environment from ruin. (The second book, Secrets of the Lost Cave, will be out next summer.)
The book is chock-full of details about raw alpine-goat fiber, dye pots, skeins drying on racks and characters knitting yarn as they listen to, well, yarns. In addition, each of the 20 chapters presents an original "magical" garment (Lavender Mae's Precious Pouch, Skye's Traveling Cloak, etc.), which readers can fabricate if they wish by following the Knitting Witches' companion pattern booklet.
Potter, 52, is the founder of Cherry Tree Hill Yarns in Barton, where seven full-time employees and three part-timers assist her with dyeing and selling yarn, teaching fiber-arts workshops and publishing. In advance of Halloween, Seven Days caught up with Potter en route to a craft show in New York City.
SEVEN DAYS: Is this the life you imagined for yourself?
CHERYL POTTER: Absolutely not. I grew up in a mill town in Maine where everyone in my family did a craft of some kind, but I thought I left it all behind when I was accepted to Middlebury College. Imagine my surprise when I got there and everyone was knitting! I took a part-time job at the local yarn shop and proceeded to knit my way through college and graduate school.
SD: Was the skill of knitting passed down in your family?
CP: Both of my grandmothers knit, as did my mother, who taught me when I was quite young. Excess knitting needles were commonplace in our house, as were napkins and toilet tissue, as she worked at a paper mill. Determined to knit, I got out a box of Kleenex, took two needles, tore the tissue up and attempted to knit it back together. When my mother saw the mess I had made, she got out some yarn and helped me cast on. I was 5.
SD: How did you arrive at this multihued livelihood?
CP: After graduate school, I was offered a job teaching freshman composition at a state university. After the interview, I was so depressed that I moved back to Vermont and bought some Romney sheep. I worked at the Hunger Mountain Co-op, rented out rooms at my farm, got juried into Artisans Hand, wrote short stories, did custom knitting — anything not to work a "real" job.
[But then] I was doing property management for a real estate company in Montpelier. I had to wear a skirt to work and sit in a cubicle, and I loathed it. A well-known fiber arts magazine had come to do a story about my work the year before, and I thought nothing of it until the article came out, and suddenly I was getting a sack of fan mail every day. One week alone I got 66 letters and postcards, urging me on. It was like being Santa, except everyone wanted yarn instead of toys. When I had 80 customers, I quit my job forever. That was in 1987.
SD: You note that knitting needles are a lotlike magic wands. Do other knitting or dyeing paraphernalia have witchy overtones?
CP: Yes, dye crystals are just that, and when you add them to different mordants in bubbling pots, it's hard to distinguish them from cauldrons of witches' brew. Also, you never know with kettle dyeing what magical colors you will get from the combinations of color and fiber. I call this mystical process "potluck," as in luck of the dyepot.
SD: Were you knitting when the idea of writing a trilogy occurred?
CP: I so wanted to write fantasy books the entire time I was growing up. Even in grade school, I wrote short stories and plays, and novellas, and I knitted. When The Lord of the Rings came out as a boxed set when I was in sixth grade, I pretended I was sick and stayed home and read the trilogy in three days, all the time thinking Bilbo and Frodo would have been better as knitting witches.
SD: Your prior books are all straightforward pattern books. Why did this one become a fantasy novel?
CP: All of my previous books were with major publishers, who mostly cut all the fantastical text I wrote. The Broken Circle is an indie book, because it allows cross-genre publication such as this young-adult fantasy trilogy with a companion pattern book, and a student workbook for summer reading programs and homeschoolers. What mainstream publisher would print that?
SD: What if people don't knit, dye or write creatively — do you believe they have access to magic?
CP: I believe that everyone, no matter what they do, has the potential to tap into the magic that is within all of us. In the second book of the Potluck trilogy, my characters call this ability First Folk Fire, which is the ember inside. Everyone has this spark, which is a vestige of magical creativity — but will we smother it out, allow it to ignite or let it consume us?
SD: What else are you brewing in the metaphorical dye vat for the coming years?
CP: I plan to teach guided studio workshops that explore the magical connection between fiber arts and writing. My husband and I are renovating a large farmhouse into a retreat center, so that like-minded people can have a complete immersive experience to create on an artisan level, or to be able to successfully publish their artistic pursuits.
SD: Have you ever knitted a Halloween costume?
CP: No, but I did dye up some orange and black yarn, and I have been invited to a knitting retreat in Maryland on Halloween night. We'll see what happens.
The Potluck Yarn Shop is at 100 Cherry Tree Hill Lane in Barton. More info at cherryyarn.com and potluckyarn.com.
The original print version of this article was headlined "Fantastic Fiber"