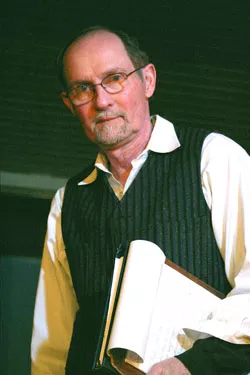 When Woodbury's Gary Moore left Vermont in 1988 for a year-long teaching gig in China, his baggage contained an unusual bon voyage gift from a friend: 100 copies of the Gettysburg Address, printed on reproduction parchment. What happened to the sheaf of Lincoln's legendary words becomes a central episode in Burning in China, Moore's autobiographical one-man play recounting how he and his students got swept up in the tumultuous year when tanks rolled into Tiananmen Square. Lost Nation Theater presents a new production this weekend, commemorating the 20th anniversary of the historic events.
Moore, now a dean at the Vermont College of Fine Arts, has written frequently about Lincoln, but initally rejected the quirky offering. "I had a lot of household utensils to pack," he recalls. "And I had no idea what I would ever do with them ... It wasn't like I was a missionary hiding Bible pamphlets in my luggage."
In Shanghai, Moore taught English to Chinese English teachers, but he struggled to engage his students. "There was a futility about learning," he remembers. "The government controlled their employment. And they had no opportunity to use the wonderful things they learned," such as the poetry and music Moore incorporated in his lessons. "They had to go back to these bureaucratically determined repetition curricula ... It was an alternative life to know English and to read literature and to love knowledge, because every day they had to go do a job they didn't like for very bad money."
What awakened the students from their ennui: "things American," especially political ideas, Moore notes. China's climate of repression had been undergoing a gradual thaw in the late 1980s. When the visiting prof received an unrestricted invite to write "something American" for a university arts festival, he created a rap opera entitled The Great Emancipator and The Monkey King. Honest Abe meets a hero from Chinese folklore and throws down "of, by and for the people" to some fat beats. Even the authorities enthusiastically received the performance.
Another invite followed, to lecture on American culture. As an afterthought, Moore brought along his Gettysburg stash. When his talk ended, a melee ensued as the attendees rushed to grab copies.
In the spring of 1989, however, the Chinese government cracked down, and Moore witnessed the terrible toll. Before he left, his students begged him to tell their story to the world. "I had made a lot of notes," he recalls, "just because it was flaming in my brain." The original version of the play, which he performed himself, included lots of rap poetry. When his old college buddy, cinematographer Caleb Deschanel, started working on the script with an eye toward pitching a screen adaptation, it was a wrap for the rapping. "He said, 'You know your arty friends in Montpelier love that stuff,'" Moore recalls. "'But if we're going for television, the most we're going to get away with is Spalding Gray-type storytelling.'"
Deschanel directs the current stage version. To open and close the show, he has added brief video footage, shot in Shanghai when he visited Moore there in 1988. "Smokestacks and schoolyards and riverscapes" and rushing torrents of bicyclists help set the scene.
Moore realizes that the passage of two decades changes how the play will be perceived. "Ultimately, if it lives, it's going to live not as a political story but as a personal story," he reflects. "Most of the audiences now won't remember or never knew what the Tiananmen politics were about. They won't know that everybody in America was glued to their television sets as those tanks were rolling into the square."