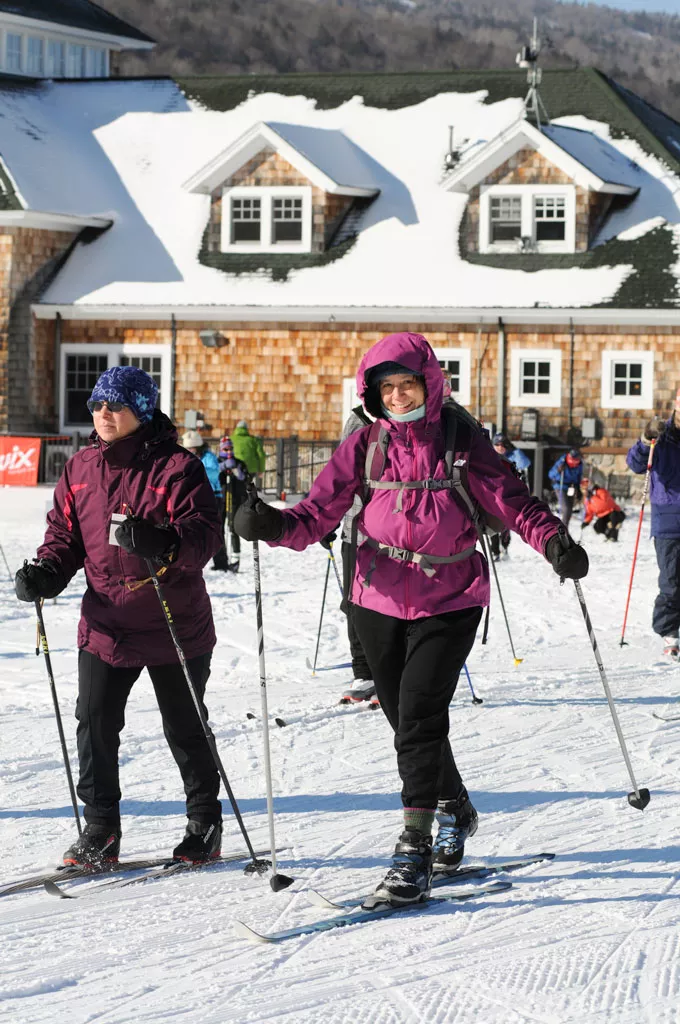 Courtesy of Matt Trueheart
New England Women's XC Ski Day
Shelburne's Dave Connery is a fitness freak. He's won multiple triathlons throughout the state. He placed sixth in the 2014 Vermont 50 Mountain Bike race, scorching the course in four hours and 16 minutes, and finished the Ironman Lake Placid in less than 11 hours, among other accomplishments.
But for the activity he really geeks out about, Connery swaps swimsuits, cycling shorts and running shoes for some of the oldest gear in the winter-sports world: a pair of cross-country skis.
"Nothing requires more aerobic capacity," says Connery, a 46-year-old multisport coach, engineer and father of two school-age kids. "The ability to work what feels like every muscle in your body really helps me in the off-season as a triathlete."
Long gone are the hickory sticks, leather straps and woolen hats of traditional kicking and gliding in the Green Mountain State. Today's cross-country population is a hybrid mix of elite athletes looking to torch more than 1,200 calories per hour, families finding new ways to frolic in the snow and neophyte northerners who've had it with hibernation.
"Nordic skiing has a long history in New England, and people are very passionate about the sport," says Abby Weissman of the New England Nordic Ski Association (NENSA). She adds that, without an easy way to get outside during the winter, many Vermonters would go bonkers. "Nordic skiing is accessible; you can ski at a local center or in your backyard. It's a sport that the whole family can do together, and it's a great workout that uses your whole body."
What if that body has been dormant since the dog days of August? Most newbies can get away with stepping into a pair of rental skis and simply striding across the snow, says Christian Manley, 36, of Colchester.
In short, Nordic skiing has a forgiving learning curve. "I don't have the best technique myself," admits Manley, who raced in high school and recently picked up the sport again after he found himself missing both the challenge and the camaraderie. "Find other friends to ski and learn with — don't worry so much about technique," he advises. "Keep your head up, focus ahead and find a rhythm. Relax and shift your body weight from one ski to the other, so that the weight is on one ski at a time."
Courtesy of Matt Trueheart
Intermediate and advanced skiers, by contrast, work on refining their strides for faster speeds across the snow. That's where technique and an investment in instruction come into play. "There's always so much to work on, technique-wise, so it's never boring," says Robyn Anderson, one of the state's top racers and a coach for the Trapp Family Lodge Outdoor Center's school. "Even four-to-five-hour skis go by quickly when you're focused on improving your efficiency."
Those improvements pay off a second time when athletes return to warm-weather sports, Anderson adds. "Strength, endurance, speed, agility — you need it all, so training for cross-country skiing creates very well-rounded athletes."
While beginners can simply get out and start cross-country skiing, they'll find it even more enjoyable if they add indoor training, says Jim Fredericks. A skier for Johnson State College in the 1970s, he landed on the U.S. Ski Team's development squad and has been racing and working in the sport ever since.
Fredericks, 64, recommends core and aerobic workouts — which help with that weight transfer from ski to ski. "For a person who just wants to shuffle around on skis and enjoy all the spectacular beauty of the outdoors, the main things they should think about are flexibility and balance," he says. Fredericks himself follows a much more rigorous training program that helps him continually reap the benefits of cross-country skiing. "It uses more muscle groups than any other sport, and has very little impact consequences on the joints, as compared to running," he says. "I made a big advancement in my fitness once I took up skiing."
Fredericks practices both classic, or traditional, cross-country skiing and skate skiing, which the New York Times recently described as the "zippy younger brother" of classic Nordic.
In skate skiing, athletes use skater-like strides to propel themselves along specially prepared tracks that are wider than the two grooves left by groomers for classic skiers. The skis are shorter and even skinnier than traditional cross-country skis, but skate equipment rentals and lessons are now widely available for beginners at most Nordic centers. It's wise to take a lesson or two.
"It's swooping. It's fast. It's graceful. It's even a bit sexy," wrote Christopher Solomon in the Times about skate skiing.
Sexy is certainly not the word I'd use to describe my skate technique, which has suffered even more in the wake of a leg injury. That's why I've signed up for the New England Women's XC Ski Day on January 25, a race for seasoned athletes and rookies alike who are looking to reap the fitness benefits of skiing. Organized by NENSA, the 14-year-old event, held this winter at Rikert Nordic Center in Ripton, gives ladies a chance to learn tips from top instructors. It benefits the Vermont-based STRiDE foundation, which provides mentoring for girls in cross-country skiing and other sports.
"It's a great community day where women get to connect and make new friends," says Weissman. "It's one of my favorite events to organize and attend, as I love seeing all the women from across New England gather and learn and challenge themselves."
I'll be in the company of several women preparing for an even bigger challenge: hurtling down Mount Mansfield in the 70th edition of the Stowe Derby, scheduled for February 22. The buzz this year has been about the "fat bikes" allowed entry into the race, but hundreds of athletes are sticking to their skis for the 20-kilometer drop down 2,600 vertical feet along Stowe's Toll Road and Recreation Path.
Another skier training for the Derby — through extreme back pain — is Manley, who raced it in 2008. This time around, he's filming a short documentary on the competition. The physical preparation and connections with other skiers have already made him stronger and more confident, he says.
While cross-country skiing may not have the Red Bull status of an extreme winter sport, it does give you wings — or so Manley attests. "Nothing beats flying through the air when you're in the rhythm of cross-country skiing."
Liz's Whiz
Let others have the Tour de France. The Tour de Ski is a much cooler affair, sending the world's top Nordic athletes through a seven-stage, three-country course in central Europe that covers distances of short sprints to 25-kilometer endurance efforts. In the past eight years that the prestigious event has taken place, no American has ever shined — until this winter. Vermont's own Liz Stephen, who grew up learning to cross-country ski around Montpelier, finished fifth overall, behind four Norwegian women, when the event ended on January 11. Stephen calls it her favorite race of the year, and shrugged off the lung-busting final effort up a steep climb in Val di Fiemme, Italy, saying, "What a fun day it was."
INFO
New England Women's XC Ski Day, Sunday, January 25, 10 a.m. to 4 p.m., at the Rikert Nordic Center in Ripton. $35 for NENSA members, $40 for nonmembers. Info, 207-688-6503. Stowe Derby, Sunday, February 22, 8:30 a.m. to 3 p.m., starting at the top of Mount Mansfield in Stowe. $35-90. Info, 253-7704, ext. 22. stowederby.com The original print version of this article was headlined "The Skinny on Skinny Skis"