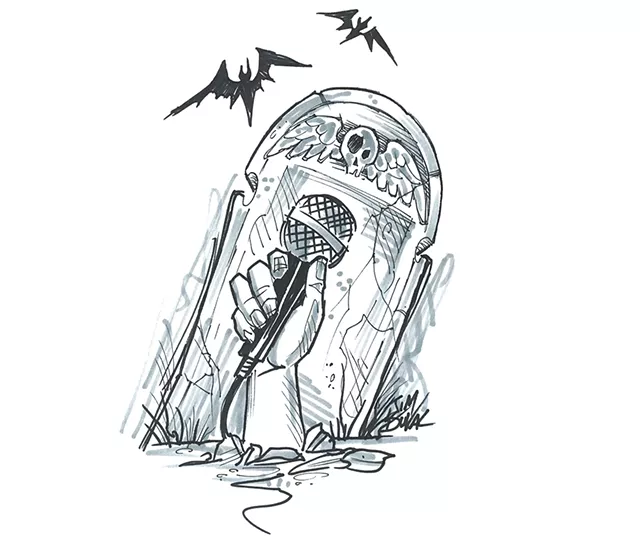 Possibly the biggest trend in commuting right now? Listening to stories of chills and mayhem via our phones. It's been five years since Sarah Koenig reshaped true-crime reporting with her podcast Serial, whose imitators are legion. The wildly popular My Favorite Murder, in which two comedians discuss killings, netted its makers a high-profile book deal.
Fictional podcasts have also thrived, reviving the old radio serial format, and many are equally creepy. From the cultural phenomenon Welcome to Night Vale (currently being developed for TV by FX) to The Black Tapes (purchased by NBC), unsettling tales have never been easier to stream into your headphones.
Compared with films and TV, podcasts are cheap to produce, which makes them a magnet for grassroots creators. (They're also free to consume, so many creators monetize them by selling ads, tickets to live shows, or memberships on the crowdfunding platform Patreon.) While Vermont can't currently boast its own S-Town or The Magnus Archives, locals are busy at the mic spinning tales of horror, both historical and fictional. We got an earful of two of them.
Spooky Chills and Throwback Thrills
Courtesy of Taylor K. Long
Cody Sullivan (left) and Zach Husband
Most horror fans can tell you the first scary movie or book that sank its hooks — or fangs or claws — into them. Much like sci-fi and comic-book die-hards, horror nerds love a good origin story. But few can claim an introduction to creep shows quite like that of Cody Sullivan of Windsor.
"My grandmother gave me The Evil Dead when I was 7 or 8 years old," he said with a ghoulish grin over wings and beers at the downtown Windsor Station Restaurant & Barroom.
For 'fraidy cats, The Evil Dead is widely regarded as one of the most influential and flat-out scariest horror movies of all time. Owing to its gore and other viscerally disturbing elements, Sam Raimi's 1981 supernatural masterpiece carries an NC-17 rating. You could argue that it should never be shown to anyone, let alone a kid. Fortunately, Sullivan seems to have turned out OK — though in this case, "OK" means "totally twisted."
"Fast-forward 20 years later, and I've got a horror podcast," he said.
Sullivan, 28, is the host, creator and mastermind behind Pulp! From Beyond the Veil, an anthology series of original short horror and sci-fi stories. Along with his 31-year-old neighbor, writing partner and coproducer, Zach Husband (pen name Gustav Grift), Sullivan has been creeping out fans for more than a year. Think spine-tingling tales of murderous scarecrows, sinister insurance salesmen, malevolent pottery and, in one especially grisly episode, a slacker warlock/pizza delivery boy. Pulp! currently has 10 episodes; its season finale, which concludes a two-part cliff-hanger, comes out on Wednesday, October 30.
Typically composed of two to four shorts interspersed with cheeky fake advertisements, Pulp! evokes the feel of an old-time radio play. Sullivan, who largely engineers the episodes by himself, has become increasingly adept at weaving sound effects and moody music around the performances of his voice actors, most of whom also hail from Windsor.
But the multifaceted podcast's true inspiration comes less from radio than from another vintage medium: pulp comics.
"I wanted to have an audio format that was like an old pulp magazine," Sullivan said. "So, instead of just throwing a couple of stories up, we could do a bunch of different things — fake ads, serialized stories, reviews."
Pulp! is also influenced by classic eerie TV anthology series such as "The Outer Limits," "The Twilight Zone," "Are You Afraid of the Dark?" and HBO's "Tales From the Crypt." The last is an especially relevant touchstone, as it was based on a pulpy comic-book series.
Sullivan's stories — such as "The Vile Goblet," about a fortune-telling chalice whose prescience comes at a bloody cost — tend to have a gothic bent.
"His approach is a bit more like 'The Twilight Zone' — uncanny happenings in familiar settings," said Davis McGraw, a Windsor musician who's voiced roles in several Pulp! episodes.
Husband, by contrast, unnerves with more of a bizarro aesthetic that often winks at Robert E. Howard, creator of stories featuring Conan the Barbarian and other sword-and-sorcery classics.
"Zach's sensibility is a little more far-out and wacky," McGraw said. "He hits more of those [H.P.] Lovecraft beats."
"Nerd shit," Husband joked.
"They find ways to tell stories that are interesting but don't lean into trope-y scary things," said another Windsor musician, Chris Goulet. He cohosts his own Shiny Podcast and masters each episode of Pulp! in addition to providing occasional voice work.
Goulet and McGraw both play in the Pilgrims, a band that's part of the Windsor record label and musicians' collective What Doth Life. Several members of What Doth Life turn up in Pulp! episodes, along with other community members, underscoring that the podcast takes a village (of the damned?) to produce.
"Cody and Zach are both extremely talented," Goulet said. "But they take that and create something that other people can't help but want to take part in."
Among those people — albeit serving as an adviser and not a performer — is Windsor author and supernatural folklore expert Joe Citro. Sullivan said he regularly meets with Vermont's "Ghostmaster General" for advice.
"I like to tell people I'm the second spookiest guy in Windsor," Sullivan said.
While Pulp!'s first season is spooky, entertaining and, especially in more recent episodes, well produced, it's perhaps best viewed as an experiment. Sullivan has an acting and literary background, and Husband is a talented writer, but neither had previous experience with the podcast format. They concede that it took several episodes and a lot of trial and error for Pulp! to hit its stride.
"I always tell people to go backwards," Sullivan said. "Start at the end and work back to the pilot."
Most of Season 2 of Pulp! is already written, and it's slated to begin airing biweekly starting in spring 2020. As part of the second season, Sullivan and Husband hope to record a live performance in front of an audience, among other goals — including increasing their revenue via Patreon. But the overall mission will remain the same: scary stories, told well.
"We love these kinds of stories, and this has just become such a fun creative outlet," Sullivan said of Pulp! "At this point, I can't imagine not doing it. And if other people enjoy it, too, that's even better."
— D.B.
A Landscape of Beauty — and Crime
Margaret Grayson
Daniel Mills
Hinesburg writer Daniel Mills launched These Dark Mountains, a true-crime podcast about Vermont history, this summer. The first episode, "The McCaffrey Murders," opens with a young woman's disappearance: On a winter morning in 1906, Tressa Dustin went missing from her room in Brattleboro. In the first few minutes, listeners follow Dustin's tracks through the snow to a nearby river and discern the cause of her death to be suicide.
Next, like a camera slowly panning out to reveal a larger scene, narrator Mills carries the reader back in time to Dustin's origins. We learn she was the daughter of Matthew McCaffrey, who committed two horrifyingly brutal murders.
People familiar with Vermont crime history might have heard of those murders, Mills said in an interview, but he hadn't seen anyone delve into the effects they had on McCaffrey's children. So he decided to cover them on the first episode of his monthly-to-bimonthly podcast, which is now on its seventh episode.
Mills is best known as the author of two historical novels (Moriah, Revenants) and a story collection (The Lord Came at Twilight), all of which he classifies as "gothic fiction" or horror. In his new venture, he tells true Vermont crime stories in a voice made for public radio, accompanied by equally soothing music by his brother, Jon Mills.
Daniel Mills excels in drawing the Vermont landscape into his tales. In his telling of the McCaffrey murders, he notes parallels between the harsh Vermont winters and McCaffrey's descent into madness as his family grew.
"Winter came. The snows drifted round the house, penning the family inside like so much livestock. Inside, the atmosphere, surely, was poisonous. The house was small, too small, and home now to 11 persons," Mills says.
Later, the weather theme recurs:
For 15 years he reared his children, raised his cattle, plowed his acres of stones into pastures. Meanwhile, the winters stretched, longer each year, and Matthew was alone and drowning, his mind like a current turned inward, drawing him down.
Mills said he wants to correct the idea that Vermont is, and has always been, pastoral and perfect. Rural life can be difficult and isolating. Raised in Hinesburg, Mills chose to raise his own family there, a choice he called "economically challenging."
"Vermont has a very turbulent landscape history," Mills said, referring to the heyday and subsequent collapse of industries such as lumber and agriculture. "I do, at least, know these places ... That's something that I can bring that's very relevant and unique."
As a kid, he populated the land around him with imaginary characters. Today, Mills finds stories by poring over old newspapers for mentions of crimes. Some of the cases are more commonly known, like the story of Clarence Adams, which Mills covered in Episode 2. He credits his discovery of this case to a book by Vermont author and folklorist Joe Citro.
While Citro hasn't heard the podcast, he said in a message, he offered a glowing assessment of Mills: "Daniel is a wonderful writer and an all-around creative guy."
Mills researches his podcast in spare moments between his job in grant management at the University of Vermont and parenting two young daughters. He said the bus rides between Burlington and Hinesburg offer a great opportunity to squeeze in moments to work. He has no real plans to monetize the podcast and isn't sure how many people listen to it.
Listening to These Dark Mountains is akin to walking through an old cemetery and realizing how many of the gravestones mark tragically short lives. It's far more sad than spooky.
Mills said he's drawn to reading and writing stories that are like puzzle boxes, and that some critics have called his writing not "scary" enough to qualify as horror.
"I find sadness, and a certain kind of beauty in sadness, to be what the [horror] genre is about," Mills said. "It's human drama, and it's tragedy ... It's universally arresting."
He resists the urge to sensationalize his stories, leaning instead toward giving the listener a sense of conclusion. The simplest answer is often the right one, Mills said.
Himself an avid listener to true-crime podcasts, Mills said he often finds their structure unimaginative. He disapproves of the "cottage industry" that has grown up around speculation about what happened in crime cases, such as the 2004 disappearance of Maura Murray in New Hampshire, which spawned online rumors, TV episodes and even books.
But Mills understands how people can be so morbidly enthralled by true crime. "You're seeing people placed under unimaginable pressure and responding in ways that are surprising," he said of the genre. "We live in a time of great anxiety ... There's this desire to want to understand the horror that is out there."
These Dark Mountains suggests that the very landscape Vermonters treasure can sometimes draw out the horror within our communities. The hills and valleys that make the state so postcard-worthy are also home to shadows.
— M.G.