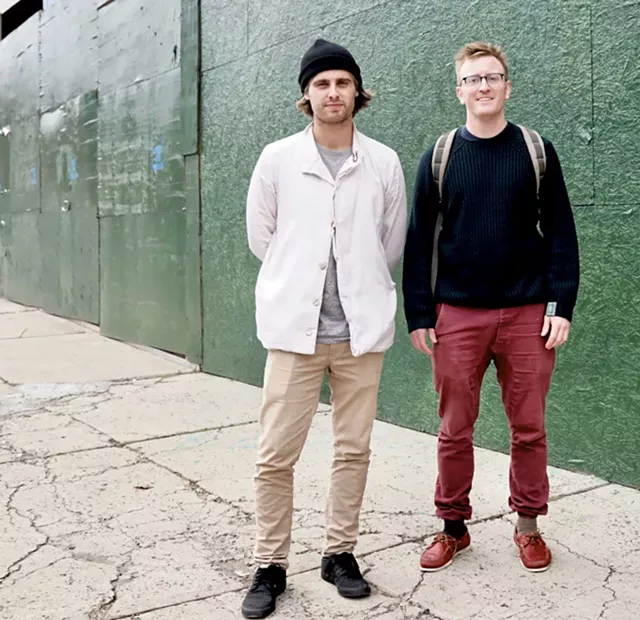 Courtesy Of Sarah Kjelleren
Joshua Decatur (left) and Paul Lintilhac
Vermont's first-ever blockchain-based LLC has gone to pot — literally.
Joshua Decatur and Paul Lintilhac have created an app called Trace, intended to allow those in the cannabis industry to track plants from seed to sale. It relies on blockchain, a decentralized computer ledger that cannot be altered, to provide its users with "immutable product information," said Decatur.
Here's how it works: A grower plants a certain strain and registers pertinent details on the app. The transaction is documented using blockchain. The grower can then add more information, including conditions and harvest dates. Once the weed makes it to a store, a consumer in a dispensary could look up a code on the product packaging and review that information.
"The blockchain is really designed to store and deliver high-octane, trustworthy and transparent points of data — data that is really consequential to governments, cannabis companies and consumers," said Decatur.
Blockchain is an emerging technology, but Vermont became an early adopter by passing a law that provides a legal framework for companies registered here. The measure went into effect on July 1 — the date when recreational cannabis became legal. Decatur and Lintilhac registered their company that same day.
Decatur, the company's 24-year-old CEO, has a background in growing medical cannabis both in Vermont and California. Twenty-eight-year-old Lintilhac, the CTO, is the brains behind the tech. A Dartmouth grad with a master's in financial mathematics, he's the son of Shelburne philanthropists Crea and Philip Lintilhac.
The young entrepreneurs were hush-hush about some of the finer details of the project but said they've been in touch with cannabis growers in Vermont and California about taking a beta version of the app on a test run. They also said they've talked to Vermont officials, who could use the app to more easily regulate the cannabis industry.
The duo is confident that its product could streamline — and revolutionize — the cannabis supply chain and bring into the light an industry that has long operated in the shadows.
The information "will help consumers have a better understanding of what they're putting into their bodies," said Decatur. "And ... growers that are growing high-quality, organic cannabis or hemp products will be able to make those claims and get rewarded for the superior quality of their product."