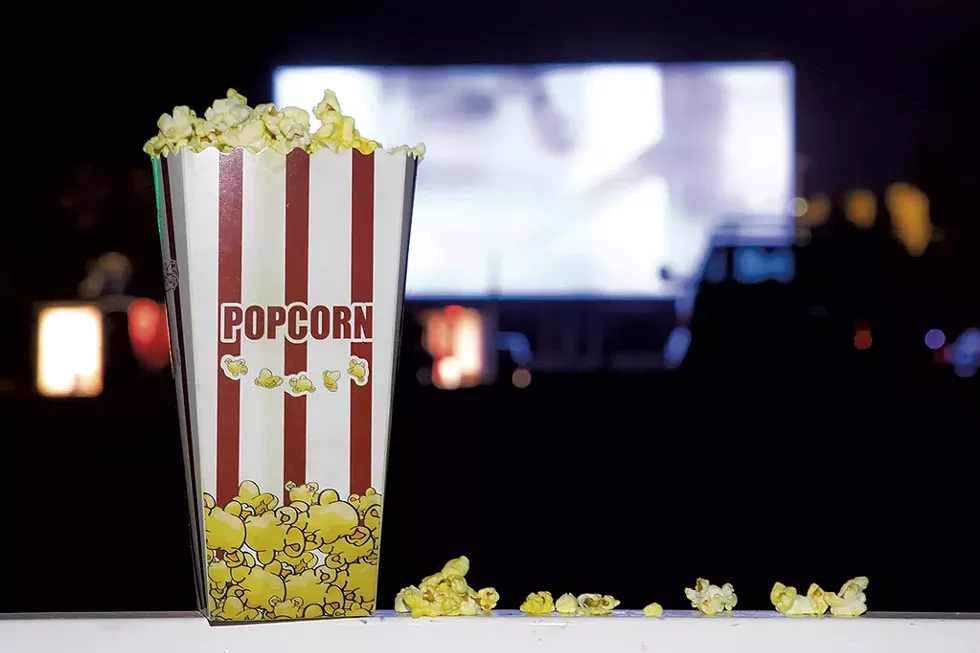 At two minutes to opening, five cars were lined up outside the Sunset Drive-In in Colchester. It was a warm Friday night in early August, and owner Peter Handy had announced a double feature of The Goonies and Stand By Me in a Facebook post that "almost went viral," in his words. (It was shared 115 times.) The '80s children of greater Burlington and beyond were coming to relive their favorites on this grassy spot near Lake Champlain, bringing their own kids.
Like most drive-in theaters these days, the Sunset offers nostalgia aplenty, despite its fancy new digital projection. Handy's parents bought the four-screen theater in 1948, when the drive-in business model was still new and on the rise.
Nearly every adult over 40 interviewed for this story had drive-in memories, all the more poignant because New England's outdoor theaters flourish in firefly season and shutter as the leaves fall. As the summer goes, so goes the drive-in.
Until recently, the history of American drive-ins seemed to mimic that seasonal pattern: a rapid, spectacular rise followed by a long, much-lamented decline. In 1958, there were 4,063 drive-in theaters across the nation; in 2019, just 305, according to the United Drive-In Theatre Owners Association.
Then the novel coronavirus changed the narrative — at least for a summer.
While most indoor movie theaters across the U.S. have been closed through August, drive-ins operate with built-in social distancing, putting them abruptly back at the center of America's movie culture. After months of streaming movies from the couch, a stir-crazy nation has rediscovered the drive-in.
With new safety precautions, of course. Instead of handing cash or a credit card to the attendant in the Sunset's ticket booth, I held up the QR code on my phone for scanning. My sister, Eva Sollberger, and I had prepurchased our tickets for touchless entry (the preferred method, but not required) and preordered our food.
When we rolled onto the field in front of screen 1, which would soon host The Goonies, we found cars positioned a roomy 14 feet apart, creating social-distancing pods. The playground at the foot of the screen was closed. A crowd controller in a yellow vest and black mask directed SUVs to the back rows.
"The permanent drive-in theaters, all of us are seeing an increase in business because of the pandemic," Jim Kopp, administrative secretary of the United Drive-In Theatre Owners Association, said in a phone conversation.
The demand is so high that temporary setups are popping up to supplement now-scarce permanent drive-ins like the Sunset. Early in August, Walmart announced plans to bring drive-in movies to the parking lots of 160 stores across the country. Sony Pictures has been hosting drive-in screenings on its studio lot in Culver City, Calif. And in Vermont, for-profit and nonprofit businesses are running new pop-up drive-ins featuring inflatable screens and compact digital projectors.
From Rutland to the Northeast Kingdom, Fairlee to Colchester, Vermonters are going to the drive-in picture show, paying about $25 per carload for a double feature. Eva and I visited three drive-ins — one permanent and two pop-ups — to see why people are choosing this new old form of entertainment.
Welcome to the Neighborhood
Eva Sollberger ©️ Seven Days
From left: Paul Clapps, Mustang and Anais Roy
From your couch, you can stream a 2013 documentary full of vintage footage and lore called Going Attractions: The Definitive Story of the American Drive-In Movie. It features commentary from Jennifer Sherer Janisch, coauthor of Pocket Drive-In Locator. As I visited drive-ins, I kept thinking about one of her sound bites: "For two hours, this is your neighborhood."
At the Sunset, as the west turned pink and the smell of butter-flavored popcorn wafted through the air, Eva and I got to know our new neighborhood.
Most neighborhoods have walls and doors. Here, masks marked the boundary between private and public spaces; they were universally worn by people venturing to the portalets or the central snack bar, and almost never by those safely in their parking spaces-cum-isolation pods. (The pattern held true at every drive-in we visited.) Walking over (masked) to peer into the pods and ask people questions, I felt as if I were spying on them in their living rooms.
I was drawn to the gigantic teddy bear in the bed of a black pickup truck facing screen 1, where Kim Kost and Chris LaMountain of Burlington were setting up a nest of pillows and blankets. "We're trying to bring back the '70s drive-in feel," said LaMountain, a fan of The Goonies.
While young Myra hugged her bear, the pair said this was their second trip to the drive-in in as many years. "It's a great option," Kost said. "I'm more motivated because of the issues going on." The possibilities for family outings are limited these days, LaMountain noted; their last one was mini golf.
Eva Sollberger ©️ Seven Days
From left: Chris LaMountain, Kim Kost and Myra
Nearby, Karen Stout of Milton, supervising her kids from the cab of a white Dodge SUV, knew The Goonies well; her husband "can recite the entire movie," she said. Her family makes an annual trip to the drive-in for non-COVID-related reasons: Not only is the experience fun, she said, but "It's easier to entertain kids with special needs here than in a theater."
This neighborhood has law enforcement, too. The masked crowd controller I'd noticed earlier was Christopher Handy, Peter's nephew. He seemed to be everywhere at once, "schooling" people, as he called it, on the Sunset's rules in a way that was somehow both firm and indistinguishable from friendly banter. When a friend of Stout's drove in with four small boys, Christopher lamented, "You came tearing in here like 'The Dukes of Hazzard'!" Then he directed the kids to play ball on the edge of the playground, not in it.
With dusk and showtime an hour off, picnicking was in order. Over in a corner, I found Steve Sharon and Sherry Coburn of Burlington enjoying a delectable-looking spread from Bessery's Quality Market in the New North End. Their beverage: cans from Burlington's Foam Brewers decorated with art by Sharon, an abstract painter.
A movie at the Sunset, the young couple said, has been their Friday night ritual for the past few months. Coburn's been coming there since childhood.
"We've been so cooped up in the house," she said.
"You can't go see live music," Sharon said. For him, the drive-in is "a way of being together and romantic in a different setting than inside our apartment."
For Anais Roy and Paul Clapps, in the row behind ours, the drive-in was the perfect outing for their newly rescued greyhound, Mustang, who peeked from the hatchback. "It's nice to get him in public and meet people and not have it be as much pressure," said Roy, another moviegoer with childhood memories of the Sunset. "Right now, especially during a pandemic, it's nice to get outside and have a social gathering."
Clapps agreed: "It's perfect for the pandemic."
Eva Sollberger ©️ Seven Days
Jim DuVal
Down in front, I found local tattoo artist Jim DuVal and his wife and muse, Niki Frankenstein — both walking advertisements for his trade. For them, the drive-in is a date night with sentimental value: DuVal proposed to Frankenstein at the Sunset in 2009.
The crowd was thickening; I counted 30 cars ready for The Goonies. Christopher Handy had his hands full. After relocating a group of kids in lawn chairs so a car could be reparked, he suggested I talk to a family in the front row that comes every weekend. "I only had to school them once," he noted approvingly.
I found the Doyles — mom, dad and two teenage sons — from Colchester on lawn chairs in front of their silver Civic. The family has "been coming here for years," Jim Doyle told me. If their visits are more frequent this summer, that's because the drive-in is playing "classic movies. We're coming to see Jaws and E.T.," he said with the reverence of a true movie lover. "We don't feel like we got a choice; if they're playing these movies, we gotta go."
I understood. The last time the Sunset played so many old movies was in 2014, when Hollywood studios made good on their threat to stop shipping 35mm films to theaters that hadn't made the expensive conversion to digital projection. Peter Handy supplemented his dwindling supply of new 35mm films with old prints of Jaws, E.T. the Extra-Terrestrial, The Breakfast Club and more. That fall, I went to the drive-in at least three times, bundling up for the chill of late September and gulping snack-bar coffee to get through the second feature. It was worth it.
Now the Sunset is fully digitized, and the films are classics for a different reason: Hollywood has postponed virtually all of its new releases until indoor theaters open.
"There's nothing really substantial out there in the first-run world," Peter Handy told me in a phone conversation. The "retro movies," he said, do better than the "oddball new releases" he's run, such as Jon Stewart's political satire Irresistible and the killer-crocodile movie Black Water: Abyss.
But he's more excited about the new mainstream films that are being released in late August: Unhinged, starring Russell Crowe; The New Mutants; and Bill & Ted Face the Music. Their appearance coincides with the likely return of indoor theaters. National chain AMC Theatres began opening some of its locations on August 20, and in Vermont, Essex Cinemas and the Capital Showplace will start showing indoor movies on August 28.
Here in the pocket universe of the summer drive-in, though, all that felt far away. As the sky darkened, I asked James Doyle, 17, how he felt about watching old movies. "I prefer it," he said.
"It's a generational thing," his dad said. "Now we're starting to bring my 7-year-old grandson. He falls asleep, but he loves it."
'The Comfort of Your Vehicle'
Eva Sollberger ©️ Seven Days
Sherry Coburn and Steve Sharon
The rise of drive-in movies in America was tied to the rise of postwar car culture. From their earliest days, outdoor theaters sold themselves as a way to go out while staying in a space that was yours alone.
"They've always advertised drive-ins as ... 'Come to the movies in the comfort of your vehicle,'" Kopp of the drive-in theater owners organization said, "and it's kind of funny now that it's so true in 2020. Folks are seeking out drive-ins because they want something that is physically distant. Something that is ... more safe than some other entertainment options."
Richard Hollingshead, who patented the concept of the drive-in in 1933, created it with his mother in mind: A large woman, she wasn't comfortable in traditional theater seats. Drive-ins accommodated everyone who needed a little more room: parents of small children, lovers looking to get it on (hence the term "passion pits"), smokers, rowdy teens.
But in the 1970s and '80s, the cars got smaller and the TVs got bigger (and attached to home video systems), and many Americans decided their living room was the most comfortable theater of all. The teens who used to flock to drive-ins discovered the mall.
Drive-ins are typically family-owned, Kopp said. For many of these struggling proprietors, selling the land to developers became an irresistible proposition. Going Attractions features a sad before-and-after montage of drive-ins becoming strip malls and other suburban sprawl.
By 2012, the switch to digital cinema loomed as an existential threat to the already decimated drive-in scene. That year I wrote about Peter Trapp, owner of the Fairlee Drive-In Hotel & Theater, who was crowdfunding to buy the pricey new equipment he needed to keep his one-screen theater alive.
In the end, the St. Albans Drive-In was the only local casualty of the changeover to digital. Today, Vermont has three operating drive-ins: the Sunset, the Fairlee and the Bethel Drive-In. Longtime locals, however, remember many more.
The owners and advocates of drive-ins hope the new surge of interest lasts.
"It's been an interesting year for us," said Kopp, who owns Family Drive-In Theatre in Stephens City, Va. "We're seeing new people coming who have not been aware that drive-in theaters were around."
Drive-ins are finding new revenue sources, too. Kopp's theater and the Sunset are among many that will stream an upcoming Metallica concert.
"In a way, drive-ins have come full circle," April Wright, the director of Going Attractions, wrote in an email. "In the beginning they were gathering places for the community, and now they are again, not only showing movies but hosting concerts, graduations, weddings, even church services." For Wright, the resurgence of drive-ins is "one of the bright spots during this pandemic."
In this topsy-turvy year, the drive-in-movie business has even attracted new players.
On the Fairgrounds
Eva Sollberger ©️ Seven Days
Amanda Copeland (right) and friends
In normal years, Peter Handy said, late August is when his business has to reckon with competition from the Champlain Valley Fair. This year, fairs are canceled. Fairgrounds up and down Vermont stand empty — except where savvy entrepreneurs have turned them into pop-up drive-in theaters.
On a gorgeous, humid Saturday evening in early August, I found Saturn Roblee running the register inside a shipping container turned into a snack bar and projection booth on the Caledonia County Fairgrounds in Lyndonville. With her friend Emily Ladd and their respective partners, Tito Ladd and Cavan Meese, she owns Moonrise Cinemas, a mobile drive-in venture that was already in its second month and location.
In July, Moonrise opened at the Orleans County fairgrounds in Barton, and it's working to confirm a location for a three-week run in September in Stowe. "It was really neat watching it move," Roblee said of the 10,000-pound shipping container. "There's a guy who came with his big old tow truck and just put his bed right underneath it."
Roblee, 30, wore a stretchy marigold dress and boots and carried her 3-month-old, Kai, on her hip. "He popped out, and then I started a business," she said with an impish smile.
Nearby, Meese, clad in a Smokey Bear T-shirt and bandanna mask, directed cars as they made their way into the grassy field and staked out spaces in front of the 52-by-26-foot inflatable screen.
In Lyndonville, Moonrise screens movies Wednesday through Saturday. On Sundays, St. Johnsbury-based Catamount Arts shows movies and concerts at Northern Vermont University-Lyndon as part of its own Drive In Movie and Music series.
On Moonrise's busiest night as of August 8, Roblee said, she saw "upward of 80 cars." On a typical Saturday, she sees 40 to 60; on a weekday, 30 to 40. We were there for the double feature of Jurassic Park and Spaceballs, which she hoped would be "our biggest night ever."
"We're gradually building," she said. "We're learning what kind of movies people like. We're learning that, as the summer goes on, our nights get longer, and [we're learning] what people want in the kitchen."
The hot dogs and sausages sold at Moonrise are Vermont brands; the butter on the popcorn tastes real. Beside the shipping container stood an open-air bar where I bought a Bee's Knees made with Barr Hill gin; next door was a booth housing a U.S. Census worker.
When it comes to movies, the choice is simple: "Classics," Roblee said. "Adults like to bring their children to the classic movies that were so great for them when they were kids." Among the most requested films are The Goonies, Dirty Dancing and Ghostbusters. "I think that there's something just, like, nostalgic about a drive-in," Roblee said, "so the nostalgic movies really resonate with people here."
Eva Sollberger ©️ Seven Days
Howie Cantor and Alexis Smith
As we talked, a car that was impossible to ignore pulled up to the snack bar: a 1994 Saab convertible with a Bread and Puppet Theater garbageman mask riding shotgun. Out jumped Alexis Smith, who came to greet Roblee.
Later, I caught up with Smith and her companion, Howie Cantor, in the Saab. Both are Bread and Puppet troupe members. Cantor, a guitarist and songwriter who is Meese's stepfather, sometimes plays live music at Moonrise before the show.
Smith has vivid drive-in memories. "I'm a child of divorce, and my parents picked the drive-in as our neutral drop-off ground. The big pictcha," she said, affecting a Hollywood mogul accent. "The big screen. Very exciting. Sleeping bags, Star Trek, lying on the windshield. In Vermont ... this is a big outing!"
It didn't take us long to dub Moonrise the "hipster drive-in," given the beards, vintage dresses, and crafty cloth masks and bandannas on display. But the dressed up and the dressed down (including me) mixed easily there.
Amanda Copeland of Barre, wearing a polka-dot dress, sat with three other young people in a truck bed. "The last time I watched Jurassic Park I went into labor," she noted.
Copeland used to show her horse on these fairgrounds. "People can't go to theaters, can't go to bars, can't go to restaurants, really, so it seemed like a nice thing to do," she said of the drive-in.
Also settled in the back of a pickup were Dina and Kai Pradel of Wheelock and their sons, Marc, 9, and Lukas, 11. This was their first trip to any drive-in, Dina said. They'd come "just to give us something to do, to get out of the house for something that's safe and fun."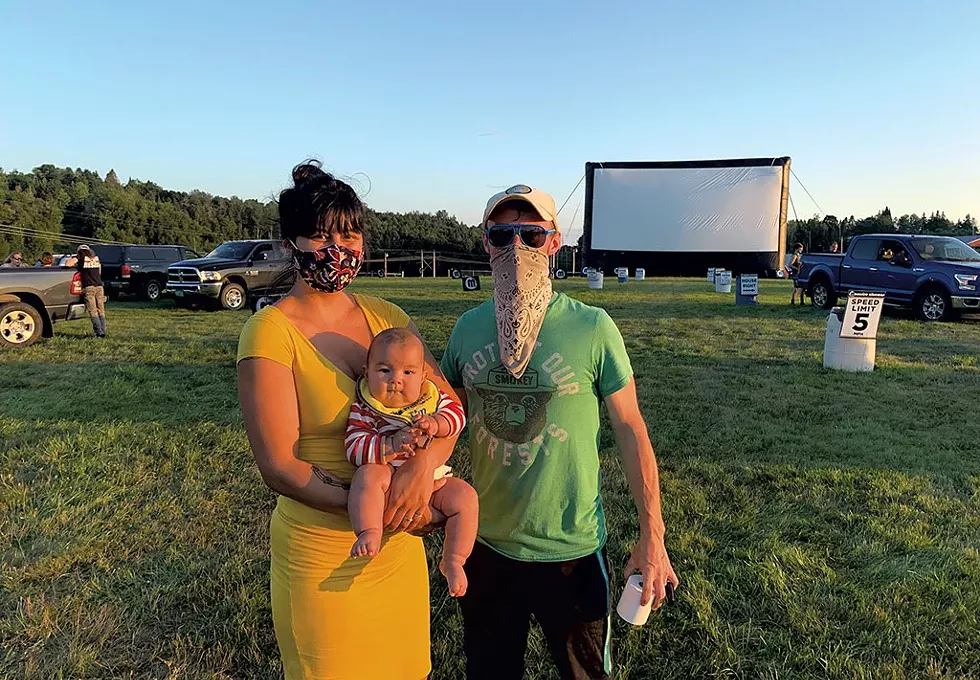 Eva Sollberger ©️ Seven Days
From left: Saturn Roblee and Kai and Cavan Meese
The Pradels directed me to a family whose movie-watching pod boasted a rattan sofa. "We don't live that far," explained Bill Goodhue of Lyndonville, who was there with his wife and sons. Like almost everyone else, they'd come because "there's not a lot going on," he said.
"I'm excited; these guys aren't," Bill added with a laugh. He remembered going to a drive-in in Woodsville, N.H., and hearing about the Blue Moon Drive-In in St. Johnsbury (RIP 1987, according to cinematreasures.org). When he learned about Moonrise, he said, he thought, "What a great idea." To Goodhue, a drive-in is an attraction with or without the pandemic. "Hopefully it continues rolling," he said.
Here's a 21st-century drive-in problem: What do you do with a Prius? The drivers on PriusChat warn that playing your radio in accessory mode could drain the 12-volt battery, but drive-ins broadcast their sound via FM, and running your engine during the show is verboten. We came equipped with a battery-powered radio, a big one. (The folks at Moonrise will set you up for $15.)
Once again, nature's lights were going down, pink sinking in the west. Soon the screen was lit up with green jungle and ravening velociraptors. "Life finds a way," Jeff Goldblum intoned.
As if to confirm his words, moths flitted in the projector beam, wings catching the light and making them wink like fireflies. Below, an electric golf cart glided among the cars making snack deliveries.
Much as I love Jurassic Park, it fought for my attention with the stars that spread over the sky, remarkably clear despite the soupy air. While the moon didn't actually rise during the first feature, the sight of Jupiter blazing over the low hills was all I needed to underline the movie's message: Nature is bigger than we are.
A Magical, Abnormal Summer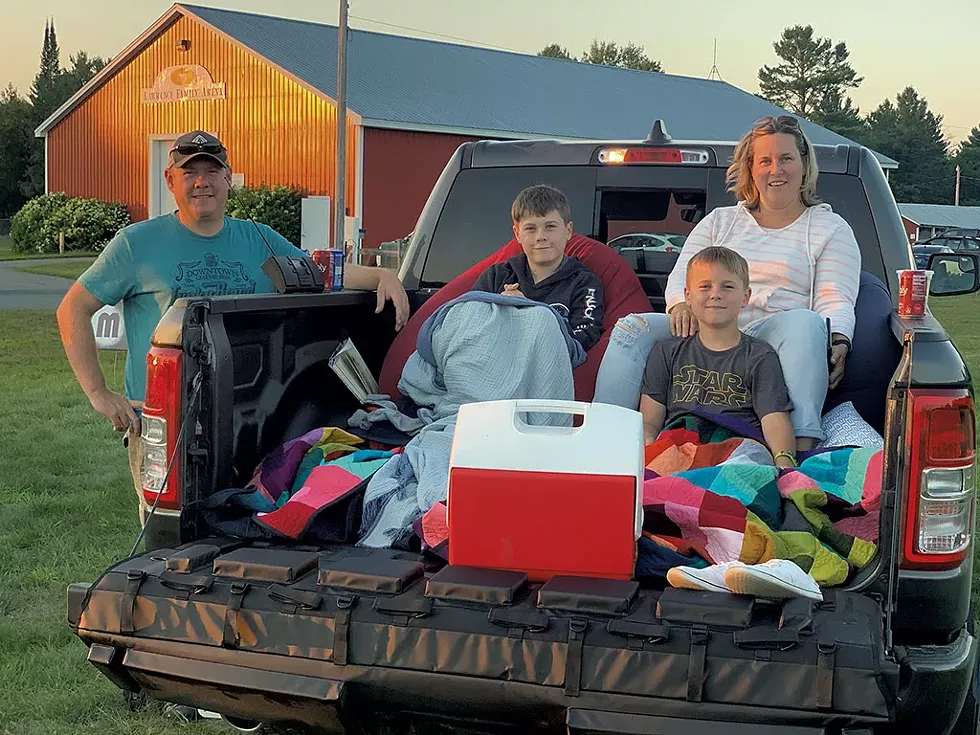 Eva Sollberger ©️ Seven Days
From left: Kai, Lukas, Marc and Dina Pradel
For Roblee and her partners, a pop-up drive-in is a new business venture uniquely suited to the times. For film and arts presenters whose usual indoor venues are shuttered, it's an alternative income stream.
"Our goal is to give people something to do and to maintain our relevance in the community," Eric Mallette, interim executive director of Rutland's Paramount Theatre, said in a phone conversation. The Paramount, which usually presents live performances, opened a 60-car drive-in on the Vermont State Fairgrounds on July 3. Tickets sold out "in minutes."
Given the "overwhelming" response, Mallette said, the Paramount constructed a second drive-in in Brandon. It's up and running movies such as sing-along favorite Mamma Mia!
Mallette, who is 35, "didn't grow up going to drive-ins," he said. For him, opening night was "magical," complete with a full moon. Sitting with his girlfriend and "watching it unfold ... It felt normal to be out doing something, but juxtaposed with the feeling that for people our age it was abnormal," Mallette recalled. "That contrast between old and new and normal and abnormal sort of collided, and it gave me the energy I needed to keep this thing moving ahead."
On another fine Saturday evening, I found the team from Catamount Arts laying out a blue tarp in a parking lot on the Johnson campus of Northern Vermont University. It would hold the inflatable screen, which takes 45 minutes to an hour to put up, Tim Mikovitz told me.
Mikovitz is the technical director of both the arts center's KCP Presents series and the college's Dibden Center for the Arts. The Drive In Movie and Music Series, which kicked off in early July, was his idea. "We jumped quickly and bought the equipment necessary," he said, "which was back-ordered shortly thereafter."
Every weekend, Catamount Arts screens a film or concert at each of the two university campuses. The series will end with Harry and the Hendersons in Johnson on August 29 and musician Chad Hollister on the Lyndon campus on August 30.
Mikovitz has seen up to 50 cars in a night, he said, for the menu of family-friendly classics. While he might not call the drive-in a significant revenue stream, he said, he sees it as "a valuable community offering," one that draws repeat customers.
"We have one family that's front and center every week," Mikovitz said. "It's giving people something to do this summer that's safe and enjoyable. They've all loved it. We've had a great summer."
All in the Family
Eva Sollberger ©️ Seven Days
Bill Jarvis
The sun gilding the university campus tempted me to stay, but we had another pop-up drive-in to visit that night — this one run by veterans of the movie biz.
Eight miles southeast of Johnson, a sign reading "Bijou Drive-In" ushered us into the Dunkin' parking lot on Route 15 in Morrisville. From there, a dirt track led into a high, grassy field that felt surprisingly pastoral, given the chain restaurants nearby.
On the field's far edge, two inflatable screens, measuring 35 feet diagonally, were puffing into shape with remarkable speed. One faced the Dunkin'-adjacent field; the other, a neighboring field at the bottom of a steep hill. In each field, wooden stakes 12 feet apart marked parking pods.
From the top of the hill, I gazed across Route 100 toward the former site of the Morrisville Drive-In, where in the 1980s I saw a double feature of Psycho II and John Carpenter's The Thing. It's now a Hannaford supermarket.
Back at the entrance, Bill Jarvis and his wife, Cherie, were busy laying out candy, popcorn and soda on a table. Selling concessions is nothing new to them. For the past 24 years, Jarvis has owned the Bijou Cineplex 4, a four-screen indoor theater whose vintage marquee is a fixture of Morrisville's main drag.
In a normal year, the family would be busy selling tickets to summer blockbusters. This year, everything's happening outdoors.
Eva Sollberger ©️ Seven Days
Cherie Jarvis
The Jarvises opened their drive-in on June 12, screening classics and more recent hits on Friday and Saturday nights. Last night, Bill said, they had 60 cars for The Princess Bride.
Gregarious and welcoming, Bill sported a tan and a gleaming white smile. "Knock on wood, it's been busy," he said, bustling back and forth. "People enjoy coming out to the movies, getting out of the house."
"They say all the time, 'Thank you for doing this,'" Cherie added.
Bill wasn't going to tote one of the theater's $50,000 digital projectors out into a field, so the drive-in plays DVDs on "spare" $10,000 projectors. He has to watch out for winds that might send the inflatable screen flying.
"You can't do it in the rain; you can't do it in the wind," he said. "It's a lot of work to set it all up." Initially, he tried weeknight shows, but, he said, "Eight cars? It wasn't worth it."
I tagged along after Bill as he greeted his daughter — who drove onto the field in a spanking-new silver Dodge Ram — and waved hello to his granddaughter, who was helping Cherie at the concessions table. Later, he pointed out his son and grandson, who were busy in the projection "booth" (actually a tented table), centering the image while a cartoon ran. On any given night, Bill has four or five family members working with him, he said.
While the Sunset can run new movies such as Unhinged, the studios don't give their fresh product to pop-up operations, Bill said. We were at the Bijou Drive-In for the 2017 musical hit The Greatest Showman.
Eva Sollberger ©️ Seven Days
From left: Marilyn Hostetler, Reeva Murphy and Peggy Wark
Reeva Murphy of Stowe, who was setting up camp beside a Toyota Avalon, was a fan of the film — she'd seen it three times, she said. Her primary mission here, though, was an outing with her sisters, Peggy Wark and Marilyn Hostetler, who were visiting from Rhode Island.
Wark had been staying in for safety, Murphy explained, and wasn't ready for outdoor dining. But she'd enjoyed a visit to a Maine drive-in so much that she asked her Vermont sister, "Can you find us a drive-in to go to?" Murphy found the Bijou Drive-In by word of mouth.
"We went to drive-ins all the time when we were kids," she said. "I'd go to a drive-in any time, anywhere."
Mike and Mary Benway of Hardwick, sitting in a pickup bed, had similar feelings. They said this was their fourth or fifth trip to the Bijou Drive-In this summer.
"I loved drive-ins as a kid," Mike said. By his teenage years, the ones he'd known were gone.
"We were so excited when we found out they were going to do this," Mary said.
When the Bijou Drive-In played the 1977 trucker comedy Smokey and the Bandit, the Benways came in their '77 Thunderbird. Bill Jarvis made that one a theme night and welcomed 13 semitruck cabs onto the field, he said. The next weekend, race cars showed up for the Tom Cruise racing flick Days of Thunder.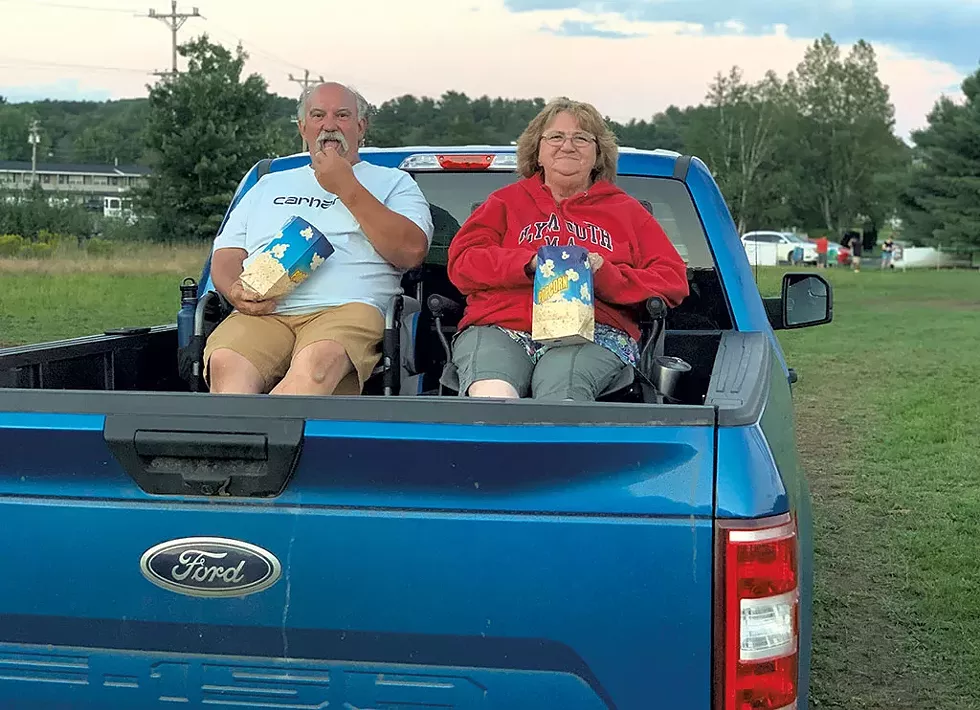 Eva Sollberger ©️ Seven Days
Mike and Mary Benway
"When we make it into an event, it seems to do a lot better," Jarvis said. For Hotel for Dogs on August 22, he was planning a politically themed canine costume contest — an idea he said came from his brother Merrill, owner of Merrill's Roxy Cinemas in Burlington.
The Jarvis family owns three of Chittenden County's four multiplexes: the Roxy, Majestic 10 Cinemas and Palace 9 Cinemas. The fourth multiplex, Essex Cinemas, started showing its own drive-in movies at the Essex Experience on August 21, even as it reopens its indoor screening rooms.
"I'm gonna run it as long as I can," Bill Jarvis said of his rustic Morrisville drive-in, but he looks forward to the day when new-release dollars will start coming in again.
That could be "soon," according to a message on the Majestic's home page. With the giant AMC Theatres chain testing the waters in late August, and Christopher Nolan's Tenet currently scheduled for release on September 3, the brief renaissance of the pandemic summer may soon be just another misty drive-in memory.
Defenders of the classic drive-in, such as filmmaker Wright and Kopp of the United Drive-In Theatre Owners Association, caution against taking these pieces of Americana for granted. To survive, they point out, drive-ins need more than nostalgia. They need repeat customers.
With or without reopened indoor theaters, Peter Handy of the Sunset wasn't feeling wildly optimistic about the fall. It's always a slow season, he noted, and his business so far in 2020 has been "on par with last year" — not booming. (It didn't help that he lost his first month to pandemic closure.)
If drive-ins do see a lasting resurgence, it could be because the summer of 2020 showed people what they were missing: that combination of public outing and private comfort that drive-ins have always offered.
Jay Caroli of Barton, a frequent Moonrise customer, said in a phone conversation that he doesn't usually go to movie theaters. With a 4- and a 9-year-old, it's tough to get everybody to sit still.
"But to have the big screen back outside with the drive-in is a blast," Caroli said. His wife, Sharon, liked being able to hold their 4-year-old on her lap. "That's been really fun, to have the cuddly experience," she said, calling the drive-in "a community experience," too.
"We had lost so many of our drive-ins, there was a generation of kids who didn't have that experience," Wright wrote in her email. "I'm happy they're having it now."
At the Bijou Drive-In, Bill Jarvis said he sees "a lot of regulars, and there's a lot of people, I've never seen them before. And they all thank me for doing this."
As we watched The Greatest Showman on that Saturday night, the movie's none-too-subtle theme of the unifying power of show biz seemed apropos. Like the circus, drive-ins have sometimes had a seedy side. But whether they're showing family films or porn (as some did in the '70s), they always hold out the irresistible promise of a safe, controlled escape.
I'll admit that I had trouble focusing on Zac Efron and Zendaya warbling the song "Rewrite the Stars" when actual meteors kept shooting across the sky above my head. That's the beauty of a summer drive-in, though. It's two shows in one, and one of them is as big as nature itself.
Vermont Drive-Ins and Pop-Ups
Pop-up drive-ins have flourished this summer, so we can't guarantee this list is comprehensive. If we missed one, please let us know.