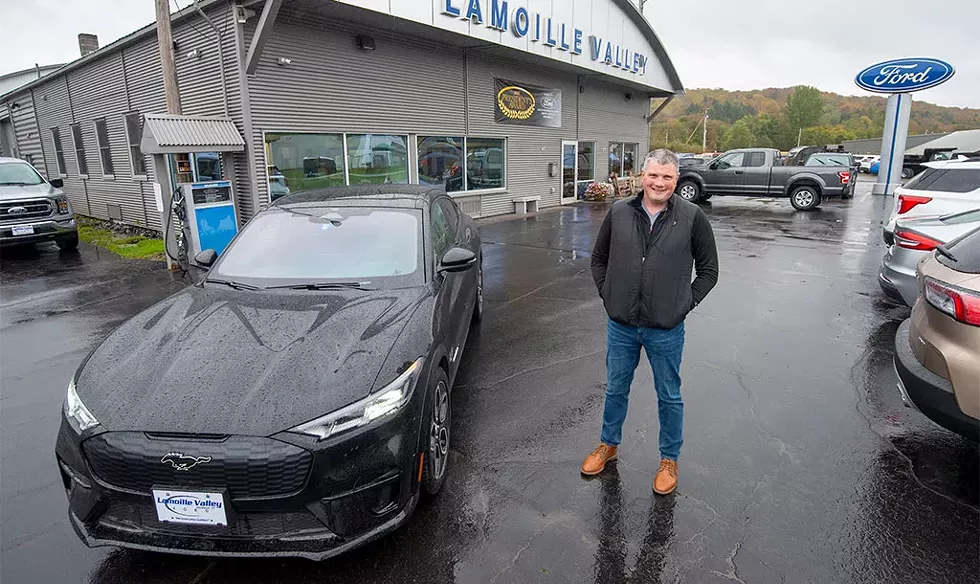 Jeb Wallace-Brodeur
Rick Welcome with an all-electric Ford Mustang Mach-E at Lamoille Valley Ford in Hardwick
Early adopters and climate change activists aren't the only ones interested in electric vehicles these days. Don't believe it? Visit Lamoille Valley Ford in Hardwick.

Rick Welcome, the dealership's general manager, has been in the business for 18 years. He's never seen more demand for a vehicle than he's seeing for Ford Motor Company's new, all-electric F-150 Lightning, scheduled to arrive in the spring. More than 100 customers have joined Lamoille Valley Ford's reservation list for the EV version of the pickup truck, which starts at $40,000 for a base model.
That demand is not a huge surprise. The F-150 has been the nation's best-selling vehicle for more than 40 years; it's the most popular vehicle in Vermont. But the fact that Ford is rolling out a battery-powered model is a big deal. It's yet another signal that the auto industry is shifting gears to producing more electric vehicles, or EVs, in an effort to cut greenhouse gas emissions.
Are You Ready to Drive Electric?
Compare the vehicles that are available in Vermont right now and learn all about cost-saving incentives and charging options.
Sponsored by:
In fact, Ford just announced plans to build three new factories to make electric cars and trucks and batteries; the automaker has pledged that 50 percent of its vehicles sold will be electric by 2030. Meanwhile, General Motors has committed to releasing 30 new EVs worldwide by 2025 and eliminating tailpipe emissions from new light-duty vehicles by 2035. Many other automakers are making similar commitments to electrify their product offerings. Tesla is leading the pack; it sells more EVs than any other automaker. Its stock is currently valued higher than other automakers', too.
Vermont is also taking steps to make it easier and more affordable for drivers to switch to EVs. With more than 300 public charging stations available, it already leads the nation in public plug-in locations per capita. The legislature has funded programs to spur businesses to add more — and approved money to help EV buyers.
The bottom line? It's a good time to consider your EV options. Read on for insight from local EV drivers about their experiences with range, battery performance and incentives they found — and get a peek at what's coming down the road.
In Welcome's words: "The future is now."
Trucks and All-Wheel-Drive EVs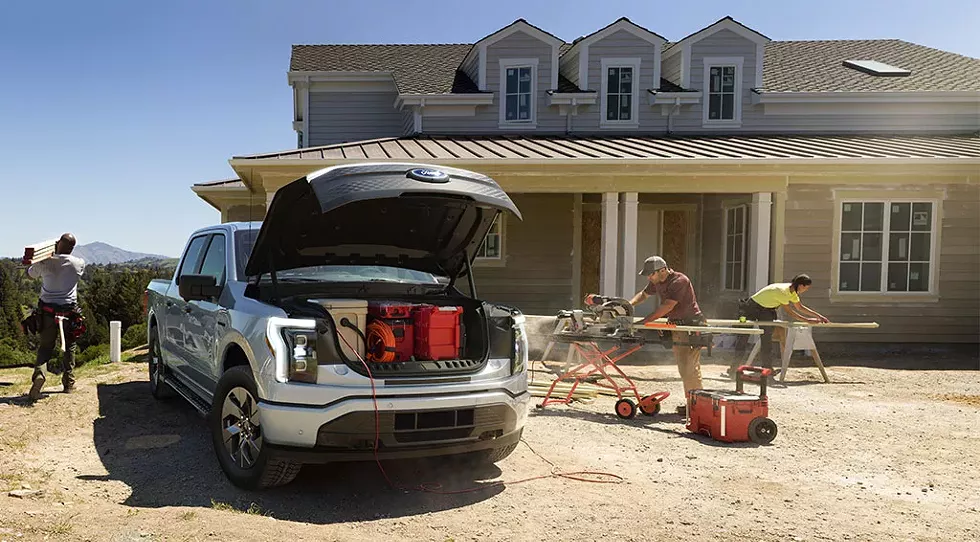 © Ford Motor Company
2022 Ford F-150 Lightning XLT
Vermont is a rural state, and trucks come in handy here. Dealerships like Lamoille Valley Ford will be happy to sell you one.
Head to its website, and the first thing you'll see is two big pickups with a field of wind turbines in the background, along with two prompts: "Reserve Ford Maverick" — a hybrid truck — and "Reserve Your 2022 Ford Lightning."
The pivot to auto dealers acting as renewable energy advocates might seem odd, but to Welcome, the general manager, it's a logical move.
"You've got to pick which side of history you're going to be on, being the dinosaur and deciding that vehicles are always going to run on gas and oil and that's never going to change, or we're going to be part of the future," Welcome said. "I think everyone's woken up to it now, and I don't think anyone would deny it."
Interest in the Lightning only confirms Ford's conviction — and the dealership's — that EVs are the future of the business. "I think we're all going to own electric cars at some point," said Welcome.
Dave Roberts, coordinator of Drive Electric Vermont, sees that trend, too. When the organization launched about nine years ago, early EV adopters could choose from about two all-electric models, he said. Today, there are about 40 EV options.
The group's website, driveelectricvt.com, lists all the plug-in vehicles available in Vermont, with details about range, cargo capacity and price, along with links to dealerships. There are more all-wheel-drive options than you might think — and more on the way, he said. Roberts anticipates that the Lightning, and all-wheel-drive models such as the Subaru Solterra, due out in 2022, will boost EV appeal among Vermonters.
Charging and Range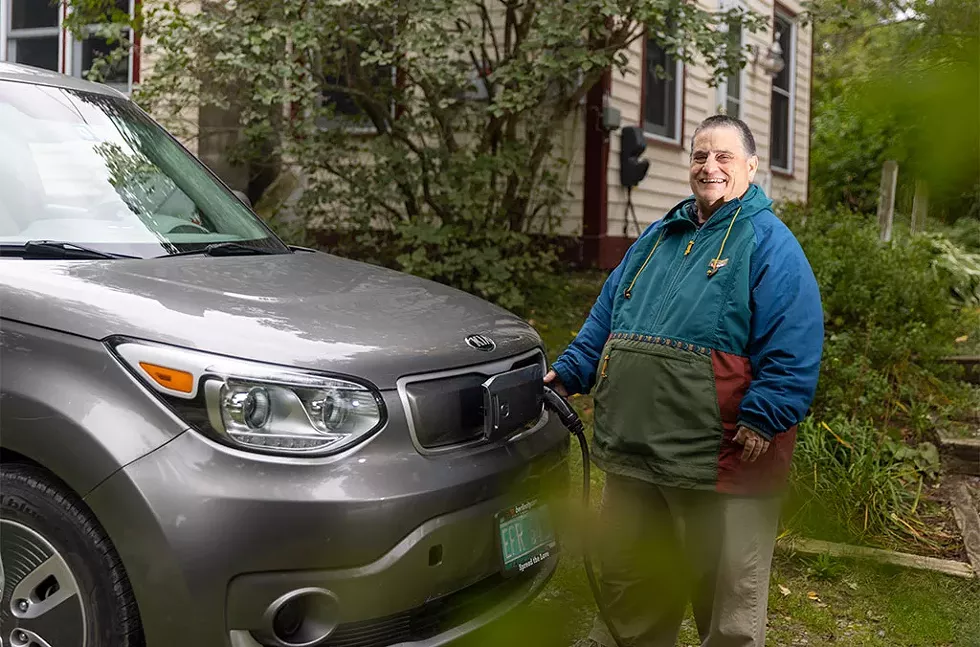 James Buck
Naomi Winterfalcon of Monkton charging her all-electric Kia Soul
Drive Electric Vermont also includes information about range — how far an EV can travel on a charge — and lists all of Vermont's public charging stations.
That's useful information. One of the biggest concerns for drivers when it comes to buying electric is how far an EV can go on a charged battery and where drivers can charge when the battery runs low — aka range anxiety.
The earliest modern EVs could go 50 to 80 miles on a charge, requiring more frequent charging at a time when charging locations were harder to find. Batteries in newer versions can handle trips as long as 500 miles.
The number of charging spots is multiplying, too. Charging time depends on the method: A regular 120-volt outlet, known as Level 1 charging, will give an EV battery about five miles of charge per hour. At Level 2, or 240 volts, an hour of charging adds 10 to 20 miles of travel.
Naomi Winterfalcon, a Monkton resident who owns an all-electric Kia Soul, received a free Level 2 charger from Green Mountain Power and paid an electrician to install it, she said. Sitting in her driveway, her Kia charges up in four to five hours.
Rapid charging, or Level 3, can fill a battery to 80 percent of its capacity within 30 minutes to two hours. Also called DC fast charging, it requires a compatible plug, which can differ depending on the automaker's model.
Most public charging stations also charge fees, though many businesses — including City Market in Burlington and the new Hannaford supermarket off Shelburne Road in South Burlington — have installed them as a customer courtesy. The state's Electric Vehicle Supply Equipment program has provided grants to organizations to add EV charging stations. Welcome said Lamoille Valley Ford hopes to add a bank of DC fast chargers with an upcoming renovation.
James Buck
Ben Lustgarten charging up his Chevy Bolt during work at NRG in Hinesburg
Some employers have added charging stations as an employee perk. Ben Lustgarten lives in a South Burlington condominium that has no charging station, but he can power up his Chevy Bolt for free during his workday at NRG Systems in Hinesburg.
Charging your EV for a long trip can still be a bit of a challenge. Roberts of Drive Electric Vermont said: "It can be done, but it just requires a lot of advanced planning and patience." EV drivers who map their stops and factor in charge time — pinpointing a rapid-charge site where they can plug in during a lunch break, for example — can make it work.
Vermont has approved funds for another 17 fast-charging sites, and state officials are looking at areas with the greatest need, said Michele Boomhower, director of policy, planning and intermodal development at the Vermont Agency of Transportation. The state is aiming to install rapid charging within 30 miles of every Vermonter, within five miles of every highway interchange and every 50 miles on the state highway system, she said.
Another thing to consider: EV driving range typically drops in the winter, when cold temperatures reduce the lithium-ion battery charge and vehicles use more power to heat the cabin. On the coldest winter days this can mean a 25 to 50 percent reduction from the official range provided by the manufacturer. Drivers can offset some of the loss by turning on heated seats instead of cabin heat or warming the vehicle while it's plugged in.
On the plus side, the electric drivetrain tends to add to an EV's weight, which provides better traction than many comparable gasoline-powered vehicles.
Lustgarten's Bolt has other advantages, too. "Probably the most common reason that people like them is the instantaneous torque, because right when you put your foot on the pedal, the electric motor just goes," he said.
"They're super quiet, which is really, really nice," he added. "They're not obnoxious. It's easier to hear things, and it's just a more pleasant driving experience."
Cost Concerns
James Buck
Inside Lustgarten's Chevy Volt
In 2019, the average American spent about $2,000 on gasoline. With an EV, that cost is greatly reduced for most drivers.
Service for an EV also drops by about 30 percent, Welcome estimated. A battery-powered engine is far less complicated than an internal-combustion one. EV owners still have to replace tires and fix brakes and suspension — particularly if they drive frequently on Vermont's dirt and rutted roads. And, of course, they'll still need snow tires in the winter.
The biggest cost of an EV is the car or truck itself. Vermonters can take advantage of federal, state and utility incentive programs to bring down the upfront cost by up to $14,000 in some cases. The state offers two types of incentives: Buyers purchasing new EVs can get up to $4,000 toward a purchase or lease, depending on their household income and tax filing status; and the state's MileageSmart program, run by Barre-based nonprofit organization Capstone Community Action, offers low-income households money toward a used EV or hybrid. Drive Electric Vermont has an incentives calculator that can help you determine how much you can get back on an EV purchase.
Are You Ready to Drive Electric?
Compare the vehicles that are available in Vermont right now and learn all about cost-saving incentives and charging options.
Sponsored by:
Next year, Vermont plans to launch a new incentive program called Replace Your Ride, like a cash-for-clunkers deal, to not only encourage people to invest in a more efficient vehicle but also to take their old gas-guzzlers off the road. The details haven't been hammered out yet, but the money back for the trade-in will qualify for an electric or regular bicycle purchase, as well. "We are really focused on getting household transportation costs lower," said Boomhower.
Winterfalcon received about $5,000 from MileageSmart when she bought her used Kia Soul EV in the spring, she said. Her utility, Green Mountain Power, gave her about $750, too. All that helped reduce the $21,000 sticker price by 25 percent. Those, plus the cash she put down, brought her monthly payments under $200, she said.
And she didn't have to spend $120,000 on a Tesla to get a comfortable ride while saving energy.
"This car has all sorts of things I've never had in a car before, like heated seats," she said. "I don't know what half the buttons are. There's just so much going on in that car. The message is: You don't have to sacrifice anything to drive an electric car."
Reducing Emissions
James Buck
Naomi Winterfalcon, her dog and her all-electric Kia Soul
Winterfalcon bought an EV to cut down on using fossil fuels. "I've been really working on getting them out of my life," she said. "It's climate change, but it's also wherever they're produced, fossil fuels wreak havoc on the people there, the environment, and I just don't want to be part of it anymore."
Many Vermonters don't. The Vermont Global Warming Solutions Act, passed in 2020, requires the state to reduce emissions in order to combat climate change. Vermont must cut greenhouse gas pollution by 26 percent from 2005 levels by 2025; by 40 percent from 1990 levels by 2030; and by 80 percent from 1990 levels by 2050.
The state also created the Vermont Climate Council, which is looking to rev up adoption of EVs to help meet those mandates, Boomhower said. More EV investment is expected in the next legislative session, she added, including plans to convert Vermont's own gas-powered fleet of buses and light vehicles to electric.
EV owners drive with energy use in mind. And if they forget, their vehicles will nudge them. Winterfalcon said her Kia sends her email messages about her battery level. Inside the car, the dashboard shows her the amount of charge she has left and when she's consuming more or less of it.
"I like it because it makes you more aware of what you're doing and how you're driving and what your energy usage is," she said.
Lustgarten explained that he takes advantage of regenerative braking in his Chevy Bolt. It reverses power from the motor and returns it to the battery if he decelerates instead of applying the brakes to stop.
"It is super nice to be driving and knowing you're not putting any emissions into the air," he said. While sitting in traffic, "I just look around, and I'm like, If every single one of these cars were an EV, it would be so quiet and the air would be so clean."
→ To learn more about electric vehicles, visit driveelectricvt.com.
This article was commissioned and paid for by Efficiency Vermont in support of the fight against climate change.