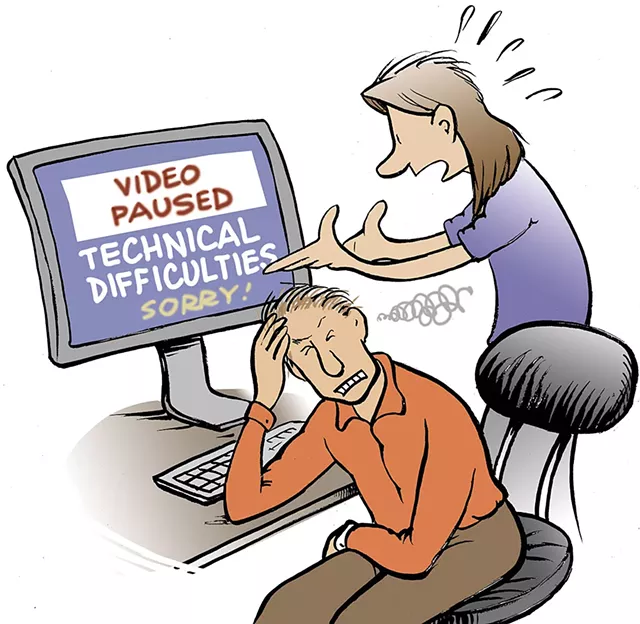 Selectboard meetings in Canaan can be lively. Residents of the remote northeastern Vermont town — population 972 and literally steps from the Canadian border — congregate every other week to complain about rogue snowmobilers or weigh in on the purchase of a new police cruiser.
The coronavirus, though, put the in-person gatherings on pause. In March, the Canaan Selectboard began holding meetings on Zoom, the popular teleconference platform. But the area's spotty broadband service made it difficult for many to participate. Those who did told town leaders that public discourse just wasn't the same. Meeting attendance dropped.
"It's hard to know what people want if they're not gonna come," selectboard chair Frank Sawicki Jr. said. "It's frustrating. We want them to have a say."
The rural selectboard isn't the only body experiencing technical difficulties.
Just last week, the Vermont House delayed committee meetings for a few hours when a technical snafu killed live video of the sessions. In late April, the Vermont Senate met privately on Zoom for 20 minutes before letting the public view its proceedings. In Hinesburg, the selectboard chair turned off the mic of a resident who spoke with a raised voice during a heated discussion. A Montpelier resident is worried that members of the public can't properly vet a complex project from afar.
Three months into the Zoom age, socially distanced democracy is hitting some speed bumps. Open-government advocates say officials are doing their best under complicated circumstances, and they've cheered the fact that residents don't have to travel to observe government at work — they can just turn on the computer. Other Vermonters fear that remote meetings are diluting the state's tradition of robust participation in local politics.
"I do really want people to get involved, but I'm afraid if it's all online that people are Zoomed out," said Catherine Goldsmith, a Hinesburg resident who is wary of the new format. "It just seems like a lesser experience."
This version of the new normal began in late March, when the legislature passed a bill that allows public meetings to be conducted entirely by telephone or computer connection during the governor's state of emergency. Previously, at least one member of the public body had to be physically present in a meeting space that was open to the public.
Vermont Secretary of State Jim Condos initially balked at the proposal — calling it an "extreme measure" — but successfully lobbied the legislature to include other provisions aimed at transparency. City council, selectboard and school board meetings, for instance, must be recorded "unless unusual circumstances make it impossible," and agendas must include instructions for how to attend meetings online, the law says.
The Vermont League of Cities & Towns, which supported waiving the in-person requirement, has since published a "Remote Public Meeting Toolkit" with tips on staying in compliance with the new law. Among them: Recess the meeting if technical difficulties arise, and assign a staffer to monitor video chat functions.
In Vermont, Zoom isn't always practical for places with sketchy internet service, said Karen Horn, the league's public policy and advocacy director. She serves on Moretown's planning commission, which has opted to use an old-fashioned telephone conference line for meetings, given the area's unreliable broadband service. Now that the weather is getting nicer, commissioners have considered holding a physically distanced meeting outside.
"You have to figure it out so that it works in your community, and people understand if they want to participate how that happens now," Horn said. "It definitely is an adjustment."
Condos said he hasn't received a barrage of complaints about Zoom meetings, but he acknowledged that it can be harder for the public to hold leaders accountable when officials can simply mute callers or ignore a pointed question that was typed into the Zoom chat.
"When you're managing a meeting, you just have to be careful of the abuse that could occur," Condos said.
Montpelier resident Sandra Vitzthum thinks the format makes it easier for city officials to tune out criticism on controversial issues. In mid-May, Vitzthum and several other people Zoomed in to a city council meeting to express concerns about a long-debated parking garage project downtown. The council eventually approved a new design proposal.
"I think it was very easy for them to write us off because we were not in the room looking at them," she said.
In regular meetings, she continued, "you can look at your council member, and they have a certain amount of accountability [to you]."
Vitzthum lamented that it's difficult to vet complex projects remotely. Attendees at a traditional meeting would have been provided handouts and graphics showing the project design. They could have traded notes and ideas, she said.
Montpelier Mayor Anne Watson agrees that some of the human element is lost online, but she said Zoom invites a broader audience to participate in meetings. She expects that the council will keep the Zoom option even when in-person meetings resume.
Vitzthum recognizes there's a certain ease to watching council proceedings from home, but "physically being in that real-time, 3D space is unmatchable," she said.
Goldsmith, the Hinesburg resident, feels the same way. She serves on the town's Village Steering Committee, a group that advises elected officials on policies and plans. In early May, committee members asked the Development Review Board to postpone hearings on a big project until in-person meetings could resume. The 76-acre development, known as Haystack Crossing, is the largest ever proposed in town.
Goldsmith worries that residents will struggle to decipher dense planning documents on a laptop screen at home; typically, engineers or consultants would bring large display boards or a PowerPoint to community meetings. The Zoom feeds have previously cut out, Goldsmith said, so watchers could have missed important details.
"This project will have an impact on the town for decades," she said, adding: "This is technical stuff. The professionals understand it and citizens don't, and so that's always a part of those discussions."
To Goldsmith, asking clarifying questions is part of a normal meeting's routine, but it feels disruptive on Zoom to interrupt and ask to be unmuted. She thinks that will deter others from chiming in. After some discussion, the board decided to continue the hearings.
Alex Weinhagen, Hinesburg's director of planning and zoning, said Goldsmith's concerns are valid, but he also sees numerous upsides to Zoom technology. The local access television station livestreams municipal meetings, but Zoom lets home viewers call in and participate instead of simply watching from their couch. Many in-person meetings drew few, if any, audience members, whereas Zoom has encouraged the public to tune in, Weinhagen said.
"It's not ideal — we like to see each other — but I don't see it as a stumbling block moving forward in terms of talking about issues that are of concern to the community," he said, adding that it is outdated to expect people to come to the town hall.
"This COVID thing is forcing us to do things a little differently," Weinhagen said. "Maybe that'll be a good thing in the long term."
Lia Ernst, a staff attorney with the American Civil Liberties Union of Vermont, said her organization has heard from people who appreciate being able to access their government from home. Ernst said the ACLU recommends that meetings be streamed and recorded even after the pandemic ends.
"It doesn't need to be an either-or," Ernst said of the meeting formats. She added: "There are many ways that COVID-19 has shown us that the way we've been doing business as usual doesn't have to be that way."
Horn, of the League of Cities & Towns, agrees: In-person meetings should resume when possible, but an e-meeting should remain an option when the pandemic is over, she said. People should be able to watch from home during a snowstorm, for instance, without an act from the legislature, Horn said.
Burlington activist Lea Terhune doesn't miss the status quo one bit. For her, driving downtown and finding a parking spot just for the chance to address the city council for three minutes has lost its appeal. Terhune is happy she doesn't have to wrestle with Burlington City Hall Auditorium's echoey acoustics. And on Zoom, she can hear and see each councilor's face clearly — a form of accountability, she says.
Charlie Messing, another city council regular, has mixed feelings about the format. He appreciates being able to Zoom in but misses the camaraderie at city hall.
"You could turn around, and you could hear [the audience] respond, and now you can't," Messing said. "You are out in space, talking to Houston."
Burlington Mayor Miro Weinberger agrees that the "scenes of democracy in action" don't translate to Zoom.
"It's intense and unpredictable," Weinberger said, referring to times when demonstrators have shown up to city hall with signs and chants. "When a controversial issue comes to the council over Zoom, it will not have that same level of electricity."
Burlington has hosted more than 50 Zoom meetings since Weinberger declared a state of emergency in mid-March. Between two and 20 people have called in to each virtual council meeting, and hundreds watched the mayor's State of the City address in April on Zoom and Facebook Live.
Remote meetings have their upsides, but Weinberger thinks in-person meetings are better for gathering public opinion. Unfortunately, the mayor said, Zoom "may be what we need to do for some significant period of time."
Sawicki, the Canaan Selectboard chair, hopes that's not the case. In recent weeks, Canaan has shifted from Zoom-only to a hybrid model: The digital platform is still available for people who can log in from home, but the board has resumed meeting in person. Sawicki and his counterparts sit six feet apart and wear facial coverings; townspeople who want to attend have their temperature taken at the door.
The setup provides a sense of normalcy during an otherwise abnormal time: People can show up at town hall, argue their points and solve problems face-to-face. The Zoom feed is still rolling, but for Sawicki, it's no replacement for the real thing.
"I want to see their reactions, and it's hard to do that electronically," he said. "That human experience is what we need."