Courtesy Of Honeywilya Fish
Lynn and Maria Steyaart with some coho salmon from Alaska
The other night, as Sue Gage of Brandon fulfilled her civic duty at a meeting of the town library board, her husband was home cooking a salmon filet. "He's frying up a piece right now," Gage, the Brandon town clerk, told Seven Days. "He puts it in a pan with butter, as simple as you can get."
A fan of the fish, Gage betrayed little envy as she described her husband's meal. Perhaps that's because once or twice a week she eats salmon from the same source: Honeywilya Fish, operated by Lynn and Maria Steyaart of Duxbury.
Gage and her husband get the salmon through a CSF share — short for "community-supported fish," a riff on the CSA (community-supported agriculture) model in which customers pay in advance for a share of a producer's bounty. In this case, the yield is wild Pacific salmon hand-caught by a Vermonter.
For half the year, Lynn Steyaart is away from the home he and Maria share high on a dirt road. He spends the summer and fall living on a 30-foot fishing boat called the Honeywilya in southeast Alaska, trolling for Pacific salmon. Steyaart, 38, fishes by line and hook, working some 20 hours a day, seven days a week, and catching, cleaning and storing each fish individually.
"I don't think I've ever had a deckhand who hasn't passed out drooling [from fatigue] at the table," he said, due to the rigor of the work.
"I like the way he catches it; I like the philosophy behind that type of fishing," said Gage, 55, who also appreciates the nutritional value. "We were trading salmon for chicken. Now that we're not chicken farming anymore, we've graduated to the CSF."
Steyaart fishes out of Petersburg, Alaska, trolling 500 miles of coastline and sometimes cutting circles in the water 10 miles out to sea. "These fish are where they are, not where you want them to be," he said.
He fishes for salmon when they're starting to smell fresh water, preparing to "fatten up" on their journey to spawn in inland streams. The aim is to catch the salmon when they are "ocean bright," or characterized by mirrory silver skin and red meat laced with fat ribbons.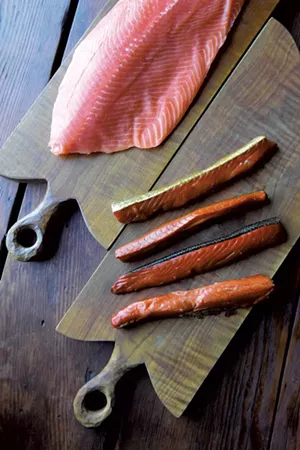 Jeb Wallace-brodeur
Fresh and smoked salmon from Honeywilya Fish
In the 2017 season, Steyaart caught 21,000 pounds of coho salmon at a rough average of 5 pounds per fish, he said. His haul of the larger king salmon was about 300 fish for the season. He aims for around 100 coho salmon a day.
"Sometimes I get skunked," Steyaart said. "Sometimes I get 350." By contrast, he noted, the big net boats bring in about 50,000 pounds of salmon in 30 minutes. This is more than double Steyaart's catch for the entire five- to six-month fishing season.
He packs the salmon in a hold on his boat that can store 4,000 pounds of ice. Every four or five days, or fewer if the fishing is "really hot," Steyaart drives Honeywilya to Petersburg — sometimes on a nonstop 24-hour run — where the fish is fileted, frozen and vacuum-packaged.
Next, the salmon makes an air trip to Boston, where Maria picks up around 10 boxes at a time and trucks them back to Duxbury for storage in the couple's freezer. From there, the Steyaarts direct-market their salmon to their CSF customers and sell it at the Richmond and Waitsfield farmers markets and at retail markets such as Hunger Mountain Co-op in Montpelier, Middlebury Natural Foods Co-op and Sunflower Natural Foods in Waterbury Center. Honeywilya salmon also shows up raw in Hawaiian-style poke bowls at the Scale Poke Bar in Williston. Their accounts have come a long way since 2014, when the couple started dividing their time between Alaska and Vermont and sales were by word-of-mouth and through Front Porch Forum.
"Honeywilya salmon is a niche thing, and it's delicious," said Nick Sivret, the Hunger Mountain fish buyer. The co-op sells Honeywilya coho salmon for $16.99 per pound; by contrast, salmon that's farm-raised in Norway or Scotland costs $15.99, Sivret said. He adds, "And Lynn, who's fishing it all himself, is maybe the nicest person I've ever met."
Maria, a water-quality specialist for the Vermont Agency of Agriculture, Food and Markets, handles sales and marketing for Honeywilya in the summer and fall, while Lynn is fishing. He takes over her "volunteer job" of selling fish in the off-season.
Graduates of the University of Vermont, which they attended at the same time, the couple met on Wrangell Island in Alaska a few years after college.
Maria, who grew up in Chester, moved to Alaska three days after her 2005 graduation. Armed with an environmental science degree, she was heading west for a job as a wilderness ranger with the U.S. Forest Service.
Courtesy Of Honeywilya Fish
Maria and Lynn Steyaart in Alaska
Lynn is from coastal Georgia, where he spent his childhood as a "river rat" playing in the mud. From babyhood, he was in a boat "chewing on shrimp heads" while his father fished, he said.
He, too, moved to Alaska after graduation, planning to be a fishing guide. But in Petersburg, he ran into an acquaintance who was fixing up a 1913 fishing boat. "I jumped on that project," Lynn said.
When the 56-foot vessel was sea-worthy, the friend asked, "Hey, wanna go fishing?" Lynn recalled. "I said, 'Let's do it.'"
He had a great time that first season 13 years ago and thought to himself, I can do this. Lynn bought the 56-foot boat he had helped restore and converted it to a troller with two lines. In 2009 he "upgraded" to his current fiberglass vessel, the Honeywilya, which he bought from a man in Oregon. Then he sailed with his father, Jim, from Coos Bay, Ore., to Alaska, purchased a power trolling permit for $32,000 and fished alone that season.
"I think it would be hard not be my own boss," Lynn said. "I enjoy the freedom of it. ... You could spend five lifetimes in southeast Alaska and never see it all. It's almost like getting paid to go on adventures."
The salmon Lynn catches by line and hook are "free to roam, eat and grow as they have for millions of years; just the way nature intended them to," says the Honeywilya website. Using this method, Lynn can target his chosen species with lures and keep the catch of other species to a minimum. He throws back halibut, pink salmon and rock fish.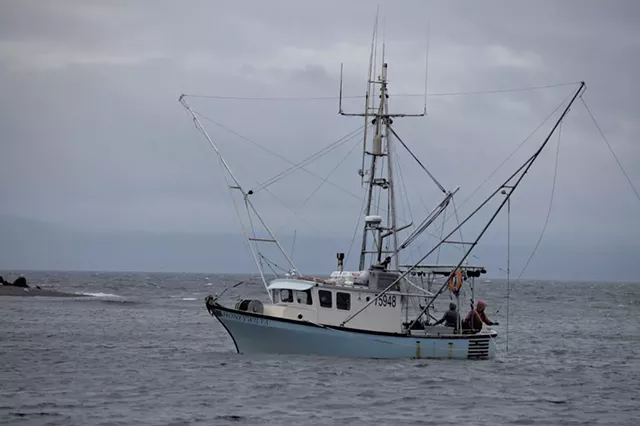 Jeb Wallace-brodeur
The Honeywilya fishing boat
When he's fishing — doing doughnuts in seas that could be calm or might swell to waves of 12 to 14 feet, trolling at two knots to give the lures some action — Lynn is in a "zone," he said. With a fish on the line, flopping in its efforts to escape, he hangs over the boat to bring it in. When it's secure, he holds the line in his left hand and a gaff in his right and strikes it instantly dead with a blow to the head.
"Let's just say, Lynn makes it look easy," Maria said. He lands the fish in a padded area — trollers are meticulous about quality and care — before cleaning it and placing it on ice.
Lynn and his deckhand are up at 3 a.m., trolling by 3:30 or 4, and cleaned up and fed by 11 p.m. Living in the boat is like VW camping, he said: stinky, tiring and exhilarating. They cook and heat with a diesel stove, use a five-gallon bucket with a seat for a toilet, and sleep in sleeping bags in a V-shaped berth.
Given the close quarters, the deckhand has to be either male or a close female family member. So it was that in 2017, when a Morrisville man couldn't handle the work and quit after six days at sea, Lynn replaced him with his mother, Alice, now 74. His father also held the job for two early seasons.
"I gave her four days' notice," Lynn said of his mother. "She did great. It's tough. It takes a certain breed."