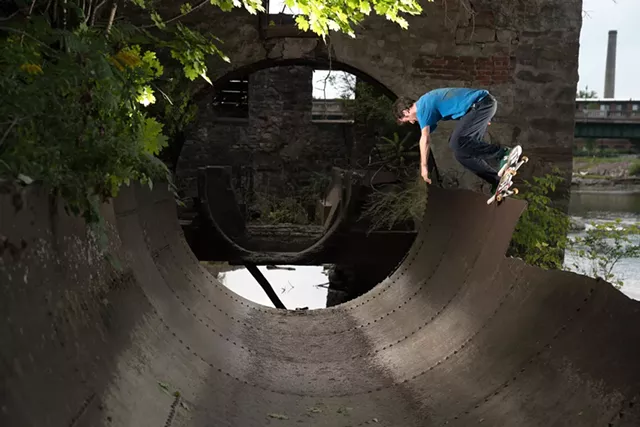 Courtesy Of Atiba Jefferson
Chris Colbourn doing a backside nosepick in Winooski
Last Friday, Element Skateboards announced a new addition to its roster of pro skaters: Williston native Chris "Cookie" Colbourn. Colbourn, 28, isn't the first Vermont skateboarder to turn pro. But his contract with Element, a major California-based action sports apparel and gear brand, is among the highest-profile sponsorships ever awarded to any skater with local roots. For the Vermont skateboarding community, that's a BFD.
"It keeps that dream alive for kids from small towns who don't think they matter in the skateboarding industry," Hannah Deene Wood, cofounder of Talent Skatepark, says of Colbourn turning pro. "It's proof that if you work hard, you can be successful."
Deene Wood and David Wood opened the original Talent on Williston Road in 2001. Until it closed in August 2018, it was the Burlington area's only year-round skateboarding facility and the largest in northern New England. Before he moved to Los Angeles nearly eight years ago to pursue his pro skateboarder dreams, Colbourn was a fixture at Talent for his drive and, well, his talent.
"People would come to the park and think he wasn't friendly, but the truth is, he was just so driven and focused," Deene Wood recalls, adding that Colbourn is, in fact, a very friendly guy. "He's one of the most determined people I've ever met. Whatever he decides to do, he will do, do, do until success."
The new Talent Skatepark is expected to open on the Burton campus in Burlington soon, though a specific date is unknown as of press time. However, this Saturday, December 14, Colbourn will make a special appearance at the skate park, skating and signing autographs. Also on Saturday, Maven skate shop will celebrate Colbourn going pro with a party in the skater's honor at its store on Church Street in Burlington. The bash will feature Element giveaways, new footage of Colbourn skating and Colbourn himself signing autographs.
In addition to his skating talents, Colbourn is a visual artist and designed his new boards for Element. They're emblazoned with a Vermont-shaped collage featuring the Talent logo and a silhouette of late local DJ and skater Andy "A_Dog" Williams, among other nods to the Green Mountains. A selection of Colbourn's artwork shows at Uncommon Grounds in Burlington through Sunday, December 15, with a reception on Saturday afternoon.
Seven Days spoke with Colbourn by phone about going pro and the importance of his time at Talent.
SEVEN DAYS: What was your reaction when you found out you were turning pro with Element?
CHRIS COLBOURN: I was really excited. It feels good to see the investment pay off, all the years I've put into this company, all the miles I've driven, all the good people I've gotten to know. It feels good to have it come full circle and have them recognize my talents.
SD: Did you move to LA with the intention of becoming a pro skateboarder?
CC: Pretty much. I had the opportunity to come out here because of some friends. Paul Wilson was this guy that I met on Myspace when I was 15 and sending all my skateboarding footage out to anyone I could find — a little street skating, but mostly footage from Talent Skatepark. He got back to me and had just started a board company for his son and his friends called Silent Skateboards. He started sending me boards, and we started trying to elevate them as much as we could.
Then, a few years later, he helped fund my friends Jordan Maxham and Chris Whitaker moving to California, which led to me moving out and moving in with them about a year later. I finished high school but decided to stick around for a year and take classes at [Community College of Vermont]. But I realized, if I was gonna make the move, it had to be then.
COURTESY OF MASON MILLER
Chris Colbourn's new Element skateboards
SD: I've heard your nickname comes from Talent. What's that story?
CC: My brother Ben started going to Talent about six months before I did. I was in seventh grade, and he was a freshman in high school. He cut himself by accident trying to cut grip tape that goes on top of your skateboard. So he got the nickname "Cutter." Then I started coming to the park, and this one employee ... couldn't remember my name but saw the resemblance to my brother, so he started calling me "Cookie Cutter." Almost 20 years later, it's stuck.
SD: How important was Talent to your development as a skater?
CC: It was everything to me when I was learning to skate. I started skating when I was 9, like, in friends' garages. But it wasn't until Talent opened that I really started progressing, because I had a place to go that was secure and you could go there all year round. I started making friends from other towns, some of whom I grew really close with because of that skate park.
I'm not sure if I would have kept up skating as much as I did if not for those relationships I built at Talent. You can go skating alone as much as you want. But it's the community you surround yourself with that helps you grow and improve and find joy in it. There's something about eating shit with other people that makes it OK. You see somebody trying something hard, and that pushes you. And that translates into all parts of life.
SD: And you taught there, too?
CC: I did. That was really helpful for my own well-being. I started teaching on the weekends to help pay for my own year pass, because after a couple of years my parents were like, "This is a pretty expensive hobby you've got here. What happened to basketball?" [Laughs.] I needed a new pair of shoes, like, every month, and a year pass was $500. Skateboards breaking, bearings breaking, wheels flat spotting, it adds up. So I started teaching lessons, working the candy counter a little bit.
Then I started teaching summer camps there, as well. And that was the first time I was on a real working schedule, at least for a job I didn't hate. It gave me a real sense of responsibility and being a role model for the kids at the camps. Seeing them progress, even over a week, was really motivating, seeing the power of skateboarding and how happy it can make people.
SD: When did you realize you were really good?
CC: It started to set in when I would be skating a lot with my friend Andy Casey, who lived in Southridge, which was a bigger neighborhood in Williston than mine. And we'd skate to Maple Tree Place while it was being built and [were] exploring all these new skate spots. And we'd film each other, but it would always lead to him filming me more often. He'd get frustrated trying these tricks that came easier to me. And he'd egg me on, like, "Oh, you're gonna go pro one day."
I always let that go in one ear and out the other. But it's funny in hindsight, because he was right. That positive encouragement went a really long way.
SD: How did growing up skating in Vermont shape who you are as a skater?
CC: Being in a place where all the skate spots around you are far from perfect really built my skill level in a way that you can't really duplicate, say, on the West Coast. We had very few good handrails to work with in Burlington. All the cracks in the ground that get worse over the years — we would never Bondo them; we'd just deal with it. I feel spoiled now living in California. But I think skating in Vermont translated into my acceptance of any spot to skate. I can appreciate it smooth; I can appreciate something rough. I'm grateful for New England.
SD: Skateboarding evolves so quickly now. Kids are doing stuff pros weren't doing a decade ago. How do you stay ahead of the curve?
CC: The natural progression of skating has gotten so out of control. Like, I keep thinking there's gotta be a cap on how big a handrail somebody can grind or jump down a set of stairs. But it keeps getting pushed. The boundaries are limitless. So, I don't think it's about how high or how far you can go. I think it's more about what you look like on a skateboard, your trick selection and the type of person you are.
If you're enjoyable to be around, then people want to see more of that. There are so many skaters out there now that, if you're a dickhead, there's a dozen other guys lined up ready to take your spot. It's being personable and not being a "cool guy" that really can take you far in skating.
This interview has been edited and condensed for space and clarity.