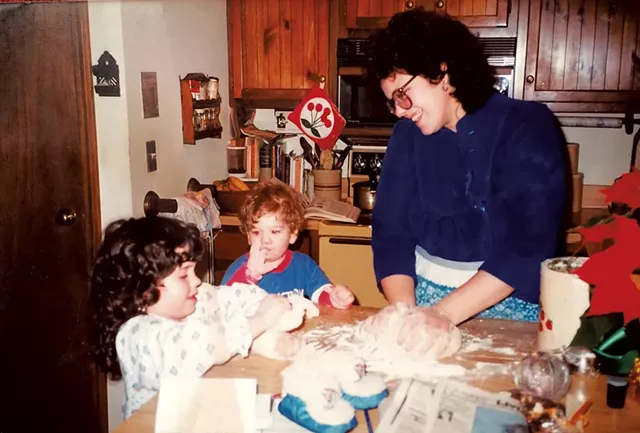 COURTESY OF EVAN ROSS
Evan Ross (center) making cookies as a child
Vermont children going through tough times are in for a sweet surprise this holiday season. A Chittenden County man is leading an effort to collect homemade cookies for those in need.
For Evan Ross, it dates back to a childhood tradition.
"Me and my mom used to make cookies at Christmas, and we'd bring the extras over to the Firehouse [Family] Shelter," Ross said, referring to a facility in Burlington's Old North End.
He scaled up the operation while living in Rochester, N.Y., last year. Instead of bringing just his own homemade cookies to shelters there, Ross coordinated a crowdsourced campaign. The drive was a success, Ross said, with nearly 1,000 cookies baked to serve about 200 people.
Little kids "don't really understand anything," he said. "But they understand cookies."
After moving back to Vermont earlier this year, Ross got in touch with the Committee on Temporary Shelter, which connected him with Steps to End Domestic Violence. Both groups will benefit from the baked goods.
There are only two rules, Ross said: The cookies can only be homemade and can't include raisins — "because the kids are going to think they're chocolate chips, and they've been through enough without that disappointment."
Ross said Trader Joe's in South Burlington, Sweet Clover Market in Essex Junction, Natural Provisions Market in Williston and the downtown Burlington City Market, Onion River Co-op will accept cookie donations this weekend, December 22 and 23.
Steps to End Domestic Violence executive director Kelly Dougherty said the organization's emergency shelter holds five to seven households — sometimes a single person, other times a mother with children — while an additional 20 families are staying in emergency motel accommodations through a state-funded program.
"Having treats around — it's not like a meal, but it's celebratory and it's nice to be able to have those kinds of celebrations when people are living not in the most ideal circumstances," Dougherty said.
Community members have also donated gifts, she added, and the shelter is preparing to serve up its annual holiday meal — which is also donated.
"This time of year, we're just always amazed at the generosity of people," Dougherty said.