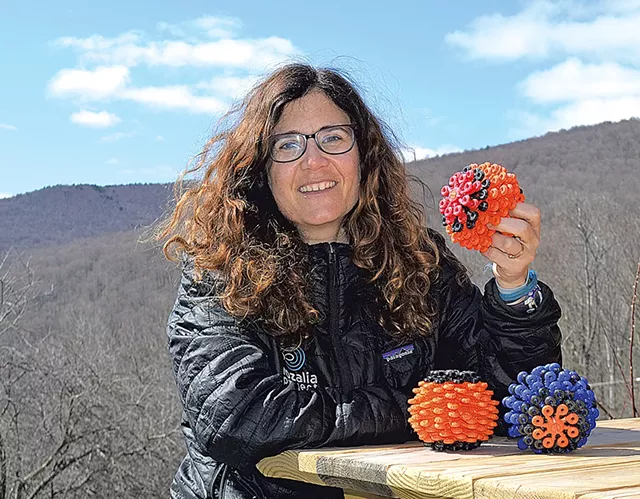 Katie Jickling
Rachael Miller with Cora Balls
Garbage-strewn beaches have always moved Rachael Miller. As a child, she doggedly picked up trash along the New Jersey shore, where her grandparents had a summer place, and would become outraged if she saw marine debris while sailing.
When she was 16 and vacationing in Bermuda, her grandparents had to restrain her from berating a boat captain whose crew members tossed trash bags into the sea.
Pollution, according to her husband, James Lyne, is "about the only thing that really pisses her off."
Specifically, Miller's new enemy is microfibers — cloth threads smaller in diameter than a human hair. Clothes shed these filaments in the washing machine. Too tiny to be filtered by wastewater treatment systems, they wind up in our rivers, streams and oceans.
"We're all ingesting microfibers every single day — in our food, off our clothing; we're breathing it in," Lyne said.
"If you wear and wash your clothes, like it or not, you're part of the problem," Miller said.
Scientists aren't in agreement about the magnitude of the threat, but Miller calls microfiber pollution "the biggest challenge facing our oceans." Rather than wait for the waste to wash up on shore, Miller wants to keep it from leaving the laundry room.
She's invented what she calls the Cora Ball — a loofah-like contraption that collects microfibers from the water swirling inside the washing machine, not unlike the way a dryer screen catches lint. Along with Lyne and technical designer Brooke Winslow, Miller has spent the last year developing prototypes of the product in her Granville home workshop.
According to Miller, the Cora Ball — which is the size of a large grapefruit and mimics coral by filtering particles — is the first of its kind in the world.
To finance the next phase of the project — large-scale production — Miller launched a Kickstarter campaign and met her $10,000 goal in just three hours. By the time the fundraising ended last Tuesday, Miller and her team had raised more than $353,000 from 8,653 backers.
Come July, Miller plans to sell the Cora Ball for about $20. The proceeds will funnel back into her nonprofit, the Rozalia Project, which works to clean and protect the ocean through education, research and innovation. The small-scale organization typically runs on an annual budget of about $130,000 — a third of what it just raised online.
Her investment success could explain Miller's enthusiasm and good humor — she laughs a lot. But energized appears to be her natural state, and when she gets talking about microfibers, the curly-haired 46-year-old is intense, seemingly motivated by the magnitude of the problem she hopes to solve.
Miller is out front in the hunt for "practical solutions," observed Mark Naud, the executive director of the Community Sailing Center who also serves on the Rozalia Project's board. Equally amazing, he noted, is the fact that she's making it happen here in Vermont: "Her goal of doing the R&D, injection molding, distribution all within, say, 60 miles of Granville Gulch — it's an amazing story."
Miller grew up inland — in Saratoga Springs, N.Y. — but immersed herself in all things aquatic from an early age. Boat rides on Saratoga Lake were the best way to get her to sleep as an infant, Miller's parents told her. She swam and sailed competitively in college and earned her degree in anthropology with a focus on underwater archaeology from Brown University. In 1996, she tried — and failed — to make the Olympic sailing team.
Her future husband had better luck. Lyne, 46, competed for his native Britain in the America's Cup and at the Olympics for the U.S. He now works part-time with the Rozalia Project but is frequently abroad working as a professional sailing coach.
In 1997, the couple moved to Vermont, where Miller spent more than a decade earning her living on Lake Champlain. She was the first director of the Community Sailing Center, a job she held for six years. In 2004, she started Stormboarding, a company that offered kitesurfing, paddleboarding and windsurfing. Later, she ran shipwreck tours.
In 2009, Miller and Lyne were vacationing on Matinicus Island in Maine when they came upon a remote beach blanketed in six inches of washed-up trash.
Miller expressed her dismay and was picking up plastic fragments when Lyne challenged her. "Why don't you do something about it?" he recalled asking her.
Later that year, the couple founded their nonprofit and got to work. "All roads led me to Rozalia Project," Miller said. "This is why I really exist. All that was just warm-up."
During the warmer months, Rozalia's three-person team and five volunteer crew members run a research boat, American Promise, off the Gulf of Maine. The group does research, environmental education and data collection. In 2015, its members plucked some 130,000 pieces of marine debris from the state's far-flung coasts and islands.
Closer to home, the organization hired 41 Vermonters to help clear wreckage and debris in the wake of Tropical Storm Irene in 2011.
A study published that same year is what directed Miller's attention to the growing problem of microfibers. British scientist Mark Browne sampled sediment from 18 beaches on six continents and found that the microplastics in the oceans were no longer just worn-down plastics and microbeads, beauty-product additives that are now banned in Vermont.
Instead, Browne found a high prevalence of polyester and synthetic microfibers near wastewater treatment plants. He hypothesized that clothing was to blame. Sure enough, he washed a polyester fleece and trapped more than 1,900 microfibers in the machine.
Browne's assertion is that the plastic filaments constitute 85 percent of shoreline waste.
Inspired to follow up on his findings, the Rozalia team last summer hiked, rafted and boated the Hudson River from its Adirondack headwaters down to its New York City terminus, where the waterway empties into the Atlantic Ocean. During the 300-mile journey, the crew stopped every three miles and tested the water for microfibers. The resulting scientific paper is currently being peer-reviewed, Miller said.
In the meantime, there's no consensus on where microfibers should rank on the list of environmental hazards.
Chris Reddy, a senior scientist in the Woods Hole Oceanographic Institute in Cape Cod, said they're a cause for concern, but the science is too new to make grand pronouncements. "We have to be skeptical when people overstate things and say things like, 'Oceans are going to die because of plastics.' I'm like, 'Really?'" the marine pollution researcher said.
Nevertheless, he finds Miller's invention encouraging. "The idea that an individual person can throw something in the washing machine and make an impact is incredibly appealing," he said. "I hope it works."
Kara Lavender Law, a research professor of oceanography at Woods Hole's Sea Education Association, sounds more concerned about the plastics problem. The reality, she said, is that "we're adding this man-made material to the environment, and we're probably adding it in increasing amounts every year." Synthetic fibers don't decompose, and they're turning up in the guts of plankton, at the bottom of the food chain.
That the science is still emerging shouldn't minimize the value of Miller's innovation, Law said: "We don't need to wait to find out what the consequences are before we act."
In 2015, Miller and her team got cracking. Lyne came up with different designs, scribbling ideas on paper and passing them off to 24-year-old Winslow, who entered them into a computer program. The team grew accustomed to the constant drone of the 3D printer, which cranked out myriad models with different-size "cilia." Then it was off to the "lab" — Miller's basement. The team ran loads of laundry, again and again, measuring the quantity of microfibers their invention managed to trap.
The latest model catches up to 35 percent of the fibers, Miller said. "Nothing will catch everything," she added. "This is going to be a problem that gets solved by lots of little efforts adding up."
More immediately, Miller is looking for local vendors to manufacture the Cora Ball. Progressive Plastics in Williamstown is making the rings. She expects it'll take five to 10 workers to assemble the balls.
Sales strategy? Miller is hoping sporting-goods stores will carry the product. As an athlete, she feels partially responsible for the microfiber problem because she wears synthetic clothing when she skis, swims and sails. She suspects fellow outdoorspeople will also want to do their part.
"It's unrealistic to put everyone in Vermont in a moose hide," she said with a laugh.
The landlocked inventor is already hard at work on her next ocean-restoring idea. During a visit last month, Winslow showed a reporter her design for a lobster trap buoy that doesn't disintegrate like the traditional Styrofoam models.
Said Miller: "We were like, 'We can do better than that.'"