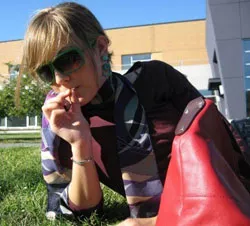 Fashion may not be the first thing on most people's minds when the economy tanks, but it's right up there for Joanna Tanger, a self-styled webzine publisher of tips and thoughtful ruminations on cutting-edge clothing design, beauty aids and accessorizing.
Tanger, the 23-year-old founder and editor of Hip Chick Zine — at www.hipchickzine.net — is holding a fashion show this Friday night in Weston that's sure to ward off penny-pinching worries for a few hours. Her runway event at The Village Green Gallery features giveaways (girl-power books and Becca lipsticks) and "real" women sporting low-budget, high-fashion outfits by Seychelles Fashion Boutique in Manchester, strutting their stuff to Caribbean salsa.
"I wanted to have an event for all ages and body types," Tanger says. "I wanted to do something different in this area, and I'd like to do more events in the future. This is sort of the experiment."
Experimentation is nothing new for Tanger; she was just 17 when she launched hipchickzine.net, which offers "intelligence, style and fun for the free-thinking young woman." Tanger has been airing her opinions on her site, and linking to other online fashion pubs, ever since. She kept it up through college (she graduated from Bard with a BA in anthropology in 2007) and a yearlong stint teaching English to businesspeople in Prague. In her blog, Tanger gives out advice on everything from sex-toy statistics to beauty aids.
Hip Chick Zine, which won an Ellegirl award in 2003 — its first year — reflects Tanger's eclectic tastes. She's into travel, neo-feminist literature and edgy duds, such as those of the aforementioned Chocolate Martini (whose motto is "making clothes that love you") and Mark Schwartz, an American shoe designer who has a thing for strappy sandals. French Connection is about as mainstream as it gets on hipchickzine.net, unless you count the one major advertiser on the site: Clinique.
Tanger is hipper than hip online, but in "real" life the Vermont native works part-time at The Village Green Gallery and lives with her boyfriend on an organic vegetable farm in Belmont. This summer, she'll support herself as a camp counselor at the Kinhaven Music School in Weston, though she hopes eventually to make a living writing and editing her site. "Right now, it's something I do for fun," she says.
Tanger currently has upwards of 1000 regular readers and hopes to expand hipchickzine.net to include an "advice team" — a kind of chick-lit "Dear Abby" in which a small group of girls from Asia, Europe and the U.S. would collectively help readers find answers to their burning questions on everything from condoms to holiday accessorizing.
Tanger's site might tell you more than you really care to know about, say, the merits of cherry-red lipstick, but she is just as enthused about World Pulse, a new magazine that promotes human rights through the voices of women leaders around the globe. The young Vermont fashion maven is out to prove that girls want to help the planet and look good doing it.