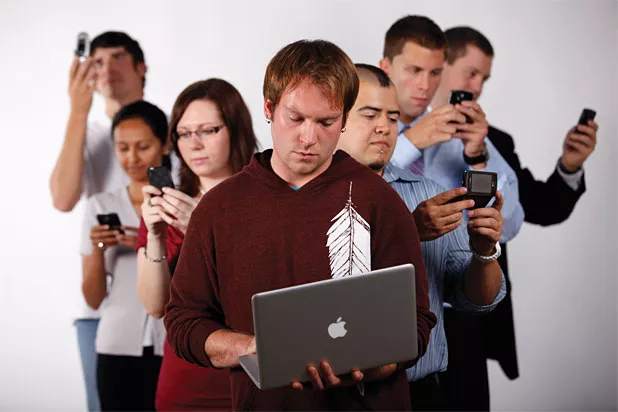 Jordan Silverman
The Vermont Young Professionals panel.
Who do young professionals like for governor?
Find out in this first-ever Vermont Young Professionals gubernatorial survey (see related story: "Friending Politics", 10/6/10). The topics came from 98 VYP members, who identified their concerns in an online poll produced and distributed by the Vermont Young Professionals leadership team.
Their top eight issues were: affordable health care, job creation and entrepreneurship development, alternative energy, environmental conservation, affordable housing, alternative transportation, rising student debt and broadband and telecommunications infrastructure, in that order. The VYP leadership team added two others, reproductive rights and decriminalization of marijuana. Seven Days reporter Andy Bromage and web editor Cathy Resmer worked with the VYP to create questions addressing these issues, and the VYP leadership distributed them to Republican Brian Dubie and Democrat Peter Shumlin.
The VYP then assembled a diverse panel of seven of its members to evaluate the candidates' responses. We've presented their feedback here Facebook-style. Each panelist was allowed to "like" or "dislike" the candidates' responses, and add their own comments.
Seven Days printed a pared-down version of this "scorecard" in our October 6, 2010 issue. We didn't have room in the paper for the entire survey, so we chose seven questions covering seven different topics that we felt best illustrated the candidates' positions, the differences between the candidates and the range of comments from the VYP panelists.
We didn't have room for all of the panelists' comments in print; panelists were not required to comment on every question, and some commented much more than others. In the printed version of the story, we attempted to give equal weight to their views by offering an aggregate score of "likes" and "dislikes" for each question, and by only allowing each panelist to comment on a few questions. We put comments in print that we felt were particularly insightful, pithy, entertaining or surprising. We tried to keep the usual campaign talking points to a minimum. Some comments were simply too long for the space provided, so we excerpted a few remarks while leaving the intent intact. We also corrected some typos — our editors and proofreaders just couldn't help themselves.
But we haven't made those corrections online — since we have fewer space constraints on the web, we've provided all of the data we collected for this survey, minus a few "throat-clearing" statements in the comments (how many times do you really want to read the phrase, "While both candidates are trying to..."?). This is everything we received from the candidates and the panel of young professionals.
We hope you enjoy this informative and unconventional political project. And don't forget to vote on November 2!
Meet the VYP Panelists
Dan Giangreco

Age: 25
Current Town: Richmond
Employer: Entrepreneur/Owner, Richmond Arts & Agricultural Commons, Backcountry Pizza and Film Buzz
Bio: "I know where I go when I dream"
Political Views: Independent
Hina Rizvi
Age: 32
Current Town: Colchester
Employer: Admissions Coordinator, Burlington Health & Rehab
Bio: I was born in Pakistan and lived in several countries and picked up different languages on the way. Moved to Vermont 10 years ago and went to St. Michael's College. I enjoy working for a senior community and with newly arrived refugee youth.
Political Views: Centrist
Nichole Magoon
Age: 23
Current Town: Winooski
Employer: Marketer & Graphic Designer, MyWebGrocer
Bio: Advertising enthusiast, social media ninja, creativity dabbler, acts of kindness advocate
Political Views: Moderate
Wade Houston
Age: 23
Current Town: Essex Junction
Employer: Financial Control Representative, People's United Bank
Bio: I am an extroverted, motivated and hard-working individual. I thrive on speaking publicly and reaching the masses with positive influence. I am easygoing and enjoy laughing. I love the U.S.A.
Political Views: Tea Party
Tomás Sanchez

Age: 31
Current Town: Burlington
Employer: Staff Educator, University of Vermont
Bio: Chicano educator, artist and continuing student of life
Political Views: Liberal
Jason Evans

Age: 32
Current Town: Barnet
Employer: Self-employed landscaper/ski patrol
Bio: I love living and skiing in VT
Political Views: Independent. I can see every color in the rainbow, not just red and blue.
Chris LeGrand

Age: 28
Current Town: Milton
Employer: Business Consulting Project Manager, Fletcher/CSI
Bio: Eclectic and open-minded; always looking for opportunities to educate myself and try new things (especially strange and spicy foods!)
Political Views: Fiscally conservative, socially liberal, independent by choice
Question Topics
Health Care
Question 1: Name two things you would do in your first 100 days as governor to lower the cost of health care for young Vermonters. If you could not achieve this in 100 days, explain why not.

Peter Shumlin:

Health care costs are rising $1 million a day in Vermont. In fact, in the last 8 years during the time that Brian Dubie has been Lieutenant Governor, Vermonters have been forced to pay over $2.2 billion more in health care. As a small business owner who is paying $110,000 for my employees annually, I understand that these skyrocketing costs threaten both Vermont families and businesses. While my opponent believes that the status quo is good enough, I believe we need to do better. As governor, I will implement a single payer health care system that will get health care off the backs of our employers. We have seen too many incremental missteps on health care reform that have only made marginal progress and are financially unsustainable.

Brian Dubie:

I will name a new Health Care Cabinet to advise me on integration, implementation and compliance with the new federal health care law. I will charge it with fully leveraging any and all opportunities and resources made available by this reform. Implementation will take years, but we must put the infrastructure in place. I will concentrate on assuring compliance with those reforms, on maintaining Vermont's leadership in health care, and on reducing costs. Federal law doesn't allow states to pursue their own single-payer systems until 2017. A recent St. Albans Messenger editorial criticizes those who say it would balance the budget or create jobs: "To claim vast benefits in advance isn't being honest with Vermonters" (9/22).

1 liked this answer.

6 did not.

6 liked this answer.

1 did not.

Hina says:

Single-payer system will diminish the competitiveness and may result in fewer choices.

Wade says:

Dubie will not mislead Vermonters about serious issues that affect their health as a means to benefit himself by becoming our next governor.

Wade says:

It is the responsibility of government to run a truthful campaign. Peter Shumlin and all Vermonters know that a single-payer health care system is now allowed by law until 2017.

Dan says:

If you look at his website, Brian hasn't actually proposed anything more than following the federal health care bill.

Nichole says:

100 days is an unrealistic timetable for a single-payer health care system. What attainable steps will you take NOW to lower the cost?

Tomás says:

I like this approach for the simple reason that it's gathering more opinions on the subject. I may not agree with whatever the end result is, but I can at least agree with the process.

Dan says:

Shumlin doesn't say a single-payer system could be implemented right away, but he also doesn't dissuade people from getting that impression.

Tomás says:

I don't think it's realistic to accomplish this within 100 days, much less my general disagreement with this approach to providing health care coverage.
Question 2: Unless they are covered by their parent's insurance, college graduates are on their own in finding healthcare coverage until they find jobs. Will you help to create a low cost, flexible healthcare option for college graduates in between graduation and finding a job? Yes or No?

Shumlin says: YES

As Governor I will go even further. Recent college graduates need and deserve full health care – as do all Vermonters. I worked closely with Governor Dean to make Vermont the first state in the country to offer universal health care to children and pregnant women through the creation of the Dr. Dynasaur program. I will do the same for every Vermonter through the creation of a single payer health care system.

Dubie says: YES

I would be willing to look at developing a product for young Vermonters who are not now covered. But many young adults can be covered right now by a Green Mountain Care program such as Catamount Health Premium Assistance, Vermont Health Access Program (VHAP), Dr. Dynasaur, or Medicaid.

3 liked this answer.

4 did not.

6 liked this answer.

1 did not.

Chris says:

All eggs in the single-payer basket, which may not be possible to implement within a reasonable timeframe.

Chris says:

But each of the programs have conditions that strictly limit eligibility – something to be aware of and educate about.

Wade says:

Vermont has several options for young people to receive health care. Taxpayers are already paying incredible amounts to help less fortunate citizens receive proper medical care.

Wade says:

I find reassurance in Brian Dubie's ability to tell the truth. All Vermonters have access to health care if they are unable to afford it themselves.

Tomás says:

I appreciate his idea for providing universal health care for all Vermonters. As someone who moved from out of state and who works with a college student population that is almost 70 percent out of state, I wonder though how that plan would affect "new" or "temporary" Vermoners.

Dan says:

More or less right, however there are some gaps in Catamount's coverage. I'd be curious to know how he would cover them.

Tomás says:

I appreciate this approach much more in terms of effectiveness but again I wonder about the impact on new or temporary Vermonters.
Job Creation and Entrepreneurship Development
Question 3: Young Professionals want to stay in and move to Vermont, however, there aren't many opportunities for young professionals to start and build their careers. What specific steps will you take to create opportunities for young professionals to start and develop their careers?

Peter Shumlin:

Too many of our talented young people are leaving Vermont because of a lack of good opportunities paired with the need of paying off their college debts. As a small business owner, I understand what it takes to create good paying jobs in Vermont and will make that my top priority. As governor, I will also address the affordability of higher education by creating incentives for Vermonters to complete their education in Vermont and remain here to launch their careers. Vermont high school students who finish their college degree at a Vermont college or university and secure a job in state will receive an income tax credit to help pay their college debt.

Brian Dubie:

This issue is personal to me, as I want my four college-age children to start their own careers and families here in Vermont. As Governor, I will be a relentless advocate for young entrepreneurs and innovators. My 10-Point Plan to Grow Vermont's Economy details the initiatives we'll undertake to:

Increase Support for the Small Business Development Center
Nurture Growing Clusters
Expand Partnerships with Business Incubators and Academia
Adopt an Investment Tax Credit
Enhance the Research and Development Tax Credit
Make Royalties on Patents Tax-Free
Eliminate Land Gains Tax on Properties Developed for Industrial, Jobs Creation

I will also encourage business growth by cutting taxes and red tape, which will free up resources for companies to hire new workers, creating more opportunities for young people. You can read my complete Jobs Plan at briandubie.com.

3 liked this answer.

4 did not.

4 liked this answer.

3 did not.

Chris says:

A tax incentive to stay in state does nothing to address the lack of jobs. I would take a sure career part out of state over a tax break.

Chris says:

Now add Shumlin's tax break incentive and we'll be making some progress.

Wade says:

Shumlin's response only notes one example of helping young professionals to access a better future. I would like more specifics.

Hina says:

Too vague.

Nichole says:

The tax credit will be a great incentive and help offset some college debt, but how does that help if I can't find a job in Vermont? Many are leaving because they need a job to pay college loans.

Tomás says:

The intentions are fine but they really don't address the issue of bringing in bigger businesses that might provide those opportunities to young folks. I'm leaning toward Dubie on his perspective because there's a pretty specific mention of cutting down red tape.

Dan says:

As incentive program would be great, but where does it fall on the priority list?

Wade says:

Dubie has laid out numerous possibilities to help young Vermonters build their careers more easily. He notes specifics that would make Vermont a better place to start a business career.

Dan says:

Dubie won't even bother to mention young professionals in his plan! My clusters are not feeling particularly nurtured right now.
Question 4: Vermont has a history of developing and supporting successful/entrepreneurial business ventures, such as Magic Hat, Green Mountain Coffee, Ben & Jerry's. Name TWO specific industries Vermont should nurture that will grow Vermont's economy and attract young professionals.

Peter Shumlin:

Vermont's economic future is in renewable technologies – wind, solar, biomass. As Governor I will work to ensure that Vermont is a leader in the green revolution by aggressively and responsibly developing in-state renewable energy generation and making key investments into efficiency.

A second industry I'm incredibly optimistic about is agriculture. As oil prices rise and the effects of climate change become more apparent, eating local foods will become an economic necessity, not just an upper income trend. Vermont is perfectly situated to capitalize on large markets that our within our reach – New York, Boston and Montreal.

Brian Dubie:

It's hard to limit it to two. Software development, biotechnology and bioscience research come to mind first, along with nanotechnology and renewable energy. Vermont must support and encourage academic and technology leaders as well as venture capitalists, bankers, accountants and lawyers to work with innovators to grow these thriving businesses that are the wave of the future.

7 liked this answer.

0 did not.

5 liked this answer.

2 did not.

Dan says:

Spot on. It's nice to hear a candidate promoting the types of jobs that Vermont graduates can jump right into.

Dan says:

It's a safe, mundane response. If you want to waste your 100 words talking about bankers, lawyers and accountants, be my guest.

Tomás says:

Given the amount of sun here, I'm not sure how well solar energy would do. But I strongly agree with renewable technologies as a priority when it comes to the economic future of Vermont.

Tomás says:

I'm impressed by what sounds like out of the box thinking when it comes to the economic future of Vermont.
Question 5: Vermont has an extensive agricultural background that has generally been passed down from generation to generation. Do you support providing assistance to young farmers that would like to inherit the family farm but can't take it over financially? Yes or No?

Peter Shumlin: YES

Brian Dubie: YES

The Vermont Land Trust and its many partners are helping many farm families pass their farms to the next generation and keep their land in agriculture.

6 liked this answer.

1 did not.

7 liked this answer.

0 did not.

Hina says:

How?

Tomás says:

While I may not be a farmer, I understand the impact and importance of passing land down to the next generation. I wish both candidates would have provide more thoughts on this, given the culture and history of Vermont.
Alternative Energy
Question 6: Many other states are advancing in the fields of wind, solar and other alternative energies. Name TWO specific steps you would take or initiatives you would propose to grow Vermont's renewable energy industry and keep Vermont ahead of the curve. Please limit your response to 100 words or less.

Peter Shumlin:

I will work to make Vermont a model for the other states on energy efficiency. I will establish a statewide program to support towns that would like to implement PACE (Property Assessed Clean Energy) energy efficiency programs and establish a loan loss reserve fund to guarantee that our towns and property owners can borrow at the lowest rates. Secondly, I will lead the charge to build an electricity infrastructure for the 21st century. I will work with the Treasurer's office to issue a series of Vermont renewable energy bonds. These bonds will raise the money necessary to put solar on Vermont rooftops, turbines in the air, and transform ancient, defunct small hydrodams into energy producers.

Brian Dubie:

Leveraging the value of relationships, I have helped Northern Power Systems sell 40 Northwind 100 turbines made in Barre, Vermont, to remote Alaskan villages. I have helped alternative energy design-build contractors navigate state and federal permitting processes. I have helped Vermont's cutting-edge energy storage companies build local networks and supply chains. As Governor, I will continue to leverage relationships to help our alternative energy companies prosper and grow. Alternative energy entrepreneurs have told me our permitting process is slow, unpredictable and costly. We can simplify and streamline that process without compromising the health or safety of our people or our environment.

6 liked this answer.

1 did not.

6 liked this answer.

1 did not.

Wade says:

Government does not create renewable energy; companies must develop these alternatives. If the government has an interest in creating renewable energy, it must directly with Vermont companies.

Wade says:

Brian Dubie has a record of focusing on Vermont's renewable energy. He took it upon himself to further the initiatives of Northern Power Systems and grow their revenue.

Dan says:

Yes, but not nearly enough. I also heard quite a bit of backpedaling on his support for wind power during the WDEV debate.

Tomás says:

Both candidates have ideas that would prove useful in this endeavor. However, Dubie names only what he's done, not what he is willing to do, and that concerns me.
Question 7: Do you support the movement to close Vermont Yankee? Yes or No? Explain why you do or do not support the movement to close Vermont Yankee.

Peter Shumlin: YES

I support closing Vermont Yankee on schedule because the out of state corporation that owns it, Entergy Louisiana, can not be trusted. The corporation has repeatedly misled Vermonters and the ongoing leakage of tritium, strontium-90, cesium and other radionuclides is one of the greatest environmental crisis in Vermont's history. Vermont's environment is one of our state's greatest assets and we cannot allow a company to conduct business in Vermont in a manner that endangers our environment and our safety. I have a record of putting Vermonters safety, health and pocketbooks over that of an out of state corporation and will continue to do so as governor. As governor I will work to ensure that Vermont Yankee is closed on schedule.

Brian Dubie: NO

The #1 question about Vermont Yankee (VY) is about safety. If it's unsafe, it should be shuttered. Thirty years ago, the legislature created the Public Service Board (PSB) to analyze complex technical and legal issues like this one. The PSB is a quasi-judicial body; unlike the legislature, it can take sworn testimony. In February, the Vermont Senate voted to prevent the PSB's review of VY's application — in effect, preempting approval. I would have voted to let the PSB do its job. I certainly would not issue pink slips to VY's 650 employees without a fully vetted decision.

3 liked this answer.

4 did not.

4 liked this answer.

3 did not.

Wade says:

I would rather see Shumlin work with Vermont Yankee to make it a safer plant. The energy they provide is crucial to Vermonters' well-being.

Wade says:

Brian Dubie has not discussed the option of working with Vermont Yankee to provide safer power. It is true that we must make Vermont Yankee a safer business, but we cannot eliminate Vermont jobs without attempting to compromise.

Nichole says:

As a young professional in Vermont, I want to be able to live and raise a family here. I need to know that Vermont's environment will be healthy and safe for me and for my future children.

Jason says:

I agree with Dubie that the Public Service Board should be allowed to do their job. I also think the loss of 650 good paying jobs in this economy would be hard on that area of the state.

Dan says:

Framing 101: "retire" not "close."

Dan says:

The plant is too old to be operated safely or reliably, and its out-of-state, corporate owners have shown themselves to be untrustworthy.

Tomás says:

I would like to hear about any plans to support those workers after the closure and how that might reflect his platform on alternative and greener energies.

Tomás says:

Given my feelings on nuclear energy, I disagree with his perspective.

Hina says:

Save jobs.
Environmental Conservation
Question 8: Discuss TWO environmental regulations/initiatives you are going to propose or support during your term that you feel are most important to the environmental wellbeing of Vermont. Please limit your answer to 100 words or less.

Peter Shumlin:

Protecting our open lands is a solemn responsibility to our children and future generations of Vermonters. Conserving Vermont's forests and patchwork legacy of working farms represents a direct investment in our economic future and in the way of life we have inherited. As governor, I will work to fight sprawl development by maintaining and strengthening existing protections, such as Act 250 and the Vermont Housing and Conservation Board. Secondly, I will set clear targets for measuring pollution, use smarter regulations and the best available technology to combat it and establish practical buffer protection programs to restore the health of Lake Champlain.

Brian Dubie:

I am most committed to continuing the quest to restore water quality in Lake Champlain and to working with neighboring states and Quebec for the prevention, control, or eradication of invasive species that pose an alarming threat to our ecosystems.

6 liked this answer.

1 did not.

5 liked this answer.

2 did not.

Chris says:

Preventing sprawl development needs to be balanced with the need for housing and population growth in state.

Chris says:

A specific plan would be better than a vague commitment.

Wade says:

Protecting Vermont's environment and natural resources is crucial to future generations and to continual revenue from tourism.

Hina says:

Both important.

Tomás says:

The one concern I have on Shumlin's stance is the effect of protecting our lands has in terms of economic development.

Tomás says:

While both of these initiatives are important ones, they maintain the status quo and don't seem like anything radically different from what we should be doing at a minimal level to protect the environment.
Question 9: Breakdown your environmental policy in under 100 words. Consider your stance on protecting Vermont's natural environment, Vermont's most pressing environmental priorities.

Peter Shumlin:

As a small business owner, partner in a dairy farm and outdoors enthusiast I know we can balance all the demands on our environment while protecting it for generations to come. Vermont's environment and the lifestyle it supports is our state's greatest asset. As Governor I will promote and invest in responsible renewable energy development to help get Vermonters off oil. Here in Vermont we are facing some major choices in terms of our energy future. Contracts for two-thirds of our electricity are on the verge of expiring and our aging, leaking nuclear power plant is scheduled to close in just two years. This creates a tremendous opportunity for Vermonters to lead the way nationally.

Brian Dubie:

Our natural resources are fundamental to Vermont's identity. They are fundamental to who I am. I grew up around the same woods, farm fields, lakes and streams where my parents and their parents lived and worked before me. We have a solemn responsibility to protect these ecosystems. Sustainability is the key: economic sustainability and environmental sustainability. Stewardship is critical to both our heritage and our future, our economy and our sustenance. I am a certified organic tree farmer. When you work in the sugar woods as I do, tapping maple trees, you're always thinking about the next generation.

6 liked this answer.

1 did not.

3 liked this answer.

4 did not.

Wade says:

Shumlin is not willing to make compromises. We are working on developing more sustainable renewable energy, but it has not been fully developed yet. We cannot terminate existing energy methods and allow our unemployment to rise. We must phase in this new energy.

Chris says:

This says a lot without actually telling me much of anything.

Dan says:

"...lead the way nationally" has a nice ring to it.

Wade says:

Brian cares about protecting our environment but if he axes Vermont Yankee, he would send a message that he does not take Vermonters into account when making decisions.

Dan says:

I'm sorry, but this reads like a load of search-engine-optimized BS. Stop thinking about the next generation and do something for this one!

Tomás says:

I have no doubt that both candidates agree on this being an important issue to the voters of Vermont.
Affordable Housing
Question 10: I have been a long supporter of the Vermont Housing and Conservation Board and their efforts to provide affordable housing for Vermonters. I have fought repeated efforts by the Douglas-Dubie administration to cut funding for this important program. Affordable housing, including rental housing, is a vital component to attracting a flexible and dynamic workforce and as Governor I prioritize this.

Peter Shumlin:

I have been a long supporter of the Vermont Housing and Conservation Board and their efforts to provide affordable housing for Vermonters. I have fought repeated efforts by the Douglas-Dubie administration to cut funding for this important program. Affordable housing, including rental housing, is a vital component to attracting a flexible and dynamic workforce and as Governor I prioritize this.

Brian Dubie:

Vermont will continue to lose young professionals until we can offer housing choices that recognize their lifestyle preferences and their economic resources. There are steps we can take to reduce the costs of building and buying, renting our leasing a home, and I have a plan to do it. One way is to encourage housing and economic growth in designated growth centers, downtowns and village centers. I hope you will read my complete plan at briandubie.com.

5 liked this answer.

2 did not.

5 liked this answer.

2 did not.

Chris says:

Many young professionals will likely not qualify for VHCB's programs based on income/family.

Tomás says:

I'd like to know how he can encourage housing and economic growth in designated growth centers. I can encourage a plant to grow but it does little if I don't water it.

Tomás says:

I appreciate the realization that rented housing is important to bringing in a younger workforce.

Wade says:

Dubie recognizes the need for expanding more affordable housing options, which he has addressed in his 10-point plan. Dubie is privy to the fact that raising taxes will not provide more affordable housing for Vermonters.

Wade says:

Peter Shumlin is too concerned with attacking Brian Dubie. Peter Shumlin was voted "the most ethically challenged" politician in a survey conducted by Seven Days which was taken by other politicians.

Hina says:

How complicated is the plan?

Dan says:

Smart growth is great, but it doesn't necessarily translate into affordable housing.
Question 11: Would you support expanding state financial assistance to specifically help young professionals in Vermont buy their first home? Yes or No?

Peter Shumlin: YES

Brian Dubie: NO

Not in the current economic climate. Buying a home is a major financial decision, and I do not want young Vermonters to find themselves in over their heads with a mortgage they can't afford. My goal is to expand the economy with good-paying jobs so people can afford to make this long-term investment in our communities.

3 liked this answer.

4 did not.

3 liked this answer.

4 did not.

Hina says:

How much would it be possible to offer for loans without much credit history?

Chris says:

Agree financial education should come first; people should not buy what we cannot afford — this is part of what cause the current recession.

Wade says:

The United States were founded as a democracy and I do not support socialism. Taxpayers are already paying too much to help those who do not help themselves. I do not agree with Peter Shumlin's stance on taxes.

Wade says:

I agree with Brian 100 percent. It is not the responsibility of government to tax those who make more money in order to provide for those who have not put themselves in a situation to provide for themselves.

Tomás says:

I'd love to see Shumlin expand on his answer.

Nichole says:

A mix of state financial assistance with financial education would be ideal. Young Vermonters can make an educated decision and establish themselves in Vermont.

Tomás says:

While Dubie provides an explanation, I don't see how people can get good paying jobs if they are also trying to pay for a house that they can barely afford or are losing money by paying rent in the long term.

Hina says:

Why not educate young professionals?
Question 12: A stumbling block for many young professionals to buying a home is their credit. Do you support creating a task force designed to help young professionals build or rebuild their credit through personal financial literacy education?

Peter Shumlin: YES

Brian Dubie: YES

6 liked this answer.

1 did not.

6 liked this answer.

1 did not.

Wade says:

It is not the government's job to help people rebuild their personal credit. Every person has the same opportunities to be successful. The only way to obtain a poor credit score is to live beyond your means, which is a personal decision.

Wade says:

If government provides money management for individuals, nobody would learn how to make money and live on a budget as all citizens must do.

Tomás says:

Again, while I appreciate some of their enthusiasm to help out us young professionals, the devil is in the details.
Alternative Transportation
Question 13: Pick ONE form of alternative transportation that you feel is most important to Vermont's future transportation mix in connecting urban and rural areas. Why do you think it is most important and what are you going to do as governor to foster its growth?

Peter Shumlin:

Addressing climate change was my top priority when I was in the Vermont Senate. Moving from our addiction to oil is one of the greatest challenges of our time. Investing in alternative transportation is a significant part of the solution. As Governor I will emphasize trains as a critical form of alternative transportation. There are significant federal resources available to states that can provide matching funds. The Douglas-Dubie administration didn't made alternative transportation a priority and have left this federal funding untapped. As Governor I will aggressively pursue this funding and direct the Vermont Agency of Transportation to research and plan routes that can most benefit from train service.

Brian Dubie:

I am a believer in high-speed rail, and its enormous potential for spurring economic growth and enhancing our quality of life. My primary goal with regard to rail development is to re-establish the rail link between Burlington and Montreal, and then on to Boston, New York and Washington. I have done some preliminary work on this initiative as lieutenant governor, with friends and colleagues in Quebec, Vermont and points south.

6 liked this answer.

1 did not.

6 liked this answer.

1 did not.

Chris says:

How am I going to take the train to work in Vermont? Much prefer better mass transit system.

Hina says:

Public and affordable transportation to and from rural areas will encourage youth to get out of their counties and may encourage them to travel to find work in Burlington.

Wade says:

I agree that we must pursue alternative forms of transportation and energy. I don't agree with Shumlin's testimony against the work that Brian Dubie has done.

Tomás says:

I think both candidates are working toward the same goal though it seems that Dubie had time in office to work on trains as a project and did not do so.

Hina says:

Let's not point fingers and create change.

Chris says:

Again, how does this help in the day to day life? Rail links to metro hubs won't necessarily spur more economic growth here.

Wade says:

I don't believe that alternate forms of transportation are currently the most critical issue. We must fully develop new forms of energy and fuel before we can decide how we will address transportation change.

]

Dan says:

Dubie is totally dodging here. His reponse doesn't address the "connecting urban and rural areas" question at all.
Question 14: In your first budget as governor are you going to increase state funding for public transport, decrease it or keep it the same?

Peter Shumlin: KEEP THE SAME

Brian Dubie: KEEP THE SAME

3 liked this answer.

4 did not.

3 liked this answer.

4 did not.

Chris says:

As business expands to Burlington suburbs, need transportation infrastructure.

[image-119]

Tyler says:

If both candidates are truly seeking trains as alternative transportation, increasing the budget to ensure that other current services are not interrupted would seem like the only route to take (no pun intended).

Chris says:

Ditto here.

Wade says:

Transportation should be addressed, but it is not the most important issue facing our state. I believe we spend the appropriate amount of money on transporation.

Jason says:

Both candidates need to reconsider their answers to this question. By increasing funding on public transportation, they would be creating jobs in the state and increase tax revenues.
Rising Student Debt
Question 15: Young professionals are coming out of college with more and more debt as college costs increase. Jobs are hard to find with the little real world experience these graduates have. Name THREE initiatives you will propose to create opportunities to pay down student loans more efficiently?

Peter Shumlin:

As Governor I will address college funding through the following three initiatives:

One, providing an income tax credit to help Vermont college graduates pay down their college debt if they secure a job in Vermont.
Two, increasing access to the opportunity to start college while still in high school. This 'dual enrollment' and early college program will be expanded to ensure that they are available regardless of geography and income.
And lastly, as Governor I will address Vermont's inadequate funding of higher education. Vermont has the highest public college tuitions in the country and ranks last in the nation for publicly funding higher education. This results in higher college tuition and student loans.

Brian Dubie:

I will continue support for Vermont Promise Scholarships. My education initiatives include enhancing funding to our state colleges, creating a Cabinet-level Secretary of Education who will work with the Chancellor of Vermont State Colleges, the President of UVM, and other private college presidents to shape state policy and funding for higher education; and teaming with technology and other industries to create a new focus on internship programs that form the vital link between education and career. I would also name an advisory commission of young professionals to address student debt.

6 liked this answer.

1 did not.

5 liked this answer.

2 did not.

Wade says:

Higher education costs are an issue that needs to be addressed by our state. I agree with the intitiatives that Shumlin has set forth in this response.

Chris says:

I'd be surprised to see any tangible results quickly with this plan.

Tomás says:

While I like Dubie's proposal to team with technology and other industries to create internships, I'm not really sure what that means, or what benefits would come to those companies. I hope that Dubie would create an advisory commission of young professionals to address student debt.

Wade says:

Dubie highlights that we would name an advisory commission of young professionals to address the student debt, which is a fantastic idea. I think government needs to utilize more public advice.

Nichole says:

Public and private Vermont students should receive assistance. Strong internship programs provide vital "real-world" learning and build a connection between students and the business community.

]

Dan says:

How do you square "enhancing funding" with your nifty little 2 percent cap on spending increases? I'm a fan of the internship idea, though.

Hina says:

He doesn't talk about decreasing skyrocketing college tuition.
Broadband and Telecommunication Infrastructure
Question 16: Are you committed to extending broadband internet coverage to every last household and business in Vermont? Yes or No? If YES, how do you plan on getting that done?

Peter Shumlin: YES

Broadband internet is the electricity of our time, essential for economic development. Unfortunately, Vermont is trailing behind many third world countries in this area with almost 20 percent of Vermonters still reliant on dial up. As Governor, I will establish a public-private partnership to service Vermont's underserved areas by 2013. First, a task force with public and private stakeholders will be created to evaluate the current state of broadband deployment and identify where the service gaps are and the public-private partnership will then deliver broadband to these areas. Expanding broadband to remote, rural areas does not make economic sense for private entities. However, under my leadership, the state will use its bonding authority to provide loan guarantees for this to make economic sense for the public-private partnership to deliver broadband to every last mile by 2013.

Brian Dubie: YES

With the $117 million USDA Broadband Award announced in early August, the funding puzzle is finally complete for making broadband service available everywhere in our state. Vermont's e-State Initiative will be a reality, without new bonding authority or tax increases, but with a truly effective private-public partnership. Now, it will be up to us to focus on implementing the plan through the Vermont Telecommunications Authority, the Department of Public Service and private sector service providers.

6 liked this answer.

1 did not.

7 liked this answer.

0 did not.

Tomás says:

Both candidates have the same intent. Dubie seems to have a more specific understanding of some resources already in place.
Question 17: Do you think Vermont will be able to compete nationally and internationally if we do not get broadband internet across the entire state?

Peter Shumlin: NO

Brian Dubie: NO

7 liked this answer.

0 did not.

7 liked this answer.

0 did not.
Reproductive Rights
Question 18: If the state does provide a health insurance alternative, will you make sure that women's reproductive health care is fully covered and comprehensive? Yes or No?

Peter Shumlin: YES

Currently Vermont provides comprehensive coverage for women's health care including for abortion and this needs to be continued under any iteration of health care reform at the state level. Access to comprehensive reproductive health care services is critical for ensuring women's equality and wellbeing.

Brian Dubie: YES

Issues associated with women's reproductive rights are long-settled law.

7 liked this answer.

0 did not.

6 liked this answer.

1 did not.

]

Dan says:

Ten...foot...pole.

Tomás says:

Both candidates seem to agree on this issue, though for different reasons (a matter of morals versus a matter of obeying the law).
Question 19: If a bill restricting women's access to abortion passes in the legislature, for instance, parental consent or parental notification bills, what would you do with this legislation? Sign, veto, or let it become law without your signature?

Peter Shumlin: VETO

Brian Dubie:

I am running for Governor to rein in state spending, cut taxes, grow our economy, grow good-paying jobs, and make a better, freer future for Vermont's children.

7 liked this answer.

0 did not.

1 liked this answer.

6 did not.

]

Dan says:

Thank you for being decent enough to answer the question.

Chris says:

Yes, we figured that out. Now answer the question.

Nichole says:

You didn't answer the question.

Tomás says:

I'm concerned that Dubie did not answer the question directly and it leaves me with the impression that he would not veto such a law if it came to pass.

]

Dan says:

What a truly cowardly response.
Decriminalization of Marijuana
Question 20: Where do you stand on the decriminalization of marijuana? Would you sign similar legislation, if introduced in Vermont, as in Massachusetts where an adult possessing less than 1 ounce of marijuana is now subject to a fine for a "civil offense."

Peter Shumlin:

Spending taxpayer dollars on locking up Vermonters who are in possession of small amounts of marijuana does not make good fiscal sense. I support decriminalizing, but not legalizing, marijuana and would support legislation similar to the one passed in Massachusetts.

Brian Dubie:

Without a Vermont-specific bill to review and assess, and to seek a legal opinion on, I cannot say whether I would sign it or not. But I do not support decriminalization of marijuana possession, regardless of quantity.

5 liked this answer.

2 did not.

1 liked this answer.

6 did not.

Wade says:

Marijuana is a gateway drug. It is irresponsible to allow people to ruin their lives on the drug road because some people feel that marijuana is less harmful than other addictive drugs.

Chris says:

Stop wasting funding with war on drugs and spend that money on programs to increase education and encourage responsible decision making instead.

Jason says:

This is one topic that Mr. Shumlin and I agree on and Mr. Dubie and myself would be at odds.

Wade says:

Marijuana does not lead to healthy choices surrounding other drugs and I think it sets a poor precedent to decriminalize it.

Nichole says:

In Vermont, I'm sure this would be one way to free up a great deal of money and resources.

]

Dan says:

It would free up tax dollars and be a boon for local bakeries. What's not to love?

Jason says:

Both Mr. Dubie and Mr. Shumlin have similar stances on many of the issues. To me the hot topics of this election will be energy and the economy. On both of these topics, I find that I am more in line with the Dubie way of thinking. If I were to base my vote only on the answers to these questions, Mr. Dubie would have my vote today.

Tomás says:

I'm actually not sure if a fine is what I would want to have in place, as this still creates a sort of financial burden for those who might break the law.