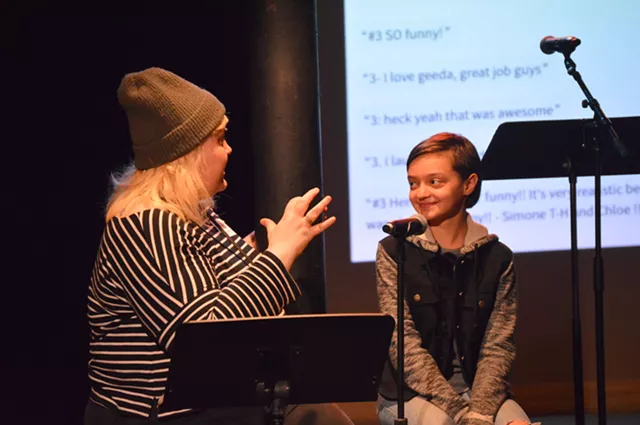 Courtesy of Vermont Young Playwrights
Mimi Lodestone, right, with Kat Redniss, discussing "The Lie"
It's 9:30 a.m. and the noise level at the FlynnSpace has already reached a dull roar as the last middle school groups find their seats, facing the stage. The actors and directors flank it; they've saved the better views for the creatives, the craftspeople, the ones for whom the day has been constructed. In other words, the students sit in the best seats in the house.
For 25 years, the
Vermont Young Playwrights
Festival has celebrated middle and high school voices around Vermont. The event is a collaboration of the
Young Writers Project
,
Vermont Stage
and the
Flynn Center
.
Rowyn Abbott-Smith finds her name in the program. As the first-place winner for Winooski Middle School, she will have a staged reading of her play; the highest honor of the festival.
Some students are excited about the cold readings. Others excitedly anticipate meeting the professional actors, who will be reading and staging their plays. Many say that they are looking forward to the staged readings in the afternoon. Students chat with each other, waiting for the program to get underway.
The house lights dim, and the voices quiet. Kids tuck their books into their backpacks. The stage is illuminated in blue and red. The 25th Annual Young Playwrights Festival has begun.
According to Cristina Alicea, producing artistic director of Vermont Stage, the purpose of Vermont Young Playwrights is to "foster the next generation of playwrights." The program starts in the fall. Participating middle and high schools — 16 this year — invite teaching playwrights to their classes, devoting two to three full days to learning the art of playwriting. After intensive lessons and collaborative revisions, each student comes away with a 10-minute play. Vermont Young Playwrights chooses three winners per school, and those students are celebrated at the festival. This year, middle school students were honored on May 2, high schoolers on May 3.