In recent years, Vermont's finely crafted and locally produced alcoholic beverages have been increasingly easy to swallow. The state's budding wine, craft beer and distilled-spirits industries have all taken off. But no local drink has roots that run deeper than hard cider.
From the 1700s until well into the 20th century, nearly every Vermont farm had an apple orchard, whose fruit was used primarily for making hard cider and brandy. Unlike grapes, hops, and other fruits and grains that are poorly suited to the state's harsh winters, apples thrive in this northern New England climate.
Yet, as recently as a decade ago, Vermont had only one commercial cider manufacturer: Woodchuck Hard Cider of Middlebury. (In these parts, "cider" generally refers to the fermented alcoholic beverage, while "sweet cider" refers to the brown, unfiltered nonalcoholic drink.) Today, thanks in part to Vermont's locavore movement and the growing popularity of gluten-free diets, the state boasts 15 cider makers, most of which got their start in the past five years.
Despite their newness, Vermont cideries are already producing impressive, award-winning ciders — fast earning the state a reputation as the "Napa Valley of Hard Cider." While you're here, be sure to take a bite.
1321 Exchange St., Middlebury
Caleb kenna
Woodchuck Cidery in Middlebury
In 1991, when amateur winemaker Greg Failing began experimenting with cider recipes in his Proctorsville garage, no one was making cider commercially. Today, Failing is the original cider maker at Woodchuck, the second largest cider manufacturer in the United States (behind Samuel Adams' Angry Orchard), producing about 6.8 million gallons annually. In 2013, the company purchased 40 percent of the state's total processed fruit. If Woodchuck bought every apple grown in Vermont, the juice would barely fill a third of its fermentation tanks.
Despite its industrial scale, Woodchuck has never lost sight of its roots. Its cider makers work closely with local orchards and nascent cideries to promote the state's growing cider industry.
In Middlebury, visitors can take a self-guided tour of Woodchuck's impressive $34 million cider house and bottling plant, read about its history, and then sample nearly two dozen ever-changing ciders in its beautifully appointed tasting room and gift shop.
This time of year, Woodchuck's Fall Harvest and Winter Chill are favorites, as is its Private Reserve Pumpkin. Other seasonal and limited varieties include Cheeky Cherry, Chocolate Raspberry, Ginger and Smoked Apple.
Woodchuck is a family-friendly destination where both the seasoned cider connoisseur and those new to the beverage can discover why Vermont-made cider is creating a national buzz.
316 Pine St., Burlington
Citizen Cider is proof positive that, in Vermont and elsewhere, craft cider can now compete head-to-head with the nation's best craft beers. The cidery was launched in fall 2011 by three friends who persuaded the owners of Middlebury's Happy Valley Orchard to give them 5,000 gallons of apple juice to convert into hard cider. Those fellas' hard work and determination paid off. In 2014 and 2015, Vermonters voted Citizen Cider the state's best hard cider; it's on track to produce 250,000 gallons this year.
Located in the heart of Burlington's South End Arts District, Citizen Cider reflects the neighborhood's young, hip and über-creative ethos. The tasting room has a full kitchen for appetizers and meals, with outdoor seating on a large, raised wooden deck. Occasionally there's live music.
But cider remains the main attraction. "Flights," or sampling trays, allow patrons to try five of the 10 ciders on tap daily. Among the possibilities are Unified Press, Citizen Cider's off-dry, light and crisp flagship variety; Wit's Up, made with Belgian beer yeast; the Dirty Mayor, a slightly sweeter cider infused with ginger and lemon peel; and bRosé, fermented with local blueberries. The first three are also sold in Citizen's signature silver aluminum cans.
While you're there, sample the menu of cider-inspired edibles, including the Citizen Burger dressed with cider cheese, cider mustard and cider caramelized onions; the cider-braised barbecue brisket sandwich; and moules frites with cider-steamed Hollander mussels. All are unique tastes of Burlington.
1815 Pucker St., Stowe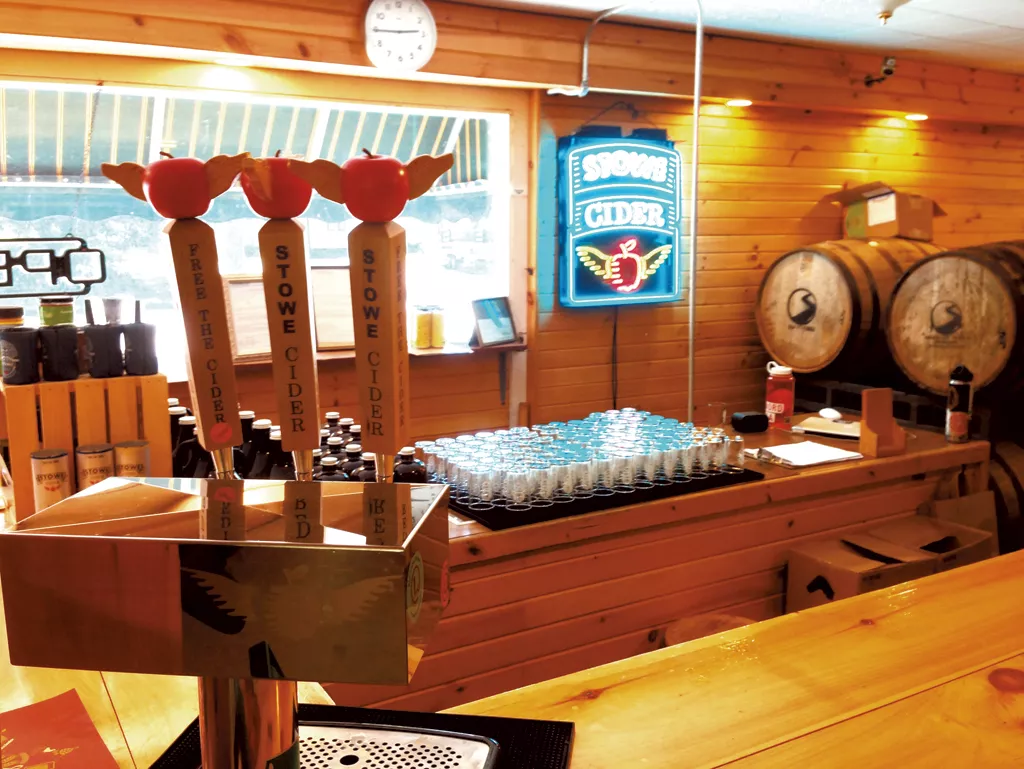 One of the newer arrivals on Vermont's cider scene, Stowe Cider is worth a visit for anyone passing through Stowe. The cidery, which opened only two years ago, is located along Route 100 in a former grocery stand. It's already making a big name for itself in the cider world and is primed to produce 30,000 gallons in 2015 — up from just 10,000 gallons a year ago.
Stowe Cider currently produces 15 different ciders, most of which are European-style — dry or off-dry, with tart, crisp flavors — and made using locally grown apples and other ingredients such as strawberries, blueberries, mint, juniper and hot peppers.
While the cidery offers no tour, virtually every aspect of production is visible as one steps through the door. That includes the racks of former bourbon barrels — provided by Smugglers' Notch Distillery, located just over the mountain pass in Jeffersonville — that are used to make a limited-release, barrel-aged cider. For $6, visitors can taste any four ciders available on tap and take home the glass.
Also on display is a large glass fermentation flask that head cider maker Mark Ray uses to concoct new recipes. One of the best aspects of visiting Stowe Cider is the opportunity to sample products created in the last day or two, some of them so experimental that they haven't even been named. Accordingly, every visit to the cidery is different; beyond its three flagship ciders, visitors will always find something fresh to taste. Be sure to take home a bottle or growler, as Stowe Cider is currently sold only in Vermont.
64 Route 104, Cambridge
Boyden Valley Winery & Spirits may be one of the most scenic places in Vermont to sample cider — or wine or apple liqueur, all made right there on the 1,000-acre family farm. Located in the picturesque Lamoille River Valley, not far from Smugglers' Notch, the farm has been in the Boyden family for five generations. Their attachment to the land shines through wherever you look.
A restored 1875 carriage barn now serves as the tasting room and store. For $10, guests can sample seven of Boyden's adult beverages, including its Vermont Ice Hard Cider; Double Bourbon Cider; the off-dry to semi-sweet Royale Cider; and the new Cran-Bog Cider, made from locally grown cranberries. All are available in flip-top bottles or in "growlettes."
Boyden's four hard ciders are sparkling, crisp, mostly dry or semi-dry, and made from McIntosh, Empire and Northern Spy apples grown in southern Vermont. Boyden also produces more than a dozen wines and two cream liqueurs: Vermont Ice Apple Crème and Vermont Ice Maple Crème. While you're there, order a French gourmet cheese plate and grab a table outside to bask in great views of the Green Mountains.
Tours of the tank and barrel room are available twice daily, but call ahead to confirm. During warmer months, try a guided trip to the winery down the scenic Lamoille River with Vermont Canoe & Kayak, which includes the winery tour and tasting.
---
Une récolte exceptionnelle de cidres du Vermont
Les cidres savamment élaborés et produits au Vermont se boivent de plus en plus facilement. Les industries en plein essor du vin, de la bière artisanale et des eaux-de-vie distillées se portent à merveille dans l'État, mais aucune boisson locale n'a de racines aussi profondes que le cidre.
Entre le 18e siècle et le milieu du 20e siècle, pratiquement toutes les fermes du Vermont avaient un verger, dont les fruits servaient principalement à fabriquer du cidre et du brandy. Contrairement aux raisins, au houblon et aux autres fruits et céréales qui sont mal adaptés aux rudes hivers du Vermont, les pommes s'épanouissent dans le climat nordique de la Nouvelle-Angleterre.
Cela dit, il y a aussi peu qu'une dizaine d'années, le Vermont ne comptait qu'une seule cidrerie commerciale, la Woodchuck Hard Cider, à Middlebury. (Dans la région, on fait la distinction entre hard cider, qui désigne la boisson alcoolisée fermentée, et sweet cider, la version non filtrée et non alcoolisée.) Aujourd'hui, en partie grâce au mouvement locavore et à la popularité croissante des régimes sans gluten, on dénombre 15 cidreries dans l'État, dont la plupart ont démarré dans les cinq dernières années.
Malgré leur nouveauté, les cidreries du Vermont produisent déjà des cidres impressionnants, qui remportent des prix et ont rapidement valu à l'État la réputation de « Napa Valley du cidre ». Passer au Vermont sans y goûter serait un péché!
1321 Exchange St., Middlebury
Caleb kenna
Woodchuck Cidery in Middlebury
En 1991, quand le vinificateur amateur Greg Failing a commencé à essayer des recettes de cidre dans son garage de Proctorsville, personne n'en produisait à des fins commerciales. Aujourd'hui, Greg est le premier cidriculteur de Woodchuck, deuxième plus importante cidrerie aux États-Unis derrière l'Angry Orchard de Samuel Adams, avec une production d'environ 25,7 millions de litres par année. En 2013, l'entreprise a acheté 40 pour cent du volume total de fruits transformés de l'État. Si Woodchuck achetait toutes les pommes cultivées au Vermont, leur jus remplirait à peine un tiers de ses cuves de fermentation.
Malgré sa production industrielle, Woodchuck n'a jamais perdu de vue ses racines. Ses cidriculteurs travaillent étroitement avec les vergers locaux et les nouvelles cidreries afin de promouvoir l'industrie du cidre en pleine effervescence dans l'État.
À Middlebury, il est possible de faire une visite autoguidée de la cidrerie et de l'usine d'embouteillage de Woodchuck, des installations impressionnantes de 34 millions de dollars, de se renseigner sur l'histoire de l'établissement et d'essayer une vingtaine de cidres dans la magnifique salle de dégustation, qu'on peut aussi se procurer à la boutique et dont la sélection change constamment.
À l'automne, les variétés Fall Harvest et Winter Chill de Woodchuck sont très populaires, tout comme le Private Reserve Pumpkin. Parmi les autres variétés saisonnières en quantités limitées, mentionnons les cidres Cheeky Cherry, Chocolate Raspberry, Ginger et Smoked Apple.
Woodchuck est une destination familiale, où les connaisseurs tout comme les néophytes se feront un plaisir de découvrir pourquoi les cidres du Vermont créent un tel enthousiasme à l'échelle nationale.
316 Pine St., Burlington
Citizen Cider prouve hors de tout doute que les cidres artisanaux du Vermont peuvent désormais rivaliser avec les meilleures bières produites aux États-Unis. Cette cidrerie a été établie à l'automne 2011 par trois amis, qui avaient persuadé les propriétaires du verger Happy Valley, à Middlebury, de leur donner près de 20 000 litres de jus de pomme afin de le transformer en cidre. Le travail acharné et la détermination des trois comparses ont été fructueux. En 2014 et en 2015, les habitants du Vermont ont acclamé le cidre de Citizen Cider comme étant le meilleur de l'État. L'entreprise est en voie de produire plus de 945 000 litres cette année.
Située au cœur du quartier des arts de Burlington, dans le South End, Citizen Cider dégage un esprit jeune, branché et ultracréatif. Sa salle de dégustation comprend une cuisine complète permettant de préparer bouchées et repas ainsi qu'une terrasse en bois surélevée à l'extérieur, où des concerts ont parfois lieu.
Mais le cidre demeure la principale attraction. Côté dégustation, on utilise de petites palettes pour servir aux clients cinq des dix cidres en fût offerts quotidiennement, dont le Unified Press, produit vedette de Citizen Cider, un cidre demi-sec au goût léger et vif, le Wit's Up, fait de levure de bière belge, le Dirty Mayor, légèrement plus doux, infusé de gingembre et de zeste de citron, ainsi que le bRosé, fermenté avec des bleuets de la région. Les trois premiers sont également vendus dans des canettes d'aluminium, signature de Citizen.
Ne manquez pas de goûter les petits plats à base de cidre, comme le Citizen Burger, garni de fromage, de moutarde et d'oignons caramélisés au cidre, le sandwich de poitrine de bœuf braisé au cidre, ainsi que les moules hollandaises cuites à la vapeur de cidre et servies avec frites. Un menu unique, à l'image de Burlington.
1815 Pucker St., Stowe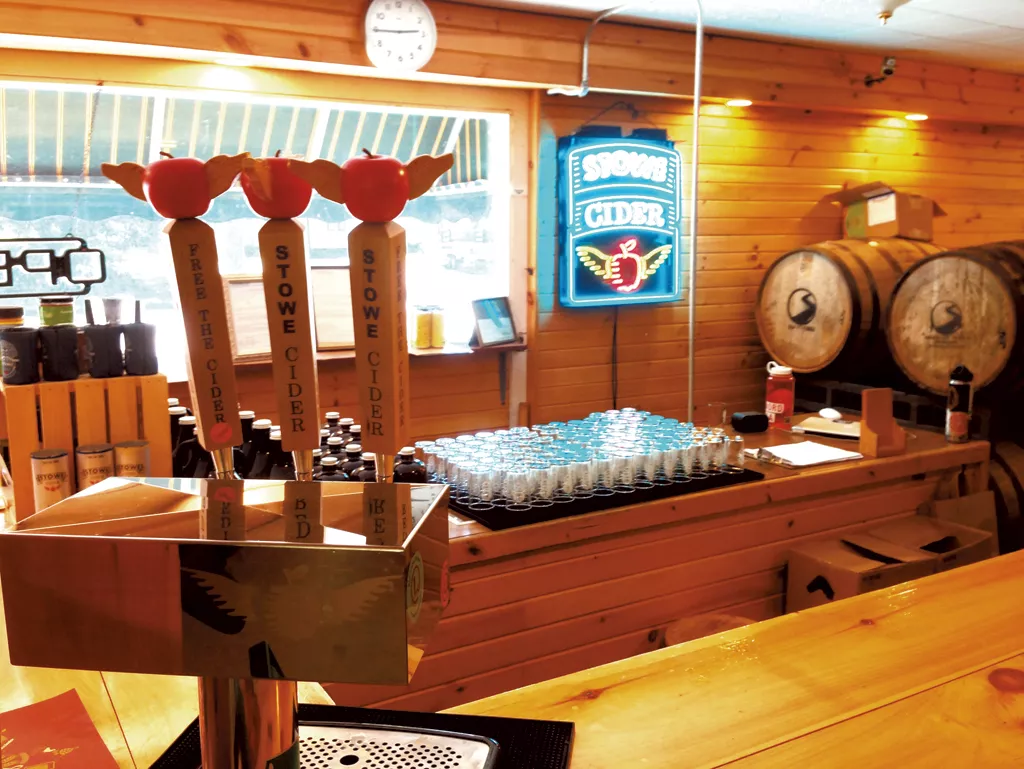 Parmi les petits derniers dans l'industrie du cidre du Vermont, Stowe Cider vaut le détour si vous passez par Stowe. Cette cidrerie, qui a ouvert ses portes il y a seulement deux ans, est située le long de la route 100 dans une ancienne épicerie. Elle commence à peine à se faire un nom dans le monde du cidre et est en voie de produire plus de 110 000 litres en 2015, soit trois fois plus que l'année dernière!
Stowe Cider produit actuellement 15 cidres différents, dont la plupart sont de style européen — sec ou demi-sec, acidulé, vif — et les fabrique localement avec des pommes locales et d'autres ingrédients tels que fraises, bleuets, menthe, baies de genièvre et piments forts.
La cidrerie n'offre pas de visite, mais pratiquement tous les aspects de sa production sont visibles dès qu'on passe la porte, notamment les rangs d'anciennes barriques de bourbon — gracieuseté de la distillerie Smugglers' Notch, située juste de l'autre côté de la montagne, à Jeffersonville — qui servent à fabriquer un cidre vieilli en barrique offert en quantités limitées. Pour 6 $, les visiteurs peuvent goûter l'un des quatre cidres en fût et rapporter le verre à la maison.
On peut également y voir une grande cuve de fermentation que le maître-cidriculteur, Mark Ray, utilise pour concocter de nouvelles recettes. L'un des meilleurs aspects d'une visite à Stowe Cider, c'est la possibilité d'essayer les produits créés dans les deux derniers jours, dont certains sont à ce point « expérimentaux » qu'ils n'ont même pas encore de nom. Par conséquent, chaque visite à la cidrerie est différente. Outre les trois cidres en vedette, les visiteurs trouveront toujours quelque chose de nouveau à essayer. N'oubliez pas de rapporter une bouteille (ou deux) à la maison, car le cidre de Stowe Cider n'est vendu qu'au Vermont.
64 Route 104, Cambridge
Boyden Valley Winery & Spirits est sans doute l'un des plus beaux endroits au Vermont pour déguster un verre de cidre, de vin ou de liqueur de pomme, toutes ces boissons étant fabriquées à la ferme familiale de 1 000 acres. Située dans la pittoresque vallée de la rivière Lamoille, non loin de Smugglers' Notch, la ferme appartient à la famille Boyden depuis cinq générations. Leur attachement à la terre est palpable.
Une grange rénovée datant de 1875 sert maintenant de salle de dégustation et de magasin. Pour 10 $, les visiteurs peuvent goûter sept boissons « pour adultes », dont le Vermont Ice Hard Cider, le Double Bourbon Cider, le Royale Cider demi-sec ou doux et le nouveau Cran-Bog Cider, fait à partir de canneberges locales. Toutes les boissons sont offertes en bouteilles à bouchon à bascule ou en flacons.
Les quatre cidres de Boyden sont pétillants et vifs, pour la plupart secs ou demi-secs, et sont faits à base de pommes McIntosh, Empire et Northern Spy provenant du sud du Vermont. Boyden produit également une dizaine de vins et deux liqueurs à la crème : le Vermont Ice Apple Crème et le Vermont Ice Maple Crème. Pendant que vous y êtes, commandez aussi un plateau de fromages français et prenez place à l'une des tables à l'extérieur pour profiter de la superbe vue sur les Montagnes vertes.
Des visites de la salle des cuves et des barriques sont offertes deux fois par jour, mais téléphonez à l'avance pour réserver. Durant les mois les plus chauds, faites une visite guidée du vignoble sur les rives de la magnifique rivière Lamoille avec Vermont Canoe & Kayak, qui comprend aussi une dégustation de vins.