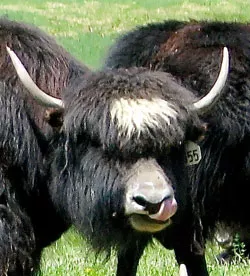 Food lovers are always on the hunt for the next big thing. This spring, it could be yak burgers and sausages. Though Vermonters have been enjoying meat from Vermont Yak Company since 2008, the debut of a new food cart may bring the lean, protein-rich flesh to the masses.
According to Vermont Yak Company co-owner and Champlain College professor Rob Williams, the idea came from chef and Champlain business major Nick Foss. Foss first approached Williams on the Great Wall of China last fall when they were on a college trip to Beijing. "We got talking about a food cart that served yak meat in Burlington," Williams remembers.
The result is a cart called YakIttoMe!, purchased from Ed's Eats, an Island Pond vendor that has outgrown it. Williams, whose company will supply the organic, grass-fed meat, is working on marketing for Foss, who will be chef-owner of the mobile eatery.
Williams set up a Kickstarter.com campaign with the goal of raising $7800 to give Foss a running start. "It just seems like a no-brainer," he says. "If people in central Vermont [and Burlington] want to have a YakIttoMe! food cart, they can pitch in."
If Foss raises sufficient funds with the campaign, which ends on February 27, he expects to begin serving yak by May 1. His plans include selling at both the Burlington and Waitsfield farmers markets, parking on Church Street for late-night eats, and feeding attendees of summer festivals. Pending permitting, Williams says, Foss hopes to be a presence at the Vermont Brewers Festival ("Yak pairs well with beer," Williams notes) and at Grand Point Local, the food-vending area of Burlington waterfront fest Grand Point North.
YakIttoMe! will certainly qualify as locally sourced eats. Foss is partnering with Red Hen Baking Company to make rolls. Vegetables will come from Hartshorn's Certified Organic Farm in Waitsfield, owned by another Vermont Yak co-owner, David Hartshorn. Cheeses and bacon will also be local. Are new fans ready to start yakking?