James Buck
Terah Williams playing at the Van Phan Billiards
Terah Williams didn't come right out and say she gains extra satisfaction from beating her male opponents in pool. But she didn't exactly deny it, either.
"When I first started playing in bars, I was usually the only woman. So, yeah, I thought it was cool to kick the guys off the table," she conceded recently in a break between matches at Van Phan Billiards & Bar in South Burlington. "But it's not something I really think about when I'm playing now. I'm so focused on my game."
It's possible that showing up dudes in pool halls has simply become routine for the Bakersfield resident. After all, not many players in Vermont, regardless of gender, can beat her.
Williams, 39, was one of four Vermonters who competed last week in the American Poolplayers Association's national tournament in Las Vegas. The local chapter of that amateur players' organization, the Green Mountain APA pool league, sends competitors to Sin City every year. But this year's local contingent to Vegas was unique. For the first time in the GMAPA's six-year history, all of the coed league's representatives were women — with the exception of one mixed "Jack and Jill" doubles team.
Williams competed in 8-Ball Doubles with Burlington's Laurie Kutner, 59, and in 9-Ball Doubles with Essex's Stephanie Hibbard, 31. Rounding out the Vermont delegation was 74-year-old Holly Sanders of Randolph Center, the lone singles player.
James Buck
Left to right: Holly Sanders, Stephanie Hibbard, Terah Williams and Laurie Kutner
That the quartet swept the local qualifying tournaments is notable for more than just the obvious reason. Women make up about 25 percent of the GMAPA's 300-plus members. Their success is evidence that the league is living up to a cornerstone of its mission: pool as empowerment.
"I really wanted to make a community here that was welcoming to women and where women felt safe to come and play pool, where they're not preyed upon or harassed," said Liz Ford.
Ford is the founder of the GMAPA, which hosts leagues at bars and pool halls most nights of the week in Burlington, Montpelier, Stowe and St. Albans. When she started the league in 2011, she explained, her goal was simply to grow a viable Vermont franchise of the APA, which is the largest amateur pool league in the world. But over time, she saw women taking more active leadership roles in the organization.
"Women brought a strength of personality to the league," said Ford. "We have women who are team captains, division representatives, a female league owner and female pool hall owner," she continued. The pool hall owner, by the way, is Van Phan, herself a Vermont billiards champion.
"It's really nice to see," said Ford. "It's something that can be passed down, a balanced tradition that's a strength of the league."
When she moved to Vermont from New York City in 2010, Ford was a top-ranked pro on the Women's Professional Billiard Association tour. The Montpelier resident has since retired from competitive play to focus on running the GMAPA. But the petite 41-year-old is keenly familiar with the pitfalls that await women in pool halls. Because the top levels of the sport are male dominated, reaching them has meant navigating more than just challenging layouts on the table.
"As a woman player, you get a lot of attention put on you, which can be either positive or negative," Ford said. "If you walk into a pool room in a larger city and you want to practice, it's guaranteed you'll have at least four or five guys who will try to chat you up or ask you out or 'help' you with your game," she continued. "It can lead to a lot of unwanted advice and unwanted conversations."
Such distractions notwithstanding, because pool is a cerebral and strategic game, being a woman can also be an advantage, said Ford.
"I probably won a lot of matches that I might not have won if I was a man," she revealed. "For some men, in their minds, it's a distraction, an added pressure. They maybe feel shame in losing to a woman."
Here's some unsolicited — and possibly unwanted — advice to the men of the GMAPA: Get over it already.
"I think a lot of the men in the league look up to us, and they're really supportive," said Hibbard. "But I also think sometimes they're intimidated because they know they have to be on their Agame to beat us."
She added that intimidation can cut both ways.
"It's exciting to beat the guys," said Hibbard. "There's tension because you have to be your best."
"I think the strength of its league is its diversity," Kuttner said. "It's not just gender. We have a diversity of backgrounds and ages, which, as a somewhat older player, I really appreciate." Ford noted that GMAPA members range from 18 to 83.
"I've spent a lot of time working with women in different things," said Sanders, who serves on the board of Vermont Works for Women. "For me, the achievement of being a woman and going out and doing a sport that is not defined as 'your' sport is a major accomplishment.
"Anything you can do to promote women being involved in things, it's not a political process," continued Sanders. "It's a personal process, and it's a growing process. And to see other women I play with achieve is marvelous. It's the best thing I get out of it."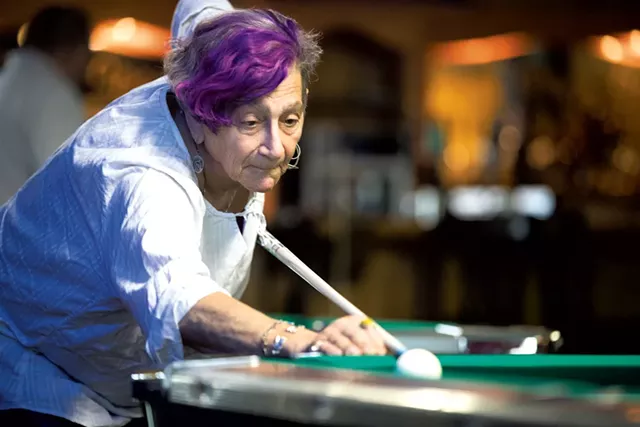 James Buck
Holly Sanders
Coming in a close second might be stoking her competitive fire. In addition to playing in the GMAPA, Sanders plays in a Canadian amateur league and competes in regional events. She cited the mental rigors of pool as a reason she's been playing since 1980.
"Pool, to me, is a game of skill," Sanders explained. "It's a game of math, and it's a game of physics. You really have to use your mind to play it."
Hibbard concurred.
"It's a chess match," she said. "As a lower-skilled player, you look at one ball. But as you develop, you think two and three shots ahead, then four and five. Then, before you know it, you're looking at the whole gamut of the table."
"It's all about strategy for me," Williams said. "I like it because I have to control my emotions. If I'm frustrated and I let that out, I'm going to play worse. Pool makes you pay for your mistakes, and I like that."
Kuttner offered another explanation for the game's appeal.
"They call soccer 'the beautiful game,' and it is," she said. "But pool, when it's played well, is a really beautiful game."
James Buck
Laurie Kutner
None of the Vermont women won their divisions in Vegas. That's certainly nothing to be ashamed of, given the caliber of players they faced. And, if Williams' philosophy of the sport is any indication, don't expect them to dwell on their losses. It's likely they've already turned their attention to next year's tournament.
"The great thing about pool is that you can't change what just happened on the table; you can only focus on what's next," said Williams. "Like my mom says, 'You either win or you learn.'"