Courtesy Of Hannah Palmer Egan
Sara Granstrom pours rose-colored liquid into a glass in the tasting room at Lincoln Peak Vineyard. "Color is a really important part of rosé," she says. "A lot of people are scared of pink wine." Sun filters through a wide door behind her. Beyond, green fields roll into the distance, newly trimmed and fragrant from the season's first cut of hay.
I dip my nose into the glass, breathing in soft, fruity florals, and then take a sip. Smooth and bright, the wine sings an early summer tune. In it are notes of strawberry and watermelon, denser layers of stone fruit, and zippy acid for a crisp, dry finish. "People are starting to realize that pink wine doesn't have to be scary," says Granstrom, daughter of Lincoln Peak founders Chris and Michaela Granstrom.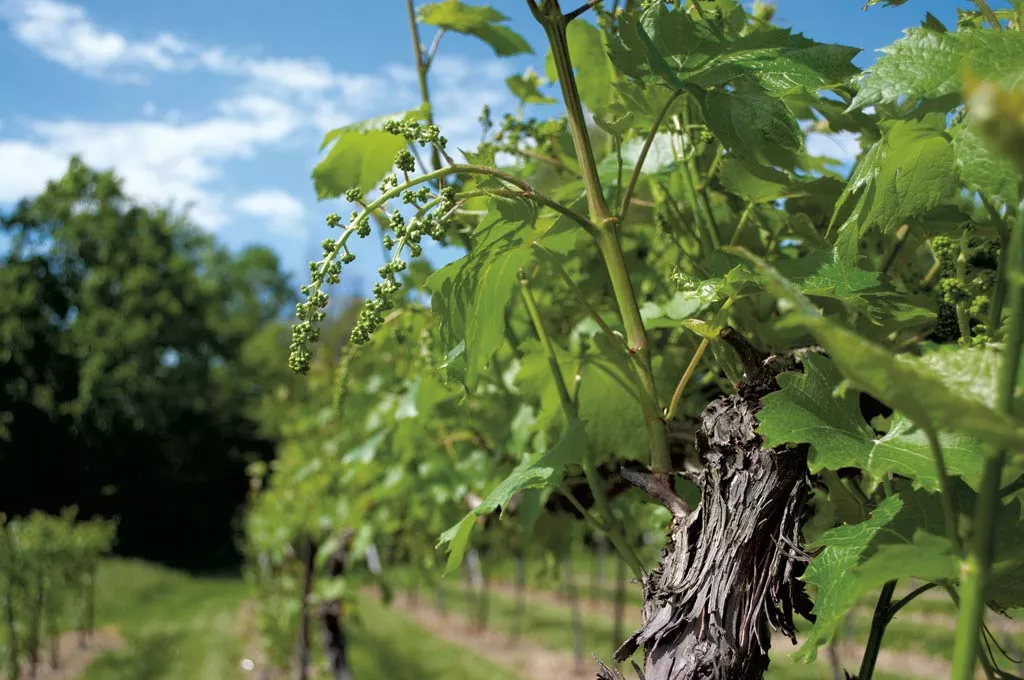 Courtesy Of Hannah Palmer Egan
Lincoln Peak Vineyards
She's right. In recent years, rosé has flowed into the American mainstream like a deep, fast-moving current. But what's really surprising — in fact, flabbergasting — about Granstrom's lovely pink pour is that it's a Vermont wine, made on-site in New Haven with grapes grown out back. Not so long ago, Vermont wine was considered laughable.
Granstrom is a second-generation farmer who grew up growing strawberries. Her father, head winemaker Chris Granstrom, picked his last berry in 2001 and planted his fields with newly hybridized cold-climate vines, most of them developed at the University of Minnesota in the late 1990s and early aughts. The Granstrom family has been making wine on River Road ever since.
Sara Granstrom says this year's Starlight rosé was really an excuse to try something new and interesting. "This one may stick," she says with a smile. The new varietals, and the winemakers who grow them, are starting to come into their own. "It's been neat to taste other [local] wines made from the same grapes we're growing, and to see ... these are the characteristics of Marquette as a wine grape," Granstrom says. "It's really neat to see that identity coalesce."
Even five years ago, it was too early to understand that identity. "There just wasn't a critical mass of wine [from these grapes] to taste, not only in Vermont but anywhere in the world," says Granstrom. Vermont's fledgling industry has ascended a steep learning curve, but in the past couple of years, local winemakers have started to turn heads. "It feels like we're really on the cusp of some kind of transformation in the public eye," Granstrom says.
Part of the challenge was that few people had heard of the grapes. With names like Marquette, Frontenac, La Crescent and Louise Swenson, most of the vines thriving in Vermont are hybrids of wild North American grapes — Vitis riparia — crossed with traditional European Vitis vinifera. The new grapes are prodigious fruiters and hardy to about minus 40 degrees Fahrenheit.
Since these varietals have never been grown in Vermont before, the wines they'll produce over time are simply unscripted. But if the sturdy little grapes represent a blank page, local winemakers are busy penning a new chapter.
"We're free to experiment as much as we want," says Chris Granstrom, standing in his vineyard in mud boots and a T-shirt. Overhead, tiny green clusters of grape buds dangle and bob in the breeze, and rows of vines extend toward a vanishing point at the edge of the woods. "In France, there are all these rules about what you can and can't do," Granstrom says. "Here, we're free to just pick things up and try them as we go along."
This year's Starlight rosé began as an orange wine, fermented with its skins on. "I think the year before, I gave that grape a bit of skin contact, and this year I wanted to do a little more," Granstrom says. "It was orange, and it was good." But as the wine approached bottling time, he wanted to play. "We always try a little blend — a bit of this, a bit of that ... We had some Marquette in a tank, and I tried a little bit in with this orange wine, and I really liked it," he says with evident glee.
Adding the deep-purple Marquette darkened the wine from pale orange to pink, but Granstrom says color is not the point. "I just decided, orange wine is cool, but I'm going to go with what tastes best to me, so that's where we went," he explains. "It's got more depth than a lot of rosés, I think. You sort of stumble on things sometimes."
Farther south, in the hills of Windsor County, Deirdre Heekin uses a similarly intuitive approach to produce her La Garagista wines. With her husband, Caleb Barber, Heekin runs Osteria Pane e Salute in Woodstock and pours her wines alongside many Italian vintages at the restaurant. When she harvested her first batch of white La Crescent fruit in 2011, Heekin says, "I was tasting it, and I was really interested in making skin contact. I felt like the fruit was telling me that's what it would like to be." The result: a funky, earthy, orange wine called Vinu Jancu.
"It's become kind of a signature wine," Heekin says. "It was the first to gain some real attention outside of Vermont; people were interested that we were making a natural orange wine ... With so many [sommeliers] interested in working with orange wine right now, the timing has been great."
Orange wines, like rosés, are the darlings of oenophiles.
This past spring, Heekin also released a sparkling 2013 pétillant naturel rosé fermented in-bottle using the grapes' own natural yeast. "We were just, like, OK, let's try that," she says. "Everything's an experiment."
The wine garnered instant accolades, and Heekin says she'll make it again this season if the harvest permits. "I feel like my role is to respond to what the fruit wants to be ... If we try to understand who [these grapes] are intrinsically, we can make really lovely wine with them."
Heekin says she's been surprised and inspired by the new varietals, noting they can yield "real first-rate wine." She sees rich potential for Green Mountain growing. "Our soil is very interesting and varied," she says. "The wines I make with grapes from here are very different than the wines we're making from Vergennes and Addison."
Eighty-odd miles to the northwest, Ken Albert has been making wine at Shelburne Vineyard since 1998. He supplemented his local harvest with grapes from afar for years, but now he's pulling clusters from 17 hybrid acres around the Champlain Valley. "Rosé," he says on a recent weeknight in his tasting room, "is a tricky wine because you're taking a red grape and treating it like a white grape."
Albert's 2013 Whimsey Meadow Rosé is deeper and darker than Granstrom's Starlight. It's bigger and rounder in the mouth, with strong acid up front and a smooth, bubblegum finish. The wine is about 75 percent Marquette. Albert extols that heady, blue-black fruit as "the red grape of the North Country, of Vermont" and calls it "really a breakthrough grape in terms of its ability to taste like a world-standard wine."
A few seasons deep, Whimsey Meadow is getting drier. "This is the first time we've made it like this, more in the style of a French rosé," Albert says. He's come to know the grapes and learned to coax quiet, full flavor from their pulp. "It's easier to make a nicely balanced wine when it's on the sweeter side," he says, but "as you get drier and drier, you start tasting the grapes themselves without being masked by too much sugar."
Albert says he feels poised to step away from sweetness and move in the dry direction.
Everyone in the industry — in tasting rooms, wine shops, restaurants and bars — acknowledges that Vermont wine is a young enterprise. In my conversations for this story, no one seemed ready to stand up and call it world-class wine just yet.
But the tempered praise seems to stem less from the wine itself than from the anxiety of writing a new history in the face of so many unknowns: the weather-dependent, unpredictable harvests; the new grapes; the winemakers' inexperience, and their patrons' hesitation to belly up to the drink after years of subpar vintages. Gail Albert, wife and partner of Ken and the marketing director at Shelburne Vineyard, says production is the easy part. "The hardest part is not growing the grapes or making the wine," she says, "but getting people to try them. People come in [the tasting room] asking for a Chardonnay or a Pinot Gris. But then they try [our wines], and they like them."
At Dedalus Wine in Burlington, co-owner Jason Zuliani says Vermont wines are a tough sell. "After years around here working with wine, it was really easy to marginalize [Vermont vintages]," he says, "and maybe for good reason. But I think we're definitely starting to overcome that.
"The wines at Shelburne Vineyard are certainly becoming more and more expressive, and [at La Garagista], they're really playing their own game ... They get to do whatever they want," Zuliani says. "They don't compromise, and I think it shows; their wines are extraordinary."
He notes that winemakers such as the Alberts, Granstroms and Heekin are changing perceptions of wine in Vermont. "All it takes is one property to sort of pop up and raise the bar so high that everybody else either has to step up, or it attracts new competition," Zuliani says. "[Vermonters] are producing wines that are really starting to raise eyebrows."
The original print version of this article was headlined "In the Pink"